The college football season is back in full force and with a full slate of games on Saturday, we at PFF and our team of over 500 analysts has dissected and graded every player on every snap of every game to bring you the most detailed and valid set of picks you can find anywhere.
The Week 6 Eckrich Big-12 Team of the Week powered by PFF saw some impressive performances and, of course, the strength of opponent also factored into the overall selections as did the PFF player grades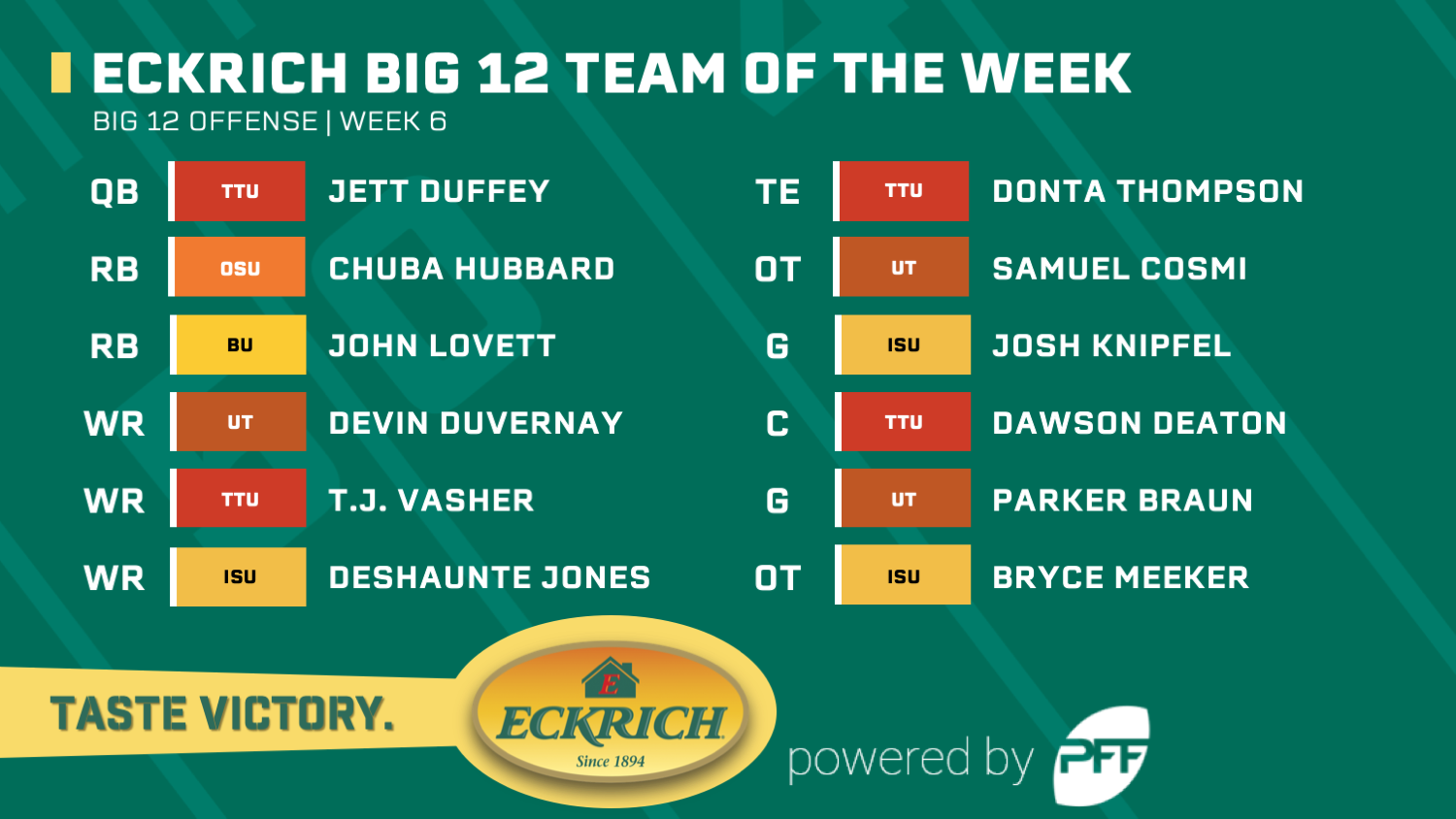 Quarterback
Jett Duffey, Texas Tech
Duffey's completion rate of 59.1% against Oklahoma State objectively could have been better, but there is no arguing the elite numbers he put up elsewhere. He finished tied for third among Power-5 quarterbacks with 19 first downs and led the group in passing yards, compiling 424 to lead his team to victory.
Second-Team QB: Jalen Hurts, Oklahoma
Running Back
Chuba Hubbard, Oklahoma State
A dynamic Oklahoma State offense couldn't keep up with Texas Tech on Saturday, but Hubbard did his part. Fresh off a 300-yard effort in Week 5, Hubbard added 156 more in Week 6. His 10 first downs tied for second in the country as he continues to make his case for a Heisman Trophy.
Second-Team RB: John Lovett, Baylor
Running Back
James Gilbert, Kansas State
Despite two fumbles marring what was otherwise a standout effort, Gilbert finds himself on this list. His 94 yards on the ground ranked third among Big-12 backs in Week 6. On the season as a whole, he is tied for second among Big-12 running backs with 21 first-down carries.
Second-Team RB: Johnnie Lang, Iowa State
Wide Receiver
Devin Duvernay, Texas
Duvernay claims the slot as his stomping grounds, and in Week 6, he continued to dominate from inside. He saw eight targets, hauling in six of them for 86 yards, ranking 15th among Power-5 wideouts in yards per route run (3.31) from the slot (min. five targets).
Second-Team WR: Tylan Wallace, Oklahoma State
Wide Receiver
T.J. Vasher, Texas Tech
After going two weeks without a touchdown — including a dreadful Week 5 output against Oklahoma that saw him notch just two receiving yards — Vasher rebounded against Oklahoma State,  reeling in five catches and a touchdown while posting an absurd 22 yards per catch.
Second-Team WR: Phillip Brooks, Kansas State
Wide Receiver
Deshaunte Jones, Iowa State
When a wideout is seeing 10-plus targets on a regular basis, that's usually a sign they are doing something right. Such is the case for Jones, who had 10 or more targets for the third time in five games. He made good on it with nine catches for 101 yards, pushing his passer rating when targeted on the season to 113.7.
Second-Team WR: Jalen Reagor, TCU
Tight End
Donta Thompson, Texas Tech
It was a mild week for Big 12 tight ends, as none managed to top 50 yards receiving and just two caught touchdowns. Regardless, Thompson was active against Oklahoma State — as were a number of his teammates on offense. He saw 10 targets, the fourth-most of any tight end in Week 6, and caught five of them.
Second-Team TE: Brayden Willis, Oklahoma
Offensive Tackle
Samuel Cosmi, Texas
Cosmi has still yet to allow a quarterback hit or sack on the season. His Week 6 performance had just one blemish — a single quarterback hurry — as he exerted his dominance, resulting in an impressive 83.9 game grade.
Second-Team OT: Julian Good-Jones, Iowa State
Offensive Guard
Josh Knipfel, Iowa State
Knipfel ended Week 6 as college football's highest-graded guard (min. 25 snaps), and for good reason. He didn't surrender a single pressure on 33 pass-blocking snaps and paved the way in the run game with a 78.8 grade in the facet (first among qualifying guards in Week 6).
Second-Team OG: Brey Walker, Oklahoma
Center
Dawson Deaton, Texas Tech
Texas Tech's sophomore center is playing well beyond his years, with Week 6 being his fourth game earning a 70.0-plus grade this season. He also furthered his streak of not allowing his quarterback to be hit — in 245 pass-blocking snaps this season, Deaton has given up just five quarterback hurries.
Second-Team C: Creed Humphrey, Oklahoma
Offensive Guard
Parker Braun, Texas
A graduate transfer from Georgia Tech, Braun showed out in the run game in Week 6. He ranked second among guards in run-blocking grade (77.1) and earned the highest game grade of his young season, posting a 71.2 mark in a win over West Virginia.
Second-Team OG: Junior Angilau, Texas
Offensive Tackle
Bryce Meeker, Iowa State
Joining teammate Josh Knipfel on the Week 6 Big 12 team of the week, Meeker earned the highest game grade (86.0) of qualifying tackles in Week 6. Meeker's run-blocking mark (85.3) was five full grade points higher than the next best tackle, and his pass-blocking prowess showed with no pressures allowed on 33 snaps.
Second-Team OT: Derek Kerstetter, Texas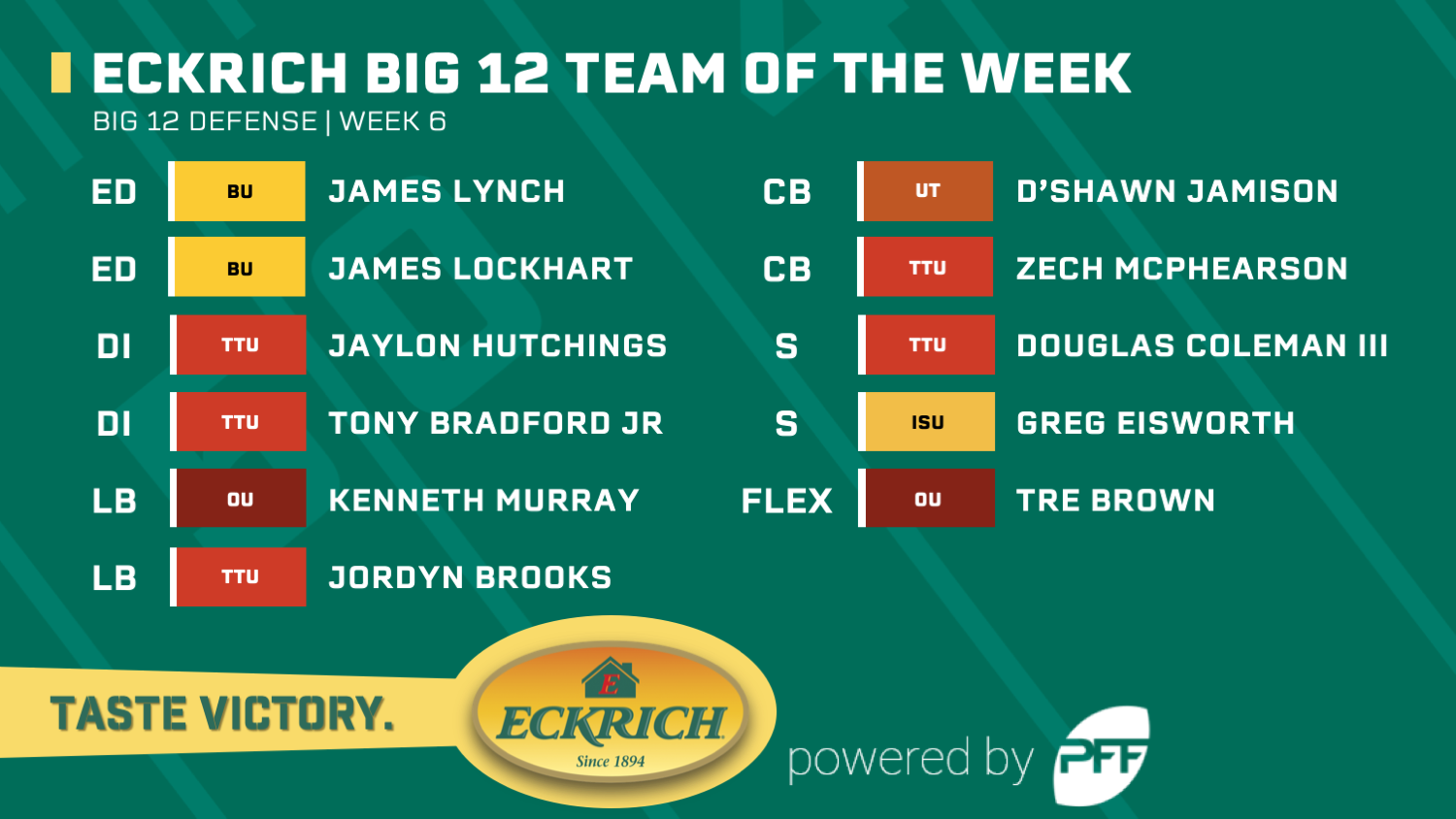 Edge Defender
James Lynch, Baylor
Baylor's edge-rushing tandem finds itself on the team of the week for obvious reasons — they got the quarterback early and often. Lynch totaled eight pressures in Week 6, including a whopping four sacks.
Second-Team Edge: Kyle Ball, Kansas State
Edge Defender
James Lockhart, Baylor
Lockhart matched his partner in crime, putting up eight quarterback pressures himself in Week 6. WHile that translated to just one sack, Lockhart made the most of his snaps with a strong 14.5 pass-rush productivity rating.
Second-Team Edge: Malcolm Roach, Texas
Defensive Interior
Jaylon Hutchings, Texas Tech
Texas Tech's defensive line was buoyed by Hutchings' elite performance, as he he earned the second-best grade among interior defenders in Week 6. He notched four quarterback pressures on just 22 pass-rushing snaps and added two stops, as well.
Second-Team DI: Tvondre Sweat, Texas
Defensive Interior
Tony Bradford Jr., Texas Tech
Bradford saw only 31 snaps on Saturday, making the most of his limited time on the field. He found the quarterback twice — a sack and a hit — on 16 pass-blocking snaps and picked up a run stop.
Second-Team DI: Darius Still, West Virginia
Linebacker
Kenneth Murray, Oklahoma
It's a common occurrence for linebackers to be torched in coverage. Murray, though, wasn't having it on Saturday. He faced three targets, allowing two to be caught for a meager nine yards. And he broke up the other, leading to an impressive 80.0 coverage grade.
Second-Team LB: Ayodele Adeoye, Texas
Linebacker
Jordyn Brooks, Texas Tech
Brooks made his mark in the pass-rush game, posting seven total pressures — including four sacks. That wasn't even his most impressive feat, as he racked up 12 stops on the day, which was the most among all linebackers in Week 6.
Second-Team LB: Joseph Ossai, Texas
Cornerback
D'Shawn Jamison, Texas
On seven targets that came his way, Jamison allowed just four to be completed for 29 yards. Among the three incompletions, he picked off two for a stellar passer rating when targeted of 27.4.
Second-Team CB: Hakeem Bailey, West Virginia
Cornerback
Zech McPhearson, Texas Tech
McPhearson was tied for the Big 12's most-targeted cornerback in Week 6, but he hardly looked fazed. He allowed five completions on nine targets for a mere 42 yards and broke up two passes.
Second-Team CB: A.J. Green, Oklahoma State
Safety
Douglas Coleman III, Texas Tech
Two interceptions for Coleman was the result of his coverage prowess against Oklahoma State, where he allowed just two completions on four targets to go along with five tackles.
Second-Team S: Grayland Arnold, Baylor
Safety
Greg Eisworth, Iowa State
Allowing a passer rating of 0.0 into your coverage isn't too shabby, and that's exactly what Eisworth did in Iowa State's win over TCU. There is an asterisk, however, as he wasn't targeted once — but he still notched a pass breakup and held firm on 14 coverage snaps.
Second-Team S: Pat Fields, Oklahoma
Flex
Tre Brown, Oklahoma
Brown faced four targets on just 22 coverage snaps in Week 6, allowing a single completion for 19 yards in Oklahoma's 45-20 win over Kansas. That continued what has been a lockdown season for Brown, where he's allowed just five completions on 14 targets.
Second-Team Flex: Brandon Jones, Texas