The Alabama receiving corps is comprised of some of the most talented young football players in the entire country. Whether it be Jerry Jeudy, Henry Buggs III, Devonta Smith or Jaylen Waddle – it's almost a guarantee that one of those players finds themselves in the conversation for the Eckrich Gameday MVP week in and week out.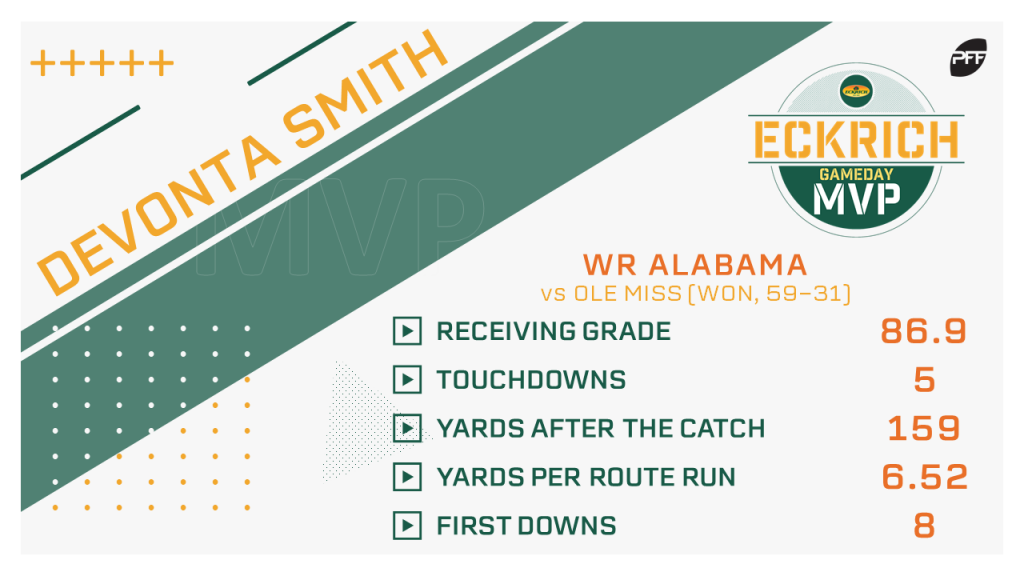 This week it's undoubtedly Devonta Smith. The Louisiana product logged what some would consider one of the most renowned single game pass-catching performances Alabama has ever seen, and he did so against Power 5 competition, albeit Ole Miss.
Smith caught all 11 of his targets and recorded 274 receiving yards, 159 of which occurred after the catch. He also was responsible for moving the chains eight times. Smith found the end zone five times, which shatters Alabama's old single-game record of three. His end zone appearances occurred on throws of 74, 25, 23, 33 and 27 yards. Don't let the staggering numbers fool you, though. Smith's average depth of target was just 10.8 yards down the field on the day, but he averaged 14.5 yards after the catch on those targets. Even more impressively, he ripped off catches of 15-plus yards on seven of his 11 catches. 
Of course, it helps when you have a Heisman-hopeful throwing you the rock in Tua Tagovailoa. The Alabama quarterback had a perfect passer rating of 158.3 when targeting Smith. Tua targeted Smith 30.5% of the time, and as a result, Smith was responsible for 65.6% of Tagovailoa's total passing yards 
If there was an explanation for Smith's success aside from his innate playmaking ability, it would be Alabama's extensive use of play-action. Their ruthless ground game complemented the Crimson Tide's air raid passing attack, as Tagovailoa utilized the most play-action dropbacks in the nation (24). Of course, with Tua's ability to be able to attack the second level of the defense via play-action came Smith's knack for explosive plays. On play-action passes, Smith caught seven of his 11 receptions as well as 189 of his 274 yards. He also earned an 81.4 grade on play-action passes.
It seems that each week Alabama offensive coordinator Steve Sarkesian unleashes another stud offensive player which makes us wonder – who's next?