The Week 5 Pac-12 Eckrich Team of the Week powered by PFF saw some impressive performances and, of course, the strength of opponent also factored into the overall selections as did the PFF player grades.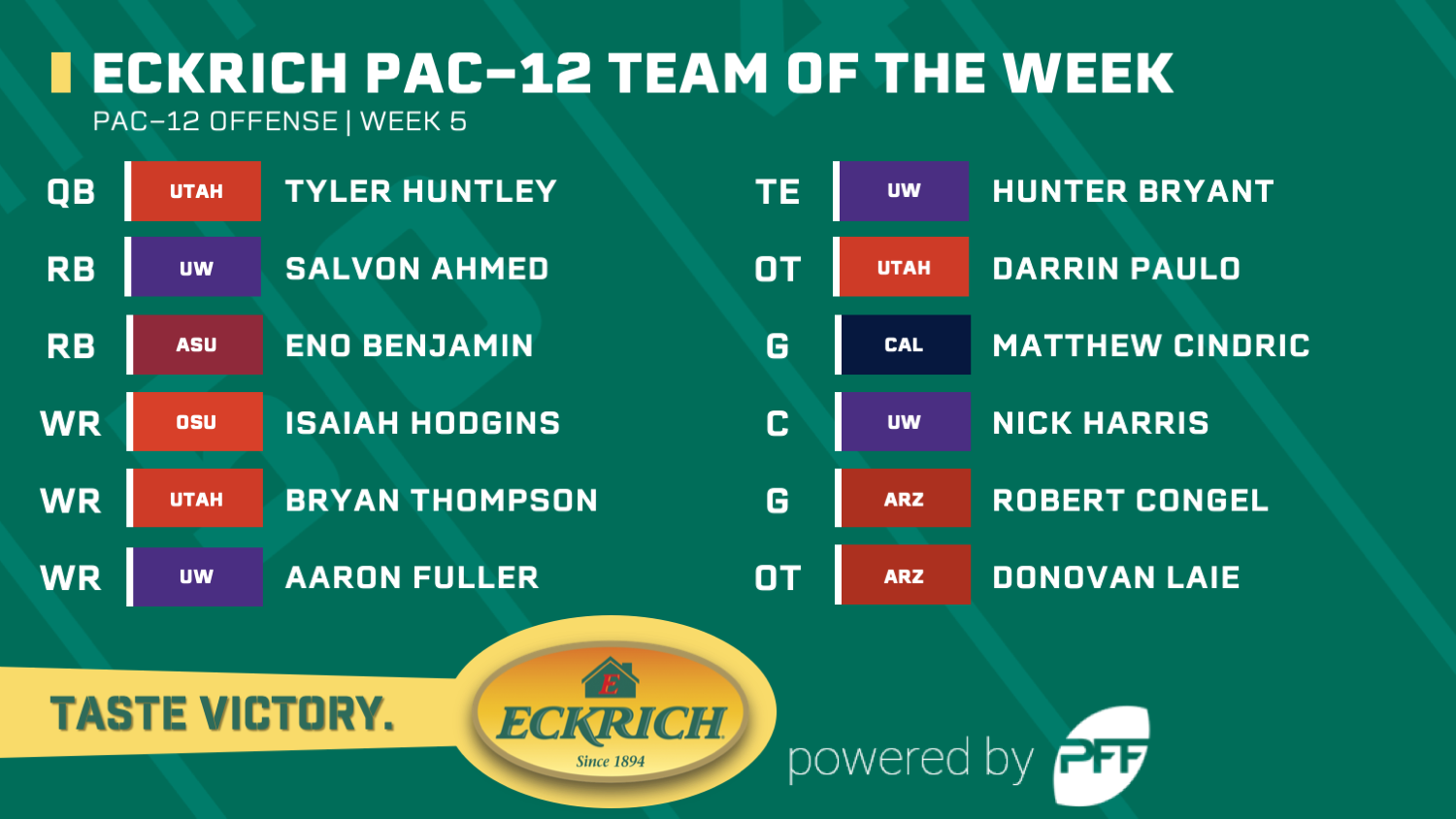 Quarterback
Tyler Huntley, Utah
Huntley led Utah to a convincing 38-13 victory over Washington State despite star running back Zack Moss not playing due to a shoulder injury. He dissected the Cougars defense, completing 21-of-30 attempts for 334 yards, two touchdowns and 13 first downs, making the most of every throw. Huntley even ran two scores in himself, adding to his already stellar night.
Second-Team QB: Grant Gunnell, Arizona
Running Back
Salvon Ahmed, Washington
Ahmed had arguably the best game of his college career, rushing 17 times for 152 yards and an 89-yard scamper into the endzone. His yardage gained led the conference in Week 5 and although he has almost 30 fewer carries, helped put him right behind Stanford running back Cameron Scarlett for the most rushing yards on the season by a mere 15 yards.
Second-Team RB:  Artavis Pierce, Oregon State
Running Back
Eno Benjamin, Arizona State
Arizona State's offensive line was not able to create running lanes against the vaunted California defense but Benjamin did not let this stop him from gaining 100 yards and three touchdowns, including the game-winner on the night. He forced three missed tackles and picked up 76 yards after contact, showcasing his elusiveness with the ball in his hands.
Second-Team RB: Joshua Kelley, UCLA
Wide Receiver
Isaiah Hodgins, Oregon State
Although Oregon State suffered a nail-biting 31 to 28 loss against Stanford on Saturday night, Hodgins showed out, doing what he could to keep his team in the game. He was targeted a conference-leading 14 times, hauling in 10 receptions for 162 yards. Hodgins converted on all of his catches as nine picked up first downs and the other was for the Beavers only passing touchdown of the evening.
Second-Team WR: Samson Nacua, Utah
Wide Receiver
Bryan Thompson, Utah
Thompson was targeted six times and had four receptions against Washington State, but made the most of each one. He benefited from Huntley's elite play, moving the chains on all four of his catches and going for 111 yards, including a 54-yard bomb.
Second-Team WR: Michael Wilson, Stanford
Wide Receiver
Aaron Fuller, Washington
Washington's passing attack struggled to find its rhythm against USC but Fuller was still able to post a top-five receiving grade in the conference. He received 11 targets, nabbing six for 68 yards and three first downs. Fuller ripped off 44 of his yards after the catch, causing trouble for the Trojans secondary.
Second-Team WR: Trevon Clark, Cal
Tight End
Hunter Bryant, Washington
Like his fellow Husky above, Bryant still produced in spite of the passing game as a whole not playing to the level it normally does. He had five throws go his way, grabbing four for 49 yards and three first downs, leading all tight ends in the conference. Bryant showed his athletic ability, forcing two missed tackles and gaining 35 yards after the catch.
Second-Team TE: Colby Parkinson, Stanford
Offensive Tackle
Darrin Paulo, Utah
Paulo dominated the Washington State defensive line on his way to the highest pass-blocking grade of all offensive lineman in the Pac-12. He didn't allow a pressure on 36 snaps in pass protection while finishing with a top-five run-blocking grade in the conference.
Second-Team OT: Abraham Lucas, Washington State
Offensive Guard
Matthew Cindric, Cal
From his left guard position, Cindric forfeited just one pressure on 34 pass-blocking snaps. He was also sharp in the run game, posting the conference's second-highest run-blocking grade among all guards.
Second-Team OG: Alijah Vera-Tucker, USC
Center
Nick Harris, Washington
Harris was staunch in pass protection as he did not allow a single pressure on 34 pass-blocking reps and finishing with the highest pass-blocking grade in the conference from the center position. Harris also posted a top-three run-blocking grade among centers in the Pac-12, which contributed to his lead back landing on this list.
Second-Team C: Brett Neilon, USC
Offensive Guard
Robert Congel, Arizona
Arizona was missing both their star quarterback Khalil Tate and lead running back J.J. Taylor in the matchup against UCLA. This required the offensive line to play at a higher level, to which Congel did. Although he played just 22 pass-protection snaps, he didn't allow a pressure and had a top-five pass-blocking grade in the conference among guards.
Second-Team OG: Valentino Daltoso, Cal
Offensive Tackle
Donovan Laie, Arizona
Another Wildcat offensive lineman on this list, Laie assisted in giving his new QB enough time to process the defense. He conceded just one pressure on 49 pass-blocking reps and added a run-blocking grade which finished in the top five for Pac-12 offensive tackles.
Second-Team OT: Brandon Kipper, Oregon State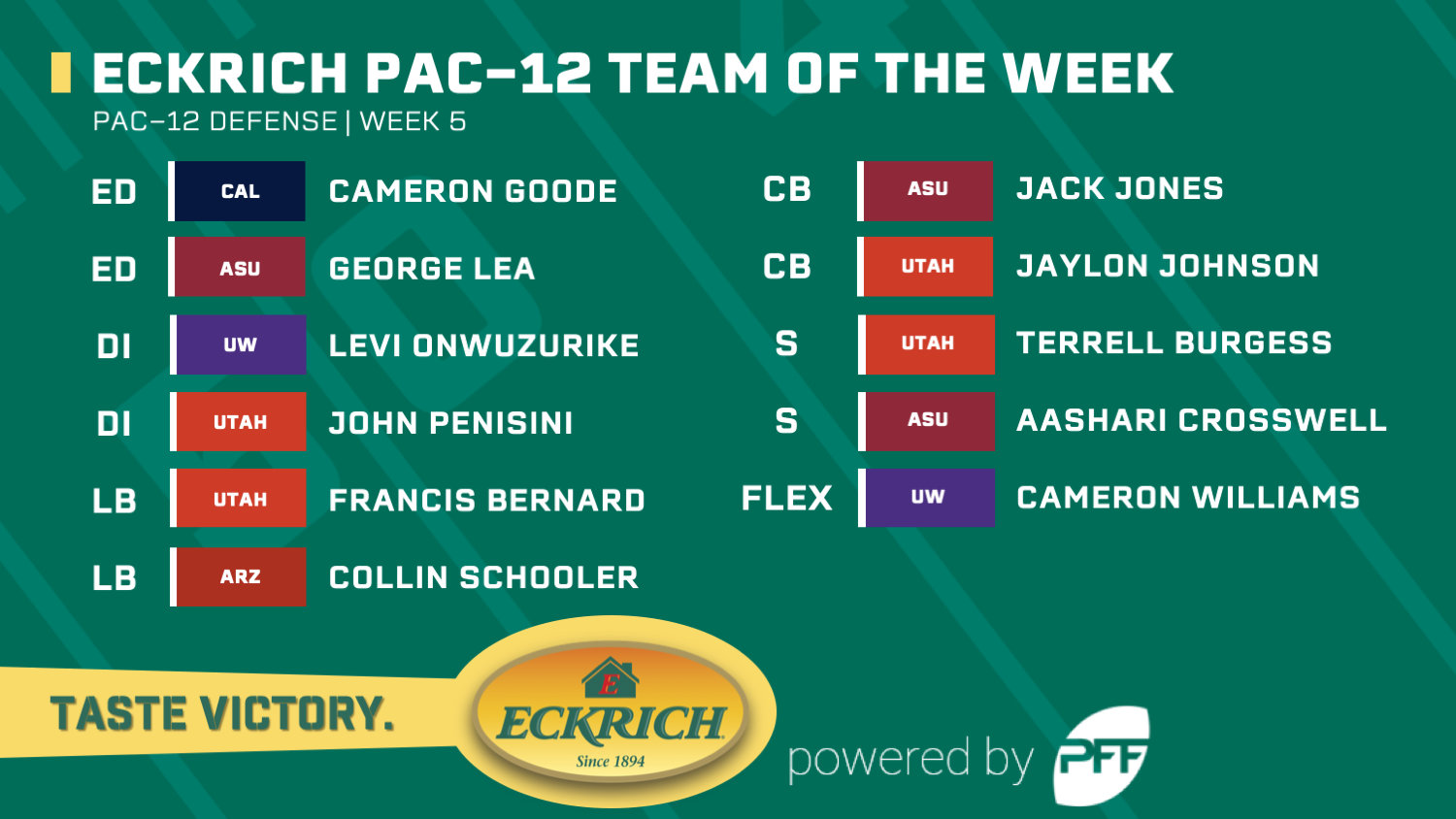 Edge Defender
Cameron Goode, Cal
The Bears defense played well despite being upset by Arizona State in a game in which Cal lost their starting quarterback to a shoulder injury early. Goode caused havoc off the edge, securing five total pressures, including a strip-sack on 30 pass-rush snaps which contributed to his elite conference-leading pass-rush grade. To top it off, Goode also forced five defensive stops, making his presence known against the run.
Second-Team Edge: Tevin Paul, Cal
Edge Defender
George Lea, Arizona State
Lea was an integral part of the team's huge victory over Cal Friday night. He generated three pressures on just 18 pass-rush snaps played and was outstanding against the run, hosting the highest run-defense grade among edge defenders in the conference.
Second-Team Edge: Bradlee Anae, Utah
Defensive Interior
Levi Onwuzurike, Washington
In just 33 total snaps played, Onwuzurike made sure to leave his mark. He had two QB pressures in 15 pass-rush situations and was an absolute rock against the run, forcing five defensive stops and posting a top-three run-defense grade in the Pac-12.
Second-Team DI: Elu Aydon, Oregon State
Defensive Interior
John Penisini, Utah
Utah was excellent against the run, as was Pensini who contributed a defensive stop and took on multiple blockers up the middle. He also added a sack and two QB hurries on 22 pass-rush snaps, forcing the offensive line to pay attention to where he lined up.
Second-Team DI: Thomas Booker, Stanford
Linebacker
Francis Bernard, Utah
With elite grades in coverage, Bernard really dominated where it mattered most against the Washington State Air Raid Offense. he was targeted four times, allowing just 10 yards in coverage and had an interception and a pass breakup for just a 37.5 passer rating when targeted. He also recorded two QB pressures and had five defensive stops that kept the Cougars off balance seemingly all game.
Second-Team LB: Tony Fields II, Arizona
Linebacker
Collin Schooler, Arizona
Schooler was all over the field against UCLA, disrupting multiple plays and making key tackles when needed. He caused five defensive stops when facing the run and had a pass breakup on his only target in coverage on the night.
Second-Team LB: Merlin Robertson, Arizona State
Cornerback
Jack Jones, Arizona State
Arizona State pulled off the upset over 15th-ranked Cal and the defense played an essential role. Jones was solid in coverage as he was targeted six times and allowed just four receptions for 43 yards. He even chipped in two defensive stops against the run.
Second-Team CB: Elijah Molden, Washington
Cornerback
Jaylon Johnson, Utah
Johnson made his impact known in the Utes secondary, causing issues for the Cougars and their pass-happy offense. He gave up a mere four receptions on nine targets for 54 yards, forced a pass breakup and snatched an interception en route to a 24.5 passer rating allowed when targeted.
Second-Team CB: Jonathan McGill, Stanford
Safety
Terrell Burgess, Utah
Yet another Utah defensive player, Burgess played a fundamental part in shutting down Anthony Gordon and Washington State's passing attack. He set the tone for the secondary, forcing three pass breakups on five targets, allowing just two receptions for a grand total of negative three yards. Burgess posted a top-10 coverage grade among all safeties in the nation.
Second-Team S: Myles Bryant, Washington
Safety
Aashari Crosswell, Arizona State
UCLA came off one of the, if not the best, offensive performance in school history last week against Washington State as they scored 67 points. Crosswell was a vital component to the Arizona State's defense allowing just 17 points to the same offense, especially in coverage as he was targeted twice in 34 coverage snaps, surrendering zero receptions and plucking an interception. His performance was good enough to land him the best coverage grade among safeties in the conference and top-five in the nation.
Second-Team S: Julian Blackmon, Utah
Flex
Cameron Williams, Washington
The Washington secondary made life difficult for USC QB Matt Fink in the first start of his college career. Williams allowed zero yards into his coverage and snatched two interceptions, one of which was late in the fourth quarter on the Huskies one-yard line, effectively ending the game against the Trojans. He came out of the contest with the conference's third-best coverage grade among all safeties.
Second-Team Flex: Trent McDuffie, Washington