Things are looking good for the UCF Knights. Led by true freshman Dillon Gabriel, the Knights shut down any talk of them being unable to take down a Power 5 school by a dominant 45-27 victory over Stanford. Because of his breakout performance that torched a solid Stanford defense, Gabriel is the College Football Week 3 Eckrich GameDay MVP.

Gabriel had precise touch on his passes that traveled 10-plus yards. On those throws, Gabriel recorded a 92.1 grade, two big-time throws, zero turnover-worthy plays, a 151.4 passer rating and 18.3 yards per attempt. Take that a step farther and filter to just his deep throws of 20-plus yards, and Gabriel was still lighting up the show. Completing four of his seven deep pass attempts, Gabriel finished with 144 deep yards and three touchdowns, which was good for a 141.4 deep passer rating.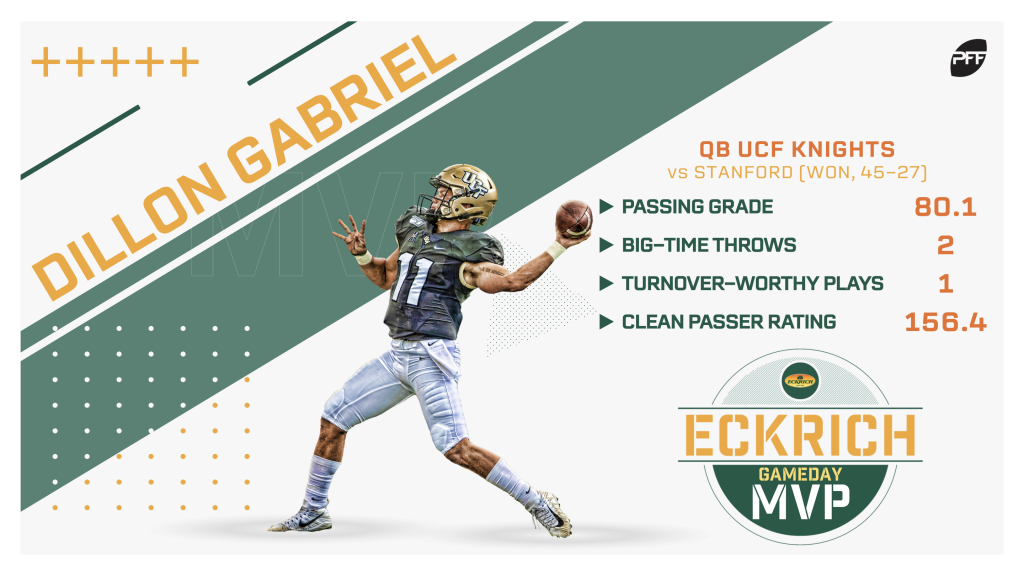 On standard dropbacks inside the pocket, Gabriel's accuracy was too good to stop. In those instances, Gabriel had an 82.6 grade, 157.1 rating and averaged 12.7 yards per attempt. When he was clean inside the pocket, Gabriel's grade jumped up to 87.4. It was clear that the Stanford defense wanted to try and disrupt Gabriel through the pass-rush rather than in coverage, as he was blitzed on over 36% of his dropbacks. Though Stanford far from disrupted Gabriel, he was still elite against their blitz with a 91.6 grade while completing nine of his 11 pass attempts for 166 yards, two touchdowns, a perfect passer rating of 158.3 and 15.1 yards per attempt.
Moreover, Stanford's strategy to contain Gabriel clearly did not work at all. The Cardinal opted to have less in the box more often than not, and Gabriel lit them up on those plays. Against six or less defenders in the box, Gabriel went 13-fo- 16 and had 129 yards, one touchdown, a 128.9 passer rating and a 91.2 grade.
Perhaps the most impressive aspect of Gabriel's top-notch play against Stanford was the fact he picked on one of the nation's top cornerbacks in coverage and exposed him more than any other corner has. Stanford corner Paulson Adebo entered the season as the 2020 draft class' fifth-best cornerback and 30th-best prospect in the class according to PFF's Preseason 2020 NFL Draft Guide. Additionally, he also has the draft class' best ball skills. Throughout the game, Gabriel targeted Adebo nine times and completed six of them for 86 yards, one touchdown, a 134.5 passer rating and had an 84.0 passing grade. Adebo ended up with the worst coverage grade he has had in his Cardinal career and allowed the most yards in coverage in a single game.
Gabriel proved to the world that the Group of 5 UCF Knights are indeed capable of hanging with the big dogs. Although it was an unranked Pac-12 team, this win is huge for the program and should ultimately lead them to more College Football Playoff discussions come December.