PFF is here to provide everything you need to know ahead of the second full week of college football.
Below, you'll find this week's schedule, game lines, guidance to PFF Greenline picks and a game preview for the most notable matchups. Please note that the lines are courtesy of our friends over at DraftKings Sportsbook and are subject to change up until kickoff.

---
Click here for more PFF tools:
Fantasy Draft Kit | PFF Betting Dashboard | PFF Fantasy Rankings
PFF Fantasy Projections | NFL Premium Stats | Win Totals Tracker
---
Saturday, Sep. 11 | 12:00 PM EST | FOX
Spread: Ohio State -14.5 (-105)
Total: 62.5
Moneyline: Ohio State -675, Oregon +475
There's a strong likelihood that Oregon will be without star edge defender Kayvon Thibodeaux, who would have been the best player on the field in Columbus. Thibodeaux suffered a minor ankle sprain in Week 1 against Fresno State, but earned a 90.1 PFF grade that was anchored by a strip-sack prior to the injury. There are plenty of other talented pieces on this Oregon defense, such as cornerback Mykael Wright, linebacker Noah Sewell and Week 1 secret superstar Brandon Dorlus, but they can't replace that game-wrecking potential Thibodeaux brings to the table.
That makes life on young Buckeyes starting quarterback C.J. Stroud, who struggled in his debut against Minnesota. He showed off his big arm and mobility, but his accuracy left a lot to be desired. He produced more negatively graded throws than positively graded ones, something Justin Fields never did in a game in his collegiate career. The offense was still able to create big plays thanks to Ohio State's wide receivers and scheme in addition to Minnesota coverage busts, but it seems like Stroud has a long way to go.
Click here for PFF Greenline's cover probabilities for side, total and moneyline.
Saturday, Sep. 11 | 12:00 PM EST | ESPN2
Spread: Georgia -24 (-120)
Total: 44.5
Moneyline: Georgia -3300, UAB +1400
UAB has one of the most unique passers in PFF College's database leading their offense. Tyler Johnston III leads all FBS quarterbacks since 2014 in big-time throw rate but also has the eighth-worst turnover-worthy play rate among that group over that span. There is one category in particular that Johnston has played the cleanest ball: facing blitzes. Johnston has had immense success versus blitzes in his career, recording a 90.3 passing grade on such plays, which leads all active FBS quarterbacks.
UAB QB Tyler Johnston III vs blitzes since 2018
| | |
| --- | --- |
| Passing grade | 90.3 (1st among active FBS QBs) |
| Comp/Att | 98/177 |
| Yards | 1,799 |
| TD:INT | 19:5 |
| BTT:TWP | 28:11 |
All that being considered, it's going to be an entirely different ball game for Johnston this Saturday against Georgia — his fourth game against a Power-Five defense.
Lowest explosive pass play rate in Week 1 among Power Five defenses
| | |
| --- | --- |
| Team (w/ opponent) | % of pass plays picking up 15+ yards |
| Georgia (vs Clemson) | 3.1% |
| Vandy (vs ETSU) | 3.8% |
| Cal (vs Nevada) | 4.9% |
| Georgia Tech (vs NIU) | 5.7% |
If I showed you this table above without knowing what happened in college football Week 1, you would have guessed the Dawgs got pummeled. Well, that clearly did not occur, as they upset the LSU Tigers in a 10-7 victory thanks to the defensive side of the ball.
Georgia has a group that is decidedly different from almost all of the other 129 defenses in college football, and they showed that last week with the pressure they brought against the Clemson Tigers. Georgia pressured quarterback D.J. Uiagalelei 18 times, only three of which resulted in a completion.
There isn't a more physically gifted defensive unit in the country than the one Georgia has on their hands at this moment in time. And that's going to make UAB's path to points a very difficult one.
Click here for PFF Greenline's cover probabilities for side, total and moneyline.
Saturday, Sep. 11 | 3:30 PM EST | FOX
Spread: Texas A&M -17 (-110)
Total: 51
Moneyline: Colorado +575, Texas A&M -850
Texas A&M's passing offense is the only major question mark on the team. Luckily, The Aggies have one of the best rushing attacks in the country, as evidenced by their No. 3 rushing grade and No. 4 run-block grade among the 65 Power Five programs in Week 1 against Kent State. The Aggies' defense was a top-10 unit nationally in the preseason in PFF's eyes, and it did nothing to change any minds in Week 1, allowing -0.38 EPA per pass against one of the top Group-of-Five offenses.
Quarterback Haynes King wasn't spectacular against a shaky coverage unit, ranking 36th of 52 qualifying Power-Five quarterbacks in negatively graded throw rate. The Colorado defense he faces this weekend is a sneaky good one, as cornerback Mekhi Blackmon, edge defenders Terrance Lang and Carson Wells, and off-ball linebacker Nate Landman lead the way. Only Utah has a better successful play rate against than Colorado in the Pac 12 since 2020.
Texas A&M may be double-digit favorites, but this will be a good test for their young quarterback.
Click here for PFF Greenline's cover probabilities for side, total and moneyline.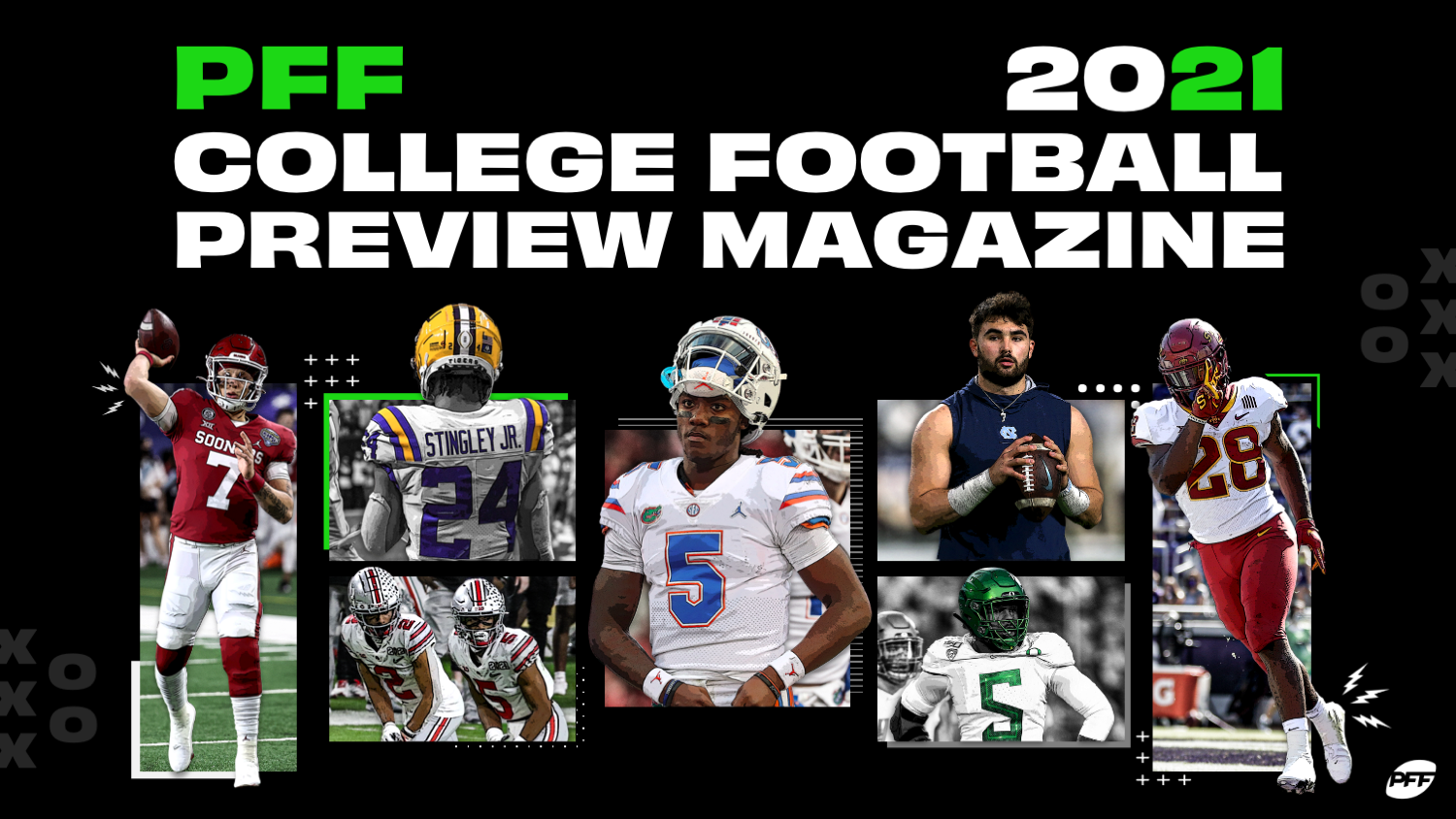 Saturday, Sep. 11 | 4:30 PM EST | ABC
Spread: Iowa State -4.5 (-110)
Total: 46
Moneyline: Iowa State -195, Iowa +165
Iowa is fresh off a dominant victory over previously ranked Indiana thanks to its secondary's performance. Phil Parker has bred the secondary to master his zone defense, and it picked apart quarterback Michael Penix Jr., allowing a successful pass play just 30.6% of the time — the best mark among teams that faced a Power-Five offense in Week 1. Cornerback Riley Moss, a former two-star recruit, was PFF's best defensive player of the week, as he took two interceptions to the house for touchdowns.
Iowa State, on the other hand, barely scraped by Northern Iowa in a six-point victory, which raised more questions about just how good they actually are. Running back Breece Hall couldn't break away against the Panthers. Across 23 carries, 12 yards was his longest run. Quarterback Brock Purdy was sluggish, ending the game with zero big-time throws. Overall, the Iowa State offense generated -0.11 EPA per play against an FCS school.
This in-state rivalry is even more interesting after observing those two programs in Week 1.
Click here for PFF Greenline's cover probabilities for side, total and moneyline.
Saturday, Sep. 11 | 7:00 PM EST | ESPN
Spread: Texas -6.5 (-115)
Total: 57
Moneyline: Arkansas +205, Texas -255
The first game of the Steve Sarkisian era could not have been better for the Longhorns, as they went toe-to-toe with one of the Group of Five's top defenses — Louisiana — but handled them in a 38-18 victory. New starting quarterback Hudson Card looked the part with an 80.5-graded performance. His deep ball wasn't finely tuned, but he was automatic on throws to the short and intermediate levels of the field. On throws of 19 yards or less, Card earned a 93.6 passing grade while completing all 13 of his passes for 190 yards and two touchdowns. In all, Sark helped dial up a Texas passing attack that not only led all Power-Five programs in per play passing efficiency in Week 1 but also all Longhorn offenses in the PFF College era.
Most efficient Texas passing offense in a single game in the PFF College era
| | |
| --- | --- |
| Game | EPA per pass |
| 2021 Week 1 vs. Louisiana | 0.66 |
| 2019 Week 3 at Rice | 0.61 |
| 2015 Week 2 vs. Rice | 0.6 |
| 2018 Week 1 at Texas Tech | 0.53 |
Not too shabby considering Louisiana ranked top five in EPA per pass allowed among FBS teams in 2020 and brought back all of their key defensive backs.
That Texas offense will travel to face an Arkansas defense that was put on upset alert against Rice through the first three-quarters of Week 1. The Razorbacks entered the fourth quarter tied with the Owls after giving up 0.4 EPA per pass. They proceeded to put 21 unanswered points on the board with the help of three interceptions, but that lethargic start against a lower-tier FBS program is a concern. Arkansas could have a tough time handling Sark, Card, running back Bijan Robinson and wide receiver Jordan Whittington this week.
Click here for PFF Greenline's cover probabilities for side, total and moneyline.
Saturday, Sep. 11 | 7:30 PM EST | SEC Network
Spread: Kentucky -5 (-110)
Total: 56
Moneyline: Kentucky -200, Missouri +170
Kentucky's new offense dominated, and new quarterback Will Levis looked like a star in the Wildcats' 45-10 win over UL-Monroe. Levis earned a 91.5 passing grade, the second-best single-game mark by a Kentucky quarterback since 2014, and completed four deep balls for 210 yards and a couple of scores. Those 210 deep passing yards were 85 more than the Wildcats have had in a single game in the PFF College era. Both wide receivers Josh Ali and Wan'Dale Robinson were studs, earning 77.3 and 81.4 receiving grades respectively. However, let's not forget that the team Kentucky played entered the week 127th of the 130 FBS programs in PFF ELO and is coming off an 0-10 season.
Moral of the story: wait until Kentucky plays an at least average team like Missouri. The Tigers didn't beat down their opponent in Week 1 like the Wildcats, but they still beat Central Michigan. The defense played better than expected against the pass, the pass-rush impressed, and the inexperienced secondary was productive, totaling nine plays on the ball. Missouri allowed a 37.3% successful pass play rate — fourth-best in the SEC in Week 1.
Click here for PFF Greenline's cover probabilities for side, total and moneyline.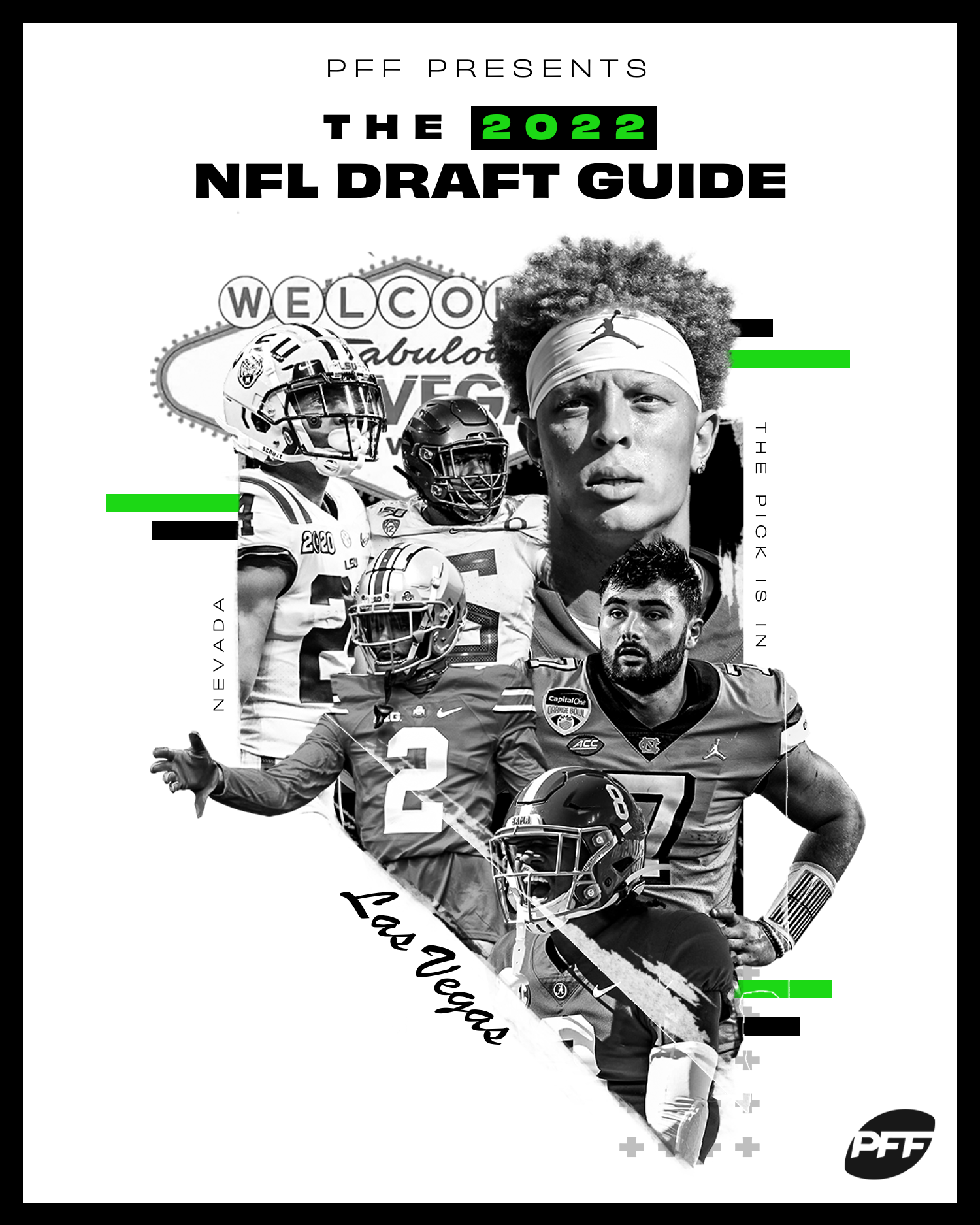 Saturday, Sep. 11 | 8:00 PM EST | ABC
Spread: Michigan -6 (-120)
Total: 49
Moneyline: Michigan -250, Washington +200
Michigan is fresh off a blowout win over Western Michigan, but there was an injury in the midst of it that will significantly hurt the Wolverines' offense. Star receiver Ronnie Bell — a PFF Preseason third-team All-Big Ten selection — suffered a season-ending injury on a punt return. He was the best receiver the Wolverines had on the roster, which is backed up by his 76-yard touchdown and insane one-hand catch (that was negated by a penalty) prior to that injury. Cornelius Johnson and Mike Sainristil are the next two receivers who will be featured in this offense with Bell out.
Neither has done much in his career to get excited about, as both own middling receiving grades. On the bright side for Michigan fans, quarterback Cade McNamara was impressive in his limited time on the field, as he earned a 93.0 PFF grade across his 11 dropbacks, which featured a couple of big-time throws.
Washington has a little less hope at quarterback than the Wolverines do. Quarterback Dylan Morris is a limited passer who doesn't provide much in the deep passing game. He is coming off a poor performance in the Huskies' upset loss to Montana in Week 1, finishing with a poor 49.2 passing grade. Morris has notoriously struggled to hit deep shots in his five starts in Washington, as he attempted 18 throws over 20-plus yards with only four completions.
Washington's offense doesn't have the outside receivers as the primary targets, which means Michigan slot corner Daxton Hill is likely in for a busy day, which could be tough for the Huskies. Hill is one of the best all-around athletes in the entire country and a true playmaker. He's fresh off a 78.6-graded performance that featured four passing stops, a pass breakup and only one first down allowed.
Another matchup to watch is Michigan edge defender Aidan Hutchinson against Washington tackle Jaxson Kirkland. Hutchinson earned a 93.0 PFF grade in Week 1 against Western Michigan while Kirkland has allowed only two pressures on 175 pass-block snaps since 2020 (both being a hurry).
Click here for PFF Greenline's cover probabilities for side, total and moneyline.
Saturday, Sep. 11 | 10:15 PM EST | ESPN
Spread: Utah -7 (-115)
Total: 48
Moneyline: Utah -290, BYU +230
Utah got a nice warm-up against an FCS opponent before their showdown against BYU in Week 2. To no surprise, the Utes looked pretty strong across the board against Weber State. New quarterback Charlie Brewer earned a 90.4 passing grade, which was his highest since Week 4 of his 2018 campaign with Baylor.
Before we start saying Brewer is a changed man from his 2020 season that ended in a poor 57.2 passing grade, he has to replicate that kind of performance against an actual FBS defense, such as BYU, who fared well in coverage in their Week 1 win over Arizona. The Cougars gave up a few big plays but still earned the sixth-best team coverage grade among teams that played an FBS opponent in Week 1.
BYU's offense wasn't spectacular overall against a depleted Arizona team, but the group was serviceable. Running back Tyler Allgeier earned a 67.1 PFF grade, which would have been the second-lowest-graded game of his 2020 breakout campaign. Quarterback Jaren Hall earned a 69.6 mark but did have an exceptional big-time throw where he looked off a safety in a collapsing pocket before throwing a 67-yard touchdown.
We'll learn a lot about these two teams Saturday night.
Click here for PFF Greenline's cover probabilities for side, total and moneyline.
Saturday, Sep. 11 | 10:30 PM EST | FOX
Spread: USC -17.5 (-105)
Total: 51.5
Moneyline: USC -900, Stanford +600
USC might be taking a step in the right direction after handling a good San Jose State team in Week 1. No Pac-12 coverage unit earned a higher grade in Week 1 than the Trojans. Their outside corner room performed admirably — specifically Jayden Williams, Isaac Taylor-Stuart, Joshua Jackson Jr. and Chris Steele, who only allowed one first down combined while forcing four incompletions and a passing stop.
On offense, quarterback Kedon Slovis performed relatively well, earning an 82.6 PFF grade. His deep passing shined, as he completed four of five 20-plus yard throws for 107 yards and two scores. Slovis may not be the elite quarterback many thought he'd be, but he's still hands down the best player at the position in the conference. For that reason, USC should be viewed as the Pac 12's top dog. 
Stanford is going in the opposite direction in the short term. The Cardinal's 11-year streak of top-25 appearances came to an end last year, and it'd be a surprise if they reclaimed a spot in 2021. Stanford produced the second-worst EPA per play mark among Pac-12 teams in their 24-7 loss to Kansas State in Week 1, and their defense earned the lowest unit grade in the conference.
Click here for PFF Greenline's cover probabilities for side, total and moneyline.
THE REST OF THE FBS SLATE:
Kansas at No. 17 Coastal Carolina
Friday, Sep. 10 | 7:30 PM EST | ESPN2
Friday, Sep. 10 | 8:00 PM EST | ACC Network
Friday, Sep. 10 | 9:00 PM EST | CBS Sports Network
UTEP at Boise State
Friday, Sep. 10 | 9:30 PM EST | FS1
Saturday, Sep. 11 | 11:00 AM EST | ACC Network
Saturday, Sep. 11 | 11:30 AM EST | CBS Sports Network
VMI at Kent State
Saturday, Sep. 11 | 11:30 AM EST | ESPN3
Alabama State at No. 25 Auburn
Saturday, Sep. 11 | 12:00 PM EST | SEC Network
South Carolina at East Carolina
Saturday, Sep. 11 | 12:00 PM EST | ESPN2
Saturday, Sep. 11 | 12:00 PM EST | ESPN
Kennesaw State at Georgia Tech
Saturday, Sep. 11 | 12:00 PM EST | ESPN3
Saturday, Sep. 11 | 12:00 PM EST | ACC Network Extra
Youngstown State at Michigan State
Saturday, Sep. 11 | 12:00 PM EST | Big Ten Network
Saturday, Sep. 11 | 12:00 PM EST | ESPNU
Saturday, Sep. 11 | 12:00 PM EST | Big Ten Network
Saturday, Sep. 11 | 12:00 PM EST | FS1
Saturday, Sep. 11 | 1:00 PM EST | ABC
Saturday, Sep. 11 | 1:00 PM EST | ESPN+
Saturday, Sep. 11 | 1:30 PM EST | ESPN+
Middle Tennessee at No. 19 Virginia Tech
Saturday, Sep. 11 | 2:00 PM EST | ACC Network Extra
Saturday, Sep. 11 | 2:00 PM EST | ACC Network 
Saturday, Sep. 11 | 2:00 PM EST | ESPN3
Toledo at No. 8 Notre Dame
Saturday, Sep. 11 | 2:30 PM EST | Peacock
Saturday, Sep. 11 | 3:00 PM EST | CBS Sports Network
Robert Morris at Central Michigan
Saturday, Sep. 11 | 3:00 PM EST | ESPN3
Murray State at No. 7 Cincinnati
Saturday, Sep. 11 | 3:30 PM EST | ESPN+
Ball State at No. 11 Penn State
Saturday, Sep. 11 | 3:30 PM EST | FS1
Saturday, Sep. 11 | 3:30 PM EST
Saturday, Sep. 11 | 3:30 PM EST
Saturday, Sep. 11 | 3:30 PM EST | Big Ten Network
Saturday, Sep. 11 | 3:30 PM EST | ESPNU
Saturday, Sep. 11 | 3:30 PM EST | ESPN+
Saturday, Sep. 11 | 3:30 PM EST | CBS
Saturday, Sep. 11 | 4:00 PM EST | SEC Network
South Alabama at Bowling Green
Saturday, Sep. 11 | 4:00 PM EST | ESPN+
South Carolina State at No. 6 Clemson
Saturday, Sep. 11 | 5:00 PM EST | ACC Network
Long Island University at West Virginia
Saturday, Sep. 11 | 5:00 PM EST | Big 12 Network & ESPN+
Illinois State at Western Michigan
Saturday, Sep. 11 | 5:00 PM EST | ESPN3
Saturday, Sep. 11 | 6:00 PM EST | ESPN3
Saturday, Sep. 11 | 6:00 PM EST | ESPN3
Portland State at Washington State
Saturday, Sep. 11 | 6:00 PM EST | Pac-12 Network
North Carolina Central at Marshall
Saturday, Sep. 11 | 6:30 PM EST | ESPN+
Saturday, Sep. 11 | 6:30 PM EST | CBS Sports Network
Saturday, Sep. 11 | 6:30 PM EST | ESPN+
Saturday, Sep. 11 | 7:00 PM EST | ESPN2
Western Carolina at No. 4 Oklahoma
Saturday, Sep. 11 | 7:00 PM EST 
Eastern Michigan at No. 18 Wisconsin
Saturday, Sep. 11 | 7:00 PM EST | FS1
App State at No. 22 Miami (FL.)
Saturday, Sep. 11 | 7:00 PM EST | ESPNU
Saturday, Sep. 11 | 7:00 PM EST | ESPN3
Texas State at FIU
Saturday, Sep. 11 | 7:00 PM EST | ESPN+
SE Louisiana at Louisiana Tech
Saturday, Sep. 11 | 7:00 PM EST | ESPN3
North Texas at SMU
Saturday, Sep. 11 | 7:00 PM EST | ESPN+
Saturday, Sep. 11 | 7:00 PM EST | ESPN3
Saturday, Sep. 11 | 7:00 PM EST | ESPN3
EKU at Louisville
Saturday, Sep. 11 | 7:00 PM EST | ACC Network Extra
Saturday, Sep. 11 | 7:00 PM EST | ESPN+
Saturday, Sep. 11 | 7:00 PM EST | Big 12 Network & ESPN+
Southern Illinois at Kansas State
Saturday, Sep. 11 | 7:00 PM EST | Big 12 Network & ESPN+
SFA at Texas Tech
Saturday, Sep. 11 | 7:00 PM EST | Big 12 Network & ESPN+
Saturday, Sep. 11 | 7:00 PM EST | ESPN+
New Mexico State at New Mexico
Saturday, Sep. 11 | 7:00 PM EST 
Georgia State at No. 24 North Carolina
Saturday, Sep. 11 | 7:30 PM EST | ESPN3
Saturday, Sep. 11 | 7:30 PM EST | Big Ten Network
Austin Peay at No. 20 Ole Miss
Saturday, Sep. 11 | 7:30 PM EST | ESPN+ & SEC Network+
Saturday, Sep. 11 | 7:30 PM EST | Big Ten Network
Saturday, Sep. 11 | 8:00 PM EST | ESPN+ & SEC Network+
Jacksonville State at Florida State
Saturday, Sep. 11 | 8:00 PM EST | ACC Network
Saturday, Sep. 11 | 10:00 PM EST | CBS Sports Network
Saturday, Sep. 11 | 10:00 PM EST | Pac-12 Network
Saturday, Sep. 11 | 10:00 PM EST
UNLV at No. 23 Arizona State
Saturday, Sep. 11 | 10:30 PM EST | ESPN2
Saturday, Sep. 11 | 10:30 PM EST
Saturday, Sep. 11 | 11:00 PM EST | FS1