After a full slate of games on Saturday, we at PFF and our team of over 500 analysts have dissected and graded every player on every snap of every game to bring you the most detailed and valid set of picks you can find anywhere.

The Week 14 Eckrich Team of the Week powered by PFF saw some impressive performances and, of course, the strength of opponent also factored into the overall selections as did the PFF player grades.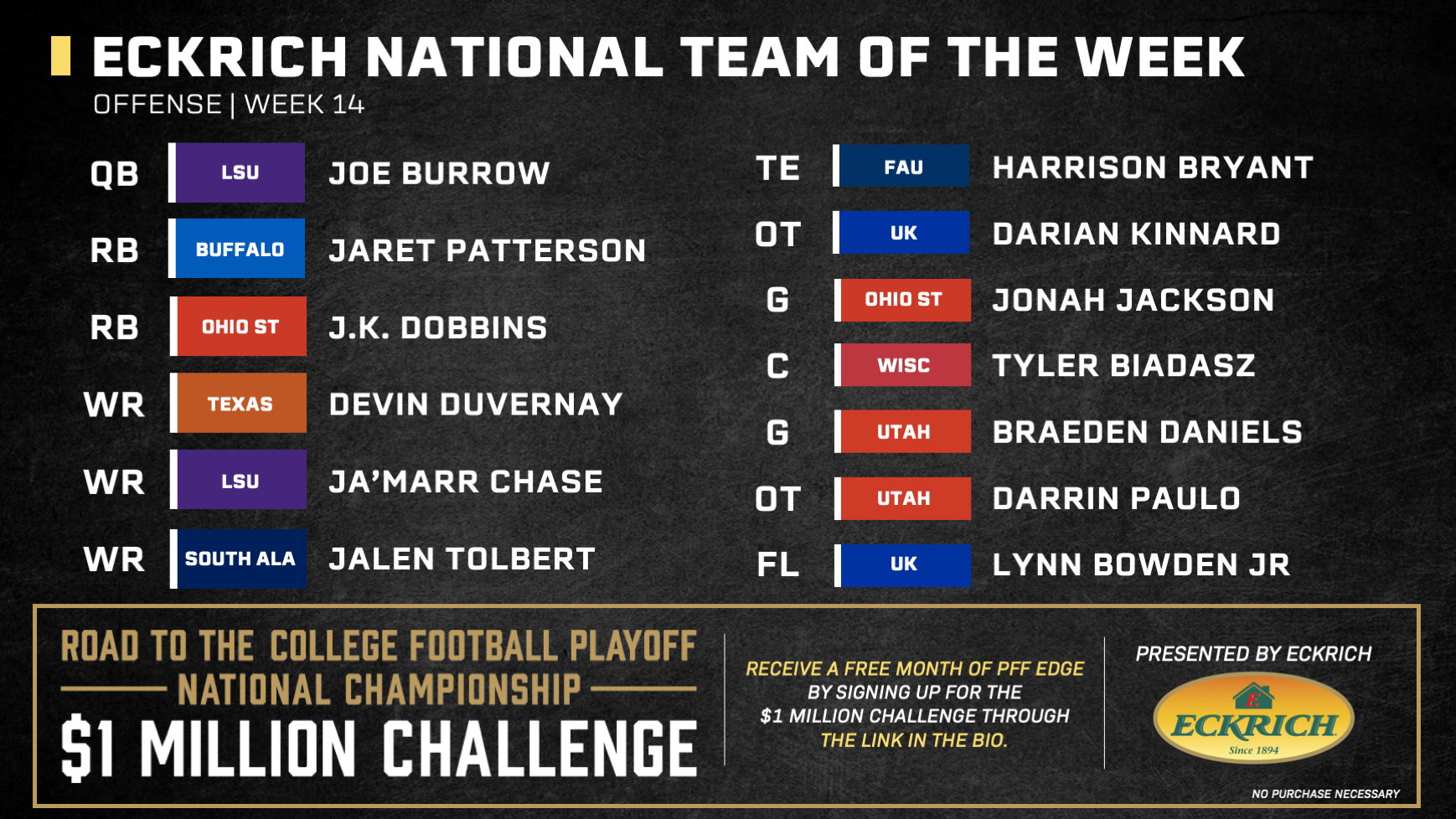 Quarterback
Joe Burrow, QB, LSU
In his final game at Tiger Stadium, Burrow entered with a bang on Senior Night and exited just the same. Donning a specialized Joe Burreux jersey, the odds-on favorite to win the Heisman Trophy dismantled the Texas A&M defense, most notably in the first quarter as he completed 7-of-9 attempts for 168 yards and two touchdowns in the opening frame. He finished the game with 353 yards on 23-of-32 attempts with a big-time throw sprinkled in as he looked every bit the part of the best quarterback in the country.
Second-Team QB: Justin Fields, Ohio State
Flex Offense
Lynn Bowden Jr., Kentucky
A performance so special yielded its own position on our offensive team of the week as Bowden set all sorts of records with his performance against Louisville. He finished second in the country at any position with 284 rushing yards while he racked up the national-best 150 yards after contact on the ground. He ran for four touchdowns and had six more first-down carries, breaking 12 tackles in the process. He needed only two pass attempts to down the Cardinals as Bowden (and the rest of the Wildcats rushing attack) quite literally ran over Louisville.
Running Back
Jaret Patterson, Buffalo
Patterson's record-setting day saw him reach the end zone six times against Bowling Green as he finished the day with 26 carries for 298 yards and six scores. He was a mere 2-yard touchdown run (one scored by Kevin Marks) away from seven touchdowns and 300 yards but nevertheless, his performance was a sight to behold. He broke seven tackles in the process, gained 111 yards after contact and seven more of his carries went for first downs in the dominant victory by the Bulls.
Second-Team RB: Frankie Hickson, Liberty
Running Back
J.K. Dobbins, Ohio State
Dobbins was head and shoulders above his competition on Saturday, reaching the end zone four times including one 'slam dunk' over the pylon that will forever be etched into The Game's rivalry videos. He rushed 30 times for 205 yards against Michigan, recording six first-down carries and gaining 81 yards after contact. He has his blocking to thank just as much as he does his vision as he saw open holes just as quickly as he hit them.
Second-Team RB: Eric Gray, Tennessee
Wide Receiver
Devin Duvernay, Texas
Duvernay capped an incredible 2019 regular season with a dominant performance against Texas Tech. He was targeted nine times and hauled in six receptions for 199 yards. All six of his receptions converted for the Longhorns as he hauled in a beautiful downfield shot from Sam Ehlinger for a 75-yard touchdown and recorded five more first-down receptions. Gaining 100 yards after the catch and securing all six receptions without a drop was just another dominant outing as he capped his final regular-season game with his finest performance to date.
Second-Team WR: Jamarye Joiner, Arizona
Wide Receiver
Ja'Marr Chase, LSU
Benefiting from Burrow's big day, Chase hauled in seven receptions for 197 yards and two scores as he's almost certainly on his way to a Biletnikoff Award at season's end. Similar to Duvernay, all seven of his receptions converted as his five non-scoring receptions each moved the chains for a first down and he racked up 64 yards after the catch. Obviously, he saw a perfect passer rating of 158.3 on his targets.
Second-Team WR: Garrett Wilson, Ohio State
Wide Receiver
Jalen Tolbert, South Alabama
Don't be alarmed if you didn't see this performance coming as the Jaguars had thrown all of 10 touchdowns passes leading into their final game of the season. Tolbert saw the benefit of Desmond Trotter at quarterback against Arkansas State as he hauled in four touchdown receptions on five catches for 144 yards. He went over the 100-yard mark for the first time in his career and by far finished with his highest-graded performance in South Alabama's second win of the year.
Second-Team WR: Branden Mack, Temple
Tight End
Harrison Bryant, FAU
For the second week in a row, Bryant finds himself as our tight end of the week after hauling in three touchdown receptions against Southern Miss. The Owls clinched their spot in the Conference-USA title game with their victory and Bryant was integral. He scored the team's three receiving scores while also finishing with plus-grades in the run- and pass-blocking game. With two strong performances to close out the regular season, Bryant has one more showcase game in the C-USA Championship to demonstrate his case for the Mackey Award.
Second-Team TE: Brant Kuithe, Utah
Offensive Tackle
Darian Kinnard, Kentucky
The Wildcats didn't run over Louisville without great blocking and Kinnard had the most success on their offensive line against the Cardinals. He led the nation's tackles with an elite 89.0 run-blocking grade and wasn't penalized once on his 31 snaps in the run game.
Second-Team OT: Tristan Wirfs, Iowa
Offensive Guard
Jonah Jackson, Ohio State
Finishing the regular season with his best performance yet, Jackson had not only the best overall game grade of his Ohio State career but in his four years as a collegiate offensive lineman. He allowed one hurry on 32 pass-blocking snaps and was second among all guards in run-blocking grade. Against a formidable Michigan front who was second in pressure percentage entering the game, Jackson's efforts were vital to Ohio State's success in the passing game.
Second-Team OG: Roy Hemsley, Arizona State
Center
Tyler Biadasz, Wisconsin
No surprise once again that Biadasz makes the list as he was dominant up front against Minnesota. He didn't allow a single quarterback pressure and finished with the country's second-highest run-blocking grade among all centers as he's rattled off four straight games of 77.1 or better overall grades.
Second-Team C: Taaga Tuulima, Hawaii
Offensive Guard
Braeden Daniels, Utah
Not the only Ute on the list here, Daniels lands as one of our guards after not allowing a single QB pressure on 27 pass-blocking snaps despite having to go against a tough Colorado interior. With top-eight grades in both the pass and the run game, it's no wonder why he graces our list.
Second-Team OG: Shea Baker, Rice
Offensive Tackle
Darrin Paulo, Utah
Paulo had the nation's top pass-blocking grade among tackles, not surrendering a single QB pressure on his 27 pass-blocking snaps against Colorado. Couple that with strong grades in the run game and you have just another great day from a Utah offensive lineman.
Second-Team OT: Isaiah Wilson, Georgia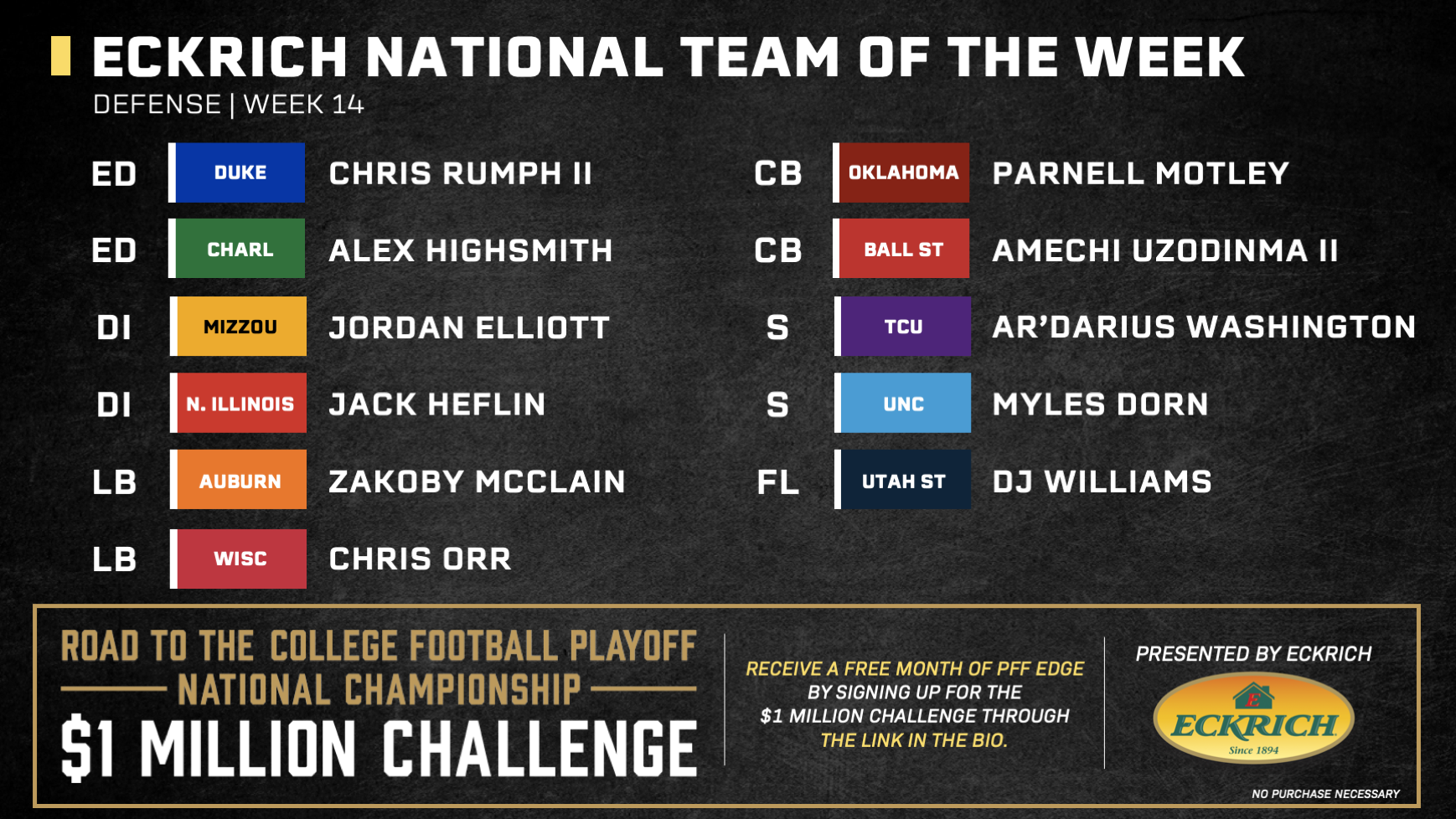 Edge Defender
Chris Rumph II, Duke
In a historic performance against Miami, Rumph set the new standard for pass-rush win rate in a single game, winning 51.7% of his pass-rush attempts against Miami's offensive line. That paved the way for 13 total pressures including four sacks, a QB hit and eight more pressures. He forced a fumble to go with two stops in the run game and the nation's best pass-rushing grade, obviously, among all defenders in Week 14. Rumph put the exclamation point on what has been a true breakout season for him.
Second-Team Edge: Tarron Jackson, Coastal Carolina
Edge Defender
Alex Highsmith, Charlotte
Highsmith continued his dominant ways with another ridiculous performance. He recorded seven total pressures including five sacks in Charlotte's seventh win of the year, bullying his way past the ODU offensive line regularly. He chipped in with three more stops in the run game and one in the pass game as he was dominant in all facets of play for the 49ers.
Second-Team Edge: Bryce Huff, Memphis
Defensive Interior
Jordan Elliott, Missouri
What was pegged as a breakout year for Elliott certainly ended like one despite the turmoil that is the state of Missouri football. Elliott capped his final regular-season game with a five-pressure, three-stop performance that was his second-highest overall game grade of the year, and highest among FBS competition. On 35 pass-rushing snaps, he got home with a QB hit and four more hurries while he brought down three stops in the run game and didn't miss a tackle.
Second-Team DI: Doug Costin, Miami Oh.
Defensive Interior
Jack Heflin, Northern Illinois
Heflin was a terror on the inside for Northern Illinois in their upset win over Western Michigan, recording seven pressures on 30 pass-rushes including a sack, two hits and four hurries. He was relatively unblockable and forced the Broncos to scheme around him as he won 24.1% of his pass-rushes.
Second-Team DI: Garrett Marino, UAB
Linebacker
Zackoby McClain, AUburn
The 2019 iteration of the Iron Bowl will go down as the Pick Six after McClain's 100-yard interception return for a touchdown but that play was just a microcosm of how effective he was all game long. He finished with 10 total tackles, five defensive stops and just 13 yards allowed into his coverage. He made the one interception, had just a 36.1 passer rating when targeted overall and did all of this without missing a tackle.
Second-Team LB: Matt Otwinowski, Buffalo
Linebacker
Chris Orr, Wisconsin
Orr said they were coming to take back the Axe and that's just what they did thanks in large part to his all-around performance. He got home with four QB pressures and six total tackles without a miss and went the entire game without a target into his coverage on 22 dropbacks. He made three defensive stops and was every bit of a missile to the football throughout.
Second-Team LB: Blake Lynch, Baylor
Cornerback
Parnell Motley, Oklahoma
Every bit a lockdown corner, Motley has come on strong to end the regular season. With two forced fumbles, an interception and six solo tackles, Motley was dominant against Oklahoma State. He was targeted six times, allowed three receptions for just 22 yards and had a pick, all equaling a 19.4 passer rating into his coverage. He led all cornerbacks in coverage and overall grade in Week 14.
Second-Team CB: Chris Jackson, Marshall
Cornerback
Amechi Uzodinma II, Ball State
The Cardinals got a ridiculous performance in coverage from their leading man as Uzodinma saw five targets come his way and made more interceptions than he allowed receptions. In total, he allowed a single catch for 45 yards (just five yards after the catch) and made two interceptions and a pass breakup to coincide. Altogether, he saw a 25.0 passer rating when targeted and made two solo tackles without a miss in the outing.
Second-Team CB: Elijah Molden, Washington
Safety
Ar'Darius Washington, TCU
TCU didn't get the win against West Virginia but Washington was certainly not to blame. He was a force all over the field, seeing two targets come into his primary coverage, recording two interceptions in the process. He chipped in with three defensive stops and five solo tackles across the board.
Second-Team S: Jeremy Fejedelem, Air Force
Safety
Myles Dorn, North Carolina
Dorn and the Tar Heels were stingy against rival NC State as Dorn recorded four total tackles and allowed just seven yards into his coverage. He made a pass breakup and an interception as he saw just an 18.8 passer rating into his coverage against the Wolfpack.
Second-Team S: Antwan Collier, UCF
Flex D
DJ Williams, Utah State
Williams was targeted eight times against New Mexico, allowing just three receptions with no yards after the catch allowed. he made two interceptions, a pass breakup and saw a paltry 19.8 passer rating into his coverage. Combine that with a defensive stop and three solo tackles with no misses to his credit, and that's one lockdown performance.
Second-Team Flex: Keith Sherald Jr., Kent State