After a full slate of games on Saturday, we at PFF and our team of over 500 analysts have dissected and graded every player on every snap of every game to bring you the most detailed and valid set of picks you can find anywhere.

The Week 13 Eckrich Team of the Week powered by PFF saw some impressive performances and, of course, the strength of opponent also factored into the overall selections as did the PFF player grades.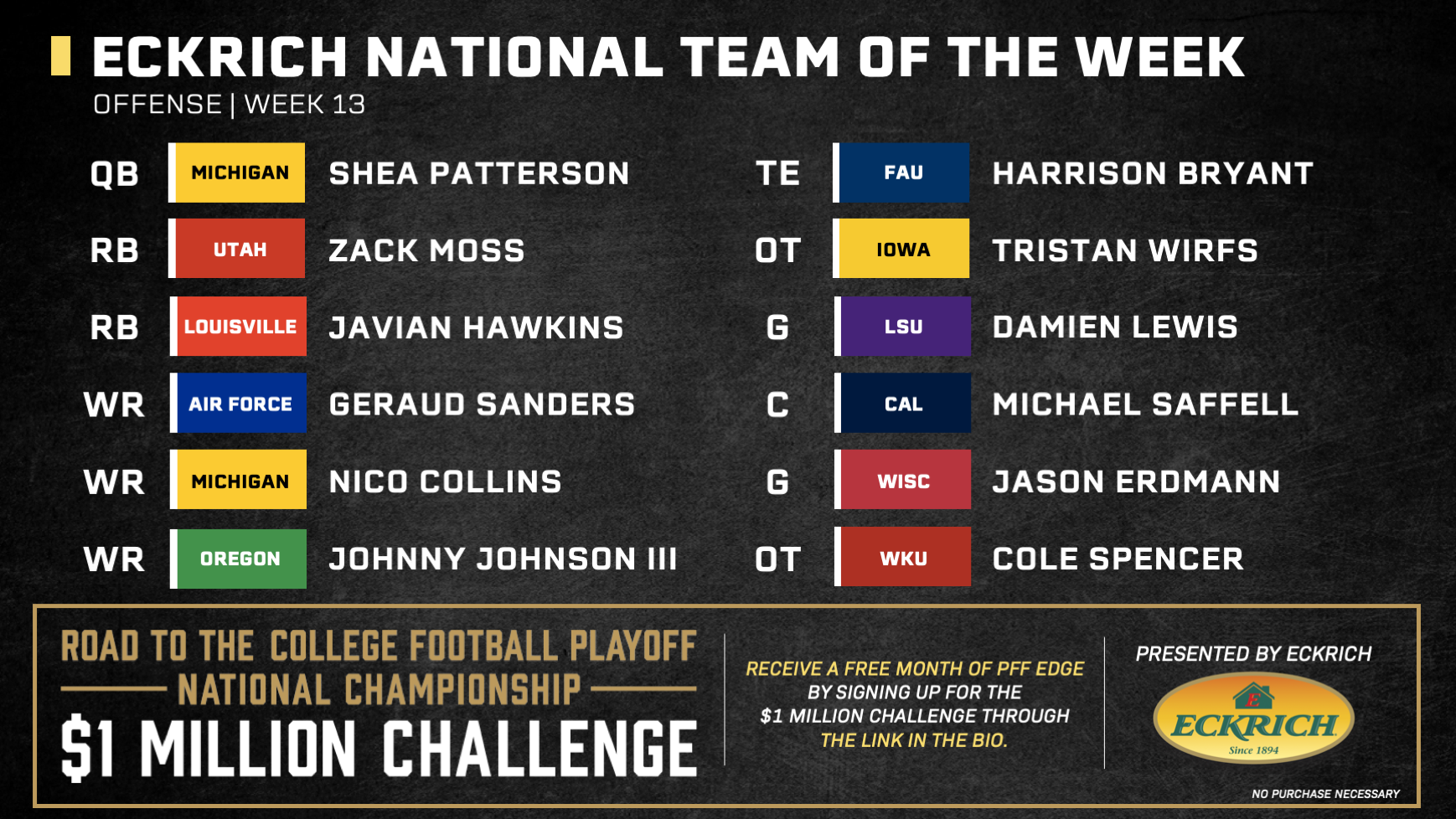 Quarterback
Shea Patterson, Michigan
It didn't matter the direction, depth or type of coverage that Patterson was throwing into against Indiana on Saturday, he was simply lights out after falling behind 7-14 against a much better Hoosiers team than most give credit for. Patterson threw for 371 yards and five touchdowns, hitting all five touchdowns on throws targeted at least 10 yards past the line of scrimmage. He has his Wolverines team rolling into their annual showdown with Ohio State, reaching highs that we haven't seen from him this year at the very right time.
Second-Team QB: Kedon Slovis, USC & Anthony Gordon, Washington State
Running Back
Zack Moss, Utah
When one Pac-12 contender for the College Football Playoff faltered out west, it was the Utah Utes, led by their leading man in Moss, who dominated and proved to be the team to reckon with this weekend. Moss tallied 199 yards on the ground with a score and nine first downs, breaking a national-high 11 tackles on his runs. He ripped off 128 yards after contact while averaging and incredible 8.0 yards per carry. He reached the 1,000-yard plateau for the third straight season as he'll certainly go down as one of, if not the best to ever tote the rock at Utah.
Second-Team RB: Jonathan Taylor, Wisconsin
Running Back
Javian Hawkins, Louisville
In what turned out to be a barnburner, Hawkins and the Louisville offense lit up the scoreboard (like most have) against Syracuse. Hawkins needed 23 carries to reach 233 yards, racking up 137 of those yards after contact and breaking five tackles. He scored a touchdown and added eight more first-down carries while six attempts went for at least 10 yards. He was a constant force, and like Moss above him here, did all this damage without losing the football on his carries.
Second-Team RB: Jason Huntley, New Mexico State
Wide Receiver
Geraud Sanders, Air Force
Perhaps the nation's best untapped receiving market is in Colorado Springs where the Falcons have produced talented receiver after talented receiver over the years. Sanders *and his teammate Benjamin Waters* had a dominant night against New Mexico, hauling in 100% of his targets for 156 yards and two scores. He moved the chains on three receptions and scored two touchdowns to obviously sport a perfect passer rating when targeted of 158.3. For the season, Sanders is the nation's highest-graded receiver but has only 51 total targets to his credit but 24 of his 28 receptions have either moved the chains or scored six points.
Second-Team WR: Benjamin Waters, Air Force
Wide Receiver
Nico Collins, Michigan
Benefiting from his quarterback's best performance of the season, Collins hauled in six catches for 165 yards and three scores, securing 78 of those yards after the catch. He was stellar on deep shots, catching 2-of-3 passes targeted at least 20 yards downfield for 43 yards and two touchdowns while he caught 100% of his targets in between the numbers, finishing with a 3-for-3, 124 yards and two touchdown stat line on passes over the middle of the field.
Second-Team WR: Cody White, Michigan State
Wide Receiver
Johnny Johnson III, Oregon
The Ducks may have been stunned by the Sun Devils but Johnson III was not at all to blame, rather he was the one to keep them in the contest. Hauling in 10 catches for 207 yards and two touchdowns, he took over the game in the fourth quarter, catching seven of those passes and both scoring plays in the final frame. They came out on the wrong end of the result but Johnson's play will be crucial to defeating Oregon State in the Civil War and then (likely) against Utah in the Pac-12 Championship Game with a berth in the Rose Bowl on the line.
Second-Team WR: Tyler Johnson, Minnesota
Tight End
Harrison Bryant, FAU
Playing like the nation's best tight end as of late, Bryant is setting even higher career-best marks in overall grade, receiving grade and all the basic box-score numbers you'd expect. With a 10-catch, 182-yard performance against UTSA, Bryant now owns two of the three best game grades we've given to a tight end this year (the other coming against ODU). He finished with six receptions on throws over the middle and racked up 102 of his 182 yards after the catch with five broken tackles to his credit, peaking at perhaps the right time with the Mackey Award perhaps in his future.
Second-Team TE: Charlie Kolar, Iowa State
Offensive Tackle
Tristan Wirfs, Iowa
Wirfs finished with an elite pass-blocking grade against Illinois, not surrendering a single QB pressure on his 37 snaps in pass protection. Couple that with his dominance in the run game and no penalties to his credit and you've got one impressive performance from perhaps one of the first tackles that will hear his name called in April.
Second-Team OT: Penei Sewell, Oregon
Offensive Guard
Damien Lewis, LSU
Lewis and the rest of the LSU offense clicked like the well-oiled machine we've come to know them as this season as Lewis needed just nine snaps in the run game to earn an elite run-blocking grade. He also didn't surrender a single pressure up the middle, something that will be paramount against Texas A&M in the regular-season finale when Justin Madubuike comes to town.
Second-Team OG: Dallas Warmack, Oregon
Center
Michael Saffell, Cal
Saffell has been on a tear lately and put forth his second-highest-graded outing against Stanford, allowing just one hurry on 42 snaps in the pass game and finishing with the fourth-highest game grade in the run game. He's allowed just eight hurries all season long as he's kept whoever is at quarterback off his backside all year.
Second-Team C: Tyler Biadasz, Wisconsin
Offensive Guard
Jason Erdmann, Wisconsin
Erdmann was dominant against Purdue, finishing with plus-grades across the board. He didn't allow a pressure on 20 pass-blocking snaps while he cruised through to the second level with ease, yielding way for huge gains up the middle for the Wisconsin rushing attack.
Second-Team OG: Logan Stenberg, Kentucky
Offensive Tackle
Cole Spencer, Western Kentucky
Spencer and the Hilltoppers cruised by Southern Miss to force all sorts of bedlam in the C-USA's West division as Spencer kept a clean sheet in pass protection on 32 snaps. He also paved the way for several gashing running lanes and finished with the nation's fifth-highest run-blocking grade among all tackles.
Second-Team OT: Zachary Thomas, San Diego State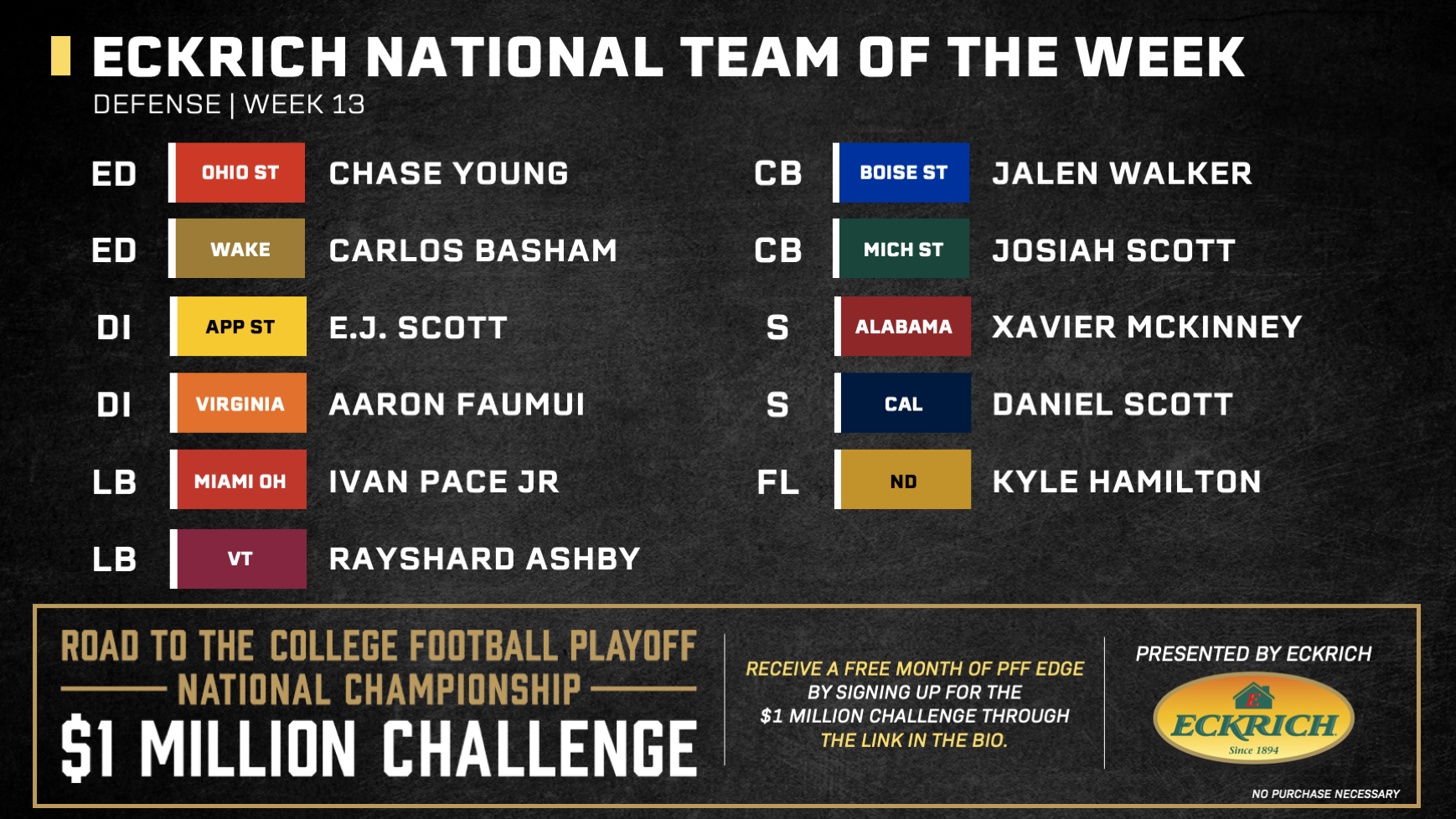 Edge Defender
Chase Young, Ohio State
Seemingly impossible to win pass-rushes at a rate above 30% for a full season, Young is putting that to test in 2019. Young was dominant in his return to action following a 2-game suspension and has now won 31.4% of his pass-rushes, by far leading the nation's edge rushers and on pace to break the previous Power-5 record set by former Kentucky edge rusher Josh Allen in 2018. Young finished with five pressures including three sacks and a forced fumble against Penn State and his Heisman chances will come down to more dominant outings like that against their next two opponents in Michigan and then the winner of Wisconsin-Minnesota, each of whom has NFL-caliber players on their offensive line.
Second-Team Edge: Josh Uche, Michigan
Edge Defender
Carlos Basham, Wake Forest
Basham was a man on a mission against Duke, finishing with his season-high overall grade and pass-rush grade, recording three sacks and two more pressures with a forced fumble and a stop in the run game to boot. He's now recorded 47 total pressures in 2019 and is a sack away from reaching the pass-rush triple-double club as he has nine sacks, 14 hits and 24 hurries to his credit.
Second-Team Edge: Alex Highsmith, Charlotte
Defensive Interior
E.J. Scott, Appalachian State
Scott added a pass-rush like we haven't seen before with his dominant game against Texas State. He recorded more pressures against the Bobcats than he had recorded in a full season so far in his career. He was a constant force up the middle and his six pressures yielded to two stops and two more passes batted at the line as he seemingly couldn't be stopped.
Second-Team DI: Zeandae Johnson, Cal
Defensive Interior
Aaron Faumui, Virginia
The Liberty passing attack is going to present itself with some challenges for defenses unless, of course, you can get the pass-rushing from the interior that the Cavaliers saw from Faumui. Leading the nation's interior defenders with eight total pressures, Faumui brought down two sacks, a QB hit and five more hurries with another stop in the run game to round out his day. He was certainly schemed against and double-teamed but he couldn't be stopped as the Cavs now await Virginia Tech to determine the other half of the ACC Championship Game.
Second-Team DI: Tyler Clark, Georgia
Linebacker
Ivan Pace Jr., Miami Oh.
The RedHawks certainly knew how to defend against Akron and QB Kato Nelson as they allowed Pace to rush him and essentially spy on him as a stand-up pass-rusher off the edge on just 18 snaps. Still, on those 18 snaps (only 15 pass-rushes), Pace ripped off 11 total pressures including five sacks as he knew when to rip inside just as well as he knew when to pursue Nelson in and from the pocket. Perhaps one of the finer scheme-driven performances from a defender that we've seen came this past Wednesday.
Second-Team LB: Logan Wilson, Wyoming
Linebacker
Rayshard Ashby, Virginia Tech
We all knew that we'd see a strong performance from Bud Foster's defense in his final home game as the defensive coordinator of the Hokies. What no one could have guessed was that Ashby, coined as Foster's favorite player during the broadcast, would be the man to cause as much damage as he did and as on-cue as he did. He racked up four total pressures including two sacks, one of them a strip-sack on Kenny Pickett as the broadcast crew was singing his praises from Foster, ultimately leading to a scoop-and-score fumble recovery. Ashby was targeted twice in the passing game and allowed just 10 yards while he finished with seven total defensive stops in the shutout.
Second-Team LB: Ryan Smenda Jr., Wake Forest
Cornerback
Jalen Walker, Boise State
The Broncos got a jolt from their cornerback early in the game that essentially ended the contest when he intercepted Utah State QB Jordan Love and housed it 15 yards for six. That wasn't his only impact as he spent 30 snaps in coverage over the course of the game and allowed just one catch for six yards on five targeted passes into his primary coverage. He broke up two more passes and allowed a 0.0 passer rating into his coverage.
Second-Team CB: Dayan Ghanwoloku, BYU
Cornerback
Josiah Scott, Michigan State
Scott and the Spartans got back into the win column and are now a victory away from bowl eligibility. Scott was integral in the win over Rutgers, seeing five targets come his way on his 29 snaps in coverage. He allowed just one catch but limited it for -4 yards after the catch by stripping and then recovering a fumble on the play to set up another scoring opportunity for Michigan State. He had two more pass breakups to round out the day, an all-around dominant day.
Second-Team CB: Fred Peters, Mississippi State
Safety
Xavier McKinney, Alabama
Sure it was against Western Carolina but the ball skills and wherewithal that McKinney showed during the tune-up performance against the Catamounts was nothing short of dominant. He hauled in two interceptions, one he returned 80 yards for a score, forced a fumble and had four total tackles including two defensive stops without missing an attempt. That's the kind of performance you'd expect from an elite safety in the Crimson Tide's prep game before the Iron Bowl next week.
Second-Team S: Richard LeCounte, Georgia
Safety
Daniel Scott, Cal
The Cal Bears stymied the Stanford offense late and Scott's ball-hawking interception of Davis Mills in the third quarter was nothing short of brilliant. As a deep safety, Scott read Mills' eyes and closed on the ball with relative ease, covering nearly 20 yards in the process for his first career interception. For the evening, Scott recorded three tackles without a miss and allowed just one other catch into his coverage.
Second-Team S: Antwon Kincade, Western Kentucky
Flex D
Kyle Hamilton, Notre Dame
The Fighting Irish have a bright future with Hamilton roaming the backend of their defense. He recorded four total tackles against bost College and saw three passes come his way as the primary coverage defender. Allowing just one reception for seven yards, Hamilton broke up another and intercepted the third pass his way to see just a 2.8 passer rating into his coverage.
Second-Team Flex: Jaylinn Hawkins, Cal