After a full slate of games on Saturday, we at PFF and our team of over 500 analysts have dissected and graded every player on every snap of every game to bring you the most detailed and valid set of picks you can find anywhere.

The Week 11 Eckrich Team of the Week powered by PFF saw some impressive performances and, of course, the strength of opponent also factored into the overall selections as did the PFF player grades.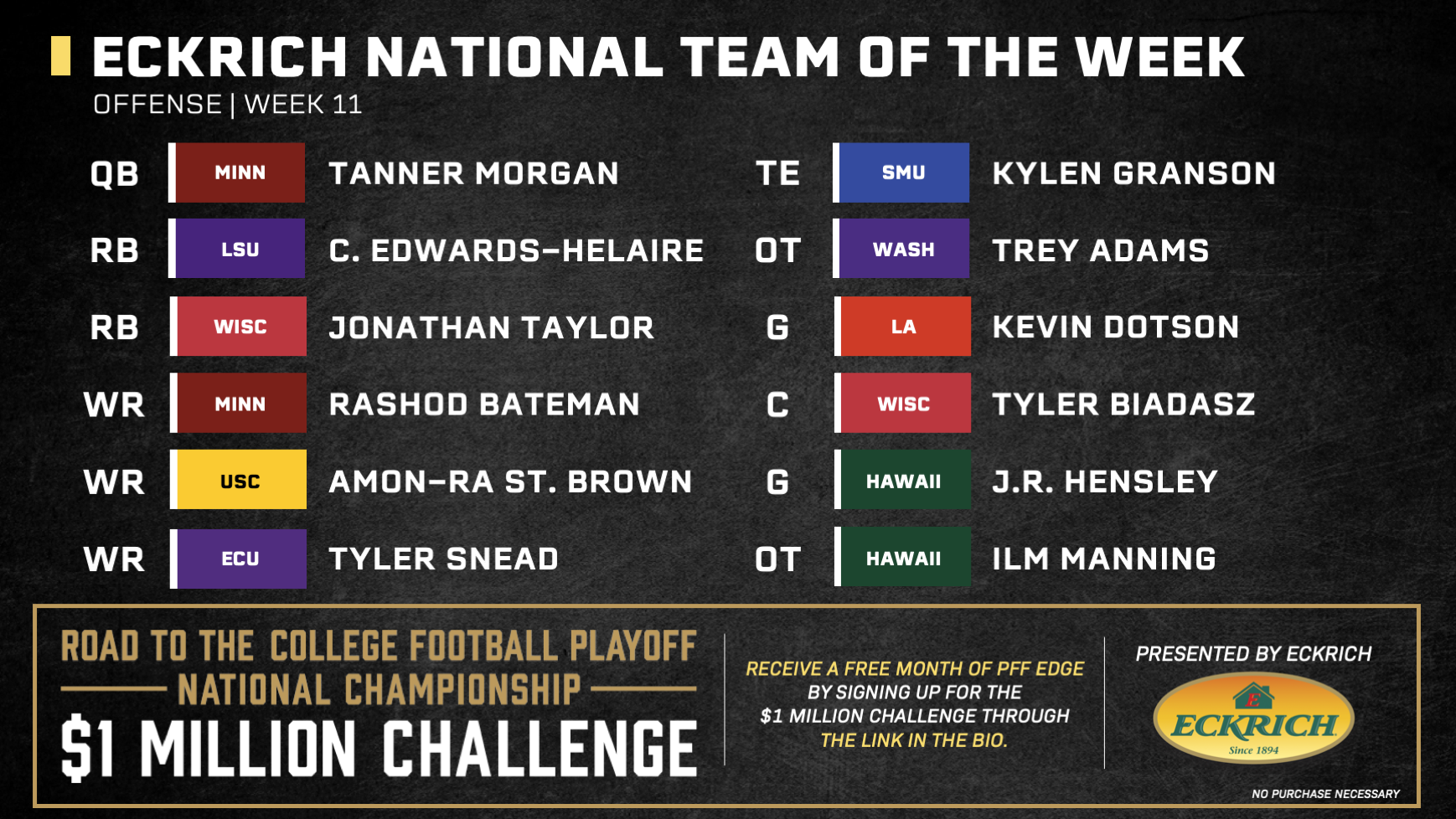 Quarterback
Tanner Morgan, Minnesota
Morgan worked all levels of the field against Penn State, and worked them beautifully. He connected on 18-of-20 passes for 339 yards and three scores, averaging a whopping 17.0 yards per attempt and finishing with the nation's top passing grade by a large margin. He hit 5-of-6 deep shots for 189 yards and two of his scores while he also dominated the middle of the field between the Nittany Lions. He completed all of his passes targeted between the numbers, finishing 13-of-13 for 150 of his yards and a touchdown as just about anywhere he wanted to put the football, he did, and did it beautifully.
Second-Team QB: Joe Burrow, LSU
Running Back
Clyde Edwards-Helaire, LSU
The biggest running back on the field according to his head coach, Edwards-Helaire converted first downs in tough spots time after time for the Tigers against Alabama. He ripped off a team-high nine receptions for 77 yards and a score while four more moved the chains for a first down. He gained 60 of his 77 receiving yards after the catch and churned out 103 yards on the ground with another three scores in what was as dominant of a performance by a running back against an Alabama defense that we've seen in a long time.
Second-Team RB: Rakeem Boyd, Arkansas
Running Back
Jonathan Taylor, Wisconsin
While you were watching LSU-Alabama, Taylor ran for 250 yards against the formidable Iowa defense, ripping off 8.1 yards per attempt. He didn't score a touchdown but 11 of his 31 carries moved the sticks for a first down as the Badgers got the win. Taylor ripped off 174 yards after contact and broke four tackles in the process.
Second-Team RB: Josh Johnson, UL-Monroe
Wide Receiver
Rashod Bateman, Minnesota
If you haven't been paying attention to Minnesota football, us here at PFF or just frankly didn't care about college football in general, you probably hadn't heard of Rashod Bateman. Well, you've missed out. Making his third appearance on the National Team of the Week, Bateman hauled in all seven of his targeted passes for 203 yards, a touchdown and six more first-down receptions. He picked apart the Penn State secondary with relative ease, gaining 29.0 yards per catch and another 10.4 yards after the catch per reception.
Second-Team WR: Ja'Marr Chase, LSU
Wide Receiver
Amon-Ra St. Brown, USC
You don't haul in a 95-yard touchdown pass and not get recognition of some kind and that's exactly what St. Brown did. In a dominant display of passing in the first quarter for the Trojans, St. Brown was the most impressive on the receiving end of Kedon Slovis' big night, finishing the game with eight receptions for 173 yards, the long score and four more first-down receptions. Michael Pittman ate up first downs on his 13 catches for 146 yards while St. Brown was the big play waiting to happen on the other side of the field.
Second-Team WR: DeVonta Smith, Alabama
Wide Receiver
Tyler Snead, ECU
For the second time in as many weeks, the Pirates place a receiver on the National Team of the Week in a losing effort. In another shootout, QB Holton Ahlers targeted Snead 19 times, and Snead more than made those count. He hauled in all 19 passes for 240 yards, three touchdowns and gained 118 yards after the catch. Six more of his receptions went for first downs as he truly was the Pirates offense and major game-changer at the position despite their 51-59 slugfest loss.
Second-Team WR: James Proche, SMU
Tight End
Kylen Granson, SMU
On the other end of the SMU-ECU shootout, Granson hauled in three more touchdowns to his impressive 2019 campaign, giving him eight for the year and seven in his last four games. All he did was convert as three more receptions went for a first down and he saw a perfect 158.3 passer rating when targeted.
Second-Team TE: Matt Bushman, BYU
Offensive Tackle
Trey Adams, Washington
Back on Friday night, the Huskies took care of business against a stout Oregon State offense and absolutely stymied a feared pass-rush unit in the Beavers. Adams led the way with a perfect night in pass protection, holding a clean sheet with zero pressures allowed on his 35 pass-blocking snaps while also holding an elite run-blocking grade on the night.
Second-Team OT: Tristan Wirfs, Iowa
Offensive Guard
Kevin Dotson, Louisiana
Paving the way for the Cajuns ground game once again, Dotson was something else in the win against Coastal Carolina. He led all Louisiana linemen in run-blocking grade and also kept a clean sheet on his 30 pass-blocking snaps in the contest for an all-around dominant outing.
Second-Team OG: John Simpson, Clemson
Center
Tyler Biadasz, Wisconsin
Biadasz returns to the National Team of the Week after dominating on the ground and in pass protection. He didn't allow a single pressure up the middle and his running backs gained 127 of the 304 yards on the ground on carries to either of his sides.
Second-Team C: Sam Garvin, Purdue
Offensive Guard
J.R. Hensley, Hawaii
In a shootout, the Hawaii offense stood out, especially on the offensive line when you have to stay in in pass protection on 39 dropbacks. Hensley was the most impressive, yielding no pressures and finishing with the team's second-highest run-blocking grade.
Second-Team OG: Luke Wattenberg, Washington
Offensive Tackle
Ilm Manning, Hawaii
Similarly to his aforementioned teammate, Manning was stout in pass protection, even with two pressures allowed but it was his effort in the run game that lands his spot here. He led all tackles in Week 11 with an elite run-blocking grade and when running to his side, Hawaii running backs gained an average of 3.00 yards before contact on the ground.
Second-Team OT: Ezra Cleveland, Boise State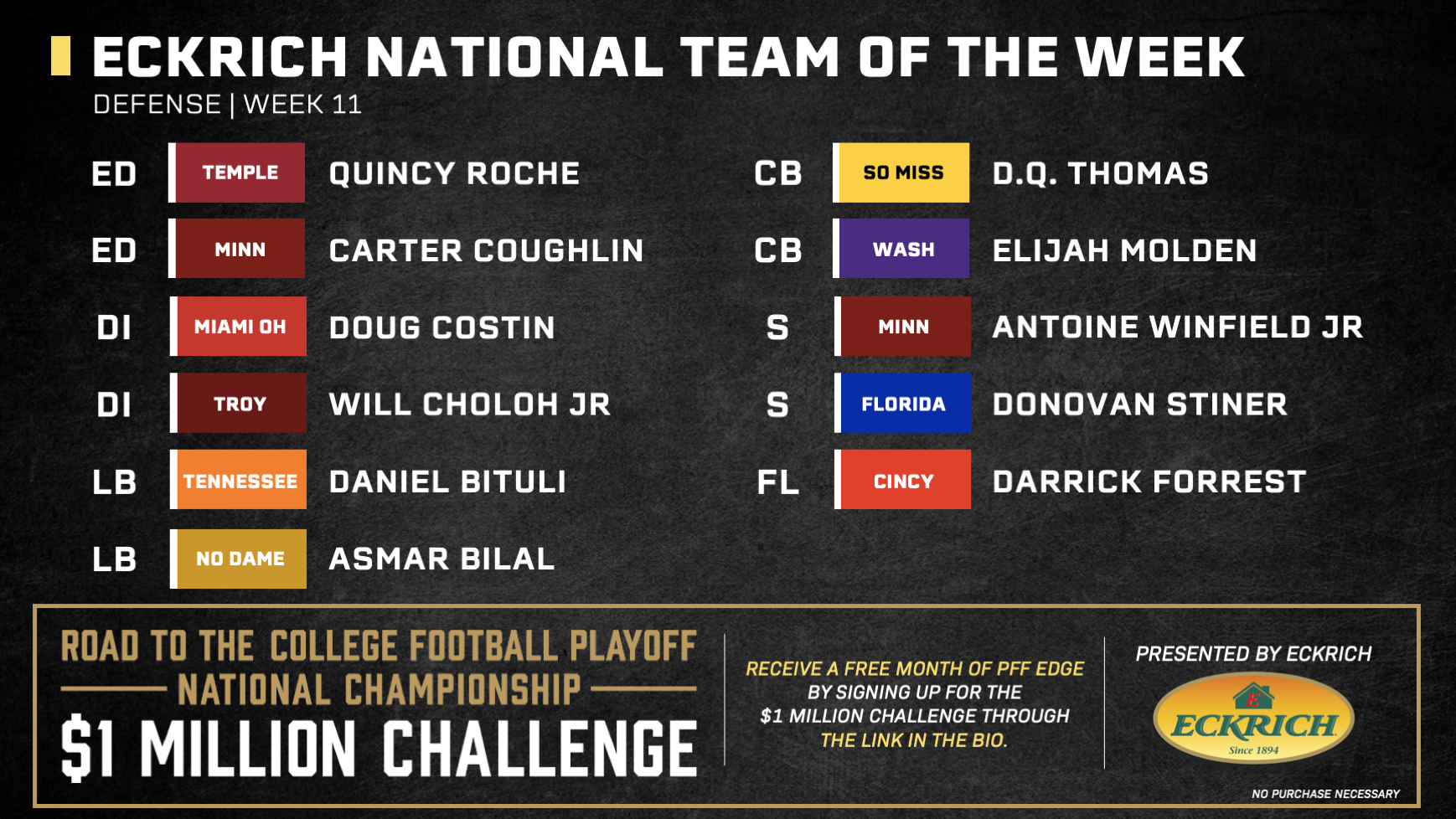 Edge Defender
Quincy Roche, Temple
If you happened to catch the Temple defense on Thursday night this past week, you got to see a dominant performance from one of the nation's best along the edge. Roche was a constant presence in the USF backfield, getting home with a national-best four sacks and four additional pressures for eight total on the evening. He may have missed some tackles but his splash plays kept the USF offense in tough spots all night long.
Second-Team Edge: Sam Hammond, Nevada
Edge Defender
Carter Coughlin, Minnesota
Catching his stride at the right time, the nation was ready for a Coughlin breakout performance and that's just what we got. Reaching a season-high in total pressures, Coughlin racked up eight on the afternoon against Penn State including a sack, a hit and six more hurries on Nittany Lion QB Sean Clifford. He made three additional stops and actually dropped back into coverage on five snaps and allowed just four yards in a dominant performance.
Second-Team Edge: Nick Hampton, App State
Defensive Interior
Doug Costin, Miami (Oh)
In mid-week #MACtion, Costin proved his worth nationally with a dominant day in a first-place performance for him and the RedHawks. Costin finished the game with five pressures including two QB hits on the elusive Nathan Rourke from Ohio. He had six total tackles including three stops and did so without missing a tackle attempt.
Second-Team DI: Bravvion Roy, Baylor
Defensive Interior
Will Choloh Jr., Troy
Stopping the Georgia Southern offensive attack has proven difficult time in and time out this year but the Trojans certainly had their number with Choloh leading the way. He finished the game with a team-high eight total pressures including two sacks, a hit and five more hurries as he was unblockable in the passing game.
Second-Team DI: Benito Jones, Ole Miss
Linebacker
Daniel Bituli, Tennessee
Don't look now but the Volunteers defense has stiffened up as of late and Bituli led the charge for them in their win against Kentucky. Bituli finished with a whopping 19 total tackles and missed just one attempt as eight of his tackles were credited as a defensive stop. He kept the Wildcats off balance more often than not and allowed all of just five yards on his 14 snaps in coverage.
Second-Team LB: Micah Parsons, Penn State
Linebacker
Asmar Bilal, Notre Dame
The man in the middle for the Fighting Irish, Bilal was dominant in all facets for Notre Dame in their win against Duke. He recorded a QB hit, five total tackles without a miss and didn't allow a catch into his coverage. He spent double-digit snaps in all facets and put forth great grades, leading the team in overall grade while finishing with elite grades in run defense.
Second-Team LB: Henry Segura, Charlotte
Cornerback
D.Q. Thomas, Southern Miss
Helping lead his team to their 600th win in program history, Thomas was downright stellar in coverage against freshman signal-caller Dylan Hopkins. Thomas was targeted twice and allowed just nine yards while coming away with an interception and two defensive stops in the process. He chipped in with a QB hit on a blitz and had an elite coverage grade of 90.4 which led all cornerbacks this week.
Second-Team CB: CJ Henderson, Florida
Cornerback
Elijah Molden, Washington
The Oregon State offense is as high-powered of a unit as any in the country and the Huskies handled them relatively easy on Friday night, shutting them out as the Oregon State lone touchdown came on an interception returned for six points. Molden was targeted twice as the primary coverage defender and didn't allow a single reception while coming away with an interception of his own. He made five total tackles and didn't miss a single attempt.
Second-Team CB: Corey Straughter, UL-Monroe
Safety
Antoine Winfield Jr., Minnesota
Racking up his sixth and seventh interceptions of the season, Winfield was a free-roaming havoc-wrecker for the Gophers on defense against Penn State. He also recorded 11 solo tackles and two defensive stops as he limited the Nittany Lions to zero receptions into his primary coverage. Winfield has now put his name on the map with a dominant performance that not only solidifies him as the highest-graded safety but also a potential early draft pick in April.
Second-Team S: Amari Carter, Miami (Fl)
Safety
Donovan Stiner, Florida
Stiner and the Gators defense was dominant against Vanderbilt, shutting out the Commodores and limiting them to 77 yards through the air. With an elite grade overall, Stiner's best performance was indeed in pass coverage, ripping off two interceptions and allowing just 19 yards as the primary coverage defender. His elite coverage grade was the fourth-highest among all safeties in Week 11.
Second-Team S: L'Jarius Sneed, Louisiana Tech
Flex D
Darrick Forrest, Cincinnati
The Cincinnati defense completely shut down the UConn offense and Forrest was a big part of that. On just the 40 snaps he was needed, Forrest made his impact felt with two solo tackles with no missed attempts and intercepted the lone pass targeted his way as he was clearly avoided by the Huskies offense. In total, he finished with a defensive stop and a 0.0 passer rating when targeted.
Second-Team Flex: Isaiah Pola-Mao, USC