After a full slate of games on Saturday, we at PFF and our team of over 500 analysts have dissected and graded every player on every snap of every game to bring you the most detailed and valid set of picks you can find anywhere.
The Week 10 Eckrich Team of the Week powered by PFF saw some impressive performances and, of course, the strength of opponent also factored into the overall selections as did the PFF player grades.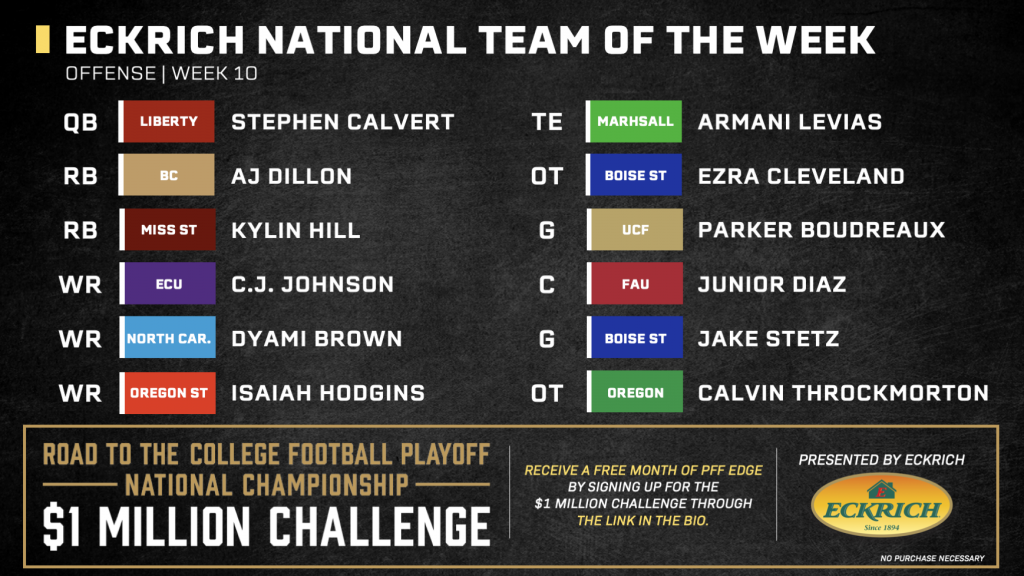 Quarterback
Stephen Calvert, Liberty
'Buckshot' Calvert threw for a whopping 474 yards on just 27 attempts, averaging a blistering 17.6 yards per attempt and a massive 23.7 yards per completion against UMass, leading the country with a 95.1 overall grade and a 95.2 passing grade. He was lights out in the game against the Minutemen and Liberty improves to 6-3 on the season.
Second-Team QB: Malcolm Perry, Navy
Running Back
AJ Dillon, Boston College
Dillon led all FBS running backs with 242 yards on the ground as he's now led the Eagles to back-to-back wins when he tops the 200-yard mark. He pounded out 138 yards after contact and 14 rushing conversions that included three scores and 11 first-down carries against Syracuse, forcing nine missed tackles on the ground to lead the country.
Second-Team RB: Isaiah Spiller, Texas A&M
Running Back
Kylin Hill, Mississippi State
Hill and the Bulldogs pushed past Arkansas thanks in part to his 228-yard performance that saw him average 10.9 yards per carry. He broke six tackles and gained 110 of his yards after contact, averaging 5.24 yards after contact per attempt. He was one of five running backs in Week 10 to have double-digit rushing conversions on his attempts.
Second-Team RB: Travis Etienne, Clemson
Wide Receiver
C.J. Johnson, ECU
The Pirates couldn't quite get the upset over Cincinnati to throw the AAC race on its head but Johnson was stellar in the contest against the Bearcats. He was targeted a national-high 21 times and hauled in 12 catches for 283 yards. All 12 of his receptions either moved the chains (11) or a touchdown (1). He gained 110 yards after the catch in a dominant performance despite the result.
Second-Team WR: Bryan Edwards, South Carolina
Wide Receiver
Dyami Brown, North Carolina
Similar to Johnson above, Brown and the Tar Heels couldn't quite get the victory but it wasn't Brown's fault, certainly, as he tallied 201 yards through the air on just six catches, averaging the nation's top yards per reception figure at 33.5. He averaged 16.2 yards after the catch and had a dynamic reception, forcing multiple missed tackles on one of his three scores against Virginia.
Second-Team WR: Tre Walker, San Jose State
Wide Receiver
Isaiah Hodgins, Oregon State
Hodgins and the Beavers are quietly in second place in the Pac-12 North and two wins away from bowl-eligibility this season, thanks in large part to Hodgins' efforts this year. He was once again dominant through the air, catching seven balls for 150 yards, two scores and three more first downs. He saw a perfect 158.3 passer rating when targeted against Arizona and is the nation's highest-graded receiver this year.
Second-Team WR: Luck Jackson, Western Kentucky
Tight End
Armani Levias, Marshall
The Thundering Herd got a win to stay tied for first in the C-USA East division and have now won four straight. Levias was on the receiving end of seven Isaiah Green passes, racking up 96 yards and five key first downs in the contest. He led all tight ends in drop grade (zero drops), receiving grade and overall grade in the process.
Second-Team TE: Hunter Bryant, Washington
Offensive Tackle
Ezra Cleveland, Boise State
If you've been here before, you know you've seen this name on our National Team of the Week as Cleveland finds his way back on to our list after a dominant performance for the Broncos. On 25 pass-blocking snaps, he allowed just a single pressure while leading all tackles in run-blocking grade this weekend.
Second-Team OT: Brady Christensen, BYU
Offensive Guard
Parker Boudreaux, UCF
On 24 snaps in pass protection, Boudreaux didn't allow a single quarterback pressure and had a strong performance in the run game. His efforts in helping lock down the right side of the offensive line paid huge dividends for the Knights on offense.
Second-Team OG: Zion Johnson, Boston College
Center
Junior Diaz, FAU
Not a new name on our list either, Diaz finds his place back on the team of the week after an all-around great outing. He didn't allow a single QB pressure on his 36 pass-blocking snaps while he led all centers nationally in run-blocking grade, by some distance.
Second-Team C: Bobby Reynolds, UL-Monroe
Offensive Guard
Jake Stetz, Boise State
Another Bronco on our National Team of the Week, Stetz didn't allow a single pressure and, like his teammate, had a dominant outing in the run game. His 89.2 run-blocking grade was second in the country among all guards.
Second-Team OG: Solo Vaipulu, Hawaii
Offensive Tackle
Calvin Throckmorton, Oregon
Yet another performance worthy of national recognition as the Oregon tackle put forth a perfect game in pass protection (zero pressures on 34 pass-blocking snaps) and had a dominant outing in the run game. All told, Throckmorton is climbing the overall grade ranks in an attempt to catch his teammate (Penei Sewell, who still leads by a comfortable margin).
Second-Team OT: Blake Brandel, Oregon State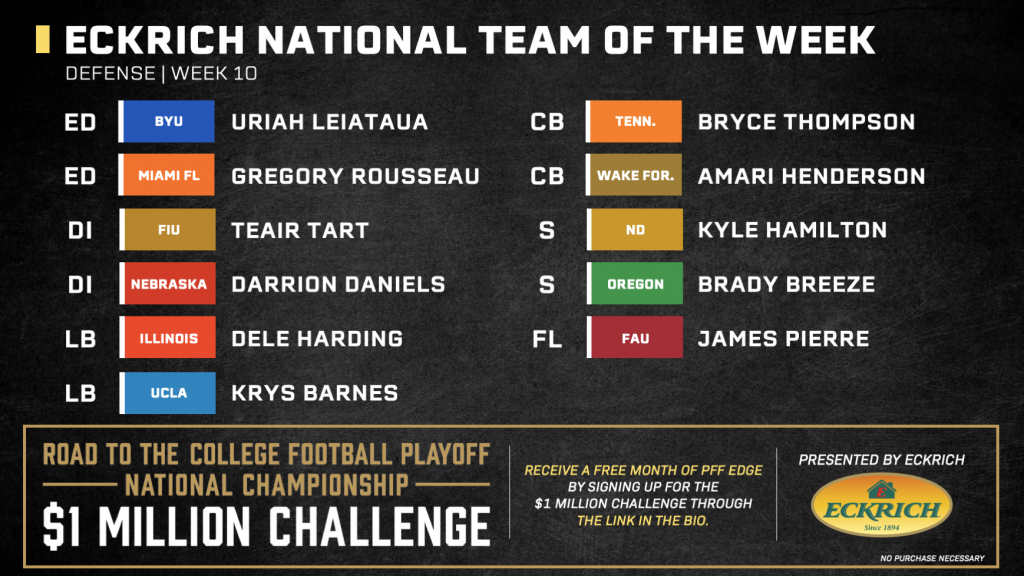 Edge Defender
Uriah Leiataua, BYU
Leiataua finished the contest against Utah State with 10 total pressures on just 25 pass-rushing snaps. He didn't record a sack but had two QB hits and eight more hurries as he constantly forced the throw early or quickly affected the Aggies passing attack when he was on the field.
Second-Team Edge: Hamilcar Rashed Jr., Oregon State
Edge Defender
Gregory Rousseau, Miami (Fl.)
Going up against FSU's porous offensive line, Rousseau was dominant with four sacks and one QB hit on his 28 pass-rushing snaps. He also had two stops in the run game as well and didn't miss a tackle in Miami's big win.
Second-Team Edge: Bradlee Anae, Utah
Defensive Interior
Teair Tart, FIU
Tart had a monster game when rushing the passer, finishing with a sack and a hurry but that doesn't tell the whole story. He won a majority of his pass-rushing snaps and had two more stops in the run game with a forced fumble to boot.
Second-Team DI: Dion Novil, North Texas
Defensive Interior
Darrion Daniels, Nebraska
Daniels made waves in the Cornhuskers' loss when he perfectly stepped in the way of a shovel pass and almost returned it for six points but that wasn't his only impact. He didn't miss a tackle in the game and recorded another stop in run defense to boot.
Second-Team DI: Devonte Wyatt, Georgia
Linebacker
Dele Harding, Illinois
Harding led all linebackers with an elite 90.4 overall grade for Illinois in Week 10. He racked up 11 total tackles with just one miss and six defensive stops as he was once again pivotal to the Illini's efforts. He was targeted three times in coverage and came away with an interception and just 27 yards allowed
Second-Team LB: Henry To'o To'o, Tennessee
Linebacker
Krys Barnes, UCLA
Barnes had an all-around terrific performance, finishing the outing for the Bruins with four pressures including two sacks, five total defensive stops and just 20 yards allowed in coverage. He also nabbed an interception and saw a passer rating of just 29.2 when he was the primary coverage defender.
Second-Team LB: Khaleke Hudson, Michigan
Cornerback
Bryce Thompson, Tennessee
The UAB offense is certainly known for their passing prowess and their downfield throwing ability with Tyler Johnston III but Thompson had himself a day in coverage, outperforming their counterparts. Thompson was the primary coverage defender on six targeted passes and he allowed all of three receptions for 11 yards and had three interceptions himself. No reception went for more than six yards in an utterly dominant performance.
Second-Team CB: Ahmad Gardner, Cincinnati
Cornerback
Amari Henderson, Wake Forest
The entire Wake Forest team fired on all cylinders and Henderson was no exception to that as he was triumphant in coverage. He was targeted a whopping 12 times, allowed five receptions for 32 yards and came away with two interceptions, four pass breakups and a passer rating of just 9.7 when targeted.
Second-Team CB: Michael Jacquet III, Louisiana
Safety
Kyle Hamilton, Notre Dame
The Irish got back to their winning ways with a squeaker against Virginia Tech and Hamilton was certainly crucial. He was on the field for just 26 snaps but made them count with three solo tackles without a miss, two defensive stops and an interception + pass breakup in coverage.
Second-Team S: Tyreke Smith, West Virginia
Safety
Brady Breeze, Oregon
Breeze had arguably the most impactful day of any defensive player this weekend as he scooped up a fumble and intercepted a pass that he returned it for a 32-yard touchdown that pushed Oregon's lead to 21-10 in the second quarter. He made four total tackles and allowed just two receptions for six yards while spotting a 16.7 passer rating into his primary coverage in an all-around elite game.
Second-Team S: Tyrone Hill, Buffalo
Flex D
James Pierre, FAU
Pierre may have allowed a touchdown but he more than made up for that with his two-interception performance. He allowed 66 total yards and had two picks with three more defensive stops and six total tackles without a missed attempt against WKU.
Second-Team Flex: Kolby Harvell-Peel, Oklahoma State