The college football season is in the home stretch for most teams and after a full slate of games on Saturday, we at PFF and our team of over 500 analysts has dissected and graded every player on every snap of every game to bring you the most detailed and valid set of picks you can find anywhere.

The Week 10 Eckrich ACC Team of the Week powered by PFF saw some impressive performances and, of course, the strength of opponent also factored into the overall selections as did the PFF player grades.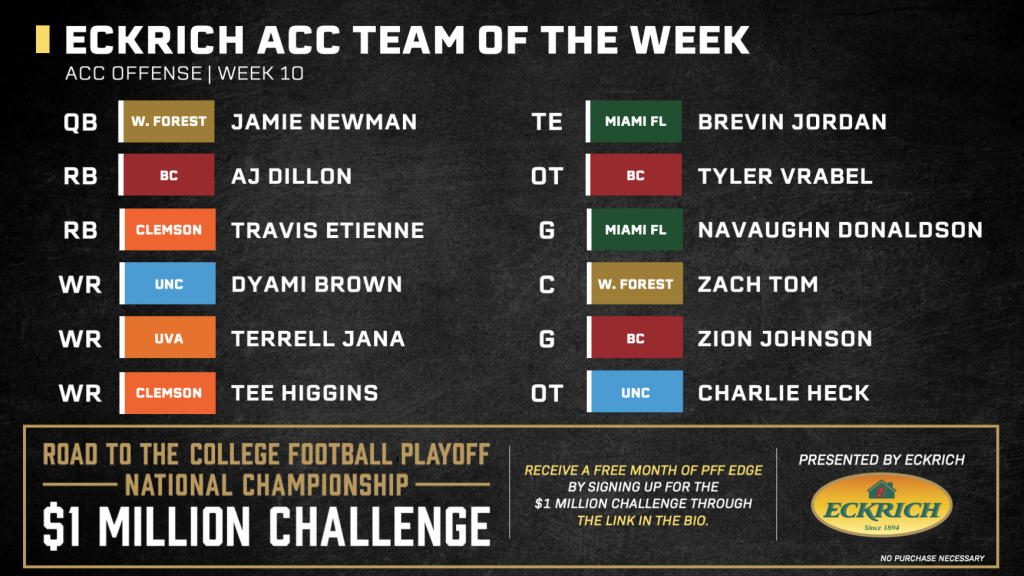 Quarterback
Jamie Newman, Wake Forest
Wake Forest quarterback Jamie Newman returned from a one-game absence (shoulder), and he did so in impressive fashion. Newman was one of our highest-graded ACC quarterbacks in Week 10, posting an 88.1 game grade due to his efforts both through the air and on the ground. He amassed 46 rushing yards and 287 passing yards on a staggering 40 attempts. Newman also added three scores and recorded a 109.1 passer rating in their 34-point victory over North Carolina State.
Second-Team QB: Trevor Lawrence, Clemson
Running Back
AJ Dillon, Boston College
Dillon was undoubtedly the clear pick at running back for the ACC Team of the Week, as he scampered for 242 yards on 35 attempts and added three scores for the second time this season. The Boston College back averaged 6.9 yards per attempt, which ties for the highest rate in his 2019 campaign. Dillon also moved the chains on 14 occasions and forced nine missed tackles as he led the Eagles to a 58-27 toppling of Syracuse.
Second-Team RB: David Bailey, Boston College
Running Back
Travis Etienne, Clemson
If there was a running back performance that rivaled AJ Dillon's, it is Travis Etienne. The Clemson back finds himself on this list once again in a week where he posted 207 yards and a pair of scores on eight attempts in the first half. Etienne recorded just one attempt for five yards in the second half in Clemson's 59-14 rout of Wofford.
Second-Team RB: Javonte Williams, UNC
Wide Receiver
Dyami Brown, North Carolina
Dyami Brown was the only ACC wide receiver to gain 200 yards through the air in Week 10, and he did so on just nine targets. It was the single game this season that Brown reached the triple-digit mark (202) and multiple scores (3), which meant for a career day. The game didn't go the Tarheels' way, though, as they fell to Virginia 38-31, but Brown was the gear that Kept North Carolina's offense in motion on Saturday.
Second-Team WR: Trishton Jackson, Syracuse
Wide Receiver
Tee Higgins, Clemson
Higgins was the highest-graded ACC wide receiver (89.0) in Week 10's slate of games. He caught all five of his targets, each of which went for a first down. Higgins was as efficient as they come in Clemson's blowout victory over Wofford, as he extended his nine-game streak of zero dropped passes and recorded a perfect 158.3 passer rating when targeted.
Second-Team WR: Maurice Ffrench, Pittsburgh
Wide Receiver
Terrell Jana, Virginia
Terrell Jana impressed in Virginia's seven-point triumph over North Carolina, posting a season-high 79.5 receiving grade. He was clearly Bryce Perkins' preferred target, as he saw a career-high 16 passes come his way. Zero opportunities were wasted, and he amassed 146 receiving yards and eight first downs. Jana posted season-highs in a plethora of metrics in what was a career day for the Cavalier pass-catcher.
Second-Team WR: Jeff Thomas, Miami
Tight End
Brevin Jordan, Miami
There wasn't a surplus of eye-catching ACC tight end performances in Week 10, but Brevin Jordan contributed substantial numbers in Miami's 17-point win over Florida State. Jordan saw eight passes come his way, six of which he caught, for 48 yards and three first downs.
Second-Team TE: Jack Freudenthal, Wake Forest
Offensive Tackle
Tyler Vrabel, Boston College
Boston College broke the school record with 691 yards against Syracuse, and they did so behind their stable offensive line. Offensive tackle Tyler Vrabel earned an 82.4 pass-blocking grade in a game in which he surrendered zero quarterback pressures and made a perfect 100.0 pass-block efficiency rating. Boston College did more of their work on the ground, though, which Vrabel was also effective in, earning a 67.9 run-blocking grade.
Second-Team OT: Jackson Carman, Clemson
Offensive Guard
Navaughn Donaldson, Miami
Donaldson had the best game of his 2019 campaign against Florida State, as he earned an 84.5 across 27 passing snaps with zero penalties. The 6-foot-6, 345-pound guard surrendered zero pressures and also contributed in the ground game, making a 63.6 run-blocking grade.
Second-Team OG: Nathan Gilliam, Wake Forest
Center
Zach Tom, Wake Forest
Zach Tom and a couple of his Wake Forest offensive linemen played in 82 offensive snaps, the most in the ACC, but the massive workload was no issue for the center. Tom earned 84.1 and 68.4 pass and run blocking grades, respectively, and earned a perfect 100.0 pass-block efficiency rating for the fourth time this season.
Second-Team C: Cade Stewart, Clemson
Offensive Guard
Zion Johnson, Boston College
Johnson struggled in pass protection, but he made up for it in his endeavors in the run game. He earned a 75.7 run-block grade across 60 rushing plays with zero penalties called. Johnson was one of the anchors of the Boston College offensive line that aided in breaking the single-game school yardage record.
Second-Team OG: Will Putnam, Clemson
Offensive Tackle
Charlie Heck, North Carolina
Offensive tackle Charlie Heck was the anchor that the North Carolina Tarheels needed along the offensive line, impressing in pass protection with an 82.6 grade across 36 passing snaps. The 6-foot-8, 315-pound lineman was only beaten by a defender one time, but it didn't result as a quarterback pressure.
Second-Team OT: Jordan McFadden, Clemson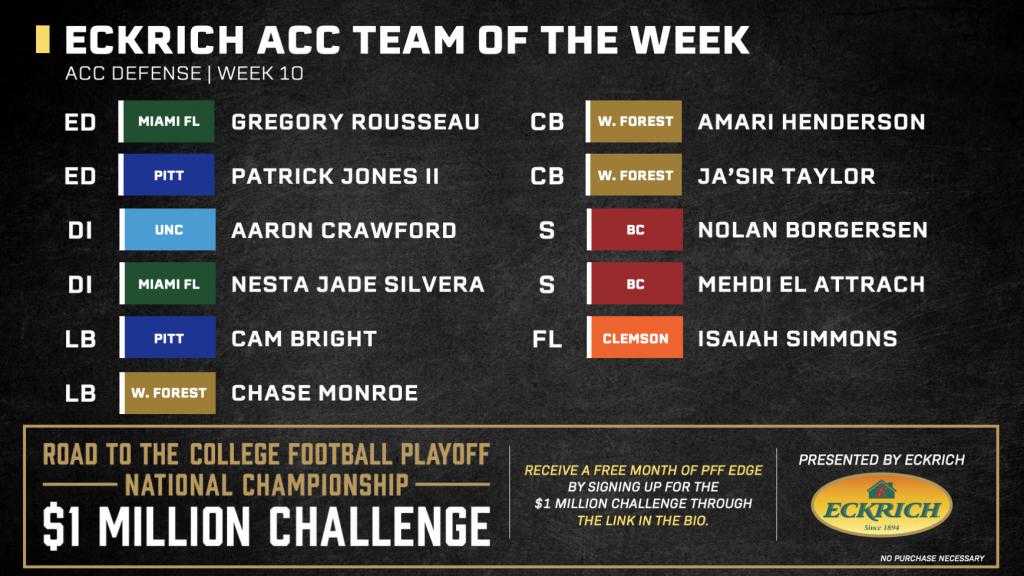 Edge Defender
Gregory Rousseau, Miami
Gregory Rousseau was the highest-graded ACC edge defender (84.2) in Week 10 — primarily because of his knack for pressuring the quarterback. Rousseau moved into Miami's top-five list of single-season sack leaders following his four sack game on Saturday. This effort put his sack total at 12 on the year, which puts him among great company with the Miami greats.
Second-Team Edge: Trevon Hill, Miami
Edge Defender
Patrick Jones II, Pittsburgh
This makes it Patrick Jones' fourth appearance on the ACC Team of the Week, and it is undoubtedly well-deserved precisely because of his impression he left on the run game. He earned a season-high 77.5 grade in run-defense, contributing two stops with zero whiffs in the run-game.
Second-Team Edge: Tyjuan Garbutt, Virginia Tech
Defensive Interior
Aaron Crawford, North Carolina
Aaron Crawford grew up playing football in Virginia, but it was North Carolina who he was doing his damage for on Saturday. The 6-foot-2, 290-pound interior defender earned an 82.5 run-rush mark, contributing to his impressive 91.3 run-defense grade on the season. Crawford collected a pair of tackles and forced a fumble when defending against Virginia's ground game.
Second-Team DI: Jonathan Ford, Miami
Defensive Interior
Nesta Jade Silvera, Miami
The Miami interior defender earned his first 70.0-plus pass-rush grade of his entire collegiate career (82.1) on Saturday as a result of living in the Florida State backfield. Silvera extended his streak of registering a quarterback pressure to five games when he got to the quarterback on three occasions in Week 10.
Second-Team DI: Cory Durden, FSU
Linebacker
Cam Bright, Pittsburgh
Cam Bright left his mark on the scoreboard when he picked up a loose ball and ran it all the way back late in the third quarter against Georgia Tech. The Pittsburgh linebacker had quite the well-rounded game, earning positive marks in run-defense, pass-rushing and coverage. Pass-rushing, his highest Week 10 grade (78.0), is a result of his four quarterback pressures and 33.3% pass-rush win rate. His defensive statistics are impressive, but none affected the game more than his scoop and score, which led to the Panthers' 20-10 victory.
Second-Team LB: Chazz Surratt, North Carolina
Linebacker
Chase Monroe, Wake Forest
Chase Monroe played the best game of his collegiate career on Saturday when Wake Forest romped North Carolina State 44-10. His 75.4 game grade is a career-high mark after he collected two tackles in run-defense as well as a forced fumble.
Second-Team LB: Rayshard Ashby, Virginia Tech
Cornerback
Amari Henderson, Wake Forest
No ACC defender had a higher grade than Amari Henderson and his 93.7 game grade. Wake Forest had 11 forced incompletions in coverage, and Henderson caused four of those. That impressive metric led to his astronomical 93.9 grade in coverage. He was targeted as the primary defender in coverage 13 times, but allowed only five receptions for 32 yards. Opposing quarterbacks maintained a 7.1 passer rating when targeting the cornerback.
Second-Team CB: Trill Williams, Syracuse
Cornerback
Ja'Sir Taylor, Wake Forest
The cornerback opposite Henderson, Ja'Sir Taylor, also had a fantastic day in coverage, earning a season-high 74.4 grade on the day. Taylor saw five passes come his way and surrendered just one catch for five yards. He was all over the field on Saturday, playing 39 defensive snaps and 21 special team snaps.
Second-Team CB: Damarri Mathis, Pittsburgh
Safety
Nolan Borgersen, Boston College
Entering Week 10, Borgerson wasn't the likely candidate to make this list, but when Mike Palmer went down with an injury, it was Borgerson who stepped in and contributed in a big way. The wide receiver turned safety was targeted as the primary defender in coverage four times and allowed four catches for 22 yards. His 75.2 coverage grade is the second-highest of the season, but his 43 cover snaps in Week 10 is easily his biggest workload of the season.
Second-Team S: Juanyeh Thomas, Georgia Tech
Safety
Mehdi El Attrach, Boston College
Mehdi El Attrach was an absolute monster in run defense on Saturday, as he earned an 87.1 when defending the ground game. He collected three run stops on 14 plays and a tackle for loss. Although he went down with injury, he was incredibly effective with the workload he did see.
Second-Team S: Divine Deablo, Virginia Tech
Flex
Isaiah Simmons, Clemson
Simmons, the lone Clemson defender on this list, was the highest-graded ACC safety in Week 10 (90.1). He received his highest coverage grade of the year (92.4), snagging an interception and allowing zero receptions. Simmons wasn't too shabby in run-defense as well, adding a stop when defending Wofford's ground attack.
Second-Team Flex: Gurvan Hall Jr., Miami