The first week of the 2021 college football season is here, and no one is better equipped to provide all the information needed for the slate of games than PFF.
Below, you'll find this week's schedule, game lines, guidance to PFF Greenline picks and a game preview for every matchup. Please note that the lines are courtesy of our friends over at DraftKings Sportsbook and are subject to change up until kickoff.

---
Click here for more PFF tools:
Fantasy Draft Kit  | PFF Betting Dashboard | PFF Fantasy Rankings
PFF Fantasy Projections | NFL Premium Stats | Win Totals Tracker
---
Saturday, August 28 | 1:00 PM EST | FOX
Spread: Nebraska -7 (-105)
Total: O/U 55
Moneyline: Nebraska -265, Illinois +215
This matchup is intriguing, especially with the value PFF Greenline sees in one of these teams.
Nebraska is led by quarterback Adrian Martinez, who is heading into his fourth season as the Cornhuskers starter. The 2018 top-150 recruit never developed into the passer many were expecting to see, as Martinez has struggled through the air regardless of the concept.
Airing it out isn't this offense's modus operandi, but that's where the cheddar is made and where Martinez struggles most. He ranks fourth-to-last among FBS quarterbacks in passing grade on 10-plus yard throws since 2019, and his overall big-time throw rate is the second-worst (1.9%). Martinez has developed into a dangerous weapon on the ground, specifically on scramble runs. His designed rushing and non-scramble dropback passing EPA per play throughout his three-year career are identical (-0.05), but the EPA gathered per scramble run sits at 0.53. Having a quarterback who can turn what would be a sack into a 10-yard gain a couple of times per game is great, but it's moot if they can't throw.
Illinois starting quarterback Brandon Peters doesn't have that trait, however, and there isn't much to get excited about other than an above-average deep ball. He ranks outside the top 100 in both accurate pass rate beyond the line of scrimmage and turnover-worthy play rate over the last couple of years. Those two metrics are key reasons why Illinois ranked third-to-last among Power Five programs in successful pass play rate over that span. Considering that there are no proven receivers to help Peters out other than tight end Daniel Barker, there are reasons to be concerned for the passing offense. On the other hand, there is reason to believe the run game can help prevent the offense from being at the bottom of the FBS. Center Doug Kramer and tackles Alex Palczewski and Vederian Lowe return to lead the way for running back Chase Brown. All four players were key in Brown's positive EPA per carry in 2020.
A big deciding factor in this one is likely going to be the state of the Illini's defense. Their 2020 coverage unit generated the second-worst successful pass play rate allowed among Power Five programs. The outside corners were eighth-to-last in coverage grade among that group, and the team lost four-year starter Nate Hobbs from that unit.
Click here for PFF Greenline's cover probabilities for side, total and moneyline.

Saturday, August 28 | 2:00 PM EST | CBSSN
Spread: Fresno State -27.5 (-110)
Total: O/U 62.5
Moneyline: Fresno State -4500, UConn +1800
The Huskies are big-time underdogs in the program's first game since the 2019 season, and understandably so. Not only are they an inexperienced team traveling across the country, but they are facing a sneaky good Fresno State offense. UConn may return its top pass-catcher from that team — Cameron Ross — and one of the most underrated players in the country — Travis Jones — but that's about it. Jack Zergiotis manned the starting quarterback spot in 2019, and that could remain the case in 2021 despite his 45.3 PFF grade, which ranked third-to-last among FBS quarterbacks.
Fresno State returns a formidable offensive trio in quarterback Jake Haener, running back Ronnie Rivers and wide receiver Jalen Cropper, who were the most valuable players on the offensive side of the ball for the Bulldogs last season while Haener and Rivers, in particular, were the most valuable on the entire team. They overcame the second-lowest-graded offensive line in the Mountain West to produce the most efficient offense in the conference.
Click here for PFF Greenline's cover probabilities for side, total and moneyline.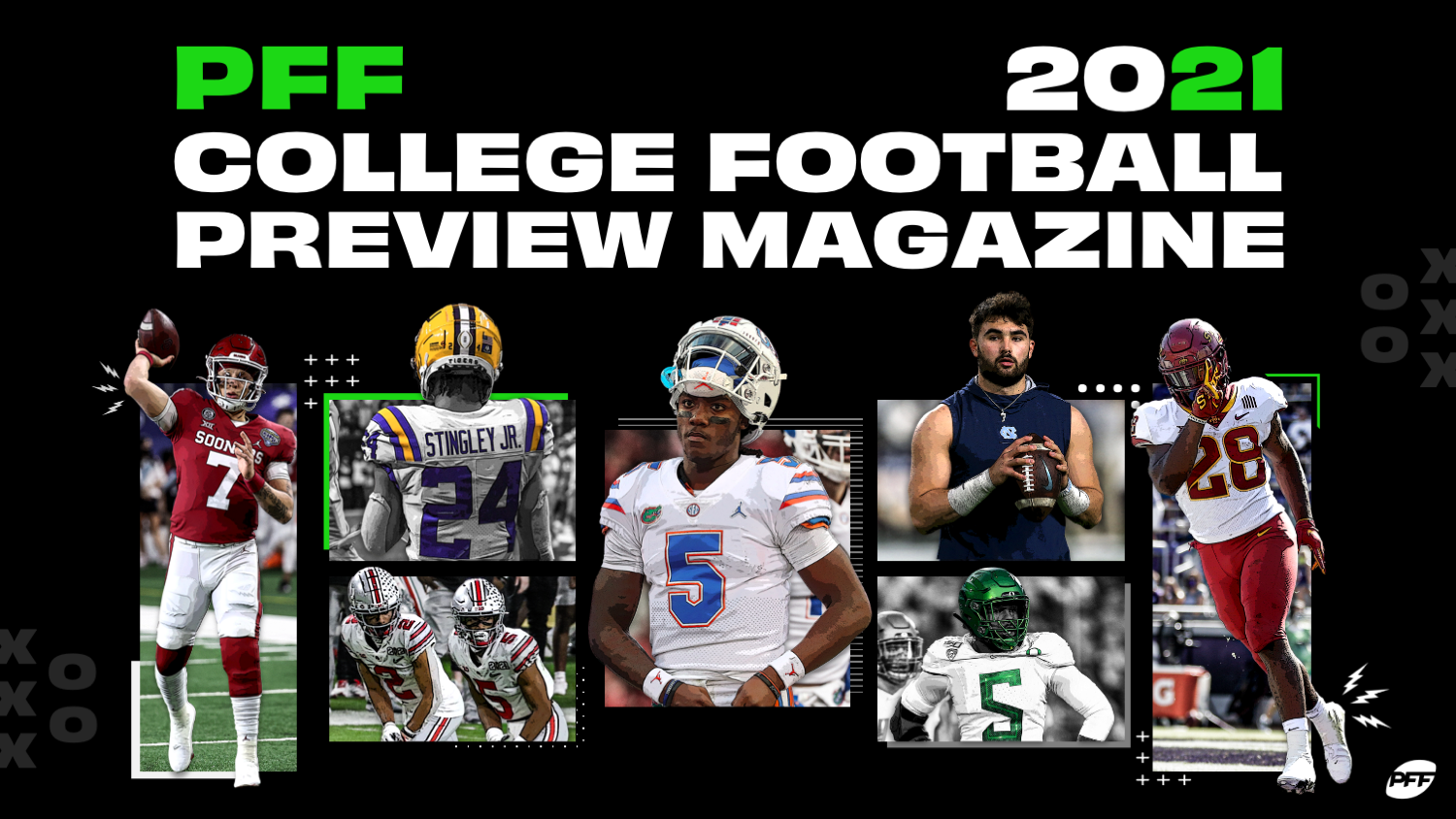 Saturday, August 28 | 3:30 PM EST | ESPN
Spread: UCLA -18 (-110)
Total: O/U 68
Moneyline: UCLA -1000, Hawaii +650
The Bruins have legit talent on the offensive side of the ball. They have the Pac-12's most valuable returning wide receiver since 2019 in Kyle Philips, one of the best tight end duos in the country in Greg Dulcich and physical freak Mike Martinez, and a top-tier tackle duo in Sean Rhyan and Alec Anderson, who both rank inside the 25 highest-graded returning tackles in the Power Five.
The quarterback position is where the uncertainty lies. Dorian Thompson-Robinson is an athletic player who can extend broken plays with his legs, but his ability to effectively lead an efficient passing attack is in question. He's registered 54.2, 61.1 and 54.6 PFF passing grades over the last three years, and he's coming off a year in which he earned a sub-57.0 passing grade in four of his five starts. Overall, Thompson-Robinson has led the second-least efficient passing offense in the Pac-12 when healthy enough to lead his team onto the field.
The rushing attack was the strength of Hawaii's run-and-gun offense in 2020, which is likely to remain the case this year. With versatile weapon Calvin Turner and quarterback Chevan Cordeiro leading the way, the Rainbow Warriors had the third-most efficient run game in the Mountain West and 27th-most efficient in the FBS last season. They actually were more efficient running the ball than passing it, which leads to one of their biggest question marks: Cordeiro's passing ability. He can clearly create plays on the ground but producing a poor 59.5 passing grade like he did in 2020 won't cut it this season. From the shaky deep passing to panicky play under pressure, Cordeiro just couldn't get things cooking as a passer while giving no indication that things would get better.
Click here for PFF Greenline's cover probabilities for side, total and moneyline.
Saturday, August 28 | 9:30 PM EST
Spread: UTEP -10 (EVEN)
Total: O/U 56.5
Moneyline: UTEP -380, New Mexico State +290
New Mexico State's secondary is going to have a lot on its plate, as it has to defend wide receiver duo Jacob Cowing and Justin Garrett, who are Nos. 1 and 3 in 2020 PFF grade among returning Conference USA wide receivers. Cowing's ball skills are less than ideal, but he adds value as a deep threat. As for Garrett, he's one of the most reliable targets in the Group of Five. He has the second-lowest drop rate in C-USA since 2019 (2.3%) as well as the highest contested catch rate (61.9%).
The big question mark on UTEP's offense is quarterback Gavin Hardison. He has proven to be able to fry the weaker competition, but he struggles against the better opponents. Against Stephen F. Austin, Abilene Christian and UL-Monroe in 2020, he earned an 87.1 passing grade. In his other four outings against somewhat respectable defenses, his passing grade fell to 58.6. The good news is that the New Mexico State defense isn't looking pretty, as evidenced by its No. 115 rank among the 130 FBS schools in PFF's Defensive Rating that stems from a Massey matrix-based approach. The Aggie offense is on the same page, as they also rank 115th on that side of the ball.
There could be some hope if Weston Eget ends up the man starting at quarterback. The 6-foot-3, 225-pound quarterback saw some action this past spring against Dixie State, and he looked the part, earning a 91.4 passing grade on 12 dropbacks while making the right decsions and displaying great ball placement.
Be sure to keep an eye on No. 54 on the Miners defense, Keenan Stewart, as he is in the conversation for best interior defensive linemen in the entire Group of Five. He had a rough first two games at nose tackle in 2020 after transferring in from JUCO, but he was kicked over to defensive tackle in his third outing and was excellent the rest of the way. Over his last six games, Stewart was the highest-graded player at the position in college football (92.7).
Click here for PFF Greenline's cover probabilities for side side, total and moneyline.
Saturday, August 28 | 10:00 PM EST | CBSSN
(Editors note: DraftKings doesn't post game lines for FBS vs. FCS matchups)
This probably isn't to be a close one considering we have one of the best Group of Five teams going up against a non-FBS program, but there is still plenty to watch in this one, specifically the menacing pass-rush the Spartans have at their disposal. Edge duo Viliami Fehoko and Cade Hall lead the way.
Fehoko went from playing a versatile role mostly on the interior in 2019 to mostly on the edge in 2020, which led to a career year. He finished with an 87.0 PFF grade that ranked 10th in the FBS. He'll be interesting to monitor in 2021 after packing on 30 pounds to his 6-foot-4 frame this past offseason to get to 263 pounds. Hall managed to rank second in the Mountain West last year in PFF grade, behind only Fehoko. Those two combined for a whopping 35 sacks plus quarterback hits last season.
The Spartans also feature a top non-Power Five breakout candidate in interior defensive lineman Noah Wright, who transferred in from JUCO. He is a threat to push the pocket on any true pass-rush opportunity. His powerful 6-foot-5, 315-pound frame gives him a physical advantage over most Group-of-Five linemen, an advantage that became more and more apparent as the 2020 season went on. He recorded an 89.1 pass-rush grade over his final three outings, pairing that with a 24.4% win rate, which he did while playing everywhere across the line.