Utah head coach Kyle Whittingham and the rest of his staff have quietly pieced together one of the best defenses in all of college football. The 9-1 Utes find themselves as the seventh-ranked team in the nation after the AP's top-25 was released Sunday morning, and they sustained their top-10 position after a thrashing of the UCLA Bruins, a game in which Utah allowed just three total points.
Utah has not won a conference championship in 11 years—when they were still apart of the Mountain West Conference—but they can change that in their 2019 campaign as Utah and Oregon look to square off for the Pac-12 Championship after just two more regular-season games.

Utah finished the 2018 season with a 9-3 record that culminated in a loss to Washington in the Pac-12 Championship and a loss to Northwestern in the Holiday Bowl. They finished with the 17th best team defense grade in the FBS, flashing their potential that we are now seeing on a weekly basis this season.
The Utes ranked 15th in team run-defense grade, 17th in pass-rush grade and 36th in coverage grade. Standing tall against the run was not an issue for Utah, as they allowed just 3.7 yards per attempt (fifth) and 2.4 yards after contact per attempt (tied for fourth). The pass-rush was also a force to be reckoned with, as they generated pressure on 39.6% of opponents' dropbacks, fourth in the country. In coverage, the defense was solid but not great, as they ranked 20th in yards per reception allowed (11.0), 44th in passer rating when targeted (86.1) and 91st in completion percentage (65.5%). They did, however, miss on 54 tackles (102nd), allowed 64 passes of 15 or more yards (58th) and 5.4 yards after the catch on average (41st), all of which were outside the top-40 in the FBS. Entering the 2019 season, they strived to improve in every facet on defense, returning a majority of their defensive starters.
Utah currently boasts a team defensive grade of 94.9, the third-best in the FBS, as they have allowed only 4.2 yards per play, which is tied for the fourth-lowest. They also have top-five marks in both run-defense (fifth) and coverage grades (second), as well as a top-40 position in pass-rush (32nd).
Against the run, the Utes have forfeited a mere three touchdowns while allowing only 3.6 yards per attempt, both are the third-best among all FBS defenses. They have also been among the best in limiting big run plays, allowing just 2.4 yards after contact per attempt (fourth) and the third-fewest runs over 10-plus yards (23). Much of their run-stuffing ability can be attributed to the defensive interior duo of John Penisini and Leki Fotu, who have each wreaked havoc up the middle. Both players have elite run-defense grades — Penisini has earned a 91.0 mark (tied for second at the position), and Fotu holds a 90.1 (tied for 10th), which both rank in the top-10 among defensive linemen who have played at least 200 total snaps.
The defense has been stout against the run but has hovered around average when it comes to pressuring the quarterback. They rank 44th in total pressures, with 170, while also holding a pressure percentage of 43.9%, which is tied for 52nd in the FBS. But while the team pass-rush has not been stellar, Bradlee Anae is having a career year off the edge for the Utes — he has 51 quarterbacks pressures (fifth) and has beaten his opponent on 23.2% of his pass-rush snaps (eighth), which are both top-10 marks among edge defenders who have played at least 100 pass-rush snaps. If he can continue to dominate opposing offensive lines off the edge, there is no doubt he will hear his name called early in the 2020 NFL draft.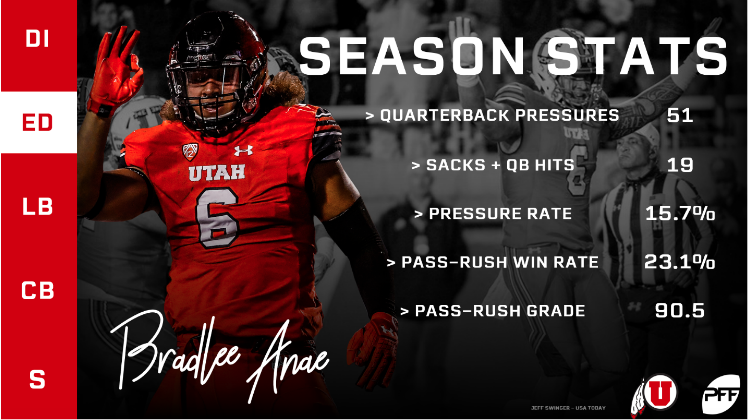 Despite the pass-rush lacking outside of Anae, Utah's coverage has been stellar all season long. They've allowed a passing grade above 57.0 just once, and with 10 games played, they have conceded a passer rating of 73.7 (sixth), a yards-per-reception average of 10.3 (tied for eighth) and 10 passing touchdowns (tied for 13th), which are all among the best in the nation. A significant reason for their excellent passer rating allowed when targeted is their ability to create turnovers. The Utes have snatched 13 interceptions, tied for the eighth-most, while also having 15 dropped interceptions, which is three more than the next school. Their forced incompletion rate— incompletions brought about by way of interception, pass breakup or close coverage—of 12.6% is the country's 19th highest percentage. Similar to their play against the run, Utah has been outstanding at limiting game-changing plays, allowing just 37 passes of 15 yards or more, which is the fifth-fewest in the FBS. 
Although pressure has not been generated at an elite rate, Utah's coverage has remained robust throughout the season. However, with pressure applied, the defense has taken their coverage ability to the next level. 
Passer Rating:
Clean: 87.7 (24th)
Pressured: 29.3 (7th)
Yards Per Reception:
Clean: 9.8 (8th)
Pressured: 12.7 (32nd)
Completion Percentage:
Clean: 69.4% (86th)
Pressured: 38.6% (10th)
Forced Incompletion Rate:
Clean: 11.6% (27th)
Pressured: 15.7% (27th)
If Utah can dial-up a greater deal of pressure on opponents as the season wanes, we could see their coverage numbers and grade increase substantially to end the year. 
One of the critical reasons for the secondary's success in their 2019 campaign has been the play of their safety duo, which includes Terrell Burgess and Julian Blackmon. Both safeties have stellar coverage grades, as Burgess owns a mark of 90.2 (tied for third) and Blackmon has an 88.2 (tied for 10th). Burgess has allowed just 5.7 yards per reception, tied for the sixth-lowest among safeties with a minimum of 200 snaps. He also has yet to allow a touchdown into his coverage while nabbing an interception as well as four pass breakups en route to a 57.5 passer rating when targeted.
Opposite Burgess, Blackmon has distinguished himself despite playing the last three years as a cornerback. The move has paid off for both the team and Blackmon, as he is recording the best coverage numbers of his career. Last year, Blackmon allowed 786 receiving yards and six touchdowns to one interception, as well as a passer rating of 131.7 when targeted as he was torched early and often in the secondary. However, so far in his 2019 campaign as safety, Blackmon has showcased his range and ball skills, allowing just 201 yards, one touchdown to four interceptions and a 62.7 passer rating when targeted. Blackmon's versatility will be highly coveted by NFL teams, making him a prime candidate to be selected this spring along with the rest of his Utah teammates that will be draft-eligible.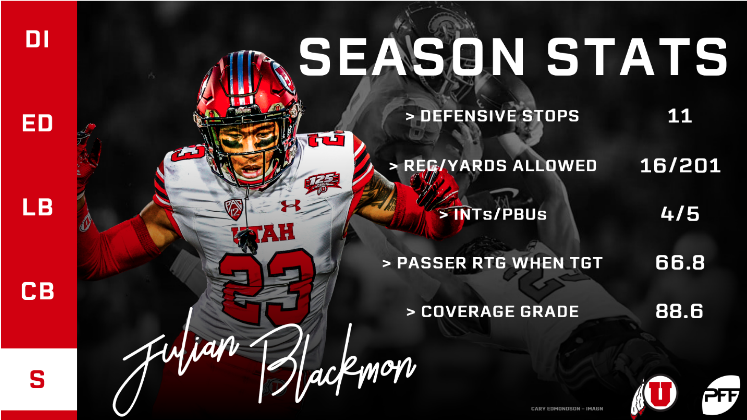 The coverage has also played exceptionally well when it matters, posting an 89.9 coverage grade in the fourth quarter, third-best in the nation. Unsurprisingly, they have top-10 figures in both passer rating when targeted (59.8, ninth) and yards allowed per reception (9.3, fourth). The Utes have also forfeited just two touchdowns compared to five interceptions, dropping another six. If the secondary can continue their dominant play in the fourth quarter while also hauling in more interceptions than they drop, this Utah defense will be able to race neck and neck with offenses such as Alabama's and LSU's.
Utah will face Arizona and Colorado to end their regular season, and if they can win out, all signs point to a Pac-12 Conference Championship bout against the Oregon Ducks. And while their offense has the firepower on offense to make waves for the remainder of the season, their defense will be the reason they have a chance to hoist the trophy.