Overlooked in North Carolina's 11-win season was the performance of the Tar Heels' secondary. The corners, in particular, are incredibly talented. Senior Des Lawrence and Junior MJ Stewart form one of the top starting pairs in the entirety of the FBS.
The ACC is hardly renowned for elite passing games, but both players proved their quality in late-season games against the likes of Miami, NC State, Clemson and Baylor. The Tar Heels' corners stuck consistently to receivers a year ago, and the pair could even improve in 2016.
Difficulty of scheme not prohibitive on production
North Carolina played press-man regularly last season. The Tar Heels often combined the aggressive approach on the perimeter with a single high safety, piling pressure on the corners to hold up on an island. Defensive coordinator Gene Chizik could only free up safeties to play in the box because of the quality he had at his disposal in the secondary. Senior Des Lawrence made up half of North Carolina's outstanding cornerback pair. Lawrence's technique is illustrated in the ensuing play. He's able to disrupt the receiver at the line of scrimmage, stick in his hip pocket down the sideline, and knock the ball away in the endzone.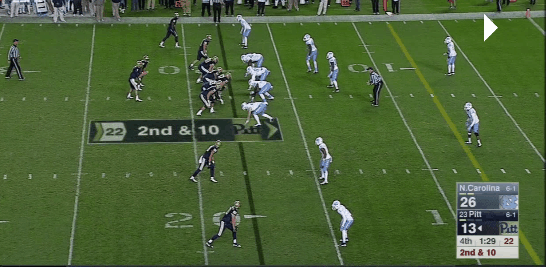 It's just one such example from 2015. Lawrence ultimately ended the season with a +9.1 coverage grade, earning him the 21st spot in the nation amongst returning players. He gave up only 33 catches on 61 targets for 392 yards, no touchdowns, two interceptions and nine pass deflections. He allowed a lowly QB rating of just 60.3. Although Lawrence is unlikely to pick off a ton of passes, he has the awareness and body control to play the ball in the air. Here's another example from his game against Miami.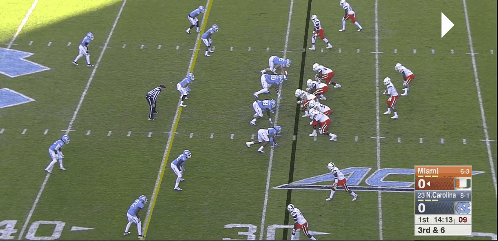 As effective as Lawrence was in 2015, his teammate was even better. The added experience helps Lawrence win more on instinct, unlike Stewart who excels because of his athleticism. He ranked fourth amongst returning FBS corners, amassing a +15.1 coverage grade. Stewart's numbers highlight his quality. Overall he allowed only 31 of 69 targets to be caught for 325 yards, one touchdown, four picks and 12 pass deflections. Only nine returning corners bettered the QB rating Stewart allowed in 2015 (39.8).
Versatility highlights corners' quality
The Tar Heels' coach also deserves credit for shifting Stewart into the slot in the nickel. Although he is less physical than his teammate, Stewart's quickness and change of direction skills make him an ideal inside defender. He is one of the few corners capable of matching up with the likes of Miami's Stacey Coley in space. The play below highlights the agility that enables Stewart to be so effective against slot wideouts: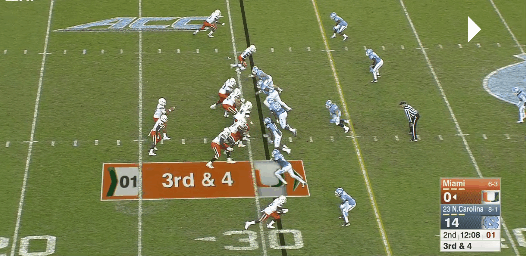 He ultimately allowed 21 catches on 45 targets for 245 yards in 2015. One of his four interceptions also came when lined up inside, ultimately resulting in a QB rating allowed of just 54.4 (fourth in the nation). Stewart could still improve as a tackler, but overall he is already one of the best corners in college.
Unlike his teammate, Lawrence is an excellent tackler. He provides more of a complete skillset. Stewart makes more impact plays, but Lawrence is more reliable. He appears more than willing to attack the line of scrimmage against the run, and limits yards after contact once he arrives. Lawrence recorded a solid +2.8 run defense grade, missing only four of 57 attempted tackles in 2015. With a miss just once every 14.3 attempts, Lawrence was a top-20 tackler a season ago.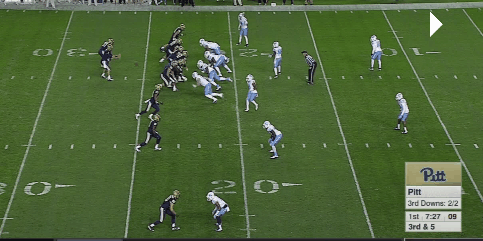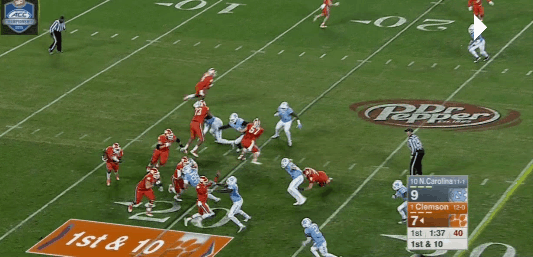 As well as versatility in attributes and position, both Lawrence and Stewart possess schematic versatility. Lawrence, in particular, is also comfortable in zone coverage, thanks in large part to his football instincts. He shows the discipline to maintain zone integrity against level concepts, playing effectively from deep to short. With the combined quality of their corners, opposing quarterbacks will find big plays hard to come by against North Carolina.
Promising outlook
While the Tar Heels' offense will be forced to undergo some changes in 2016, the defense remains largely intact. A huge part of their projection is based upon their pair of outstanding corners. Des Lawrence and MJ Stewart headline a stacked secondary — even the depth players are of high quality. None, however, can match Stewart's production. The fact that he was only a sophomore suggests he still has room to develop. With such a perfect tutor opposite him, the Tar Heels' secondary should be even better next season.