I get older, they stay the same age.
The true freshman watch is on as we look at the top first-year performers across the country. The recruiting cycle has made many players into household names, but they don't always carry the hype onto the field in the early going. Some players are able to step in right away as contributors, while others need time. There are always a handful of freshmen who finally start contributing around mid-season, but for now let's focus on those making the biggest impact through four weeks.
Here are the best true freshmen in the nation heading into Week 5.
Dexter Lawrence, DT, Clemson 83.8
When looking at Lawrence's grade sheet, the negatives are few and far between and he's been a disruptor in both the run and pass game. Lawrence came into college with plenty of hype and he's stepped right in and lived up to it in the early going with the nation's top overall grade among true freshmen. In addition to his 85.8 run grade that leads all freshmen and a run stop percentage of 13.2 percent that ranks second, Lawrence has added a sack, four QB hits, two hurries and a batted pass on only 58 rushes.
Ed Oliver, DT, Houston 82.0
One of the top stories of the recruiting cycle was Oliver's commitment to Houston after ranking as one of the nation's top defensive tackles in most recruiting circles. He's made an instant impact with an 85.4 grade against the run and a run stop percentage of 23.4 percent that leads the entire nation, not just true freshmen. For added perspective, last year's run stop percentage leader, Alabama's Jarran Reed, made a stop on 13.4 percent of his run snaps. Oliver's 155 snaps rank second only to Auburn's Marlon Davidson among true freshmen interior defensive linemen.
Rashan Gary, Edge, Michigan 81.7
Adding Gary to an already-loaded defensive line seemed unfair for Michigan and Gary has already shown why he was so highly touted. He's cracked the defensive line rotation with 136 snaps, fifth-most on the team, doing his best work in the run game at 87.4 while picking up two sacks, three QB hits, and six hurries on 73 pass rushes. His 13.3 pass rush productivity leads all true freshmen edge rushers.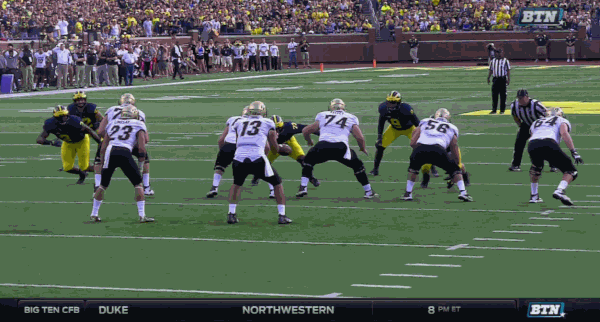 Jalen Hurts, QB, Alabama 75.7
Stepping in as a true freshman quarterback for Nick Saban and the defending national champions is no easy task, but Hurts outlasted other highly-recruited quarterbacks to secure the starting spot on the No. 1 team in the nation. He brings a dynamic run/pass threat that previous Crimson Tide quarterbacks have lacked, and it's opened up a new chapter in offensive coordinator Lane Kiffin's playbook. He's managed the passing game well while adding 208 yards on 27 designed runs (7.7 yards per carry) and his 75.7 overall grade leads all true-freshman signal callers.
Jawaan Taylor, OT, Florida 80.4
After starting the season as a backup, Taylor has stepped in at right tackle for Florida and more than held his own in the early going. He had a monster game against Kentucky in Week 2, earning national Team of the Week, and while he's leveled off since then, it's still an impressive start for a true freshman offensive tackle. Taylor has allowed only three hurries on his 125 snaps in pass protection and he's shown equally well in the pass game (79.7) as he has as a run blocker (79.6).
Jonah Williams, OT, Alabama 78.5
Williams has started at right tackle for Alabama since Week 1, doing his best work in pass protection with an 81.0 grade. He's allowed a sack and a hit on his 148 pass blocking snaps and his pass blocking efficiency of 98.8 leads all true freshman offensive tackles. Williams hasn't been as strong in the run game, but he certainly hasn't been a liability at 73.8.
Shane Buechele, QB, Texas 71.9
Buechele has been right there with Hurts when it comes to stepping in and looking like a veteran. He's run Texas' new up-tempo offense extremely well, showing the quick release and deep ball accuracy that makes it tick (five deep passing touchdowns tied for 10th in the nation. Buechele did take a step back when he played banged up against Cal in Week 3, but he looks like the future star the Longhorns have been looking for at quarterback.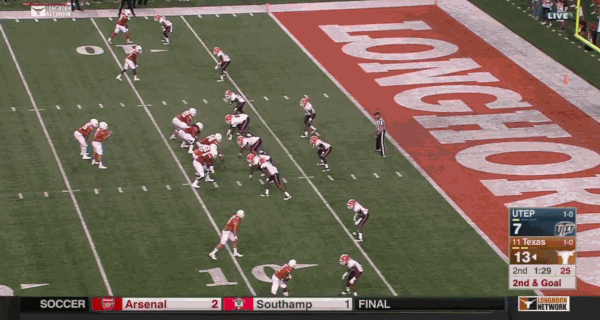 Troy Dye, LB, Oregon 79.6
Few linebackers have had a more impressive debut than Dye who was the best player on the field against UC Davis in Week 1. Competition level aside, he got in on eight stops, a sack and a hurry while making plays in the run game and in coverage. He's tapered off since then, but still managed to lead all true freshman linebackers with an 84.4 coverage grade.
N'Keal Harry, WR, Arizona State 76.8
Our-top graded true freshman receiver, Harry is the No. 2 receiver on Arizona State, he leads the team with two touchdowns, and had another long touchdown negated by a penalty. Not only has he showed the downfield ball skills to be a big-play threat, he also leads all true freshman receivers with six missed tackles forced after the catch.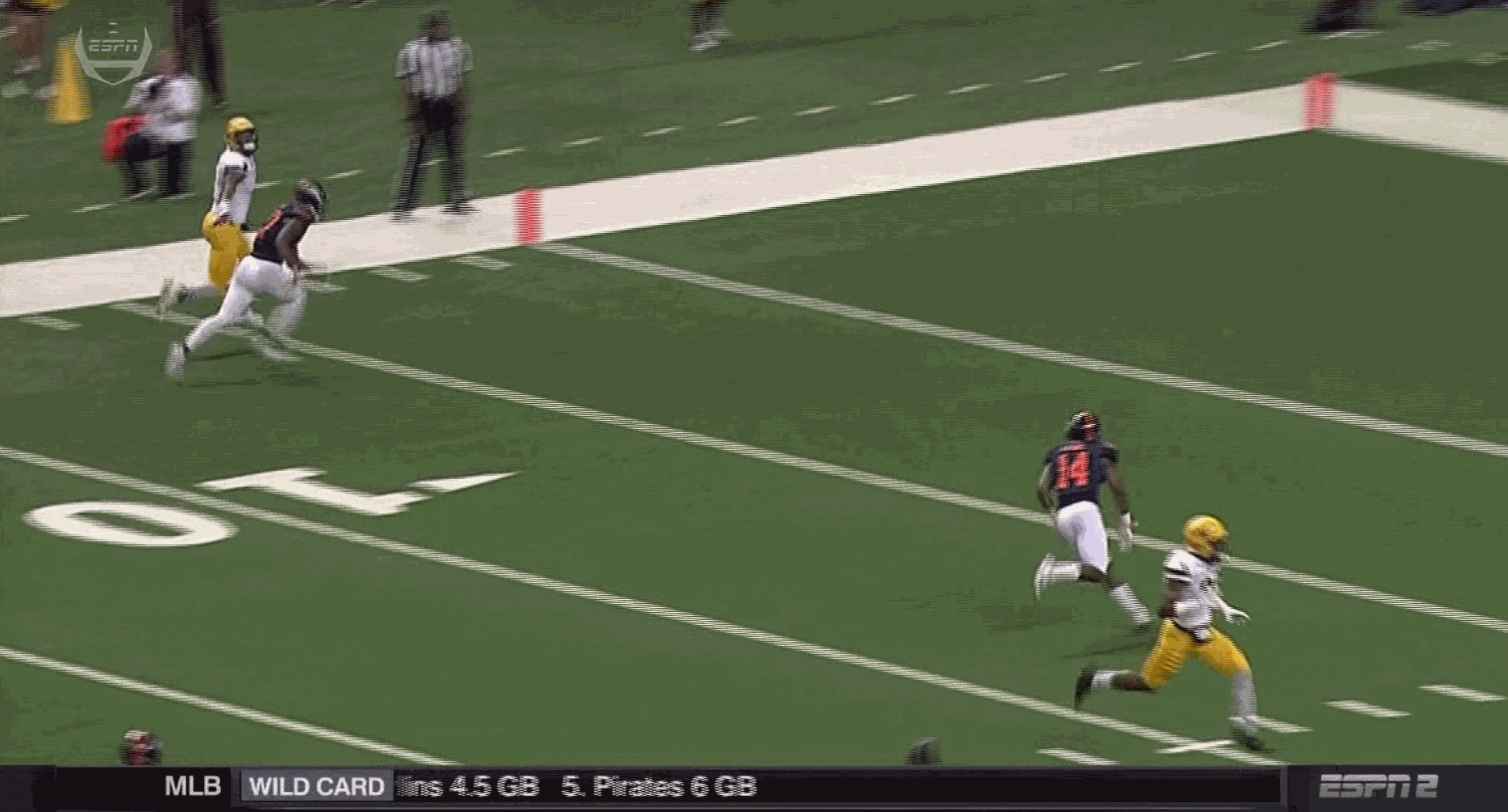 Trayveon Williams, RB, Texas A&M 72.7
Coming of two monster games in his first SEC action, Williams has added a dynamic threat to the Aggies' offense. He's averaging 9.7 yards per carry on the year to go with three touchdowns and the top rushing grade among Power-5 freshman running backs. Expect to see even more carries for Williams in the coming weeks.
Watch List:
Donnie Corley, WR, Michigan State;
Brian Burns, Edge, Florida State;
Carter Coughlin, Edge, Minnesota;
Tai'yon Devers Edge, Minnesota;
Michael Pinckney, LB, Miami;
J.J. Taylor, RB, Arizona;
Demetris Robertson, WR, Cal;
Greg Little, OT, Ole Miss