The Ohio State Buckeyes have dominated the Big Ten conference over the past three years, winning the conference championship each time. While they are the No. 1-ranked team in PFF's way-too-early top 25 rankings, they are losing some great talent in Chase Young, Jeff Okudah, Damon Arnette and K.J. Hill, among others. They do have three of the top 10 returning players in the conference next season, but the competition around them is going to be stiff. Using PFF's advanced database that is used by all 32 NFL teams and 72 FBS programs (that you too can get partial access to), these are the top 10 players returning to the Big Ten in 2020:
1. QB Justin Fields, Ohio State
While Trevor Lawrence is the best returning quarterback — and player — in college football, Ohio State signal-caller Justin Fields is right behind him. His 92.5 passing grade in 2019 trailed only soon-to-be first overall pick Joe Burrow. Rarely did Fields not show up and struggle in a game. In fact, in just two of his 14 games did he have a passing grade below 70.0. Fields' accuracy is exactly what you want in a quarterback. When removing passes behind the line of scrimmage, he ranked top 10 in lowest rates of uncatchable passes thrown. He's benefited from having a great group of receivers who can separate at a high level, but that doesn't mean he wasn't responsible for a lot of the Buckeyes' success. He could create outside of the structure or could torch the defense from a clean pocket. When inside a clean pocket, Fields was barely edged out by Burrow in passing grade and was routinely throwing strikes downfield, posting 24 big-time throws and only three turnover-worthy plays.
2. QB Tanner Morgan, Minnesota
We first saw Tanner Morgan in the middle of the 2018 season when he filled in as the starter for the remainder of the season, and he was not so great in those starts. As a result, it was a bit of a shock to see Morgan play at the level he did in 2019 — he was the ninth most valuable FBS quarterback and is among the five most valuable returning in 2020. The way Morgan handled pressure was a complete 180 from the year prior, as he ranked behind only Joe Burrow in PFF passing grade on those plays. Pressure is instable year-to-year, so while we expect Morgan to regress in this facet some, we don't expect him to completely drop-off because he showed a lot of promise on the things that are most predictive of future success — such as performance in a clean pocket. When free from pressure, Morgan produced a positively graded play rate that was second in the FBS and the best among returning signal-callers, barely edging out Justin Fields. On top of that, Morgan posted the third-lowest rate of uncatchable passes when throwing 10 or more yards downfield, whether he was pressured or not. If you have any reservations on the Golden Gopher heading into the 2020 season, you shouldn't. He's the real deal.
3. WR Rashod Bateman, Minnesota
There may not be a better route runner in college football than Rashod Bateman. He was relatively average as a true freshman in 2018, but he elevated his play in 2019 to an 89.0 receiving grade that ranked top 15 overall and top five among returners. The three biggest things you want to see from a wide receiver are the ability to create separation with route running, the ability to win in contested situations and the ability to produce after the catch. Bateman is one of the few who can do all three. On targets of 10 or more yards, Bateman hauled in 10 of his 16 contested targets, produced a top-20 receiving grade and created a step or more separation on 52% of the throws that came his way. The 6-foot-2, 200-pound receiver also tied for 20th in broken tackles (17). He's one of the most explosive receivers in the game, and with Tyler Johnson on his way to the NFL, Bateman will get even more opportunities to display his elite craft in 2020.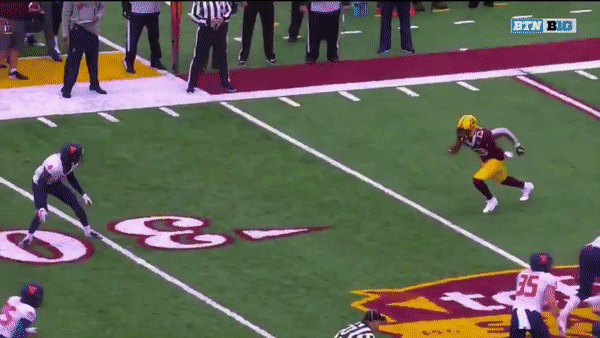 4. WR Rondale Moore, Purdue
Rondale Moore had an unfortunate 2019 season, limited to just four games due to injury. But when healthy, he has proven to be one of the best wide receivers in college football. In his true freshman 2018 campaign, Moore was the second most valuable wide receiver in the nation, behind only Andy Isabella. His usage was rather unique with the Boilermakers that year — most of his targets came underneath the coverage on screens, quick slants and outs. On balls thrown nine or fewer yards downfield, Moore saw over 20 more targets than anyone else (118 in total) and was one of two receivers to produce a receiving grade above 90.0. Moore broke a tackle on over a third of these catches and averaged 7.5 yards after the catch per reception. At 5-foot-9, Moore is an athletic freak who squatted 600 pounds and reportedly ran a 4.33 40-yard dash as a freshman and might be a darkhorse Heisman candidate if he has a healthy 2020.
5. LB Micah Parsons, Penn State
Off-ball linebacker Micah Parsons was solid as a true freshman in 2018, as he was the seventh most valuable first-year player at his position. In 2019, he went from good to the best in the country, producing the highest PFF overall grade (91.5). Parsons' bread-and-butter was his run defense, where he recorded one of the highest grades by an off-ball linebacker we have seen here at PFF (94.8). His tackling against the run was near flawless, recording 17 tackles for loss or no gain and missing only six of his 83 attempts. Even when pass-rushing, Parsons consistently made impact plays, recording 23 pressures on his 87 pass-rushes. His performance in coverage could get a bit better, but he was by no means a liability in that facet, as he didn't give up a touchdown and allowed over 50 yards in just one game in 2019.
6. WR Chris Olave, Ohio State
Chris Olave was a breakout candidate heading into the year, and the true sophomore lived up to the hype, ranking 28th in PFF receiving grade among 426 qualifying wide receivers in 2019. Olave generated separation with his route running as good as any other receiver last year, with 57% of his targets 10 or more yards downfield being deemed open (more than a couple of steps of separation), the highest rate among all wide receivers.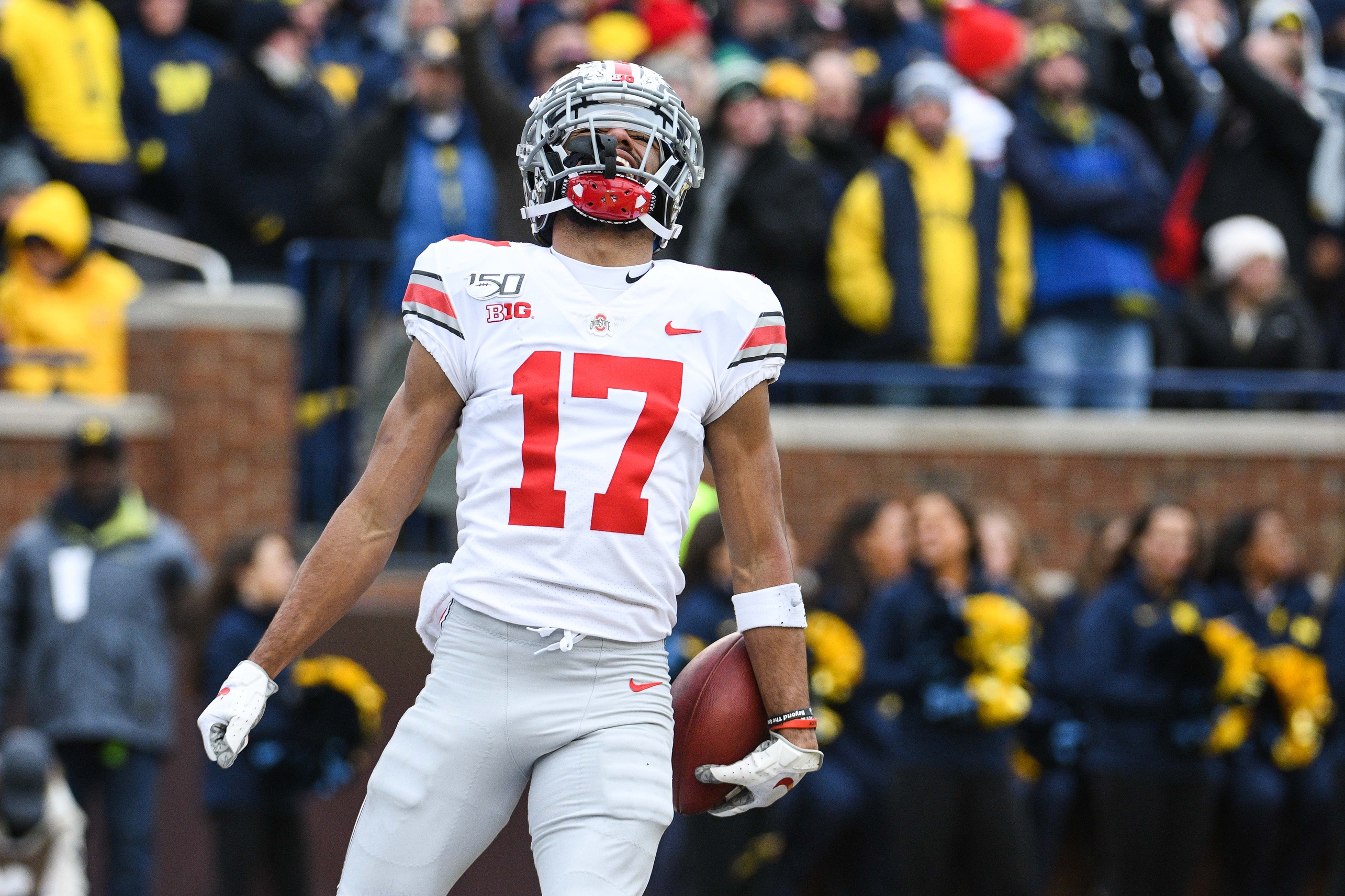 To no surprise, Olave was among the 10 highest-graded receivers against single coverage last season. He was one of the most productive receivers on a per-route basis and forms a lethal quarterback-receiver duo with Justin Fields.
7. CB Ambry Thomas, Michigan
Ambry Thomas didn't play much on defense in his first two collegiate seasons in 2017 and 2018, but he made his name known as a solid return man on special teams. He was named the starter at outside corner in 2019 and showed he was more than capable of hanging with Big Ten receivers in Michigan's heavy press-man scheme. Thomas lined up in press on over 81% of his coverage snaps, which was the fourth-highest rate in football, and allowed just a 53.3 passer rating on targets thrown his way in that alignment. Among returners, Thomas is easily one of the top 10 press-man outside corners.
8. S Eric Burrell, Wisconsin
Wisconsin Badgers safety Eric Burrell has played in the box, slot and at deep safety over the past couple seasons, and regardless of where he was at, he shined in coverage. Among safeties, Burrell's two-year PFF coverage grade is among the 10 best in the FBS — and he was one of the 20 most valuable safeties overall. His missed tackles were getting dangerously bad in 2019, but again, how he fared in coverage matters most, and he wasn't allowing many explosive plays on his watch. Burrell was targeted 25 times in coverage this past year and allowed just 10 to be caught while combining for nine interceptions and pass breakups. He could very well end the 2020 season as one of the five best safeties in the country in coverage.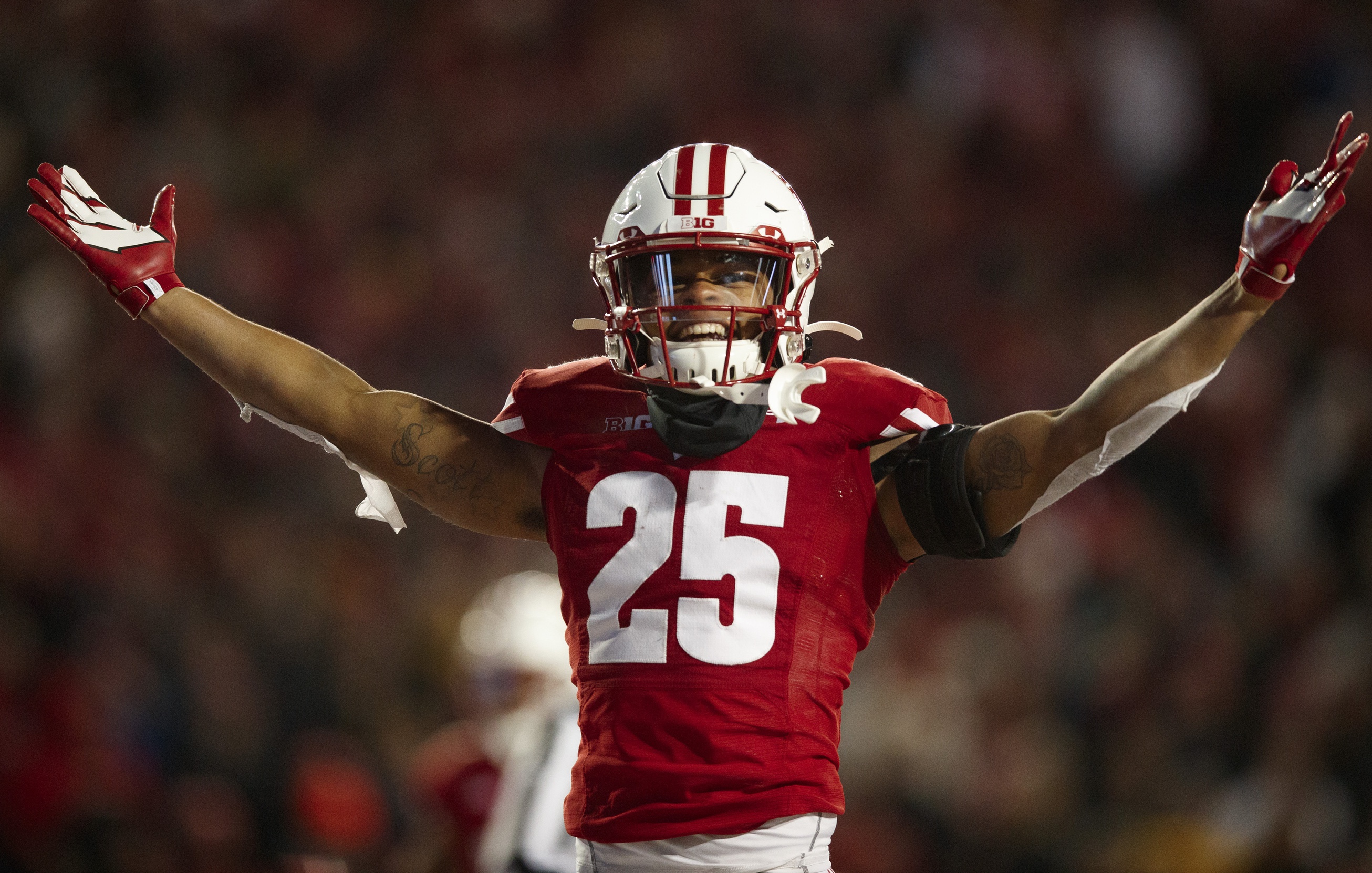 9. G Wyatt Davis, Ohio State
After getting just a couple starts at the tail end of the 2018 season and performing average at best, Wyatt Davis returned in 2019 as the fulltime starter at right guard and was one of the top guards in the country. Regardless of draft class, Davis was the fourth most valuable guard and was among the 10 most valuable offensive linemen overall. On his 459 pass-blocking snaps in 2019, Davis didn't allow a single sack or hit and didn't allow a hurry in five of his 14 games. As a run-blocker, Davis found himself in the top five, too producing one of the five highest run-block grades among guards. Not only is he one of the best returning offensive lineman in the Big Ten, but one of the three best returning in the FBS.
10. CB Tiawan Mullen, Indiana
Tiawan Mullen was a stingy player in coverage as a true freshman in 2019, allowing just 18 of 40 targets to be caught while also recording the second-highest forced incompletion rate at his position at 30%. Mullen appeared in all 13 games for the Hoosiers — starting the last eight — and held his opponent to under 30 receiving yards in every single game but one. Rarely did Mullen allow an open target downfield. In fact, over half of his targets 10 or more yards downfield were a contested target, and just two of those 23 total targets were to a receiver who had open separation. Mullen clearly has a knack for the football and showed man-to-man skills that are rarely seen by someone of his age. This past year's true freshman corner class was elite with guys like Derek Stingley Jr., Mykael Wright, Trent McDuffie, Ahmad Gardner and Kaiir Elam, but Mullen is right there with them and one to watch in 2020.
Honorable mention: Ohio State's Shaun Wade was barely behind Mullen for the 10th spot and is a top-35 defensive back returning to college football in 2020.