We are all going to miss seeing top-50 prospects CeeDee Lamb and Jalen Reagor in Big 12 action this fall. While the wide receiver position is sparse for Big 12 teams, there's certainly no shortage of talent, particularly at the quarterback and safety positions. Using PFF's advanced database that all 32 NFL teams and 72 FBS programs take advantage of, these are the top 10 players returning to the Big 12 in 2020:
[Editor's Note: You can subscribe to PFF's ELITE subscription today to gain access to PFF Premium Stats. Sign up here to gain access!]
1. QB Sam Ehlinger, Texas
In each of the past two seasons, Texas' Sam Ehlinger has finished as the sixth most valuable player in college football. Among quarterbacks to play the past two seasons, Ehlinger's two-year overall grade ranks behind only Joe Burrow, Trevor Lawrence, Tua Tagovailoa and Nathan Rourke. Ehlinger is known for being used in Texas' designed rushing attack and for bailing on the pocket and scrambling when need be. His arm, though, is the reason why he lands at number one on this list. Ehlinger was forced to throw into a tight window at one of the 25 highest rates last season, and he didn't let that hinder himself or the team. His tight-window passing grade was third in the country and his rate of accurate passes thrown was the eighth best. If Ehlinger can just cut back on his tendency to bail on clean pockets, improve his overall pocket presence and trust his arm, good things can happen for him and Texas.
2. QB Brock Purdy, Iowa State
We first saw Brock Purdy in the midst of the 2018 season when Iowa State pulled him off the bench and threw him into game action. He ended up finishing the year ranked 11th with an 89.3 PFF grade at 89.3, but he didn't quite live up to those heightened expectations in 2019, producing a 79.4 PFF grade. A lot of Purdy's success from 2018 came from his performance under pressure, which we know is one of the most volatile metrics for a quarterback. Clean pocket play is the most telling, and this is an area where Purdy excelled in 2019. He didn't produce a whole lot of big-time throws downfield but was great on a throw-for-throw basis. When clean, Purdy had the fourth-lowest rate of negatively graded throws and also ranked in the top 30 in rate positively graded. He can evade pressure better than most and has great composure when things aren't going his way. His deep ball could use some work, but Purdy is still one of the 10 best college quarterbacks returning next year.
3. S Trevon Moehrig, TCU
Regardless of draft class, Trevon Moehrig was the most valuable safety of 2019 and had the third most valuable season we have seen in the PFF College era. And regardless of where he was on the field, Moehrig was an absolute playmaker. He was at his best when tasked with manning the slot, where he had an elite 90.8 coverage grade and allowed just 14-of-29 targets to be caught while intercepting three and forcing eight incompletions. Overall in coverage, Moehrig forced 17 contested targets and allowed just two to be caught. Moehrig is clearly the best safety in college football and is putting together a career that is one of the best we have ever seen at the position.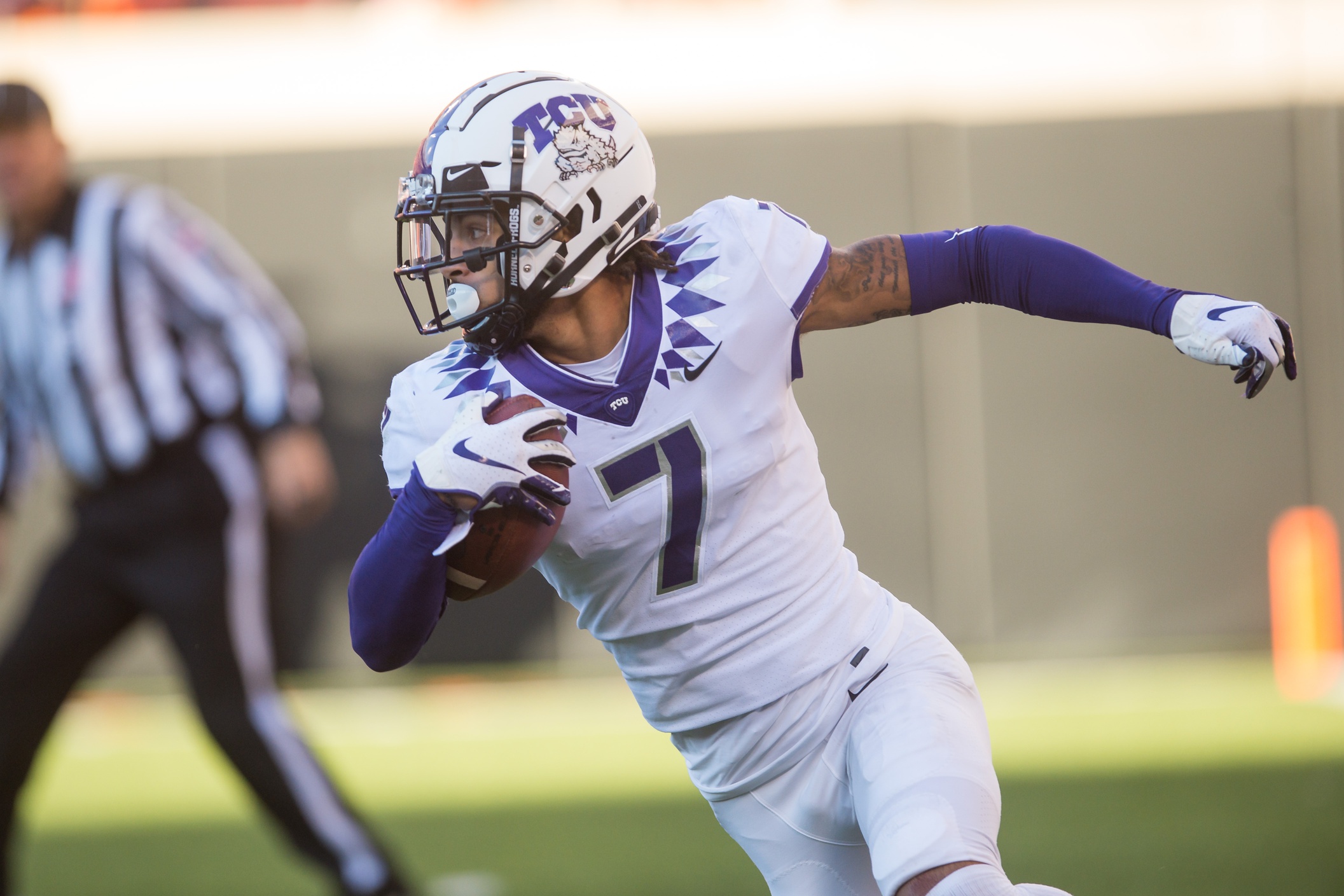 4. S Ar'Darius Washington, TCU
While his teammate is the best, Ar'Darius Washington is right behind him as the second best. The redshirt freshman got a bigger role as the season progressed and ended up as the second highest-graded safety of 2019 behind Moehrig. First and foremost, Washington's tackling was outstanding — the 5-foot-8 safety missed only three of his 48 attempts all year long. He recorded 265 snaps in coverage and was responsible for only five catches while forcing seven combined interceptions and pass breakups. That's unheard of. The safety duo of Moehrig and Washington is the best PFF has ever seen as far wins above average goes.
5. QB Charlie Brewer, Baylor
It was starting to look like Charlie Brewer was going to rival for the spot as top quarterback in the Big 12 prior to 2019, as he was fresh off a 91.0 grade that ranked among the five best in college football. But Brewer didn't quite live up to the hype, producing just an 80.8 grade in 2019. Still, he was one of the 20 most valuable signal-callers of the season. Brewer posted near-identical rates of positively graded throws but had a few more errant turnover-worthy plays. That being said, his positively graded play rate ranked top-30 in college football. Despite his 2018 and 2019 being oddly different (especially regarding accuracy), Brewer is still among the 15-to-20 best returning quarterbacks in the country and could climb that list if he gets back to his 2018 form.
6. WR Tylan Wallace, Oklahoma State
Tylan Wallace saw his 2019 season get cut short due to injury, but he still managed to have a successful year by posting an 82.6 receiving grade that was the fourth best among Big 12 receivers — behind NFL-bound CeeDee Lamb, Devin Duvernay and Denzel Mims. Wallace's usage was vastly different in 2019 compared to his 2018 season, when he was among the 20 most valuable wide receivers in college football. That year, nearly a third of his targets came on vertical routes, and he also saw a good number of deep ins/outs. Overall, he had an average depth of target of 17.4 yards. In 2019, he saw that number dip down over six yards. Wallace was used a lot underneath — 35% of his total production came on such routes as opposed to just 3% in 2018. The most important thing to note is that Wallace was still successful in the new role. He has shown he can run a go route and create after the catch on a screen as good as any wide receiver in the country.
7. S Kolby Harvell-Peel, Oklahoma State
Kolby Harvell-Peel was better than most true freshmen safeties in 2018, recording a 67.3 coverage grade. In his sophomore 2019 season, Harvell-Peel looked like an upperclassman in coverage by producing an 89.5 coverage grade, ranking eighth among FBS safeties and leading way to being one of the 10 most valuable safeties in the country. Harvell-Peel spent most of his time at free safety, and that's where his play shined, improving his coverage grade rank to fifth while allowing just four first downs, intercepting two passes and forcing six incompletions. In other words, he was a certified ballhawk for the Cowboys.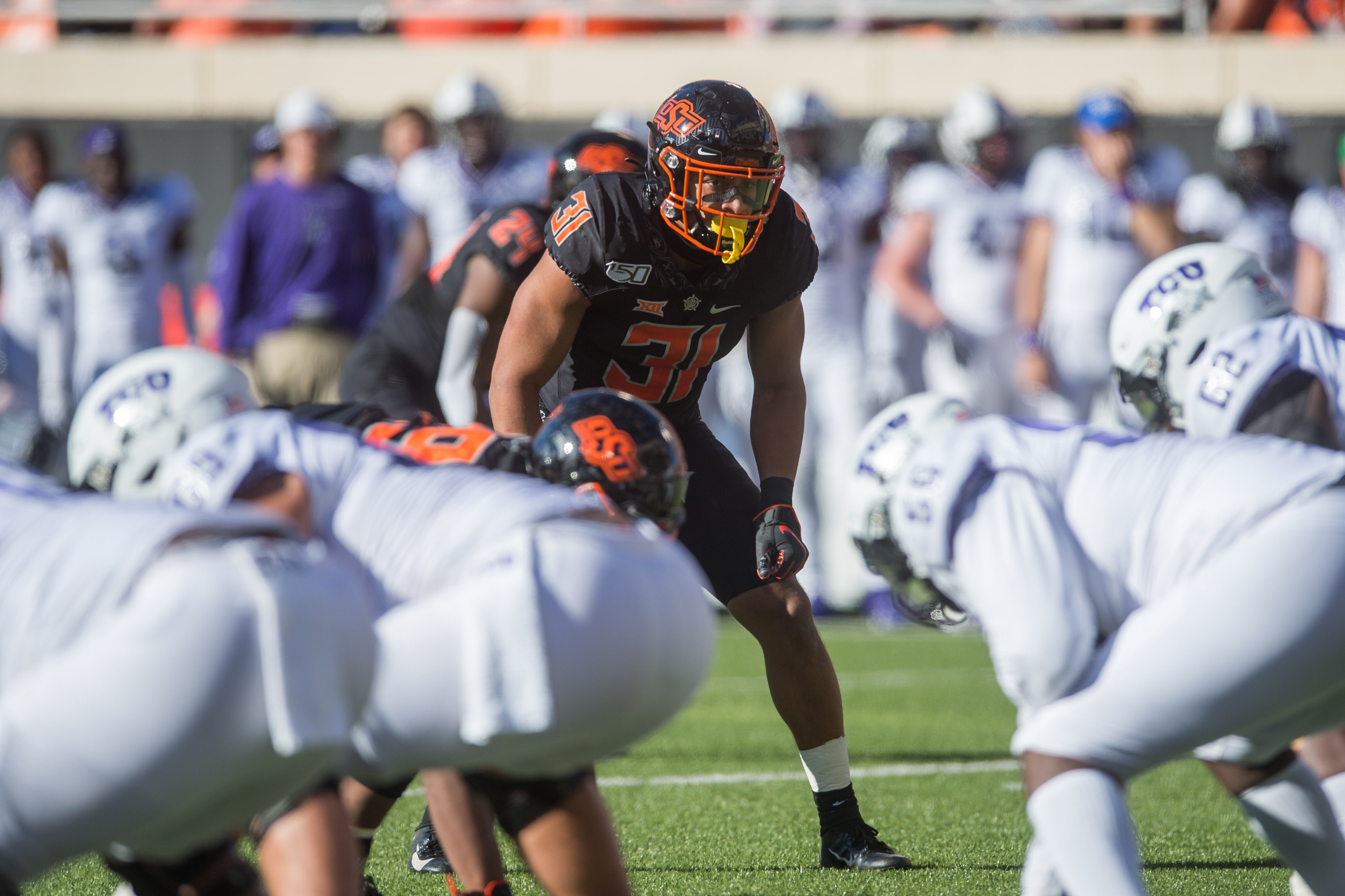 8. TE Charlie Kolar, Iowa State
Charlie Kolar broke out in his redshirt sophomore season in 2019, producing a 90.3 receiving grade that was the fourth best in the country and highest among Power-5 tight ends. He didn't get much work out wide, but Kolar spent near equal time inline and in the slot — and he thrived at both alignments, recording a top-three receiving grade among tight ends in each. While Kolar was used extensively on crossers, there wasn't a better vertical route-running tight end in the country than him. In 2019, Kolar saw 16 such targets and caught 12 for 239 yards and four touchdowns — leading the way to the highest PFF receiving grade among those at his position and the highest grade regardless of position among Power-5 receivers.
9. RB Chuba Hubbard, Oklahoma State
In his two years of collegiate action, Chuba Hubbard has far from disappointed — his two-year rushing grade is the ninth best in the country. When given the ball in the backfield, Hubbard showed great field vision and patience to allow his offensive line to create holes, and he took advantage of the ones that opened up. In 2019 alone, Hubbard produced 15 runs that ended with a 30-plus yard gain — four more than anyone else in college football. Teams have struggled to bring the 6-foot-1 Hubbard down, even when they get to him behind the line of scrimmage. When he was contacted behind the line of scrimmage in his career, Hubbard has averaged the second-most yards per carry.
10. S Tre Sterling, Oklahoma State
Versatile safety Tre Sterling finally got his opportunity to showcase his talent on the gridiron in 2019. He redshirted in 2017, saw six snaps in 2018 and was one of the 20 most valuable safeties in the FBS in 2019. Sterling played almost near-equal snaps in the box (251), in the slot (242) and at free safety (229). Regardless of where he was aligned, Sterling was better than most safeties in coverage. When in the box, he allowed just 36 yards on 107 coverage snaps. In the slot, Sterling allowed only seven first downs on 24 targets while forcing five incompletions. When playing deep safety, Sterling was responsible for only two catches on 115 coverage snaps while intercepting one and forcing two incompletions. TCU may have the best safety duo in the country, but Oklahoma State isn't too far behind with Harvell-Peel and Sterling.