Storming the field. The flooding of the streets. Twitter being set ablaze. College football is back, which means the memorable moments that follow an upset are just around the corner.
Headline upsets happen every year in college football, and it's rare for a highly ranked team not to have a scare at some point in their season. Sometimes, those scares come in what is deemed a "trap" game, which is basically defined as a contest between a high-ranked team and a far lesser opponent. For the higher-ranked team, these trap games typically come right before facing another top-tier program, making it the perfect setting for a potential upset.
So, who are some of the lower-ranked teams that have the potential to pull off a sneaky upset? With the help of the College Football Preview Magazine, our signature grades and other advanced stats, PFF can answer that question.
The teams listed below all have a few things in common. They have a fatal flaw that will likely keep them hovering around .500 for the season but are strong enough in an important area to surprise in some outings. Essentially, these programs are in the "volatile" category entering the 2021 season and have the potential to upset some of the bigger opponents on their schedule when the stars are aligned.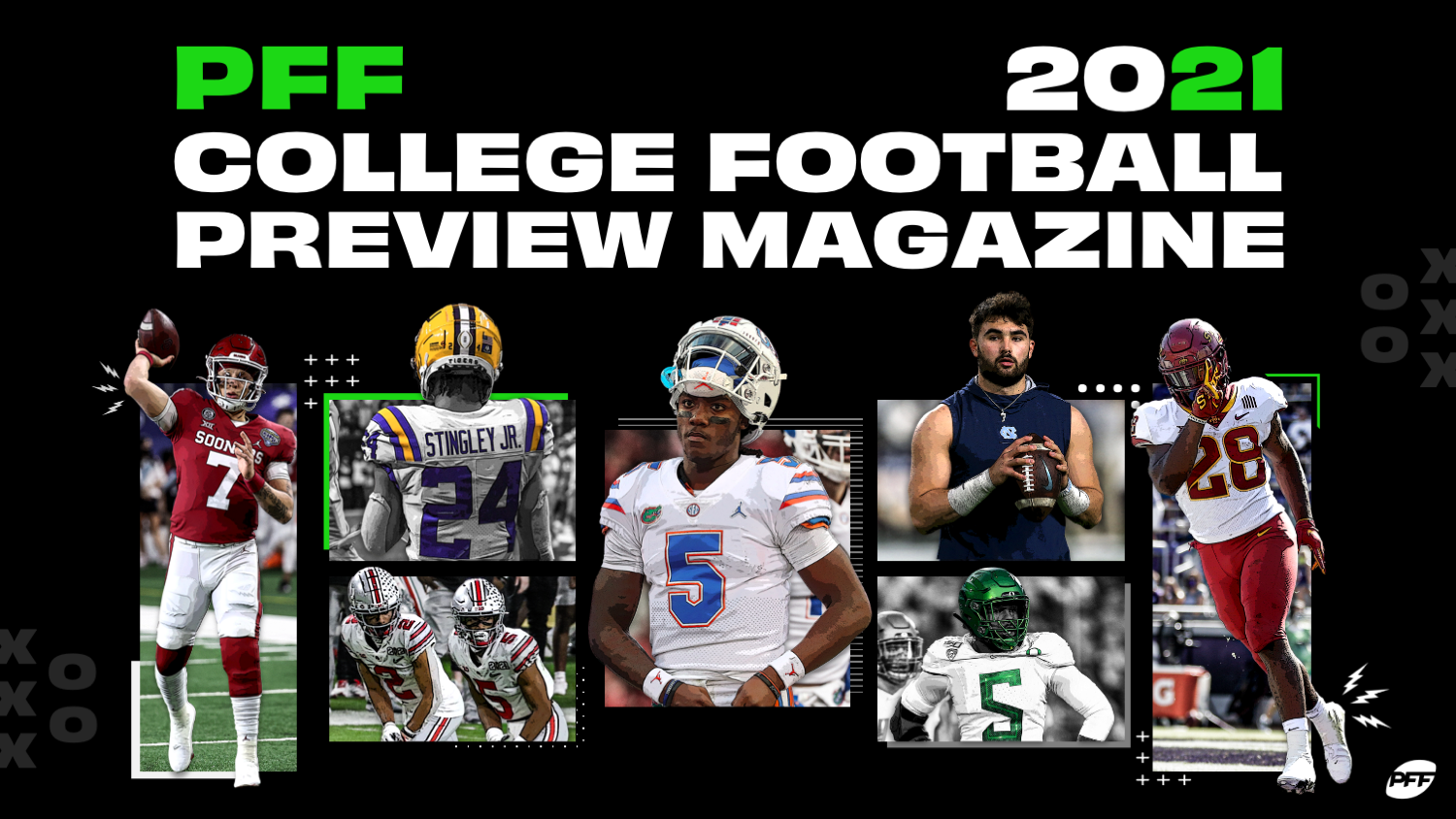 The Boilermakers haven't fielded anything remotely close to a top-15 team since the Kyle Orton and Drew Brees days at the turn of the century. That's not changing in 2021 because their defense remains at the bottom of the barrel. However, they are more than capable of partaking in a shootout, simply because of their passing attack.
According to PFF's metrics, Purdue has the fourth-most difficult schedule in the country, featuring showdowns against top-25 programs Notre Dame, Iowa, Wisconsin, Ohio State and Indiana. They'll want to make sure they don't take this Purdue team lightly because the offense has potential.
Purdue has an interesting dilemma at quarterback entering fall camp. They have two capable passers on the roster with Jack Plummer and Aidan O'Connell.
O'Connell shined with a 77.3 passing grade in 2019, leading the Boilermakers to 0.17 expected points added (EPA) per pass play. But he fell off in 2020, as his passing grade fell to 63.0 and the offense produced 0.06 EPA per pass. Plummer struggled in 2019 with a 66.6 passing grade and -0.26 EPA per pass, but he greatly improved in 2020. His passing grade jumped to 77.9, and the offense generated 0.15 EPA per pass.
Regardless of who is under center, Purdue knows they have a quarterback who can lead an efficient offense. And they'll have a legit pass-catching tandem at their disposal with David Bell and Milton Wright.
Bell has advanced body control and will routinely body his coverage defender in tight coverage by using his 6-foot-2 and 205-pound frame. He's hauled in the second-most catchable but inaccurate targets among returning Power Five wideouts since 2019 with 33. Over the past two years, Bell has also produced a receiving grade against tight coverage that trails only former LSU wideout Ja'Marr Chase and former Alabama wideout DeVonta Smith for the best in the Power Five.
As for Wright, he is a breakout candidate heading into 2021. The 6-foot-3 receiver came to Purdue as a four-star recruit in 2019 and chose the Boilermakers over Alabama and many others. He struggled as a true freshman but showed what he could be when Rondale Moore was sidelined, earning a 73.6 grade and generating 2.38 yards per route run in his first three games with Moore out.
Don't sleep on running back Zander Horvath making an impact in the passing game, either. The 6-foot-3 and 230-pound back placed top-five in the Power Five last season in receiving yards after contact (118), yards after the catch per reception (11.0) and broken tackles after the catch (12).
Purdue made waves in 2018 with their home upset over No. 2 ranked Ohio State. I'm not saying it'll happen again in 2021, but this passing offense can make things interesting against the top-25 programs they face.
Subscribe to
The development of quarterback Taulia Tagovailoa will be one of the Big Ten's most compelling storylines this fall. He only played four games in his debut year as a Terp, and while the flashes of elite play were evident, so were the areas for improvement.
The Maryland QB produced PFF grades of 40.8, 90.2, 74.3 and 41.1 in his four outings. He was accurate when throwing in rhythm, extended some plays with his legs and did a good job of leading receivers across the field on horizontal concepts. Unfortunately, his decision-making was shaky, as his 5.9% turnover-worthy play rate ranked among the worst in the conference. Putting the ball in harm's way like that is typical for a first-time starter, but displaying such a high ceiling is uncommon.
Tagovailoa also has a solid receiving unit to tap into, led by Dontay Demus Jr. and Rakim Jarrett.
Demus started to show signs of improvement and consistency in the shortened 2020 college football season. The 6-foot-3, 217-pound wide receiver improved his receiving grade from 64.6 in 2019 to 71.2 in 2020. His 2019 average of 1.73 yards per route run took a similar jump, coming in at 2.20 by the end of the 2020 campaign.
He's strong, explosive and runs a mean hitch route. Demus' production still isn't remotely close to being deemed special, but the potential is there. He has so much more to offer as a vertical threat in Maryland's offense, but that also hinges on the quarterback and system.
Jarrett may be among the biggest breakout candidates in all of college football for 2021. The 2020 five-star recruit was uber-productive in his four-game true freshman campaign, averaging 2.99 yards per route run. He put together one of the top performances by a first-year receiver in 2020 against Penn State when he had multiple 40-plus-yard touchdowns en route to an 88.6 game grade.
On Tagovailoa's best day, this passing offense can be an explosive one.
Florida State has one of the 10 most difficult schedules in college football this season. It features five showdowns against teams with top-10 potential: Notre Dame, North Carolina, Clemson, Miami and Florida. If new starting quarterback McKenzie Milton can reclaim the level of play he was at before his gruesome leg injury suffered in late 2018, then one of those five teams could be put on upset alert by the Seminoles.
Milton was on a heater before enduring the injury that nearly resulted in an amputation and the end of his career. Serving as the starting quarterback for UCF in 2017 and 2018, he posted a 90.1 passing grade and the fifth-highest big-time throw rate in the country. Milton made his name known as one of the top downfield passers in the country while also displaying pristine pocket presence and consistently creating something out of nothing under duress. Milton converted pressure to sacks at an FBS-low rate of 8.1% — double the national average — ranked first in passing touchdowns when under pressure (16) and averaged 7.0 yards per scramble.
With Milton at the helm, UCF fielded the second-most-efficient passing offense in the FBS from 2017 to 2018. Florida State is destined to have its best passing offense since the Jameis Winston days if Milton can be even close to the kind of passer he was when healthy for UCF.
Unlike every other team on this list, Colorado earns the nod as a sneaky trap team because of its defensive unit.
The Buffs fielded the worst defense in the Pac-12 in 2019, and it wasn't particularly close. They ranked dead last in both total defense grade and EPA per play allowed. However, in last year's mini-season, many players rose to the occasion, improving the program's rankings to sixth in both of those metrics while tying for the lowest successful pass play rate allowed at 38.8%. With players like cornerback Mekhi Blackmon, safety Isaiah Lewis, linebacker Nate Landman and the strong edge duo of Carson Wells and Terrance Lang, Colorado has the potential to have another stout defense this fall. Oregon and Washington — two contending teams for the Pac-12 crown that are strong on defense but have question marks on offense — shouldn't take the Buffs lightly, as those have the potential of being low-scoring, defensive affairs.