The time has come for the PFF College 50, where we highlight the 50 best players in college football.
Just as it is for the NFL PFF50, the PFF College 50 is a product of evaluating every player on every play of each season to produce an unrivaled database of stats, grades and information. This list is not about how valuable players are but rather about how good they are, regardless of position. A guard, cornerback, receiver or even a running back has just as much of a chance to appear on this list as a quarterback does.
Here are the 50 best players set to take the field in college football this fall.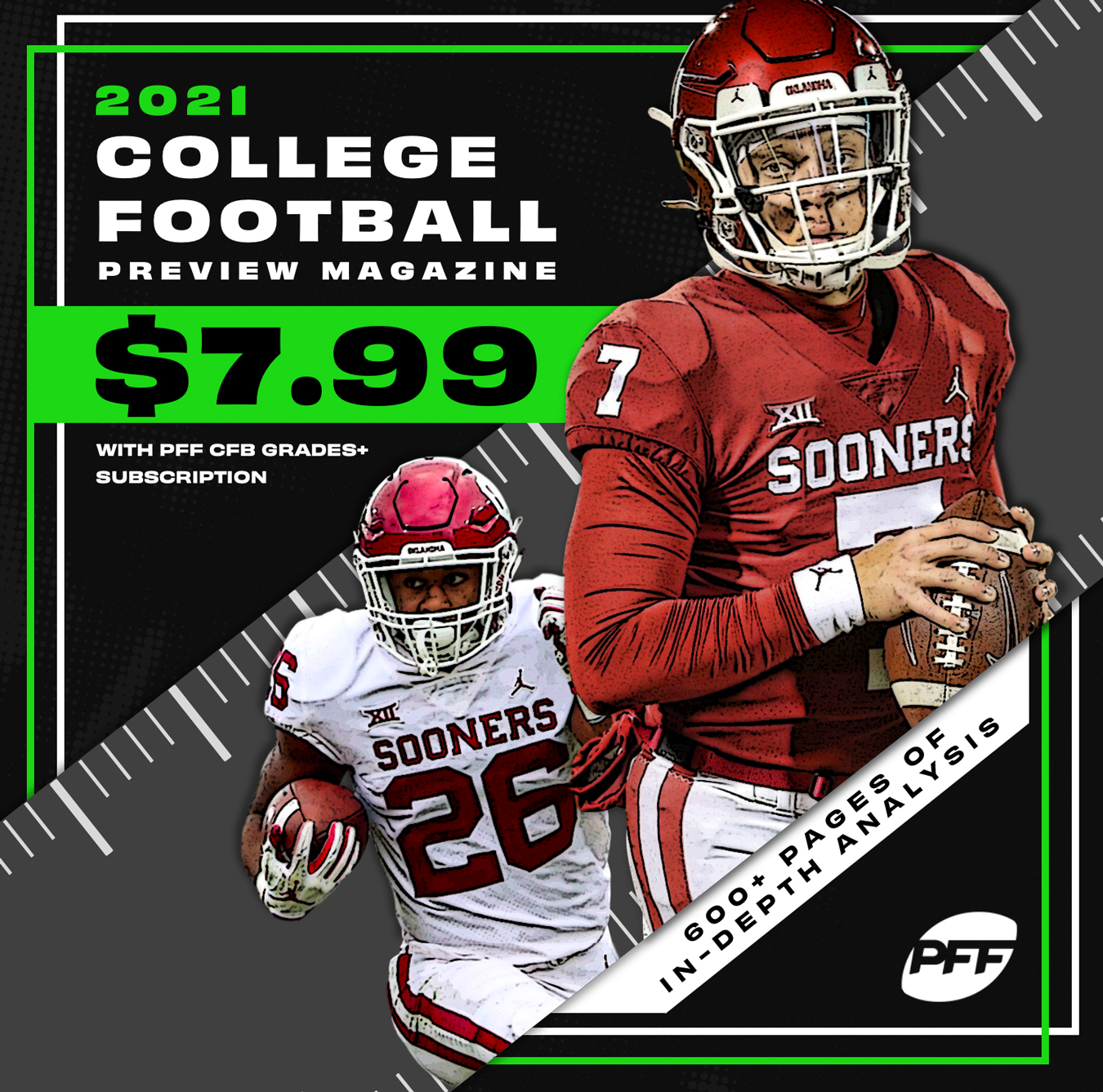 [Editor's Note: A previous edition of this article omitted Edefuan Ulofoshio,  an oversight that has since been rectified.]
Rattler took over the OU starting job as a redshirt freshman last season, hoping to continue Oklahoma's run of dominance at the quarterback position under head coach Lincoln Riley. The 6-foot-1, 205-pound signal-caller lived up to expectations, earning a 92.5 mark that not only ranked fourth in the FBS but was also the best grade PFF has ever given to a true or redshirt freshman quarterback.
Rattler has a little bit of Texas Tech Patrick Mahomes in him, both stylistically and situationally. He has an ultra-quick, effortless release to pair with jaw-dropping arm talent and elite playmaking ability outside of structure. The Oklahoma quarterback produced a 91.3 passing grade and a 69.7% accurate-pass rate when creating off structure in 2020, both of which led all FBS passers. That passing grade beat out Joe Burrow for the best grade ever earned by a Power Five quarterback.
Rattler is the best player returning to college football and should be the favorite for the Heisman Trophy when the 2021 college football season kicks off on Aug. 28.
Stingley might be the best athlete to take the field this fall. He's such a rare one that even Coach O is thinking about giving him some reps on offense. Coming out of high school in 2019, the five-star cornerback clocked a 4.3-second 40 time and a 42-inch vertical. He then proceeded to have the best true freshman season since PFF College's inception back in 2014, recording a 91.7 PFF grade and 0.97 wins above average (WAA), the latter being the best mark among non-quarterbacks all year.
Last year, he saw two fewer targets per game on average, as it quickly became apparent that opposing quarterbacks weren't looking to test him. Stingley saw 30 over his seven outings, allowing just seven first downs while forcing five incompletions, three of which came against Mizzou when he played most of the game with an ankle injury.
Linderbaum went from defensive tackle to the best offensive lineman in college football in just two years. He played both sides of the ball in high school and was recruited to play on the interior defensive line, where he logged 18 snaps in his first season. He then flipped to center for the 2019 campaign, where he started and recorded the fifth-best grade in the FBS at the position (81.7). And this past year, Linderbaum claimed the No. 1 spot with an astounding 91.5 PFF grade, featuring just three pressures allowed on 280 pass-blocking snaps.
Bonitto might be the most underrated player in all of college football. The rush-end led all FBS edge defenders in pass-rush grade (93.6), pass-rush win rate (28%) and pressure rate generated (25.7%) in 2020. Among all Power Five edge defenders since we began grading college seven years ago, Bonitto ranks in the top five in all three metrics.
Bonitto's explosiveness and athleticism caused headaches for every offensive tackle he faced, and no lineman succeeded in shutting him down in 2020. His lowest win rate in a single game this past year sat at 17.6% — a pretty solid day for most FBS edge rushers.
Gardner arrived in the Queen City as a three-star recruit in 2019 and earned a PFF coverage grade of 90.2 right off the bat as a true freshman, defying the dreaded learning curve at almost every turn. He was seemingly always at the catch point and hardly ever lost. And nothing changed in Year 2.
Gardner has developed into one of the best press-man coverage corners in college football over the last few years. The 6-foot-2, 188-pound cornerback has seen 84 targets in press coverage since landing in Cincinnati, and he has allowed just 16 first downs while making a whopping 22 plays on the ball, the most in the FBS over that time. He has yet to allow a touchdown in his college career, with opposing quarterbacks netting a 35.3 passer rating on throws into his primary coverage. Throwing the ball in the grass every play would generate a passer rating of 39.6.
Thibodeaux's 2020 campaign started slowly, but he turned on the jets down the stretch and looked like an elite edge defender over his final four games (out of seven on the year). Thibodeaux was one of the highest-graded players at his position over that span, boasting an 87.2 PFF grade that included a 12-pressure performance against USC and Alijah Vera-Tucker — a first-round pick in 2021 — in the Pac-12 championship game.
If you were to build a perfect college pass-rusher among those playing next year, Thibodeaux's get-off and bend would be precisely what you'd want. He is an elite talent who is bound for a monstrous 2021. Be sure to circle the calendar for Week 2 when he goes up against the best tackle duo in college football — Thayer Munford and Nicholas Petit-Frere — as the Ducks take on the Buckeyes in Columbus, Ohio.
LSU landed the very best true freshman regardless of position in 2019 with Stingley, and they held that honor once again in 2020 thanks to the standout play from five-star corner Eli Ricks.
The Tigers deployed a healthy dose of man coverage last season, and unlike most first-year corners in the SEC, Ricks handled it like a pro. His man-coverage grade ranked first among all Power Five cornerbacks in 2020, and he allowed just six catches on 19 targets while making seven total plays on the ball when he was tasked with single coverage.
Ricks' physicality at the line of scrimmage and poise at the catch point make him a difficult cornerback to beat outright. It's quite clear he already has an excellent feel for the position. The LSU cornerback duo of Stingley and Ricks is going to be dangerously good in 2021. Godspeed to the SEC wide receivers facing these two next year.
Smith, a three-star recruit of the 2019 class, has recorded the third-best slot coverage grade in the FBS over his true freshman and sophomore seasons while serving as the "spear" in West Virginia's defense. Now, he'll be taking his talents to the Georgia Bulldogs, where he will anchor a secondary that was gutted this past offseason.
Smith's 2020 campaign was a sight to behold. He was targeted 38 times in coverage across 10 games and allowed just 110 yards for the season. He did not give up a single explosive pass play of 15 or more yards while making five plays on the ball and forcing 10 passing stops. At 5-foot-10, 198 pounds, Smith is a physical player who shed receiver blocks and blew up screens like clockwork in 2020. He has great eyes in coverage and was never caught off guard. Keep an eye on Smith next season — he's the real deal.
Hamilton stands at 6-foot-4, 221 pounds, and he is one of the most explosive safeties in the game. His 42-inch vertical may have helped land him on Bruce Feldman's 2020 Freaks List, but he also pairs his physical skill set with great eyes in coverage, making him a certified playmaker.
Hamilton has compiled 16 combined pass breakups and interceptions and 15 passing stops as a true freshman and sophomore. Better yet, he was responsible for only three explosive pass plays of 15-plus yards over that span. The Notre Dame safety has generated the third-most WAA among players at his position over the last two years.
Olave was projected to be a first-round selection in the 2021 NFL Draft but made the surprising decision to return to school and boost his stock even higher. For the Buckeyes, this is fantastic news. They are returning perhaps the most refined route-runner in college football.
Olave has generated a step or more of separation on over 87% of his targets since 2019, the highest rate in the country. Against single coverage over the past two seasons, he has racked up 15 receptions of 15-plus yards in which he had more than a couple of steps of separation, trailing only Alabama's DeVonta Smith for the most in the FBS (19) and was five more than the next-best Power Five receiver.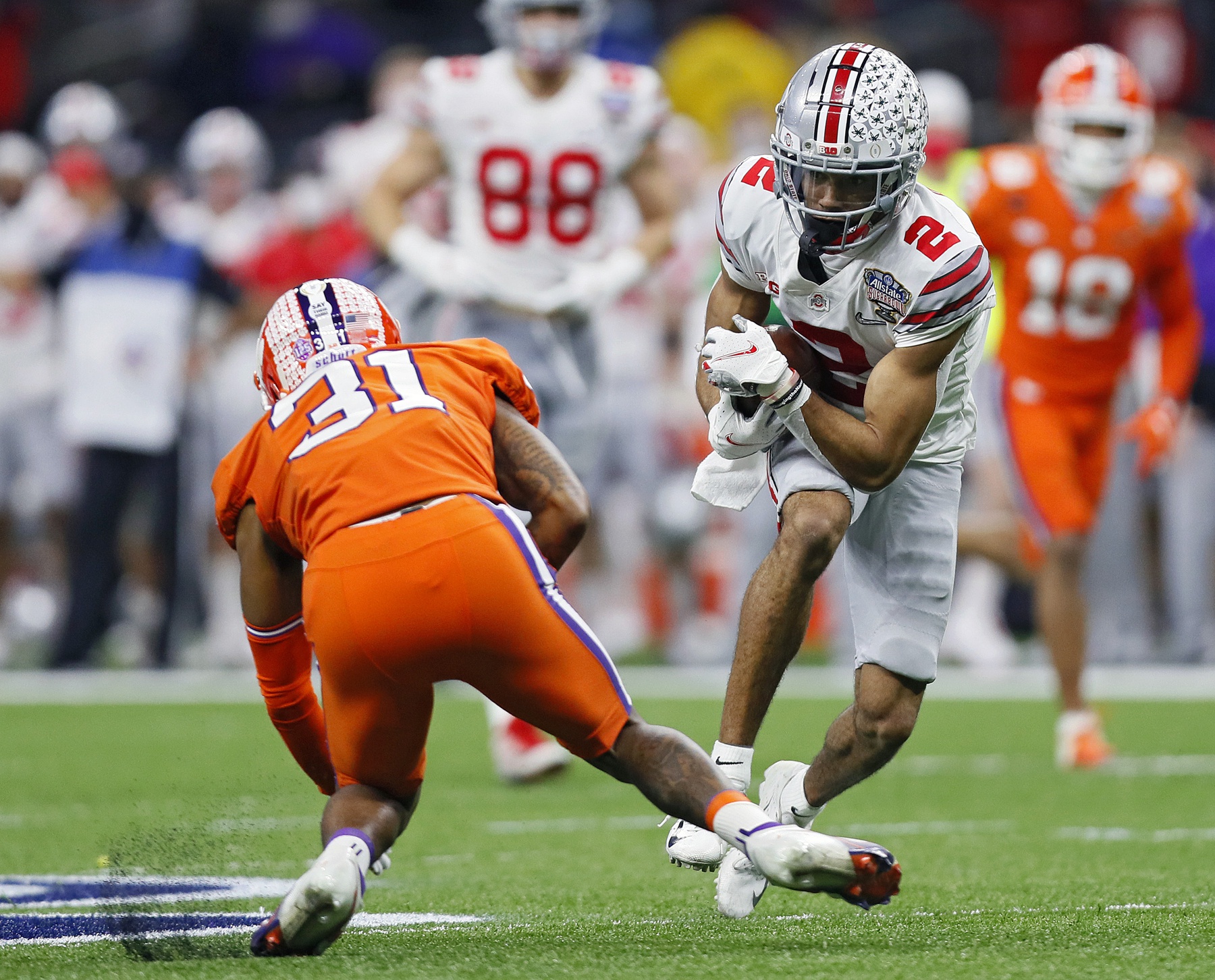 After playing fewer than 100 snaps as a three-star true freshman in 2019, Hodges-Tomlinson struggled to a 45.4 coverage grade in TCU's 2020 opener. But after shaking off the rust, the sophomore went on to post an FBS-high 90.6 coverage grade while allowing just 12 catches on 45 targets. He also came away with 14 pass breakups.
Armed with a mirror ability that is as good as it gets at the position, the TCU cornerback played the ball exceptionally well at the catch point. He forced tight coverage on over 57% of his targets in 2020, the highest rate among Power Five cornerbacks. Don't underestimate this 5-foot-9, 177-pound corner — he's going to play far more physically than his size suggests.
UNC's offense cooks when Howell is given the green light to launch it deep because he arguably has the best deep ball in college football. Over the last two seasons, Howell ranks first in the Power Five in 20-plus-yard completions (66), passing yards (2,654), touchdowns (32) and big-time throws (59, 15 more than the next QB).
Pressure was Howell's Achilles' heel as a true freshman in 2019, as he recorded a 38.2 passing grade when the opposing pass rush got home. In 2020, he improved that mark to 74.7 while maintaining a top-10 clean-pocket passing grade. The North Carolina product finished the 2020 season as the sixth-highest-graded quarterback at 92.3.
How he fares without that slew of weapons he had at his disposal as an underclassman is something to keep an eye on this fall.
Like his teammate Olave, Wilson is one of the best route-runners in the game. He impressed against single coverage (ranked sixth in PFF grade on such plays) and frequently found soft spots against zone coverage while working from the slot, leading to a separation rate that ranked eighth-best in college football this past season. The 2019 five-star recruit is bound to put up numbers in this offense once again in 2021.
Munford is taking advantage of his "super senior" year and returning to school for the 2021 season, which is a big positive for the Buckeyes. He was a decent starter at left tackle for Ohio State in 2018 and 2019, but he improved his play even further in 2020. Munford posted a 91.8 PFF grade this past season, the fourth-best mark in the FBS and the highest mark among returning tackles. His pass protection was nearly flawless, as well.
Munford stood strong against quality pass-rush units, such as Michigan, Clemson and Alabama, and displayed tremendous processing speed against stunts and blitzes all year long. Across 264 pass-blocking snaps, he allowed just three pressures, none of which were sacks or hits on quarterback Justin Fields. In turn, his pressure rate allowed was half a percentage point lower than any other Power Five left tackle.
Jobe is a press technician. Of all the Power 5 corners who have played at least 200 coverage snaps in press coverage in the last five years, Jobe's 2020 season ranked fourth in yards per coverage snap allowed in press at 0.4. That's not even half of that entire group's average. Jobe allowed 35 yards or less in all but one of his 13 games played, surrendering only 12 first downs while forcing 10 incompletions. Still, it wasn't without fault. There were several instances of him going overboard physically and getting flagged; he actually drew more flags than any corner in the FBS this past season and was the first Alabama corner of the PFF College era to hit double-digits in that category. Call it an area for improvement in 2021.
Elam did give up a few big plays early on in 2020, but he rallied and emerged as the playmaker we saw as a true freshman in 2019. He now has played exactly 600 coverage snaps at the collegiate level and has earned a 90.7 coverage grade in the process. In those two years combined, Elam has been responsible for 19 first downs and touchdowns while making 21 plays on the ball.
He's at his best at the line of scrimmage playing in press coverage when he's allowed to rely on his length and physicality. In all, 265 of his 600 coverage snaps have come in press coverage, yet he's given up only 0.47 yards per coverage snap on those reps, the best mark among Power 5 cornerbacks who have played at least 250 press-coverage snaps in that span. His press performance was an area of focus for Elam last offseason, and it's safe to say the hard work paid off.
Bigsby finished the 2020 season as the fifth-most-valuable first-year non-quarterback in the country, per PFF Wins Above Average (WAA). For those who don't know, running backs actually do matter in college football.
The 2020 four-star recruit who ranked 40th nationally, according to 247Sports, was easily among the most elusive ball carriers in college football last year. His strong contact balance was on full display as he came away with the fifth-most broken tackles per attempt (0.34) in the FBS.
The 6-foot, 204-pound freshman was the third-highest-graded ball carrier in the FBS behind Javonte Williams and Khalil Herbert before suffering an injury in Week 12 against Tennessee.
Leal has a lot of power with his 6-foot-4, 290-pound frame, and it showed routinely this past season. He notched an 80.0-plus grade as both a run defender and a pass-rusher in 2020, something only four other Power Five edge defenders accomplished this past year. Leal displayed improved hand usage and a deadly push-pull. He flashed exactly that in his performance against Florida — which earned him a career-high PFF grade.
He was a consistent performer in 2020 with a single-game PFF grade north of 70.0 in nine of his 10 outings, which led him to an 88.3 PFF grade for the season. Leal may be 290 pounds, but he sure doesn't play like it with his athleticism and twitch. Needless to say, he is clearly living up to his five-star recruiting status.
After bursting onto the scene as a true freshman in 2019, McDuffie again looked the part in 2020. The 5-foot-11, 195-pound cornerback has earned an impressive 88.3 coverage grade in his college career. He is one of just three outside corners in the Power Five who has generated a coverage grade above 75.0 in both man and zone coverage since 2019.
And McDuffie might also be the best tackling cornerback in college football. He has missed just two of his 64 career attempts while earning a run-defense grade that ranks second among Power Five corners over the past two years.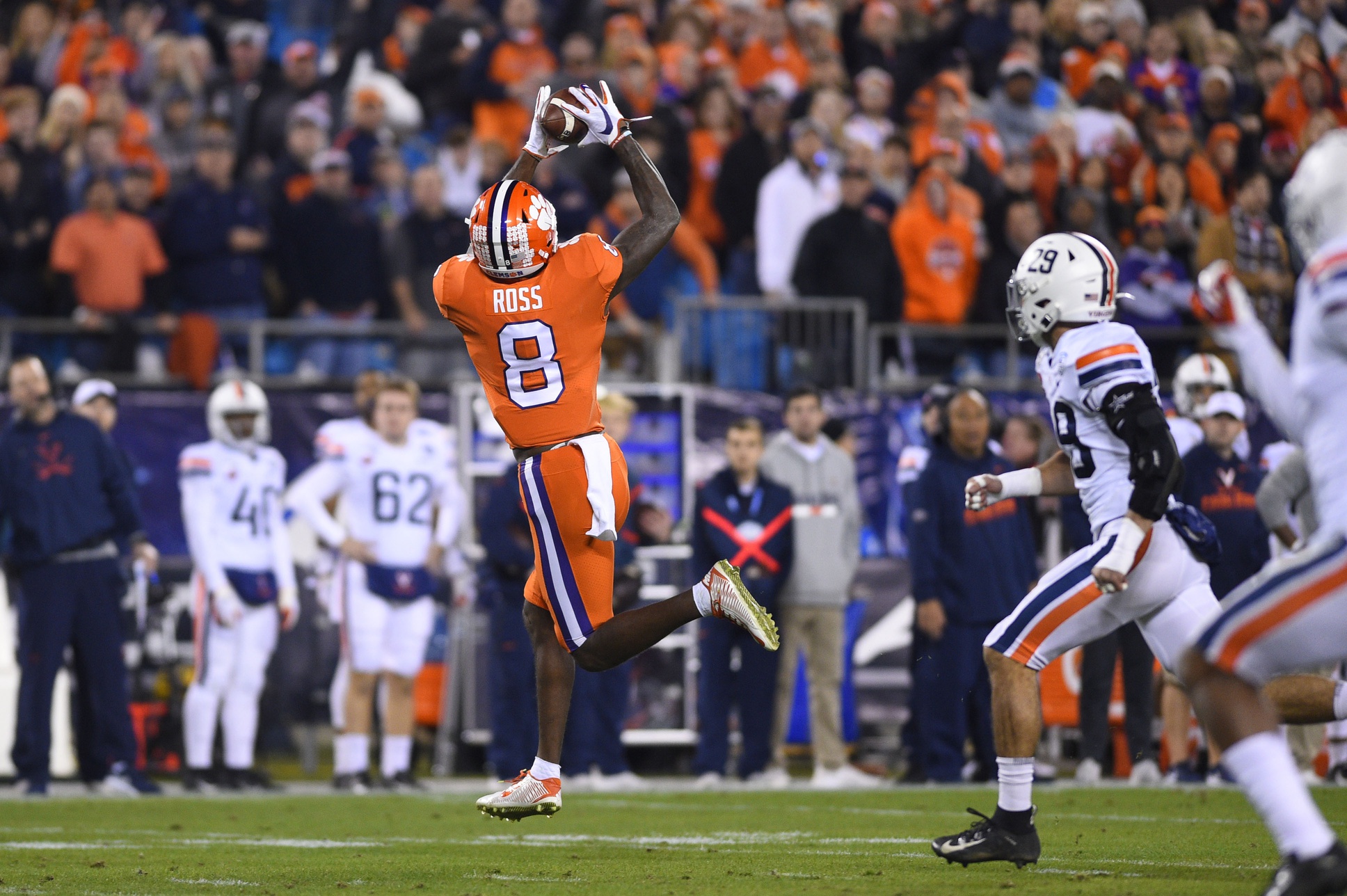 After doctors discovered Ross' spinal condition, which led to surgery this past offseason, his football career seemed up in the air. Ross missed all of 2020, but fortunately, he made a full recovery and is healthy for the 2021 season. That means Clemson returns a top-three receiver in college football.
The 6-foot-4 wideout earns his keep on vertical routes. He established himself as one of the best deep threats in college football prior to 2020, coming away with the third-most touchdowns on targets of 20-plus yards in 2018 and 2019 (11). His size comes in clutch on those passes, as he often bodies defensive backs in contested situations. Ross has hauled in nine of 13 such deep targets in his career. He isn't uber-athletic, but he wins so often because of his physicality.
Garrett was a four-star prospect and a top-100 recruit in the 2017 class, but he didn't consistently see the field until the 2020 season after just over 400 snaps over his first three college campaigns. Yet, Garrett broke out in a big way in 2020, earning an astounding 88.9 pass-rush grade that trailed only Alabama's Christian Barmore — a first-round pick in the 2021 NFL Draft — for the best in the Power Five. Garrett may have generated only 18 pressures in eight games, but he won consistently. In fact, his 17.9% win rate also trailed only Barmore for the best mark in the Power Five. He is a force of nature with heavy hands, bound to wreak havoc again in 2021.
There's no question that Kolar's work as an in-line blocker has been the weak link in his game so far, but I'd rather have a top-tier receiving tight end than college football's best blocker at the position. And Kolar has made short work of moving up the receiving ranks over the last two seasons, as his PFF receiving grade over that span ranks second to only Kyle Pitts among FBS tight ends. Over those two years, Kolar's receiving grade in the slot or out wide actually surpasses Pitts' for the best in the FBS.
The U was hoping for an elite dual-threat quarterback in 2020 — and, boy, did King deliver. He made tons of plays both through the air and on the ground in his first season with the Hurricanes, resulting in a 90.6 PFF grade for the season that ranked 10th in the FBS. And now they get him for another year.
On 111 runs — 85 designed and 26 scrambles — King totaled 26 rushes of 10 or more yards. He produced more than 10 yards after contact on 13 of those rushes, the most at the position.
The 5-foot-11, 202-pound quarterback also rarely put the ball in harm's way. He consistently made the right decision and came in at No. 3 in the FBS in turnover-worthy play rate (1.7%).
Miami will be a dangerous team in 2021, assuming King fully recovers from the torn ACL he suffered in the Cheez-It Bowl and is ready to rock Week 1.
Arizona State's defense underwent a scheme tweak in 2020, which moved Lole from a versatile role that predominantly saw him on the edge to an every-down interior defender. And that paid big dividends, as expected. He was one of the 10 highest-graded Power Five defensive linemen against the run when playing defensive tackle in 2019.
That remained the case in 2020, but he was even better against the run and looked far more polished as a pass-rusher. In fact, Lole was the third-highest-graded Power Five defensive linemen when playing 3-technique this past season. The fact that he played only four games in 2020 and still came away with 18 pressures and 17 defensive stops is quite impressive.
The former LSU tight end looked like the baby version of Kyle Pitts as a true freshman and will now take his talents to Georgia to play wide receiver. And he's going to be a good one.
The 6-foot-5, 249-pounder is an elite athlete, possesses a massive catch radius and has some craftiness as a route-runner and after-the-catch weapon. He hauled in seven of his 13 contested targets and broke nine tackles on 35 receptions in 2020. He ran 33 routes on the outside for LSU last season, picking up eight receptions for 85 yards.
Joseph played only 13 snaps in his first season on campus in 2019 before taking a redshirt, but he exploded in 2020 and established himself as one of the game's top cover safeties. He intercepted six passes while being responsible for only one explosive pass play of 15-plus yards.
It didn't matter if he was playing single- or two-high deep safety or if he was down in the box or manning the slot, Joseph's coverage ability was on full display all season, and it ended in a top-three coverage grade among FBS safeties (88.5).
The Irish, who saw four of their five starting offensive linemen leave for the NFL, landed one of the best players in the transfer portal in Cain Madden. He started at right guard for Marshall over the past three years, providing great pass protection in each campaign. His grades in that facet came out to 84.6, 79.0 and 82.0. And he was performing at unprecedented levels as a run-blocker in 2020, posting a 93.0 grade in that facet.
Football is in Mullen's blood. His brother, Trayvon Mullen, is a starting cornerback for the Las Vegas Raiders, while his cousin is none other than 2019 NFL MVP and Baltimore Ravensquarterback Lamar Jackson. So, it shouldn't be surprising that he is currently lighting it up in the college ranks as the best returning cornerback in the Big Ten.
The 5-foot-10, 175-pounder has inside-outside versatility and is a ferocious blitzer. He was asked to rush the passer 16 times this past year, and he came away with five total pressures. Mullen is also the proud owner of the highest run-defense grade among cornerbacks since he came to Bloomington as a true freshman in 2019.
And things only get better when looking at his coverage numbers.
Mullen's 22.9% forced incompletion rate since 2019 is the best among all Power Five cornerbacks. He has allowed more than 40 receiving yards into his coverage just once in his career when playing a minimum of 15 coverage snaps. In other words, he has done so 94% of the time, which ranks first among qualifying FBS cornerbacks over the past two years.
Hutchinson played only three games in 2020 before suffering a season-ending injury, but the Wolverine seemed to be on his way to taking that next step forward on a mere 149 snaps (82.5 PFF grade). With a clean bill of health, he is quite easily among the best all-around defensive linemen in college football.
The 6-foot-6, 269-pounder is versatile, has incredible power behind his hands and is one of the more polished players at the position. For proof, look at his 2019 outing against Iowa when he became one of the few to post wins against 2020 Super Bowl champion Tristan Wirfs.
Hutchinson produced an 83.6 run-defense grade and 27 run stops along with a 76.0 pass-rush grade and 46 total pressures in 2019. Still, he never really put together a dominant performance from start to finish. We need to see more elite outings in 2021, and he easily has the potential to make that happen.
Ulofoshio, a 2018 walk-on, looked like a prime breakout candidate for 2020. And he dominated in each of his four outings, finishing the year with an 87.8 PFF grade. Across 452 career snaps, he has an 84.8 run-defense grade, a 92.6 pass-rush grade and an 82.3 coverage grade. If he keeps this up, no one is catching him for the Butkus Award, given to the best linebacker in college football.
While Kinnard's pass protection is good, he gets the nod largely because of his impact in the run game. The 6-foot-5, 345-pound right tackle has consistently paved holes for ball carriers over the past two years, generating run-blocking grades of 89.1 in 2019 and 91.9 in 2020. Both marks ended up being among the 10 highest in college football.
Kentucky employed heavy doses of inside zone in that span, and zone concepts just happen to be Kinnard's bread and butter. No tackle has managed a higher zone run-blocking grade since 2019.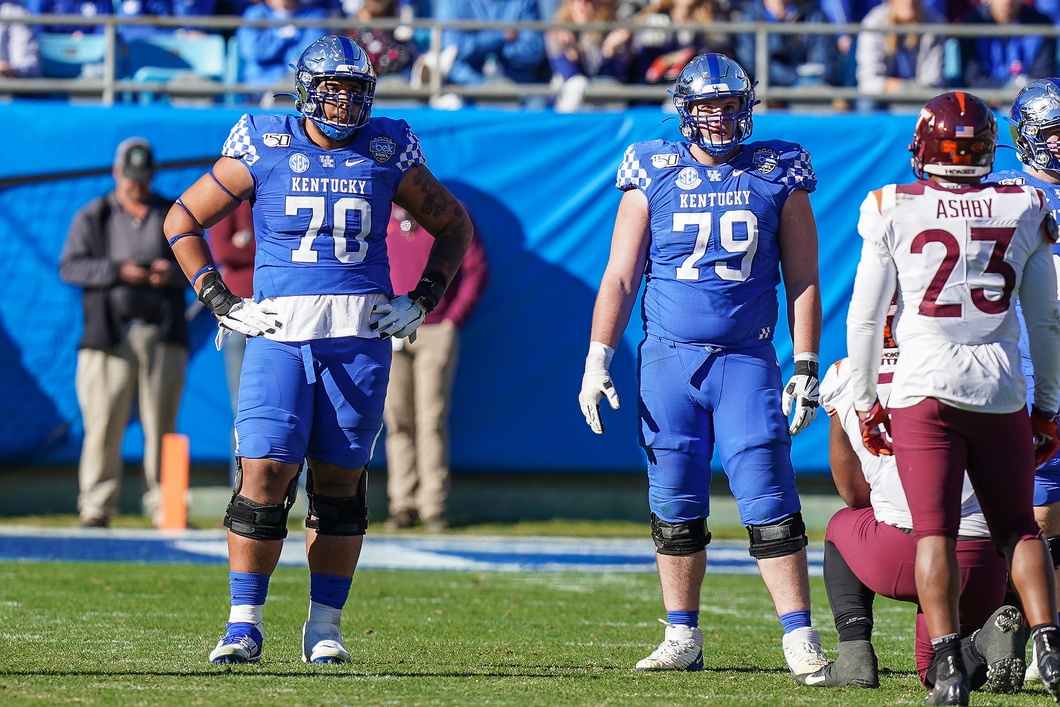 Burks took his play to new heights in 2020 after being solely utilized as a deep threat as a true freshman in 2019. He improved his receiving grade from 70.5 to 88.9 this past season. Burks still made his fair share of deep plays, but he started to produce on the underneath and intermediate route trees, too.
Burks was a hard man to tackle with his size, physicality and speed, averaging 7.6 yards after the catch and breaking nine tackles on 50 receptions in 2020. Those traits have helped him vertically, as well. Over the past two seasons, he has been responsible for 17 receptions of 20-plus yards, the 10th-most among Power Five receivers. And he did that as an underclassman.
Gibson is an athletic defensive tackle-to-center convert. He flipped to the offensive side of the ball in the middle of the 2018 season, his second one with NC State. Gibson was named the starting center for 2019, performed quite well and then broke out in 2020 in his second year holding the job. He posted a grade above 80.0 as both a run- and pass-blocker, something only five other Power Five centers accomplished in the past five years. Four of those five are now in the NFL, with the other being Linderbaum from last season.
Sanders broke out as a true sophomore in 2019 with an 82.8 pass-rushing grade before taking his play to elite status in Year 3. The 6-foot-5, 258-pound speed rusher posted a 90.1 pass-rushing grade in 2020 that featured four or more pressures in all but one of his games played (he had three in his worst pass-rush outing of the year).
He'll see quite a few tackles with middling athleticism in the AAC, and most of those guys simply cannot handle his short-area quicks. Sanders also possesses the length desired on the edge, which helped him get his mitts on five batted passes in 2020. Cincinnati will boast a monstrous defense again in 2021, with Sanders among the many reasons why.
Stills emerged as a mauler in the run game last year and was undoubtedly the best interior defensive lineman in the Big 12. His 90.2 run-defense grade ranked second to Alim McNeill (formerly of NC State, now with the Detroit Lions) for the best in the Power Five. He came away with 15 tackles for loss or no gain — four more than anyone else in the Power Five. And he was one of three interior defensive linemen to finish with top-10 marks in negatively and positively graded play rate against the run.
Anderson came to Alabama as a five-star recruit who ranked in the top 20 of the 2020 class, according to 247Sports, and he finished his first season with a whopping 60 pressures. Not only was his total more than double that of any other true freshman, but it was also the most in the entire FBS. Sure, the 13 total games he played helped, but Anderson's 17.4% pressure rate still ranked eighth in the FBS, and his 19.5% win rate ranked 24th.
Anderson has the requisite flexibility and bend for an edge rusher. He also blew up several run plays en route to an 81.1 run-defense grade. Very few true freshmen come close to sniffing those kinds of numbers. The sky is the limit for Anderson in 2021. He put up crazy numbers for someone of his age and still has room to grow with his technique. I'd bet on him producing at an elite level for the Crimson Tide this fall.
Moore was thrown into the fire and asked to serve in a starting role as a true freshman in 2020. There were some bumps early on, but after that shootout against Ole Miss, Moore turned a corner and was performing at a special level for a first-year player covering the slot in the SEC.
From Week 7 on, Moore put up the highest slot coverage grade in the FBS, and no FBS safety made more plays on the ball (10). And that's even including a rough outing in the SEC championship against Florida, where he played through an injury and allowed five catches for 123 yards and a score.
Outside of Tykee Smith, there's no one better covering the slot in college football.
Jones places this high solely because of his impact in the passing game. His run defense and tackling are shaky, but LSU can live with those deficiencies. Jones is fresh off a season in which he posted an elite 90.2 coverage grade and was a blitz weapon with 11 pressures on 48 pass-rush snaps.
His athleticism will be an asset to the Tigers, who no longer have to be too worried about the departure of standout coverage linebacker Jabril Cox.
After two years of stellar play at Lackawanna Community College, Brisker chose Penn State over Alabama and others in 2019. He has been one of the top safeties in the country ever since.
The 6-foot-1, 203-pound safety has earned PFF grades of 82.0 and 82.8 in his two years as a Nittany Lion, forming one of the five best two-year marks in the FBS. Brisker also owns 85.0-plus grades against the run and in coverage over the last couple of years, something no other Power Five safety has managed.
He's rocked up and explosive and certified himself as one of the best tacklers at the position a year ago, missing just one tackle on 60 total attempts. That 1.7% missed tackle rate led all FBS safeties on the year and was the second-lowest rate we have ever seen in the PFF College era.
Like Bigsby, Vaughn was also one of the top first-year players in college football this past season. The 5-foot-5 running back made it known from the get-go that he is going to be in the conversation for the best dual-threat back in the country.
Only Vaughn and North Carolina's Michael Carter earned grades above 85.0 as both a runner and receiver in 2020. Vaughn can take defenders' souls in the open field with his blend of quickness and agility.
Martial walked on for the Troy Trojans in 2017, made his first start in 2018 and has since been in the conversation for the best off-ball linebacker in the Group of Five. He's on the smaller end, standing at 5-foot-9 and 216 pounds, but that hasn't held him back. Martial posted PFF grades of 90.9, 91.3 and 82.4 in his three years on the field. He has accumulated 159 defensive stops in that span, the most among all FBS off-ball linebackers.
While the lowest-graded season of his career came in 2020, that 82.4 mark was still good enough to rank 12th in the FBS. And over his last six games, he was college football's highest-graded off-ball linebacker.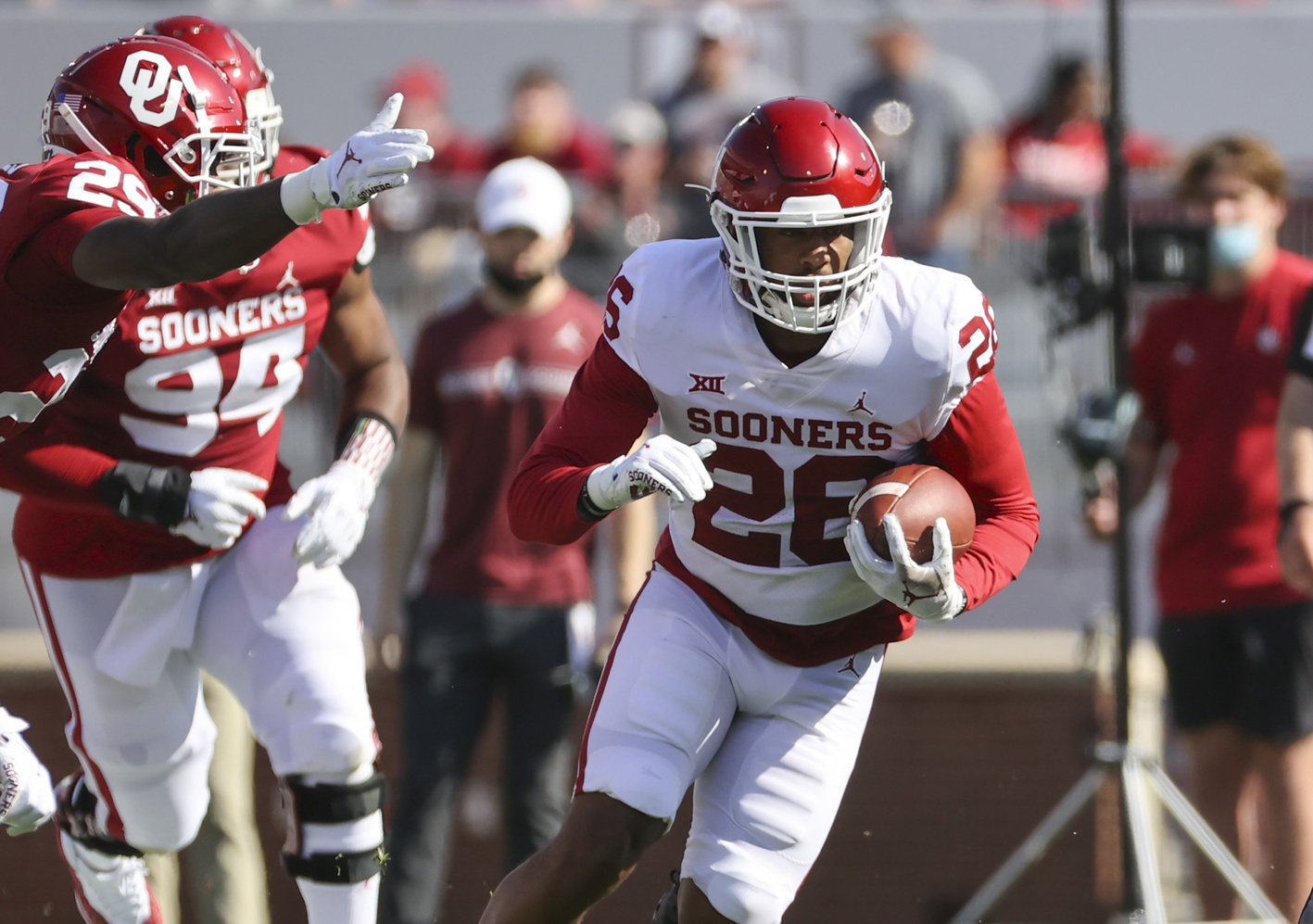 Brooks opted out of the 2020 season due to COVID-19 concerns, but he will be back for the 2021 campaign — very good news for the Sooners.
Brooks was the third-highest-graded ball carrier in the FBS from 2018 to 2019 and established himself as one of the top breakaway threats at the position. No FBS running back churned out 10 or more yards on a higher rate of carries over that period than Brooks (23.4%). He doesn't have electrifying speed, but he is elusive and fights through contact as well as anyone.
Domann mans a hybrid role in the Cornhuskers' defense; he'll line up at outside linebacker or in the slot — the latter being where he has played most often. There's a reasonable case that he should be on the safety/slot list, but his listed position by the team is outside linebacker, so here we are.
Domann's coverage prowess has been apparent ever since he took on a major role in 2019. Over the past two seasons, he's recorded an 86.6 coverage grade, nine forced incompletions and 19 passing stops. The 6-foot-1, 230-pound sixth-year senior also made major strides in run defense in 2020, raising his grade from 56.3 to 73.5.
Neal is an absolute unit at 6-foot-7 and 360 pounds, and he is living up every bit to his recruiting status. In the 2019 class, Neal was a consensus five-star recruit who ranked No. 7 nationally, according to 247Sports. He started from Day 1 in 2019 at left guard and performed fairly well with a 71.2 PFF grade. Then, he moved to right tackle for the 2020 season and really elevated his play to top-tier status.
With the help of his brute strength, length and athleticism, Neal recorded an 83.7 PFF grade in 2020, ranking fourth in the Power Five. He laid down a whopping 12 big-time blocks in the run game, which was the second-most in a single season by a right tackle in the seven years since PFF began grading college football.
Salyer had "breakout" written all over him in 2020 after shining on limited reps all across the offensive line in previous seasons. The 2018 four-star — who ranked 10th nationally, according to 247Sports — excelled in his first full season in a starting role, posting an 81.2 PFF grade. Salyer earned grades above 77.0 as both a pass blocker and a run blocker, something only 10 Power Five tackles accomplished this past season.
He showed growth as the season progressed and closed out his year with an impressive hot streak, ranking No. 2 among all Power Five offensive linemen in pass-blocking grade over his last four games (90.6). Salyer is capable of playing anywhere on the line at an extremely high level. He proved that in 2018 and 2019 before cementing it in Georgia's bowl game against Cincinnati when he played at left guard and didn't give up a single pressure on over 40 pass-blocking snaps.
We didn't hear Texada's name called much last year, which is a terrific sign for an outside cornerback. He locked down his side of the field for most of the season, allowing under 35 yards in coverage in eight of his nine starts.
The last outing of his season was pretty rough, as he allowed seven catches for 124 yards and a couple of touchdowns, but up until that point, there were few bones to pick with his play. Texada allowed just 10 catches for 89 yards and no touchdowns before that final game. Those numbers border on shutdown status.
The Baylor product is on the smaller end of the position at 5-foot-10, 188 pounds, but he makes up for it with his great all-around athleticism. He's going to challenge TCU's Tre'Vius Hodges-Tomlinson for best cornerback in the Big 12 in 2021.
A former three-star recruit, Duck became the Tar Heels' starter in Week 5 of the 2019 season before making his name known as one of the top young cornerbacks in the country by the end of the year.
Duck finished his first season with an 81.3 coverage grade, a top-20 mark in the Power Five and one of the 15 best we have ever given to a true freshman in our seven years of grading college football.
We only got to see two games from Duck in 2020 because of injury. He was targeted 13 times over those two games, but he allowed just four catches for 31 yards while forcing five incompletions.
Clemson has some talented cornerbacks on their roster, but it's hard not to argue with Duck being the best cornerback in the ACC entering the year.
Notre Dame saw four of its five starters from last year's unit depart for the NFL. The good news is that the team's lone returner, Jarrett Patterson, is one of the best offensive linemen in college football.
Patterson made his debut as the starting center in 2019 and performed exceptionally well. He ranked 11th among Power Five centers in PFF grade and didn't allow multiple pressures in any of his 13 starts. He was even better in 2020, ranking sixth among Power Five centers in PFF grade. Patterson's improvement primarily came in the run game, where he ranked eighth in positively graded block rate among. He's also one of two returning Power Five interior offensive linemen to log at least 650 pass-block snaps without surrendering a sack in their college career.
Regardless of where Patterson plays in 2021, he's going to anchor the Irish's line
It doesn't matter if he's playing press-man or off-zone, McCreary is seemingly always at the catch point and making plays. He has forced tight coverage on 48% of his targets the last couple of seasons, the sixth-highest rate among all FBS cornerbacks. And he has continuously gotten better with tracking the ball and playing the catch point in that span. He did have an incredible rep in press against Ja'Marr Chase in 2019 that resulted in a pick on Joe Burrow, but he also lost his fair share of reps too. That was cleaned up in 2020. He went from allowing 14 of 32 tight coverage targets to be caught in 2019 to just three of 15 in 2020. Overall the last two seasons, McCreary has tied for the seventh-most plays made on the ball among Power 5 cornerbacks with 19 while tying for ninth among that group in passing stops made on the outside with 15.
He's fast, fluid, has great feet and is scheme-versatile. This Auburn secondary is among the most talented in the country with McCreary leading the way, and he is more than capable of producing at an elite level in 2021 after ranking 21st among Power 5 corners in coverage grade in 2019 and 15th in 2020.
Sterling first took on a starting job in the 2019 season and immediately made his name known as one of the top cover safeties in the country. Since then, he ranks fourth among all FBS safeties in coverage grade and has racked up 14 combined pass breakups and interceptions over that span, seventh at the position in the FBS.
Sterling is an instinctual player who puts his tape study into action. A prime example of this was his pick-six against Texas Tech last season: The Red Raiders had run their smash concept a few times earlier in the game, and Sterling reportedly picked up on this and declared, "If they run that route concept again, I'm stepping underneath it and running it for a touchdown."
Sure enough, they ran it one more time. And he housed it.
The Chanticleers may have popped up on everyone's radar in 2020, but Likely has sneakily been one of the better tight ends in the game ever since he took on a major role in 2019. The former two-star wide receiver recruit who received only one FBS offer now has the third-best receiving grade in the FBS since 2019.
Likely posted a 95.0 receiving grade over his last five games of 2020, the highest among FBS tight ends in that span. He hauled in 11-of-14 contested-catch opportunities over that same five-game stretch, and he did that while playing through a lower-body injury that required post-season surgery.
This top-five ranking is well warranted because he's the real deal. I wouldn't be shocked if we see him challenge for that top spot by season's end.