Week 2 did not carry the same excitement as the great opening weekend, but there was a usual mix of upsets, disappointments and bounce-backs from top teams. There was also the usual mix of outstanding individual performances, so let's highlight the best by position.
These are my selections for the national team of the week — be sure to scroll below to check out our selecitons for the Group of 5 and every Power-5 conference as well. — Steve Palazzolo
Quarterback: Lamar Jackson, Louisville, 81.0

One of the stories of the season through two weeks, Jackson has dominated the early action with an absurd 13 total touchdowns (seven passing, six rushing). He was creating big plays from the moment he stepped onto the field Friday night against Syracuse, especially on the ground where he ran for 208 yards on 20 carries while scoring four touchdowns and forcing seven missed tackles.
Running back: Kalen Ballage, Arizona State, 83.4 and Royce Freeman, Oregon, 86.1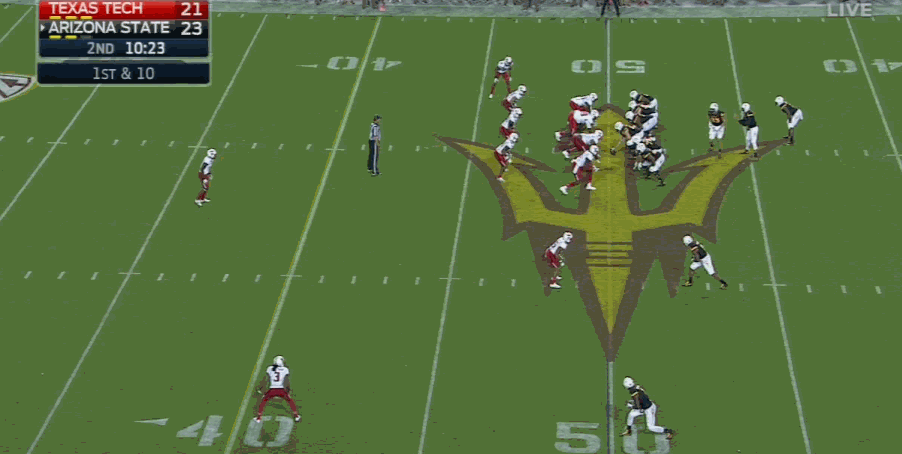 Sure Ballage did most of his damage against a horrible Texas Tech defense, but he finished with eight touchdowns on only 15 touches, showing off the speed and power combination that made him one of our breakout candidates heading into the season. Freeman picked up 207 yards on his 21 carries and two touchdowns, forcing seven missed tackles along the way.
Wide receiver: Trent Taylor, Louisiana Tech, 84.5 and Tavares Martin, Jr, Washington State, 76.9
While Taylor did his damage against FCS opponent South Carolina State, he was highly efficient catching 13 of his 16 targets for 173 yards and three touchdowns. He forced four missed tackles and picking up 121 of his 173 yards after the catch. Martin, Jr. caught 13 of his 16 targets for 163 yards while scoring a touchdown and forcing five missed tackles.
Tight end: Tyler Conklin, Central Michigan, 82.4
Emerging out of nowhere to spark Central Michigan's upset of Oklahoma State, Conklin caught seven passes for 96 yards and two touchdowns after catching only six passes his entire career before Saturday. The unlikely hero was the Chippewas leading receiving for the game.
Offensive tackle: Forrest Lamp, Western Kentucky, 80.3 and Jawaan Taylor, Florida, 84.5
We highlighted Lamp as a player to watch against Alabama's strong pass rushers and he did a fine job, allowing one QB hit on his 40 snaps in pass protection against the likes of Jonathan Allen, Tim Williams, and Ryan Anderson. He also did fine work in the running game. Taylor, a true freshman, played 73 out of 83 snaps against Kentucky, including 29 pass blocking attempts with no pressures allowed and a run blocking effort in which he created movement at the point of attack while not losing blocks.
Guard: Justin Murphy, Texas Tech, 76.9 and KC McDermott, Miami, 83.3
Murphy allowed only one hurry on his 59 snaps in pass protection while also doing a nice job in the running game for the Red Raiders. McDermott was a force in the running game as he created good movement at the point of attack while not surrendering a pressure on his 32 attempts.
Center: Frank Ragnow, Arkansas, 84.6
For the second straight week, Ragnow put together a dominant run-game performance, whether controlling the point of attack or getting out in space. In pass protection, Ragnow didn't allow a pressure on his 32 snaps.
Defense
Edge rusher: Duke Ejiofor, Wake Forest, 87.0 and A.J. Jefferson, Mississippi State, 80.9
Ejiofor was unblockable off the edge for Wake Forest, notching two sacks, two QB hits, and five hurries on only 36 rushes. Jefferson's game was more about his work against the run as he got in on four run stops, but he also tacked on a sack, QB hit, and a hurry on his 36 rushes. Both players were highlighted as prospects on the rise this week.
Defensive interior: James Looney, Cal, 84.2 and Daniel Wise, Kansas, 83.7
Looney put together his second straight good week, notching a sack and three hurries to go with his being stout at the point of attack in the running game. Wise has been the best player on Kansas through two games, this week posting four hurries, batting a pass, and picking up six run stops to lead all interior defensive linemen.
Linebacker: Raekwon McMillan, Ohio State, 90.1; Dante Lovilette, UTEP, 86.7; Cameron Smith, USC, 86.0
A force in the running game, McMillan was rarely blocked, getting in on four run stops, forcing a fumble and deflecting a pass in coverage for good measure. Despite the loss to Texas, Lovilette shed blocks and made plays in the running game and his forced fumble at the goal line saved an early touchdown. Smith was strong in the running game and he kept the ball in front in the passing game, leading the nation with five pass game stops.
Cornerback: Mike Tyson, Cincinnati, 87.4 and Jaire Alexander, Louisville, 85.2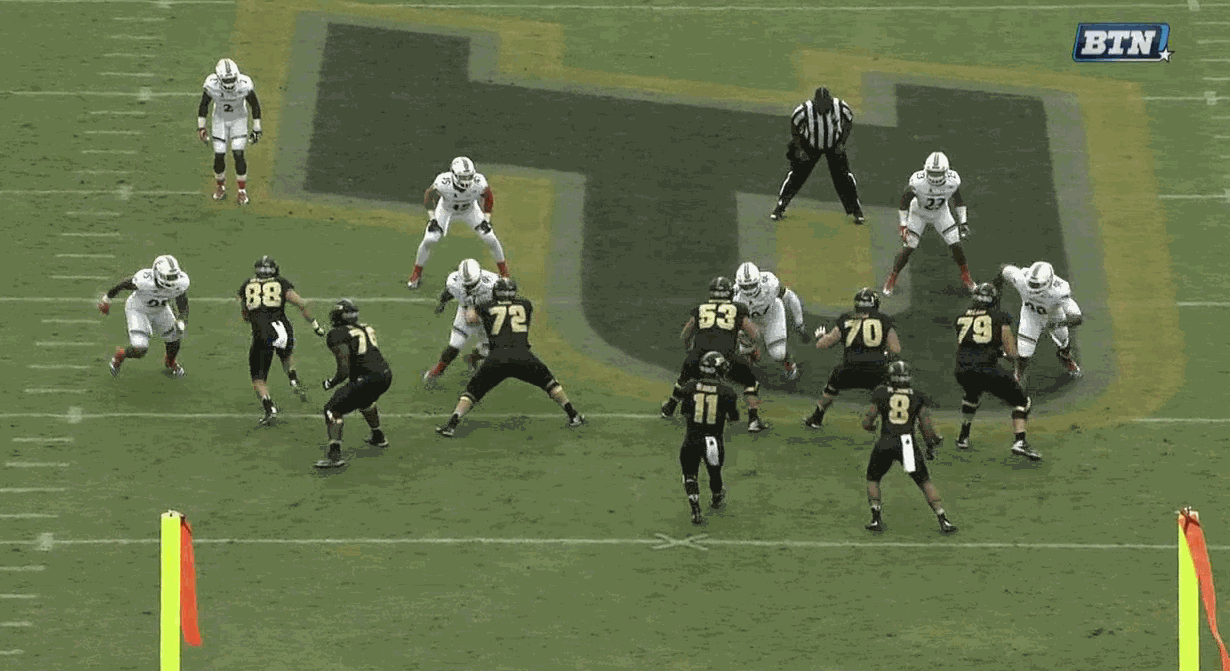 The numbers don't always tell the story, but for Tyson: four targets, no receptions, three interceptions, one pass defensed: they sum up his day very well. As for Alexander, he had a nifty interception on a deep ball while surrendering only two catches for 12 yards on his four targets.
Safety: Orion Stewart, Baylor, 82.2 and Jordan Sterns, Oklahoma State, 86.1
Stewart intercepted two of his seven targets, breaking nicely on an end-zone out route and jumping a short route in the flat for a pick-6. Despite the late-game shenanigans that led to a heart-breaking loss for Oklahoma State, Sterns was excellent in coverage, knocking away three passes and showing well in the running game.
Kicker: Griffin Oakes, Indiana
Oakes hit all three of his field goals, including two in the 40-49 range.
Punter: Marshall Long, Georgia
With three punts averaging 58.0 yards and a net of 54.7 yards, Long was the top-graded punter in the nation this week.
SEC — Gordon McGuinness 
QB: Drew Lock, Missouri, 78.4
HB: Derrius Guice, LSU, 75.4
FBL: Bailey McElwain, Vanderbilt, 83.1
WR: Calvin Ridley, Alabama, 80.0; Drew Morgan, Arkansas, 78.3
TE: Jeremy Sprinkle, Arkansas, 78.6
LT: Austin Golson, Auburn, 79.1
LG: Javon Patterson, Ole Miss, 73.0
C: Frank Ragnow, Arkansas, 84.6
RG: Braden Smith, Auburn, 81.8
RT: Jawaan Taylor, Florida, 84.5
ED: A.J. Jefferson, Mississippi State, 87.0
DT: Taylor Stallworth, South Carolina, 77.9; Cory Thomas, Mississippi State, 77.3
ED: Johnathan Calvin, Mississippi State, 83.4
LB: Joey Burkett, Missouri, 86.5; Michael Scherer, Missouri, 86.0; Rueben Foster, Alabama, 85.1
S: Ronnie Harrison, Alabama, 83.7; Jamal Adams, LSU, 78.9
CBs: Marlon Humphrey, Alabama, 88.3; Taurean Ferguson, Vanderbilt, 86.2; Aaron Penton, Missouri, 91.7
K: Daniel LaCamera, Texas A&M
P: Marshall Long, Georgia
K/PR: Tre'Davious White, LSU
ACC — John Breitenbach 
QB: Lamar Jackson, Louisville, 81.0
WR: Amba Etta-Tawo, Syracuse, 72.9
WR: Stephen Louis, NC State, 88.8
TE: Cam Serigne, Wake Forest
OT: Michael Mooney, Virginia, 77.4 & Brian O''Neill, Pittsburgh, 76.1
OG: Tony Adams, NC State, 84.4; Khalil Hunter, Louisville; KC McDermott, Miami, 83.3
C: Jackson Matteo, Virginia, 80.9
HB: Dalvin Cook, FSU, 80.9
DEs: Duke Ejiofor, Wake Forest, 87.0; Ejuan Price, Pittsburgh, 80.8
DIs: DeAngelo Brown, Louisville; NazairJones, UNC, 84.7 & Derrick Nnadi, FSU
LBs: Joe Giles-Harris, Duke, 80.4; Marquel Lee, Wake Forest, 81.0;  Airius Moore, NC State, 80.0
CBs: Jaire Alexander, Louisville, 85.2; Cordrea Tankersley, Clemson, 83.5
S: Shawn Boone, NC State, 83.0; Jadar Johnson, Clemson, 79.8
Pac-12 — Jordan Plocher 
QB: Jake Browning, Washington
WR: Chico McClatcher, Washington
WR: Tavares Martin Jr., Washington State
OT: Chad Wheeler; USC, Sam Kronshage; Colorado
OG: Tim Lynott; Colorado, Jacob Alsadek; Arizona
OC: Coleman Shelton, Washington
TE: Darrell Daniels, Washington
RB: Kalen Ballage; ASU, Royce Freeman; Oregon
ED: Pita Taumoepenu; Utah, Uchenna Nwosu; USC
DI: Vita Vea; Washington, Parker Zellers; Arizona
LB: Cameron Smith; USC, Devante Downs; Cal
CB: Leon McQuay III; USC, Reginald Porter; Utah
S: Chris Hawkins; USC, Budda Baker, Washington
Big 12 — Bryson Vesnaver 
QB: Shane Buechele, Texas, 80.7
HB: Joe Mixon, Oklahoma; Kyle Hicks, TCU, 74.7
WR: Shelton Gibson, West Virginia; Jacorey Warrick, Texas, 78.4; KaVontae Turpin, TCU, 76.4
LT: Victor Salako, Oklahoma State, 73.3
LG: Baylen Brown, Texas Tech, 74.1
C: Austin Schlottmann, TCU, 82.5
RG: Justin Murphy, Texas Tech, 76.9
RT: Patrick Lawrence, Baylor, 74.7
ED: Breckyn Hager, Texas, 81.3; James McFarland, TCU, 76.5
DI: Daniel Wise, Kansas, 83.7; Poona Ford, Texas, 80.0
LB: Sammy Douglas, TCU, 80.4; Jordan Burton, Oklahoma State, 80.1; Anthony Wheeler, Texas, 79.4
CB: Tevin Shaw, Kansas, 89.3; Ramon Richards, Oklahoma State, 86.5; Justis Nelson, Texas Tech, 86.4
S: Jordan Stearns, Oklahoma State, 86.1; Fish Smithson, Kansas, 84.2
Big Ten — Josh Liskiewitz 
QB: Mitch Leidner, Minnesota
RB: Kobe McCrary, Minnesota; Saquon Barkley, Penn State
WR: DJ Moore, Maryland; Drew Wolitarsky, Minnesota; WR: DaeSean Hamilton, Penn State
TE: George Kittle, Iowa
OT: Ryan Ramczyk, Wisconsin; Grant Newsome, Michigan
OG: Jered Weyler, Minnesota; Tanner Farmer, Nebraska
C: Mason Cole, Michigan
DI: Ryan Glasgow, Michigan; Chunky Clements, Illinois; Michael Hill, Ohio State
EDGE: Ross Dzuris, Nebraska; Chris Wormley, Michigan; Rashan Gary, Michigan
LB: Raekwon McMillan, Ohio State; Nyeem Wartman-White, Penn State
CB: Marshon Lattimore, Ohio State; Isaiah Wharton, Rutgers; Jabrill Peppers, Michigan
S: Damarius Travis, Minnesota; Godwin Igwebuike, Northwestern
Group of 5 — Zoltan Buday 
QB: Quinton Flowers, USF 80.5
RB: Jeremy McNichols, Boise State 88.7
WR: Trent Taylor, Lousiana Tech 84.5; Corey Davis, Western Michigan 82.4
TE: Tyler Conklin, Central Michigan, 82.4
OT: Forrest Lamp, Western Kentucky 80.3; Antonio Garcia, Troy 81.9
OG: Alex Fontana, Houston 85.4; J.J. Beggan, Bowling Green 82.0
C: Evan Brown, SMU 87.4
ED: Haji Dunn Jr., Air Force 81.9; Kevin Prosser, Wyoming 80.5;
DI: Daniel Awoleke, USF 84.6; Amos Mason, Navy 83.3
LB: Jawuan Johnson, Northern Illinois 87.4; Cortney Finney, North Texas 80.9; Dante Lovilette, UTEP 86.7
CB: Mike Tyson, Cincinnati 87.4; Alfonso Mack, Bowling Green 84.8
S: Cedarius Rookard, Troy 79.3; Zach Guiser, Akron 78.0