As the college football season gets ready for its ninth week, we take a look at the nation's leaders in various key quarterback metrics. We will examine the top-five signal-callers in deep passing yards, adjusted completion percentage, passer rating from a clean pocket and passer rating on non-play-action throws. These metrics not only exhibit a quarterback's ability but are great predictors of their potential in the NFL.

DEEP PASSING YARDS
To be considered a deep pass, the attempt must be targeted 20 yards or more downfield. Not every QB has the arm strength and accuracy to place the football in their receiver's hands downfield, so being atop of this metric deserves recognition.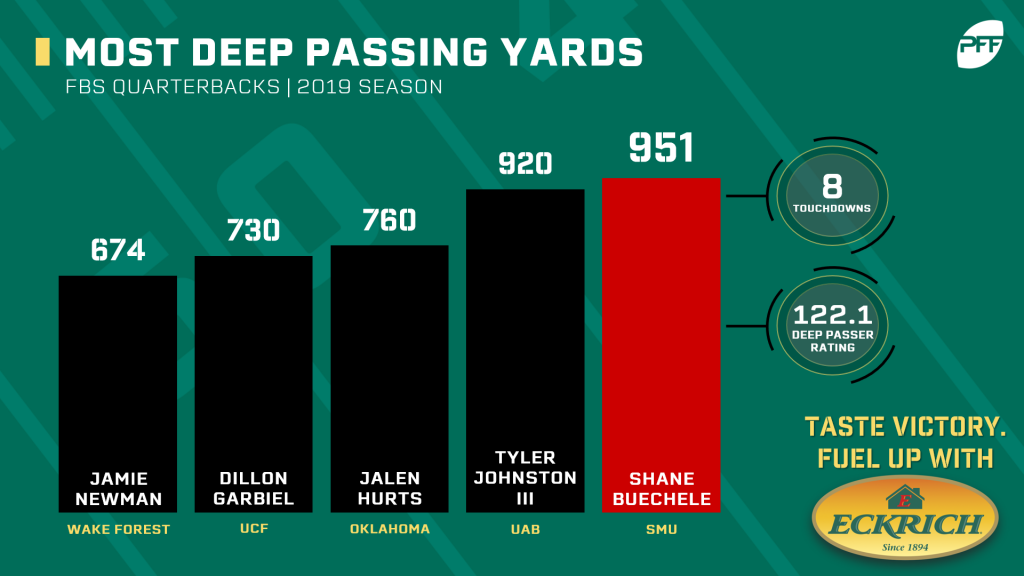 1. Shane Buechele, SMU, 951 yards
The SMU star quarterback has heaved the ball downfield 47 times (fifth-most) and has connected on 26 of them (first). Despite this, Buechele has a deep pass percentage of 18.9%, which is ranked just 20th among QBs with 30-plus deep throws. On deep passes, Buechele boasts the nation's second-best PFF grade and second-most big-time throws, our highest-graded throws, showcasing his accuracy and effectiveness on such passes.
2. Tyler Johnston III, UAB, 930 yards
Johnston III is not afraid to unleash his cannon of an arm downfield in the UAB Blazers' offense. The Sophomore is currently ranked first in deep pass percentage, with a staggering 30.2% of his 182 throws targeted downfield. Not only is he second in deep passing yards, but he also holds the most deep touchdowns and big-time throws. This comes as no surprise, as he also owns the most total big-time throws in the country.
3. Jalen Hurts, Oklahoma, 760 yards
Jalen Hurts has been tormenting opposing defenses all season, and one major reason why is head coach Lincoln Riley allowing him to display an arm talent that was not shown before.  Prior to transferring to Oklahoma, Hurts started two full seasons for Alabama and never had a deep pass percentage over 18%. Through eight weeks this season, he has recorded a deep pass percentage of 22.1%, placing him sixth among quarterbacks with a minimum of 30 attempts.
4. Dillon Gabriel, UCF, 730 yards
The youngest quarterback of the group, Gabriel has impressed in his true freshman season as a Knight. He has nine touchdowns to just one interception when targeting downfield and is tied for the fastest times to throw on deep passes, needing an average of only 2.5 seconds. On top of his quick trigger, his 31.6 average depth of target is fourth-best in all of college football (min. 30 deep attempts), showcasing his cannon of an arm.
5. Jamie Newman, Wake Forest, 674
The redshirt Junior has produced the third-highest PFF deep passing grade regardless of the number of attempts. He possesses the fifth-best completion percentage (min. 30 deep attempts) when firing deep, exhibiting his touch on equivalent throws. Newman has led the Deacons to 6-1 record on the season, just behind 7-0 Clemson, who they will attempt to knock off the ACC throne in Week 10.
ADJUSTED COMPLETION PERCENTAGE (MIN. 100 DROPBACKS)
Adjusted completion percentage removes the factors that sway the regular box score completion percentage. The factors that are removed in order to calculate adjusted completion percentage include dropped passes, throwaways, spiked balls, batted passes and passes where the QB was hit as he threw the ball.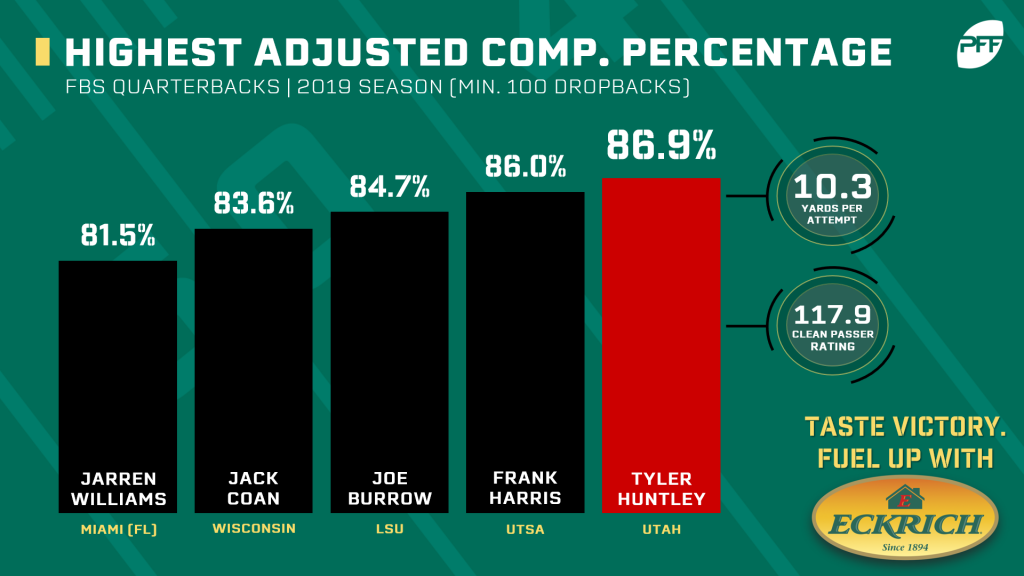 1. Tyler Huntley, Utah, 86.9%
The Utah product has been deadly accurate all season, subsequently leading to the highest adjusted completion percentage in the nation. Huntley has not only been accurate but also efficient. His 10.3 yards per attempt is tied for sixth, and his 123.4 passer rating is ranked seventh among quarterbacks with 100 or more dropbacks on the season.
2. Frank Harris, UTSA, 86.0%
The Roadrunners are 2-2 thus far, despite the fact that their starting quarterback has been among the most precise in the country. Harris has completed passes to his receivers at a large clip but not far downfield. His 5.7 average depth of target is last among 141 qualifying college quarterbacks, his 5.3 yards per attempt is ranked 136th, and his "short of the sticks" percentage (passes thrown short of the first down marker) in the highest this season at 69.2%. Harris has already proven his accuracy on short passes but needs to show the same accuracy on deeper attempts in order to garner more attention.
3. Joe Burrow, LSU, 84.7%
To no one's surprise, we see the NFL hopeful in the top-five most accurate quarterbacks in 2019. In addition to being third in adjusted completion percentage, Burrow has the highest standard completion percentage, at 79.6%. He isn't dinking and dunking his way to the uppermost position, either, as he as the second-most big-time throws, second-most yards per attempt and the best PFF passing grade this season. The LSU Tiger has skyrocketed up draft boards and has firmly established himself in the Heisman conversation.
4. Jack Coan, Wisconsin, 83.6%
Coan has not been asked to do much in the Wisconsin offense, due to star running back Jonathan Taylor being in the backfield, but when the ball has been in his hands, he has not disappointed. He holds the second-highest standard completion percentage (76.0%), just behind that of Joe Burrow. The Badgers are coming off a debilitating loss to Illinois, making the road to the playoffs far more difficult. To keep their chances alive, Coan must continue to be accurate with the football, giving the Wisconsin receivers the best chance at hauling in their targets.
5. Jarren Williams, Miami FL, 81.5%
Miami's redshirt freshman quarterback won the starting role during fall camp but was relieved of his starting duties in a Week 6 matchup against Virginia Tech that saw Williams throw three interceptions. He has also been struggling with a shoulder injury that has allowed N'kosi Perry to receive starting quarterback privileges. Williams was accurate as the starter, but made plenty of poor decisions with the football, culminating in 10 turnover-worthy plays to just one big-time throw on the season.
PASSER RATING FROM A CLEAN POCKET (MIN. 100 DROPBACKS)
 A quarterback's passer rating when kept clean is PFF's most stable metric from college to the NFL, on the grounds that when a quarterback is not under pressure, he is able to display his true talent and decision-making.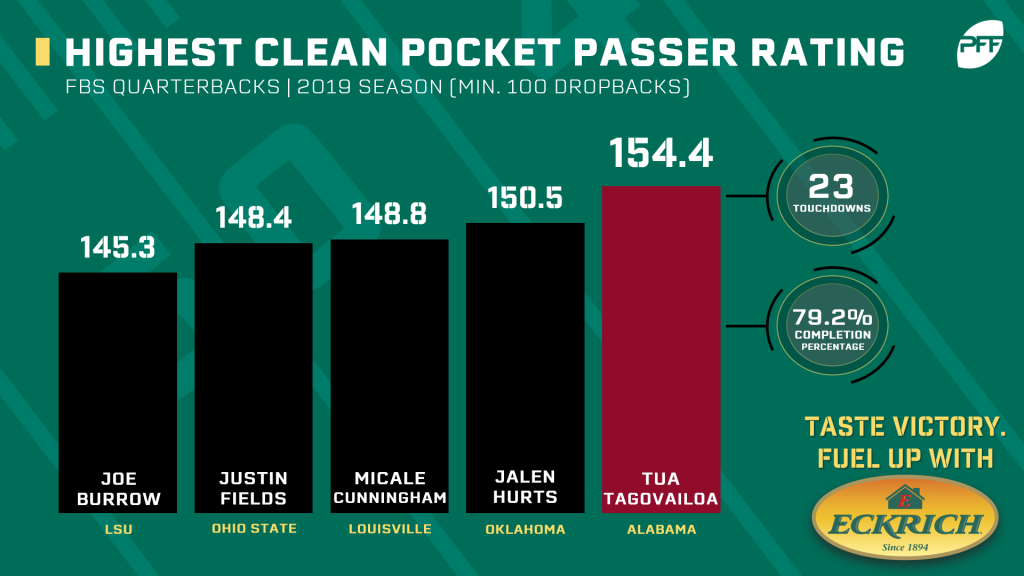 1. Tua Tagovailoa, Alabama, 154.4
The Alabama star has yet to throw an interception from a clean pocket and has thrown 23 touchdowns, second-most in the nation. He ranks fifth completion percentage (79.3%), tied for second in yards per attempt (11.6) and sixth in PFF passing grade (91.1) when kept clean. In 2018, Tagovailoa led all quarterbacks with a minimum of 100 dropbacks in clean passer rating, at 154.4, and this year he looks to do the same.
2. Jalen Hurts, Oklahoma, 150.5
The Alabama-turned-Oklahoma quarterback has demolished defenses from a clean pocket thus far in 2019. Hurts has taken shots downfield when kept clean, and that's given him the nation's best yards per attempt average from a clean pocket so far (15.0). He also holds the second-best completion percentage, proving that he has the ability to not only make the correct decisions devoid of pressure but that he has the arm talent to deliver precise passes to all levels of the field.
3. Micale Cunningham, Louisville, 148.8
Louisville's sophomore quarterback has the third-fewest pass attempts from a clean pocket but has produced the third-best passer rating. This is in large part due to Cunningham nabbing six touchdowns to zero interceptions and being tied for the most yards per attempt with 11.6. The Cardinals are coming off a dominating defeat against the Clemson Tigers and look to bounce back in Week 9 with Cunningham at the helm of the offense.
4. Justin Fields, Ohio State, 148.4
Fields transferred to Ohio State early this year, following the departure of Dwayne Haskins Jr. to the NFL. Fields picked up where Haskins left off, crushing opponents through the air en route to seven straight victories. From a clean pocket, defenses stand no chance against the Buckeyes' signal-caller, who currently has 10 big-time throws and 17 touchdowns compared to zero turnover-worthy plays and zero interceptions. Fields has been flawless when the offensive line gives him time, posting the country's best PFF passing grade from a clean pocket.
5. Joe Burrow, LSU, 145.3
We see Burrow once again—and not for the last occasion—this time as one of the best from a clean pocket. He holds the best completion percentage (82.3%) and the third-best PFF grade (93.9) when kept clean, throwing 21 touchdowns to a mere three interceptions. Joe Burrow will have his work cut out for him this week, facing ninth-ranked Auburn and their vaunted defense. If he has time in the pocket, Burrow will have the opportunity to dissect a stellar defense and extend his outstanding play from a clean pocket.
PASSER RATING ON NON-PLAY-ACTION THROWS (MIN. PA DROPBACKS)
Play-action often provides quarterbacks with more open pass attempts due to the defense either moving up to stop the run or freezing for a few seconds to see if the ball is handed off. For this reason, inspecting a quarterback's passer rating on non-play-action passes offers a good visual of how that player is truly performing on "standard" passing plays.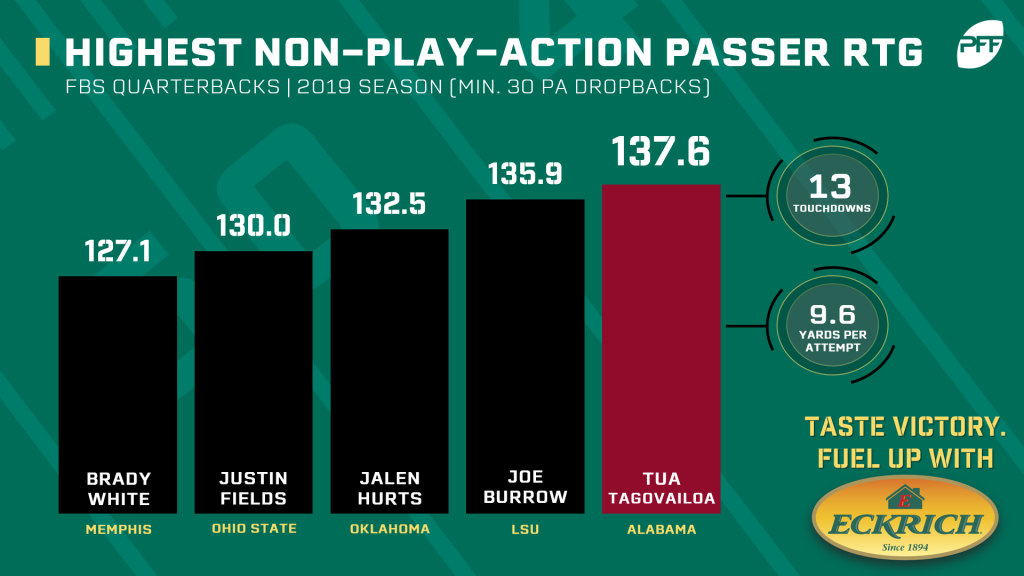 1. Tua Tagovailoa, Alabama, 137.6
Tagovailoa suffered an ankle injury that will sideline him for a couple of weeks, but so far this season, he has recorded the nation's best passer rating on non-play-action throws among quarterbacks with a minimum of 30 play-action dropbacks. Tua has completed his passes at the third-highest clip, with a completion percentage of 78.4% so far. On top of his deadly accuracy, his 9.6 yards per attempt is fifth, although most of that yardage can be credited to his receivers' ability to create yards after the catch.
2. Joe Burrow, LSU, 135.9
After an unimpressive 2018 season, Burrow has flashed his talent in every metric and facet this year. Off non-play-action throws, he once again has the best PFF passing grade in all of college football. This can be attributed to his third-most big-time throws (12), second-best completion percentage (78.7) and second-most touchdowns (22) to a meager three interceptions. Burrow's astronomical play has the opportunity to further entrench himself not only in the Heisman debate but in the discussion for the number one overall pick in the 202 NFL draft.
3. Jalen Hurts, Oklahoma, 132.5
There is a theme here, as Hurts has once again found himself among the best in yet another PFF metric. The Sooner has the most yards per attempt (13.4) and the fourth-best PFF passing grade on throws without play-action.
4. Justin Fields, Ohio State, 130.0
Fields boasts the second-highest PFF passing grade on non-play-action throws, just behind Joe Burrow. He has yet to throw an interception and has just one turnover-worthy play on 112 dropbacks, in comparison to his five big-time throws and 10 touchdowns. The former Georgia Bulldog has fascinated in his first season as a full-time starter, and with further coaching and experience, can very well see himself as one of the highest-drafted players in the 2021 draft class.
5. Brady White, Memphis, 127.1
White boasts the third-best yards per attempt on non-play-action throws and has connected on 13 touchdowns against a measly three interceptions. However, he has just six big-time throws to six turnover-worthy plays, and this shows that although his raw stats display great quarterback play, in reality, he has played around the middle of the pack, which is indicated by his 73.5 PFF grade that ranks him 52nd in college football.
The quarterbacks at the top of these metrics have set themselves apart as some of the most dynamic and electric passers in the nation. If they continue their dominant play, there is no doubt they will have the opportunity to hear their names called in the NFL draft.