The Week 7 slate of games has been penciled in as must-watch television since the schedule for the 2019 season was released. With six weeks of action in the books, Week 7 looks primed to live up to the hype as a potential proving ground for multiple teams with playoff hopes lying in the balance.
We take a look through the PFF lens at what potentially could decide the outcome of some of Week 7's biggest matchups.
Oklahoma vs Texas
Jalen Hurts: when kept clean vs when pressured
Jalen Hurts finds himself as one of the country's leaders in the race toward the Heisman Trophy through the first half of the season, and a big statement game against Texas at the Cotton Bowl certainly will help his candidacy. While Hurts has been sharp through the air and with his legs, one thing that has set him apart is his ability both under pressure and when kept clean from pressure — even when the opposing defense sends extra rushers on a blitz. Hurts is a top 10-graded quarterback and has thrown for five touchdowns and no interceptions against opponents' blitz attempts this season. When that pressure actually registers, he has the nation's fourth-highest passing grade, completing 18 of 32 passes for 355 yards and four scores with no interceptions and no turnover-worthy passes.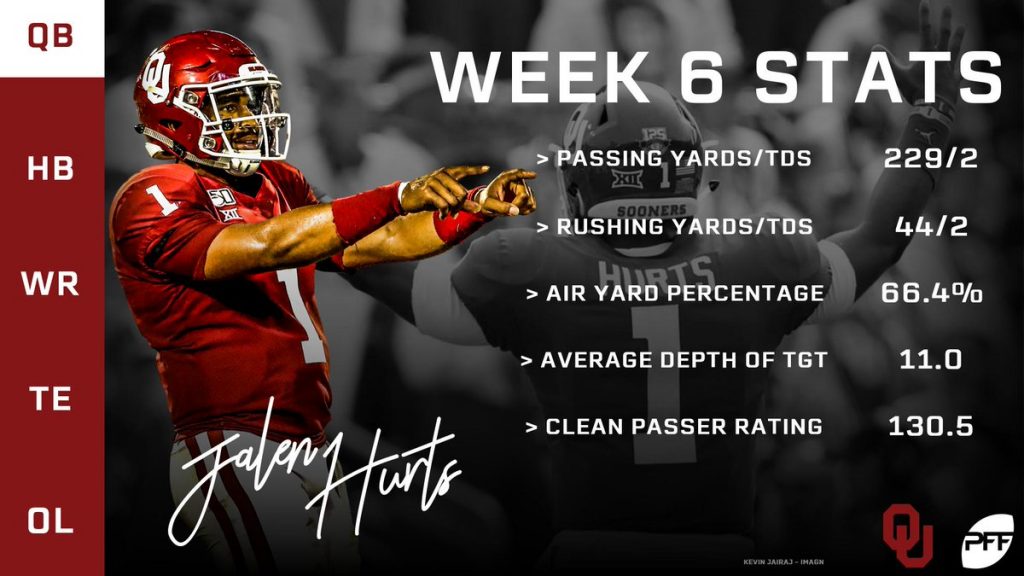 Those numbers being said, it still is a marked decrease from his play from a clean pocket, obviously. He is throwing completions when kept clean at an incredibly high rate, completing 64 of 77 attempts for the national lead in completion rate (83.1%) from a clean pocket. The Longhorns' defense will have to hope to pressure Hurts either with their down linemen or on blitzes, something they haven't necessarily been able to do with much consistency in 2019. Only Malcolm Roach and Joseph Ossai have double-digit pressures on the season despite 11 different players having at least 25 pass-rushing snaps. If the Longhorns can't get pressure on Hurts, they'll have to rely on a secondary whose youth has been exposed at times, yet performed well against West Virginia's aerial assault in Week 6.
Texas cornerback D'Shawn Jamison made perhaps the interception of the year as he skied over WVU wideout Sam James for a one-handed pick. That was just a microcosm of how effective the primary coverage defenders were against the Mountaineers. Jamison got his hands on two interceptions, while allowing just 29 yards in his coverage, while safety B.J. Foster and linebacker Ayodele Adeoye each made interceptions on clean-pocket attempts by WVU quarterback Austin Kendall.
This all goes without saying that Texas QB Sam Ehlinger ranks just behind Hurts in nearly every aforementioned facet and should be able to find some passing lanes away from CB Jaden Davis, who is the only Oklahoma defensive back with a coverage grade above 69.7 this year.
Florida vs LSU
Gators pass-rushers vs LSU interior O-line
Florida leads the SEC in total pressure percentage (56.9) this season, getting home with 124 pressures on 218 passing plays that the Gators have faced. Additionally, they lead the SEC with a 62.8% pass-rush win percentage through six weeks, also a conference-high. Odds are Florida will register pressure on LSU QB and Heisman front-runner Joe Burrow; and as it stands now, the odds also indicate it might not be that big of a deal.
At the start of Week 7, Burrow holds the nation's highest completion rate when under pressure (70.7%), has thrown for the nation's highest TD-INT ratio (6 TDs, 0 INTs) and subsequently has the nation's best passer rating when pressured (151.0). As volatile of a statistic that PFF owns, the ability to fare well under pressure certainly is going to be an important factor in the outcome of this matchup and one that, on paper, currently gives the advantage to Burrow and LSU.
If there is one weak link on the LSU offense this season, it has been center Lloyd Cushenberry III, who currently owns the Tigers' lowest pass-blocking grade and has allowed a combined 12 pressures, including four sacks. The Gators' interior defenders have accounted for only 29 pressures on the year, but they also have six sacks. This could be the area they exploit as the teams vie for conference supremacy and a leg up in their divisional races.
Alabama vs Texas A&M
Justin Madubuike vs Alabama interior O-line
This matchup on paper appears to heavily favor the Crimson Tide, just like seemingly every matchup for Alabama this season. But if there's one area in which the Aggies have a distinct advantage, it's on the interior of the teams' respective lines. Alabama offensive linemen Landon Dickerson, Evan Neal and Chris Owens have been good, not great, so far this year, as Dickerson leads them all with a 69.6 overall grade. On the other side of the ball, Texas A&M's Justin Madubuike is the best player on the team and in the conversation for best player in the game whenever the defensive lineman sets foot on the gridiron.
Through five games, Madubuike has looked like a man possessed, recording 16 QB pressures on his 138 pass rushes despite multiple double teams, batting down two passes at the line of scrimmage and making eight of his 10 solo tackles as a defensive stop for the Aggies. He is winning over 15% of his pass-rush attempts this season and has made multiple plays on the opposing quarterback despite those aforementioned double-teams, chip blocks or quick passes schemed to avoid his pressure. As fast as the Alabama offense moves the ball downfield, Madubuike will have a large impact on the game if he can even slightly pressure Crimson Tide QB Tua Tagovailoa and force an errant throw or two.
Michigan State vs Wisconsin
Zack Baun vs Michigan State tackles
A defensive battle is likely, as the Badgers have perhaps the conference's best defense, along with Michigan State's most recent opponent, Ohio State. The college football world watched as the Buckeyes' defense wore down the Spartans; Wisconsin will hope to see similar success. Edge defender Zack Baun is well on his way to another pass rush triple-double, as he already has six sacks, six QB hits and 12 QB hurries on the year, all on just 131 pass rushes. He might be the Big Ten's best pass-rusher not named Chase Young, winning 25.4% of his pass rushes, recording a pressure on 19.7% of his snaps and having beaten his defender 12 additional times without pressure being recorded, all second only to Young.
Baun has been an equal-opportunity pass-rusher as well, recording 11 pressures (one sack) when rushing against opponents' right tackles and 13 pressures (five sacks) when facing off against opponents' left tackles. Odds are he goes up against Tyler Higby more often than not — and wins more often than not.
If Michigan State wants to compete with Wisconsin, the Spartans will have to get a big game from QB Brian Lewerke, who hasn't lit up the box scores but is currently maneuvering his way to his career-high PFF overall grade, as he has limited mistakes and turnover-worthy plays at the best clip of his Spartans tenure. Michigan State will need a good game from Lewerke but also a sharp performance from star WR Darrell Stewart Jr., who has struggled to bring in those routine catches this season. Stewart has 10 drops for the country's fifth-highest drop rate, meaning he has left, on average, 147 yards on the table.
USC vs Notre Dame
Tyler Vaughns, Michael Pittman Jr. vs Notre Dame CBs in off coverage
The USC wide receiving corps, mainly Michael Pittman Jr. and Tyler Vaughns, has been subjected to three different starting quarterbacks this year, yet it still has seen a ton of success. The results of the games ultimately haven't matched up with these individual accomplishments, but with Amon-Ra St. Brown also in the mix, these three pass-catchers been more than strong enough to contend for the nation's best wideout trio. Against off coverage (no press look from the opposing cornerbacks), Vaughns and Pittman have dominated. Pittman has caught 17 of 19 targets without an opposing cornerback pressed against him at the snap for 134 yards and two scores. Vaughns has hauled in 19 of 24 targets for 249 yards and 12 first-down receptions against off coverage. Those first-down catches rank tied for ninth among all FBS wide receivers, though Vaughns only has been lined up against off coverage on 84 snaps, just the 62nd most in the country. Vaughns has been a first-down machine against off coverage, and staying on schedule against the Notre Dame defense will be key.
On the opposite side of the ball, the Notre Dame cornerbacks have lined up in off coverage 165 times and have allowed all of 125 receiving yards and three first downs. While they have excelled, these CBs certainly will be tested if they allow a ton of space to arguably the best wideout group they'll have faced all season.
Penn State vs Iowa
KJ Hamler vs Iowa linebackers
Nittany Lions speedster KJ Hamler has taken college football by storm over the past few weeks and emerged as one of the conference's top playmaking wide receivers, if not one of the nation's best. Hamler feasts out of the slot, hauling in 18 receptions for 334 yards, including 124 yards after the catch with four touchdowns and eight first-down receptions. Iowa utilizes its linebackers and safeties a lot in coverage, as the only one of those players with a coverage grade higher than 70.5 when covering the slot is all-everything Geno Stone. He and the rest of the cast of characters in the slot certainly will have their toughest task to date in Hamler.
Hawkeyes linebackers Nick Niemann and Djimon Colbert have combined to allow a 68.4% completion rate, three first downs and five total missed tackles in slot coverage in 2019. Half of Hamler's 18 receptions in the slot have gone for at least 15 yards, and he is averaging 18.6 yards per reception, the nation's highest such average from inside. Advantage Hamler.