Surf the internet for any 2017 mock draft and you're likely to see Clemson quarterback Deshaun Watson slotted in at the top. We had him there back in May, and he is still the favorite to be the top name off the board come next April.
Last year at this time, we suggested Watson might be the best quarterback prospect in the nation, and while we loved how Cal's Jared Goff developed as a junior, Watson is right up there with him.
Watson has been compared to last year's NFL MVP Cam Newton — and it may be unfair to throw those expectations on him at this point. On the field, however, there are both positive and negative similarities between the two. Let's take a look:
Where Watson, Newton excel 
The first thing that stands out about Watson's games are the big-time throws he's capable of making. Whether it's dropping it in the bucket downfield or zipping it into a tight window up the seam, Watson has the arm and accuracy to create big plays through the passing game.
Deshaun Watson to Deon Cain, this throw is ridiculous pic.twitter.com/dlkadnqVGk

— Steve Palazzolo (@PFF_Steve) August 6, 2016
Watson showing touch in the middle of the field. Throws seam/post very well pic.twitter.com/VUM5ErtoOg

— Steve Palazzolo (@PFF_Steve) August 6, 2016
This is where the first comparison to Newton can be made. For all of the pinpoint downfield throws Watson makes, he also does a fine job of taking care of the ball. While playing in the ACC is certainly different from playing in the NFL, Watson and Newton had eerily similar seasons when it comes to "big-time throws" and also "turnover-worthy throws."
Not only do Watson and Newton pick up chunk plays at a similar rate, their accuracy is near-identical at a number of different levels of the field. Both players were slightly below the NFL average on passes at the intermediate level, but they make up for it with accurate downfield throws of 20-plus yards. Watson and Newton are extremely similar when it comes to their accuracy on vertical leads (think post routes) and over-the-shoulder throws.
The following chart consists of actual ball location, and only passes that are on the receivers frame or hitting him in stride are counted as "accurate." These numbers will differ from our traditional "adjusted completion percentage" which includes those passes which are off-target but catchable.

Watson had his season cut short as a true freshman and it took him some time to find his groove last year. But when he did, he was the best quarterback in the nation from Week 9 through the College Football Playoff. Watson's arm looked much better as the season progressed and by the South Carolina game, he was zipping passes into tight windows.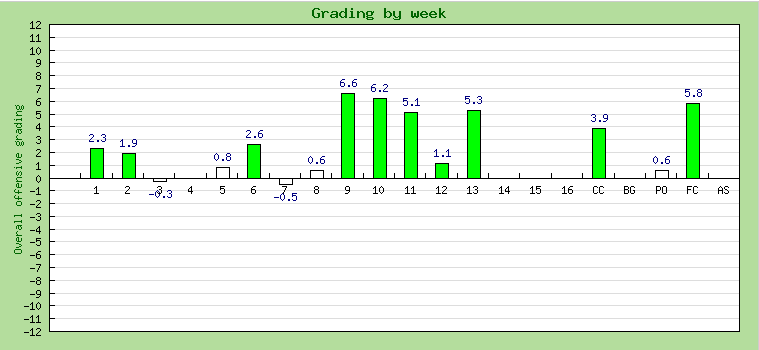 Watson with two lasers against South Carolina https://t.co/oQrWCplZ19

— Steve Palazzolo (@PFF_Steve) August 7, 2016
Room to improve
While Watson was a deserving Heisman candidate last season, he had his struggles under pressure. It's an area in which he looked good as a freshman, but it must improve in order for Watson to live up to his lofty draft hype.

Watson struggled under pressure last year, it's a big concern. Have to hit this throw against the blitz pic.twitter.com/vgsAmCO9v5

— Steve Palazzolo (@PFF_Steve) August 6, 2016
In addition to the issues under pressure, Watson will have bouts of wildness as a passer. This is where your next Newton comparison comes into play as Newton has had trouble with random inaccuracy throughout his career. In fact, last year, they posted the same exact "inaccuracy percentage," defined as off-target incompletions.

Final word
There's little denying Watson's talent, and that's without even tapping into his ability as a runner which is an added bonus that can be used both in the designed run game or when things break down in the passing game. However, for all of the highlight-reel plays Watson makes, there's still room for improvement against pressure while trying to cut back on the number of misses.
The Newton comparisons may put unnecessarily high expectations on Watson, especially given Newton's recent MVP season, but they have a number of similarities in how they mix in a high percentage of special throws that lead to chunk plays while displaying less-than-ideal accuracy on a number of other throws. Watson is the top quarterback heading into the 2016 season, and the exciting thing is that there's room to get even better.