We're already through the fifth week of the season and even with a bye that did nothing to change the leader atop of the race for the Heisman Trophy, we see a change in the top five. After the fifth week of action, we take another look at who's in line for the Heisman in our weekly Heisman Watch.

1. Joe Burrow, QB, LSU
From last week: no change
With Burrow off last week and a matchup with Utah State on the horizon, we look at what we said a week ago about the current leader:
"The leader in the clubhouse for the past three weeks did nothing to allow anyone to surpass him this week as he set LSU records in his victory over Vanderbilt. He targeted Ja'Marr Chase heavily and even vaulted Chase onto this list below but Burrow's day was outstanding. On throws targeted at least 10 yards downfield, he completed 12-of-17 passes for 275 yards and three of his scores while connecting on three big-time throws. Most importantly, he's limited himself to just three turnover-worthy passes all season long as he's taken care of the ball with near perfection."
2. Jalen Hurts, QB, Oklahoma
From last week: no change
Hurts was dealing on Saturday against Texas Tech before he got the majority of the second half off, unleashing three big-time throws in the big victory. He finished with 415 passing yards on just 17 completions, averaging a ridiculous 15.4 depth of target. He's gaining on Burrow with every game it seems and this is going to be a far more exciting race than we've seen in years past if this keeps up.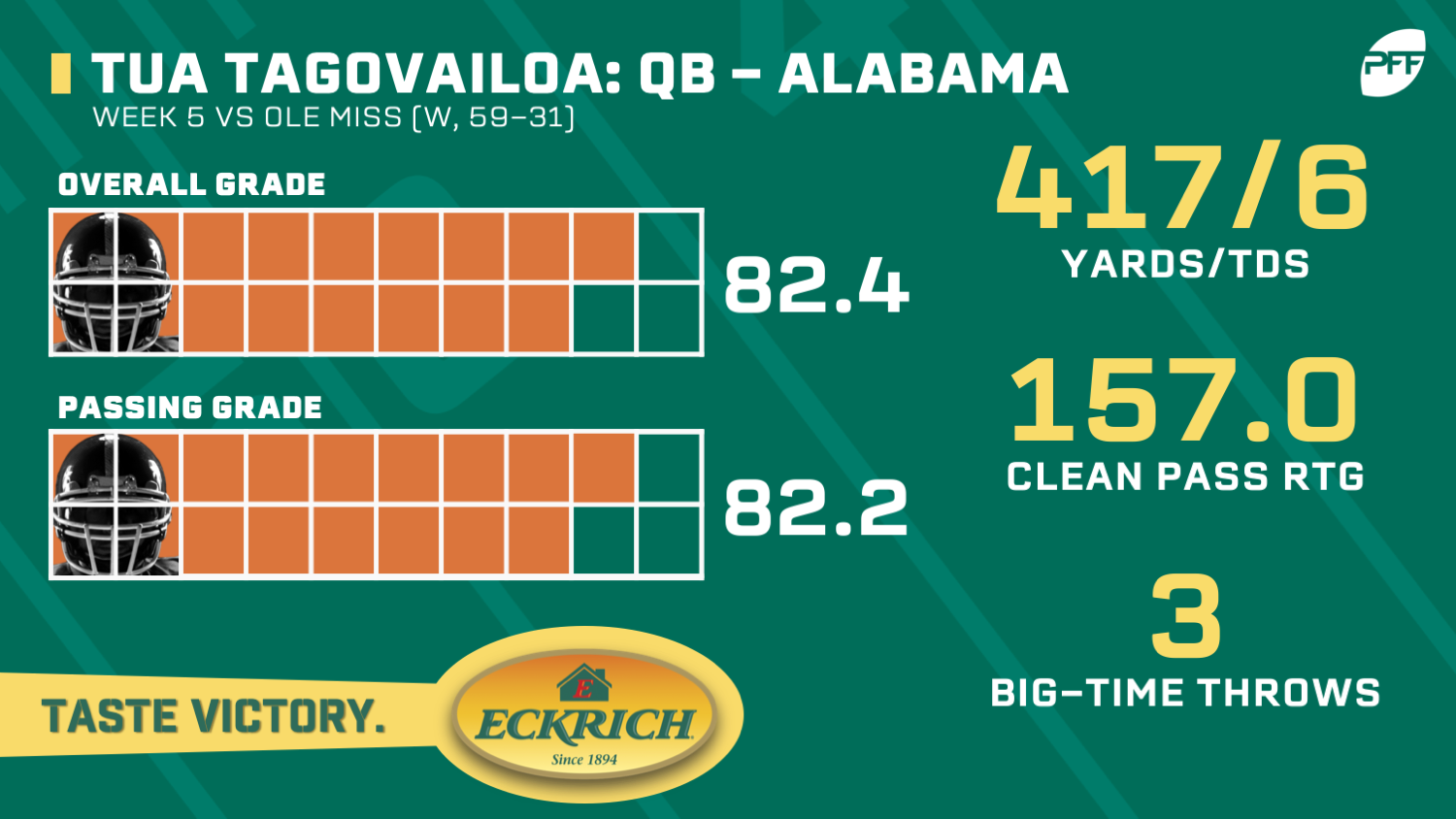 3. Tua Tagovailoa, QB, Alabama
From last week: no change
Tagovailoa throws six touchdowns and even added a score on the ground as he's doing all he can to gain on this list while helping Alabama cruise to victory. He's had a lot of help on the ground with his receivers turning easy passes into long gains with their after-the-catch ability but those are of no discredit to Tagovailoa. He's still averaging a healthy depth of target and finding plenty of big-time throws as he ranks first among the 31 FBS quarterbacks with at least 55% of their yards coming after the catch in big-time throw rate.
4. Chase Young, Edge, Ohio State
From last week: +3
Likely the only defensive player with a shot at the Heisman in any true capacity, Young is the first riser on this list after an absolutely dominant stretch of performances over the past two weeks. Young easily proved his worth against Nebraska, winning a ridiculous 45.5% of his pass-rush snaps as he now is not only the nation's highest-graded edge defender, he's the highest-graded player at any position as he's on record pace this year. If that pace continues, Young will continue to rise on these rankings and with a perfect 13-0 record at the end of the year, give him the nod over his own signal-caller who is also deserving of the award.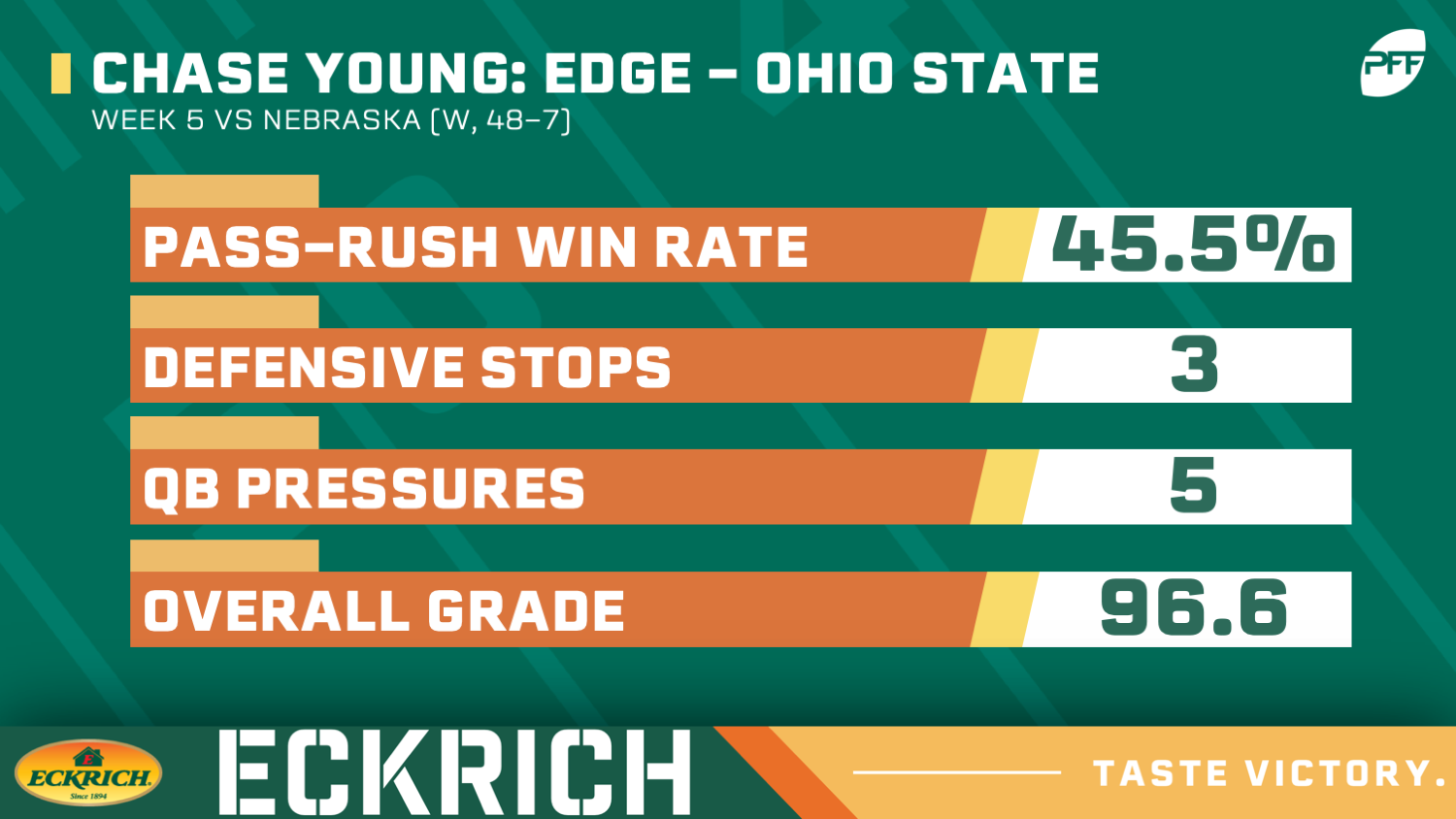 5. Justin Fields, QB, Ohio State
From last week: -1
Taking on Nebraska as potentially their first real test, the Buckeyes, led by Fields, dominated the Cornhuskers in a statement victory. Fields finished with a national-best four big-time throws in the victory as he's leading the country in total air yards through five weeks of action. The defenses may get stiffer starting with a Week 6 matchup against Michigan State but all signs point towards Fields continuing this ridiculous run through their conference slate.
6. Sam Ehlinger, QB, Texas
From last week: -1
With Texas off this past week, we take a look back at what we wrote a week ago:
"Ehlinger dealt on Saturday against Oklahoma State despite not having his No. 1 WR on the field in Collin Johnson. He is currently second in the country with 12 touchdowns on passes targeted at least 10 yards downfield as he had four touchdowns on such throws this past weekend against the Cowboys. He's a big-time throw machine at this point and all signs point to the shootout between him and Hurts as the de facto Big 12 Champion decider coming up."
7. Jonathan Taylor, RB, Wisconsin
From last week: -1
Taylor ran for at least 100 yards for the fourth straight time to open the year and ninth straight time overall. When the offense needed him, he churned out their biggest score with a shifty run over right tackle as Taylor is as talented a running back across the country that there is. He's the highest-graded runner with at least 75 carries this year and he's secured 33 rushing conversions, 333 yards after contact and 23 missed tackles forced as his consistency is certainly one of his strongest assests for the Badgers.
8. Chuba Hubbard, RB, Oklahoma State
From last week: +3
No running back is grading higher as Hubbard's 87.6 rushing grade tops all FBS RBs with at least 65 carries. He's gained a whopping 938 rushing yards, 284 more yards than the next-closest back as he's gaining a massive 7.3 yards per carry despite leading the country in attempts. He's scored 10 touchdowns and another 29 first-down runs while leading the nation with his 479 yards coming after contact. He's on pace to potentially break the national rushing record and if that pace continues, he's certainly likely to pass Taylor on this list and make some noise in December.
9. Jamie Newman, QB, Wake Forest
From last week: no change
The Wake Forest Demon Deacons survived a scare from Boston College in a porential 'trap game' in Chestnut Hill and they should be favored to win the majority if not all of their games aside from their November 16 matchup against Clemson to finish the year. Newman remains one of the nation's highest-graded passers to every level of the field as he's 17th in the country with eight big-time throws to his name while limiting himself to just two turnover-worthy passes, tied for seventh-fewest.
10. Jake Fromm, QB, Georgia
From last week: -2
With Fromm off last week, we take a look back at what we wrote a week ago:
"Finally, a big game where he was needed to step up, Fromm did just that against Notre Dame. He is currently the nation's fourth highest-graded quarterback by passing grade as he holds a 79.5% completion percentage and has taken care of the ball throughout the season. He hasn't been tested much and that's a credit to not only the strength of opponent but also his offensive line as he's been kept clean from pressure on 75.3% of his dropbacks this year. Unfortunately for opponents, when he is kept clean from pressure, he's completing passes at a high rate and has the 11th-highest passer rating from a clean pocket."