If you were to look at the statistical leaders at the quarterback position through six weeks of the 2019 college football season, you wouldn't be shocked to see Oklahoma's Jalen Hurts (No. 1 in yards per attempt and second in QB rushing yards), LSU's Joe Burrow (No. 1 in completion percentage and second in passing yards), Ohio State's Justin Fields (No. 1 in total touchdowns), or Alabama's Tua Tagovailoa (No. 1 in passing touchdowns). And while all these players have impressed in their own individual way, none of them currently hold the distinction of being college football's highest-graded quarterback. That title, in fact, belongs to a signal-caller whose traditional statistics might not wow you or put him in the Heisman discussion. Through six weeks of the season, the highest-graded quarterback in college football is none other than Georgia's Jake Fromm.

After a true freshman campaign in 2017 in which he helped lead the Bulldogs to the brink of a national championship, Fromm was slightly better from a grading (82.8 overall in 2018 and 82.1 in 2017) and traditional statistical perspective as a sophomore. He especially picked up his play from Week 9 through the end of the season, once the Bulldogs stopped rotating in freshman and current Ohio State Buckeye, Justin Fields. From that Week 9 Florida game through the end of the season, Fromm's 87.5 passing grade was fourth in the nation, but on the season as a whole, there were some areas in which he struggled. He posted a passing grade of just 61.1 on late downs (third and fourth down) that year, which ranked 100th among qualifying college quarterbacks, while his play on standard dropbacks (no play-action) and his play under pressure ranked 35th and 88th, respectively. 
Due to the up-and-down nature of his play in 2018, we had Fromm rated as the 39th draft-eligible prospect on our big board entering the 2019 season. His evaluation came with a second- to third-round projection and the following bottom-line statement:
"Fromm gets protected so much in Georgia's offense that it's difficult to be too high on him at the moment. There's a lot of solid tape — especially for only a true sophomore — but we still haven't seen special." — @PFF_Mike
But now, almost halfway through the 2019 regular season, that narrative is changing. Through six weeks, Fromm is PFF's highest-graded quarterback and at or near the top in numerous metrics, such as adjusted completion percentage, accurate-throw percentage, "accuracy plus" percentage and passing grade.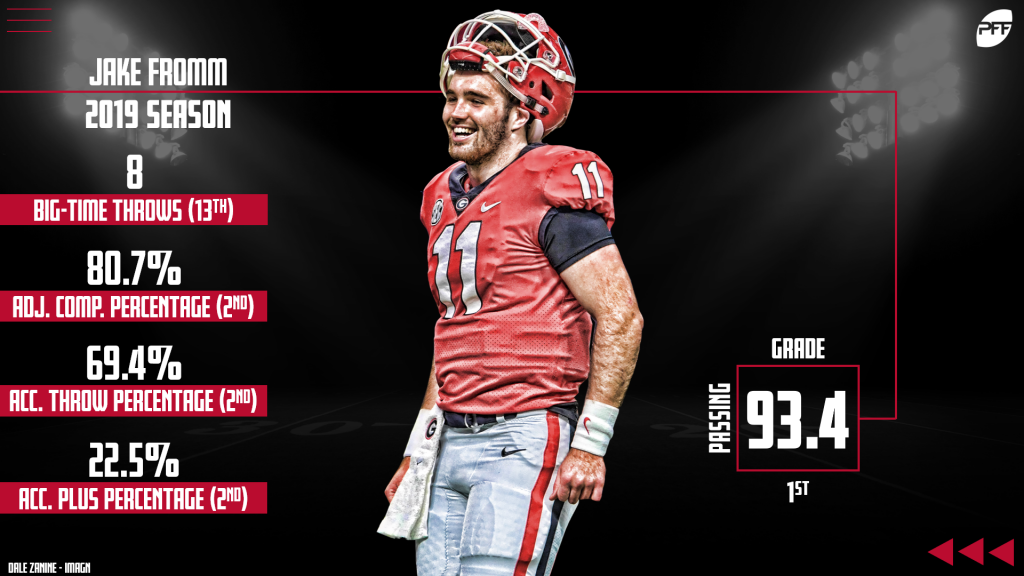 "Accuracy plus" is the highest attainable level of accuracy in our QB charting process. The quarterback earns this distinction by putting the ball away from the defender while hitting the receiver perfectly in stride.
Below are two examples of Fromm delivering an "accurate plus" throw this season.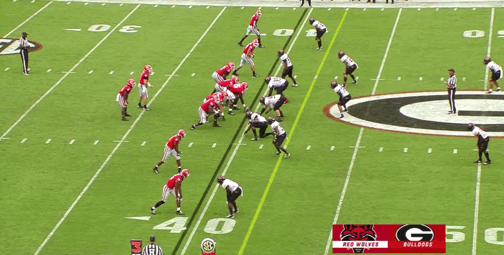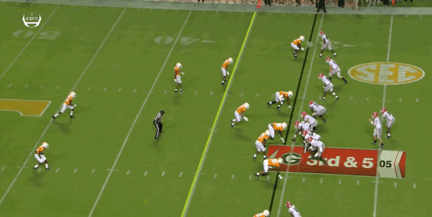 In addition to the above, 2019 has seen a more confident and productive version of Jake Fromm, particularly in the areas in which he struggled last year. His late-down work — which earned just a 61.1 passing grade in 2018 — has received an elite 91.4 grade through six weeks of 2019, second in the nation among qualifying signal-callers. His grade on non-play-action dropbacks (93.3) and his grade under pressure (89.6) rank first and second, respectively. 
The above throw against Tennessee, a pass to Demetris Robertson, is a prime example of Fromm's overall development. His improvement, especially in non-play-action — where he is now 72-of-96 for 898 yards, seven touchdowns and a 127.9 passer rating — hasn't gone unnoticed. When asked about Fromm's performance thus far, PFF's Mike Renner said:
"I've been very impressed. Fromm came into this season as one of the most protected quarterbacks in America with the run/play-action-heavy Georgia offense. We needed to see him have more success in obvious passing situations and his third-down play this season has been a massive step forward from years past."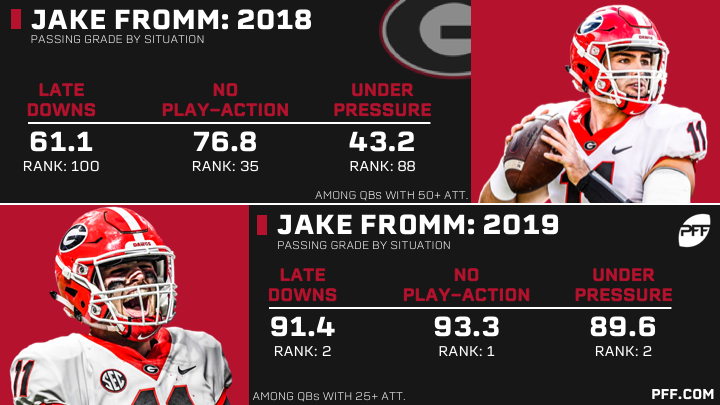 Fromm & the offense moving forward
As Fromm and the entire Georgia team head into the teeth of their SEC schedule with looming games against Florida and Auburn, the question remains whether head coach Kirby Smart and offensive coordinator James Coley will make Fromm the focal point of their offense, just as Hurts, Burrow and Fields are for their respective teams. History says they won't until they have to — and somewhat understandably so. Georgia's running game and offensive lines over the past three seasons have been one of the best in the game.
Below are a few 2019 numbers that show the focus they place, and success they have, in the running game:
56% run-play percentage — fourth-highest among Power 5 offenses

60.3% early-down run-play percentage  — sixth-highest among Power 5 offenses

88.2 run-blocking grade — best among Power 5 offenses

7.1 yards per carry on early downs — second-best among Power 5 offenses
Georgia is also committed to the running game in one of the least efficient situations to be — second down and long. Their run-play percentage on second-and-seven or more yards to go (51.4%) is the fifth-highest in college football. Given Fromm's efficiency, as well as his ability to avoid turnover-worthy plays, one might expect this number to look different. Further, he has only been pressured on 19.3% of his dropbacks so far this year, the fourth-lowest percentage in the nation, and he's been sacked just once.
As the Bulldogs move forward through the SEC schedule and the high-end defensive lines they'll see, they are surely going to have to put a game, or two, in Jake Fromm's hands. Given his past experience, his confidence in knowing he's the guy and his fantastic start to 2019, Jake Fromm is showing he'll be more than capable of carrying the load once Georgia needs him to.