Every weekday in "Daily Focus," Pro Football Focus looks at the top college football storylines and explains what they mean from a PFF perspective.
Where Ole Miss' Chad Kelly really ranks among college football's best QBs: The Rebels quarterback lived up to his "Swag Kelly" nickname at SEC Media Days Thursday, responding to a question about whether he was the best QB in the SEC by stating that he believes he is the best QB in the entire country.
While we do have Kelly ranked as the SEC's top returning signal-caller, he came up just a little short of the top spot overall among quarterbacks in our recent College Football 101 player ranking. Kelly ranked as the fifth-best quarterback, as shown in the list below:
1.) Deshaun Watson, Clemson
2.) Baker Mayfield, Oklahoma
3.) Mason Rudolph, Oklahoma State
4.) Greg Ward Jr., Houston
5.) Chad Kelly, Ole Miss
Being ranked the fifth-best quarterback in the country is still a tremendous accomplishment, but where does Kelly need to improve in order to overtake the players ahead of him on that list and become the nation's best QB? Truthfully, not much. Kelly checks most of the boxes from a production standpoint, ranking second behind only Rudolph in deep adjusted completion rate at 53 percent (among returning QBs), ranking 11th in rushing grade and performing pretty well when facing pressure (his passer rating dropped just 13 points under pressure as compared to his performance from a clean pocket, while the national average drop is 35 points).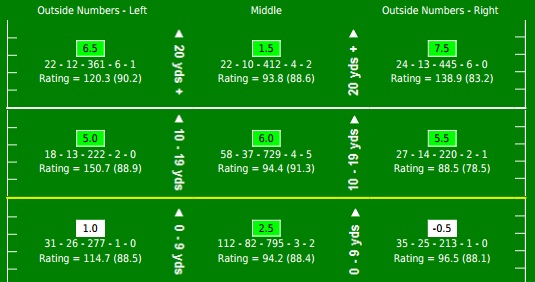 If anything, Kelly could afford to be more precise on shorter throws, and he did pad his numbers a little bit in early-season games against softer opponents Tennessee-Martin and Fresno State. But if he can avoid any rough outings like he had last year in Week 8 versus Texas A&M, he should challenge for the title of college football's best quarterback.
Should Stanford really be considered the Pac-12 favorite? Pac-12 media days kicked off on Thursday, and the projected standings from the media members' voting were as follows:
NORTH
1. Stanford (24 first-place votes)
2. Washington (8)
3. Oregon (1)
4. Washington State
5. California
6. Oregon State
SOUTH
1. UCLA (19)
2. USC (12)
3. Utah (2)
4. Arizona
5. Arizona State
6. Colorado
That makes Stanford the media's pick for conference champion, for the first time in the history of the Pac-12.
But are the Cardinal really the best team in the league? The presence of running back Christian McCaffrey, PFF's No. 1 ranked player in the country entering the season, certainly helps, and they have a pair of productive front-seven players in Solomon Thomas and Peter Kalambayi. But given the amount of production they have to replace on the offensive line and at quarterback, there is a case to be made that Washington, UCLA and even USC are returning stronger rosters this year.
The Huskies have young stars at quarterback (Jake Browning) and running back (Myles Gaskin) and perhaps the best returning defense in the conference, with proven playmakers at all three levels. The Bruins have one of the nation's best D-lines in the country and an emerging star QB of their own in Josh Rosen. The Trojans have arguably the best offensive supporting cast in the league, led by WR JuJu Smith-Schuster and right tackle Zach Banner.
Stanford is certainly capable of again winning the league, but given their very difficult schedule (check out this five-week stretch from Sept. 17 to Oct. 15: USC, at UCLA, at Washington, Washington State, at Notre Dame), the Cardinal are far from a runaway favorite.
Who are the top running backs entering 2016? The preseason watch list for the Doak Walker Award, given each year to college football's best running back, is out. You can find the full list here.
It's tough narrowing down the running back race this year, as there is as much returning talent at the position as there is at any in the country. Here are our top 10 running backs, from the College Football 101, all of whom made it onto the watch list:
1.) Christian McCaffrey, Stanford
2.) Leonard Fournette, LSU
3.) Dalvin Cook, Florida State
4.) Nick Chubb, Georgia
5.) Royce Freeman, Oregon
6.) Saquon Barkley, Penn State
7.) Myles Gaskin, Washington
8.) Samaje Perine, Oklahoma
9.) Jalen Hurd, Tennessee
10.) James Conner, Pittsburgh
Looking for a sleeper outside that group? We'll give you two (both of whom are on the watch list, as well): 1.) North Carolina's Elijah Hood, who anchors a talented Tar Heels team and led all Power-5 running backs last season with a whopping 4.1 yards AFTER contact per rush; 2.) Tennessee's Alvin Kamara, who splits time with Hurd in the Vols' backfield but actually was more productive on a per-touch bases and offers a lot as a receiver, breaking a combined 41 tackles last season to rank second among Power-5 RBs in PFF's elusive rating. Both have the potential to rank among college football's best players this year.