There was a brief moment during the 2015 season in which Ole Miss quarterback Chad Kelly looked like he was ready to make a strong case for himself as a Heisman Trophy candidate after a huge game against Fresno State, followed by beating an Alabama team that would go on to win the College Football Playoff.
Ironically, the pass that garnered a lot of attention as a "Heisman Moment" wasn't actually a particularly good throw, and in the weeks that followed the Alabama game opinion of Kelly's play — as well as his PFF grades — slipped. He rebounded in the second half of the season though, and comes into the 2016 season as the fifth-highest-graded returning quarterback in the nation.
The Alabama moment
Coming off a huge game against Fresno State, Kelly and the Ole Miss Rebels headed to Alabama to take on the Crimson Tide, with the knowledge that it was the type of game that had the ability to set them up for a big season and put Kelly among the favorites for the Heisman Trophy. Up 17-10 on 3rd-and-1 with 13:08 remaining in the third quarter, Kelly first had to deal with a bad snap that floated above his head. He rescued the ball, but as he went to release it, was met with a thundering hit. Now at this moment, Kelly has very little control over what happens next. The hit had rendered any attempted accuracy fairly useless, and the ball was now heading into a crowd of players. It was tipped, twice, before falling into the arms of Quincy Adeboyejo, who proceeded to race the rest of the way for a 65-yard touchdown. It was luck.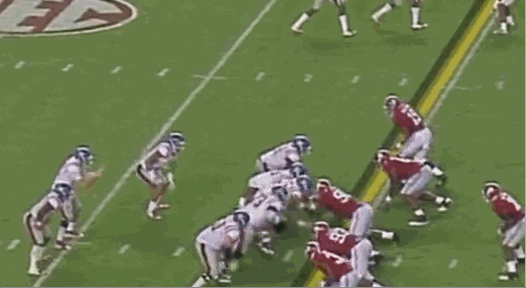 When that ball left Kelly's hands, thanks to the big hit, it could have gone anywhere, even back the other way for a touchdown. It didn't though, and thus an early season Heisman Moment was born.
As big a game as that was though, Kelly graded averagely in it. In fact, it wound up being his fourth-lowest-graded game overall, and was the start of a four-game streak in which he failed to grade positively as a passer. In the games against Alabama, Vanderbilt, Florida and New Mexico State he struggled, and with it the chances of him winning the Heisman Trophy and Ole Miss making the College Football Playoff proceeded to crumble.
Finishing the season strong
After those four tough games, you'd be forgiven for thinking Kelly was about to crumble and struggle his way through the rest of the season. He didn't, and instead graded positively in six of the next seven games, including seeing his second, third, and fourth highest graded games in that span. He was back to the level we saw from him in the first two games of the year, and suddenly we were looking at one of the best quarterbacks in college football again.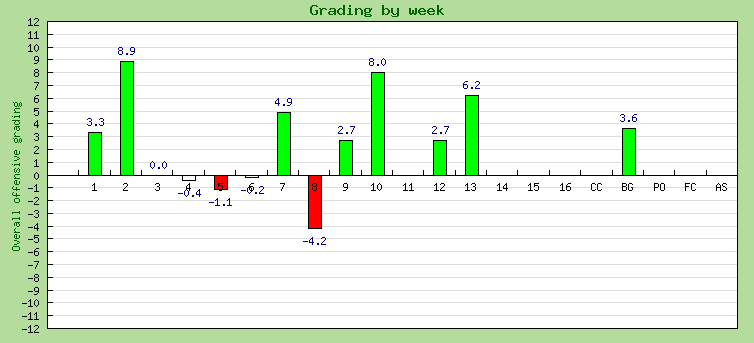 Over the course of the year, where Kelly really excelled was throwing the ball downfield. Here he completed 35 of the 68 passes he attempted travelling 20 yards or more downfield, for 16 touchdowns and just three interceptions. His 16 deep touchdowns trailed only Bowling Green's Matt Johnson (20) and Clemson's Deshaun Watson (18), as Kelly showed off his arm creating big plays time and time again.
Departed playmakers
This year, Kelly is going to have to adapt to the loss of wide receivers Laquon Treadwell and Cody Core. Treadwell was a tackle-breaking machine for the Rebels last year, forcing 17 missed tackles on 82 receptions, helping him average 14.0 yards per catch. Core meanwhile was a big-play specialist, averaging 17.2 yards per catch and catching all eight of the passes thrown his way traveling 20 yards or more downfield.
There are still talented players on the roster, with Damore'ea Stringfellow, Quincy Adeboyejo and Markell Pack all grading well last year. Stringfellow caught just 36 passes, but averaged 14.0 yards per catch and scored five touchdowns. He also forced six missed tackles so the expectation to replace Treadwell will fall on his shoulders. He needs to improve and show he's capable in a much bigger role in the offense, but he certainly has the talent to be Kelly's top receiver.
Ultimately, it's up to Kelly to prove that he's the same quarterback that finished the 2015 on a strong note, rather than the one that stuttered and stalled after a fast start to the season. It's highly unlikely that he'll get away with a throw like the one against Alabama again, but thankfully he has the arm to beat any team in the SEC downfield. Make no mistake about it — if Kelly plays like he did at the end of the 2015 season, Ole Miss can make the College Football Playoff, and Kelly claim the Heisman Trophy for himself.