This is one of the most interesting second-round matchups not only because it pits the top two CBs in college football against each other, but both play for conference rivals set to face off against each other this year.
Iowa's Desmond King won his first-round matchup against Florida's Jalen Tabor, and garnered 56 percent of the fan vote. Michigan's Jourdan Lewis defeated Marlon Humphrey in the first round, and trounced his counterpart from Alabama with 62 percent of the fan vote. Which Big Ten standout will advance?
The case for Jourdan Lewis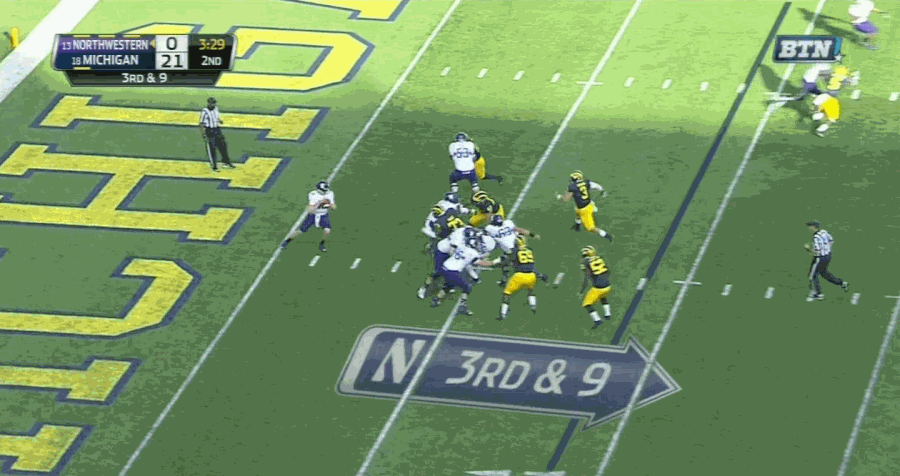 And there's plenty more where that came from. Lewis led FBS with 15 passes defended last year, and added an interception against Maryland to the gem pictured above.
Over a three-week period in the middle of the season against Northwestern, Michigan State and Minnesota he gave up 16 catches, but was targeted a whopping 32 times (17 against Michigan State) and yielded a combined QB rating against of just 54.6 while breaking up four passes in addition to the pick six above. In the remaining 10 games he never gave up more than three receptions in a game, giving up a total of just 17 on 58 targets.
Year-to-year play at the CB position is often quite volatile, but considering the huge volume of targets Lewis saw last year, any potentially perceived drop-off in 2016 production will likely only be due to opposing QBs wising-up to his supremacy and not testing him as much. Add in the collective impressiveness of the entire Michigan defense, and it's easy to expect Lewis to be just as dominant this coming season.
The case for Desmond King
While Lewis was our highest-graded CB in 2015, King wasn't far off in third (Jaguars' first round pick Jalen Ramsey was sandwiched between the duo) and was tied for second in FBS with eight interceptions. He was also 10th in total tackles at the CB position and yet missed only two tackles, leading to his second-place finish in tackling efficiency.
Listed at 5-feet-11 and 200 lbs. he has a significant size advantage over the diminutive Lewis (who was generously listed at 5-feet-10 and 175 lbs.), which is a reasonable explanation as to why Lewis was targeted 12 more times in 2015. Considering King slightly less volume his way, it makes his 20-combined interceptions and pass defenses all-the-more impressive.
King saved his best effort for the biggest game of Iowa's season last year, as he yielded just one catch on three targets and had a whopping four stops (solo tackles that constitute an offensive failure, generally for gains of less than three yards) against Michigan State in the Big Ten championship game.

The Verdict: Jourdan Lewis advances
Lewis' consistency was much stronger throughout the season in 2015, in particular in conference play. Against Big Ten opponents, King gave up QB ratings against of greater than 80.0 in four of nine games, highlighted by his game against Illinois where he yield three receptions for 82 yards and a touchdown with a QB rating against of 126.2.
Lewis' "worst" conference performance in terms of QB rating was against Ohio State, when he gave up two catches for 50 yards (he did defend one pass) for a QB rating of 77.1. His non-conference play (including Michigan's bowl game against Florida) was another level of dominance altogether, as in five games he yielded just seven catches on 23 targets for an average of just 18 yards per game and six pass defenses.
King may be the more complete NFL prospect due to his size, but was Lewis was simply the best CB in college football last year, and worthy of being included among the top eight overall players in college football as we head into the 2016 season.
Here's what you're saying on Twitter…
.@TheIowaHawkeyes' Desmond King and @umichfootball's Jourdan Lewis meet in Round 2 of the CFB Player Bracket.

Vote:

— PFF College (@PFF_College) June 16, 2016