There are five clear-cut favorites for the 2021-22 College Football Playoff: Alabama, Clemson, Ohio State, Georgia and Oklahoma. The odds for these five contenders to win it all range from +250 to +750, according to DraftKings Sportsbook, with Iowa State drawing extreme longshot odds at +3,000 as the next team in line.
There is no question that the top five teams are stacked full of talent, but every single one has a glaring deficiency that could knock them out of contention at some point in the year. So, with the dawn of the new college football season inching ever closer, let's look at each contender's biggest question mark and evaluate the level of concern for each one.
The question mark: Bryce Young's ability to sustain the success at the QB position
With Mac Jones now a part of the NFL ranks and battling for the New England Patriots' starting quarterback job, it's now Bryce Young's turn to lead the Crimson Tide. And the 2020 five-star recruit will need to play at an extraordinarily high level if he wants to keep the Alabama offense ticking at the kind of level fans have come to expect.
It's no secret that last season's Bama team was truly special. Jones orchestrated an offense that produced the highest successful pass play rate in the PFF College era, ultimately earning a PFF grade of 95.8, the highest single-season grade ever given to a quarterback at the college level.
It's always hard for a program to lose a leader like Jones, but making matters worse is the fact that Alabama will also enter the 2021 campaign without 2020 Heisman winner DeVonta Smith and offensive playcaller Steve Sarkisian, two key weapons in the Crimson Tide arsenal. Now, it's on Young, wide receiver John Metchie III and new offensive coordinator Bill O'Brien to step up and keep this offense from a steep drop-off.
Level of concern:
The college football world should be much more concerned with this season's version of the Alabama Crimson Tide. Yes, they have the clear-cut best roster in the country outside of quarterback, but they have uncertainty at the game's most important position. Young only has garbage-time experience on his resume, and his performance in mop-up duty as a true freshman featured seven sacks and three turnover-worthy plays on 31 dropbacks.
He has the tools to be a special player, but very few underclassmen in the PFF College era have produced at the kind of level Jones did in 2020. Very few programs would be able to knock Alabama off its perch if Young even gets even remotely close to playing at the same level, but the problem is that it is a much more difficult task than most think.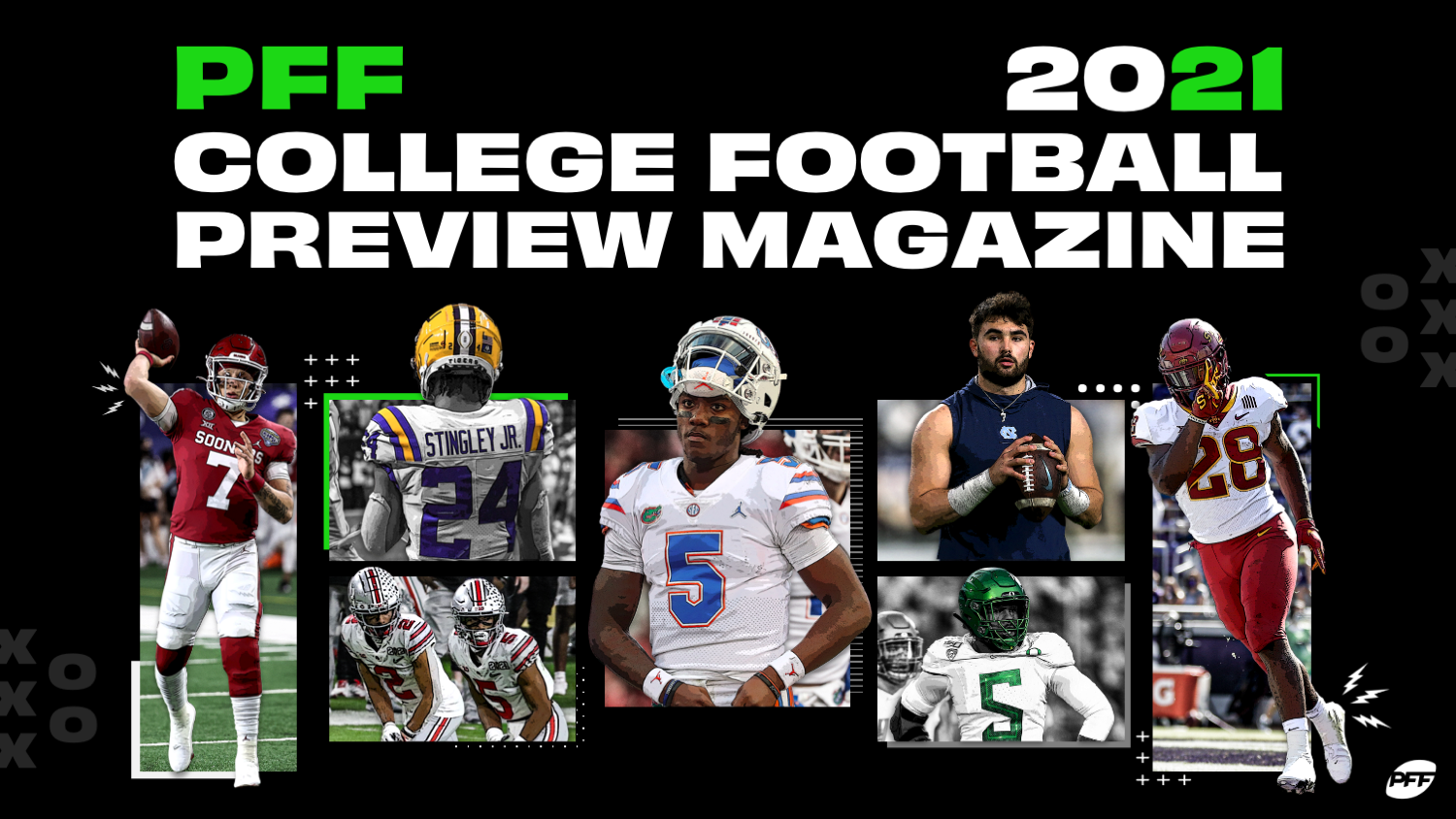 The question mark: The rushing attack without Travis Etienne
Last season, Clemson fans got a brief taste of what life would be like without Trevor Lawrence. And they quickly realized that they might have another star on their hands with D.J. Uiagalelei, the 2020 five-star recruit who came in against Boston College and Notre Dame, showcased an absurdly strong arm and earned an 83.6 passing grade on the back of five big-time throws and zero turnover-worthy plays.
There are still some questions about whether Uiagalelei can consistently produce at a Trevor Lawrence-esque level every week, but that's not the biggest concern with this team. Instead, the question mark around this team hovers over the backfield and how it fares without the home-run threat Travis Etienne.
Contrary to their NFL counterparts, college football running backs can actually be a valuable component of an offense. And valuable is an understatement when it comes to describing Etienne's production in college. The 5-foot-10, 215-pound back generated 1.62 wins above average (WAA) from 2018 to 2020, the second-highest mark by a non-quarterback on offense in the FBS. Etienne was also the leader of the running back room that gave Clemson the most efficient ground game in the Power Five:
Most efficient rushing offense in the Power Five since 2018 (RB carries only)
| | |
| --- | --- |
| Team | EPA per rush |
| 1. Clemson Tigers | 0.21 |
| 2. Washington State Cougars | 0.17 |
| 3. Alabama Crimson Tide | 0.13 |
| 4. Ohio State Buckeyes | 0.12 |
| 5. Oklahoma Sooners | 0.11 |
Level of concern:
The loss of Etienne won't be as noticeable as long as Uiagalelei can consistently produce at the level he did in his two spot starts. But if Uiagalelei isn't that guy on a weekly basis, then this could be more of an issue.
Senior Lyn-J Dixon will likely lead the Tigers backfield this fall, and for good reason, as he has averaged 4.23 yards after contact per attempt and ripped off 47 runs of 10-plus yards on 208 career carries. But while the Tigers backfield still has plenty of talented players ready to step up, it still might not be as successful as the one Etienne led so well.
The question mark: C.J. Stroud stepping in to replace Justin Fields and the state of the coverage unit
Fields enjoyed a huge amount of success as the Buckeyes starting quarterback, cementing his standing as college football's most valuable player in 2019 and 2020 and leading his offense to a second-place finish in passing efficiency over that same span.
But with Fields now vying for the Chicago Bears starting gig, C.J. Stroud will now have to take over the Ohio State offense and try to replace one of the best college quarterbacks PFF has ever seen.
If Stroud cannot replicate the kind of play the program got from Fields, which seems likely in 2021, it'll be very important for the secondary to get back to its "Best in America" standard — a standard that this program fell short of in 2020.
Last year's group produced the lowest coverage grade by an Ohio State coverage unit since PFF College's inception in 2014, and the only thing that kept this defense from being a complete liability was the ferocious pass rush up front.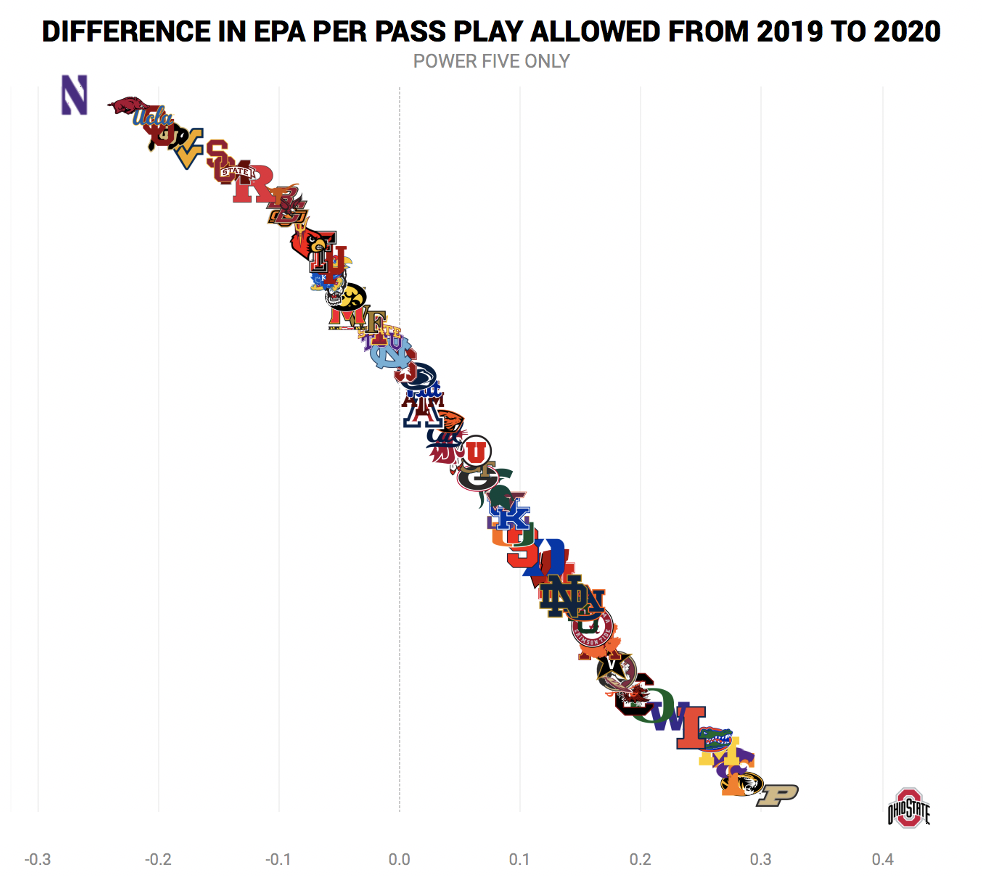 Level of concern:
Stroud will need to be closer to Justin Fields than Dwayne Haskins if the program's pass defense continues down the path it took last year. The good news is that he has the traits and the right situation to be that guy. The 2020 top-50 recruit and No. 2-ranked pro-style quarterback in the class has a big arm and can be a threat on the ground, but it would be a tough enough task for any quarterback to step into Justin Fields' massive shoes, let alone one yet to take a dropback at the collegiate level.
As for the pass defense, this pass-rush unit is set up to be one of the best in FBS, as they return Haskell Garrett, Tyreke Smith and Zach Harrison, who all earned 85.0-plus pass-rush grades in 2020. However, the secondary is still on shaky ground.
Outside corner Sevyn Banks is the major X-factor of the group. He flashed the ability to be something special in a backup role in 2019 but failed to live up to expectations in his first year in a starting job in 2020, giving up more than 65 yards in four of his eight starts and finishing with a 55.0 coverage grade.
If Stroud cannot come close to Fields-level and Banks and Co. still aren't up to the B.I.A. standards, this team could falter at some point in the season and slip out of the CFP race.
The question mark: Quarterback J.T. Daniels
Taking quarterback out of the equation, Georgia's roster has the potential to contend with Alabama's for the best in the country. The Bulldogs have physically gifted players at every position group who are just scratching the surface of what they can become. Quarterback is a different story. Former five-star recruit JT Daniels is at the helm with a wealth of experience, but he's yet to produce at a quality level on a consistent basis.
Level of concern:
Daniels began his career at USC in 2018, starting as a true freshman, but struggled mightily. His 59.9 passing grade ranked outside the top 100 among FBS quarterbacks. Daniels looked like the same player in the 2019 opener before tearing his ACL and transferring to Georgia. While he didn't see the field until Week 12 of 2020 due to both the rehab process and other players being ahead of him on the depth chart, he looked markedly better. Daniels earned a 95.0 PFF grade and made six big-time throws against Mississippi State that night, although he recorded just a 68.5 passing grade in his other three outings.
That trio of contests and his 2018 performance are cause for concern. While it was his true freshman year, when struggles should be expected, few quarterbacks have rebounded significantly from such lows. Just take a look at quarterbacks to produce sub-60.0 passing grades in their first year of starting and their eventual career-high marks in the PFF College era: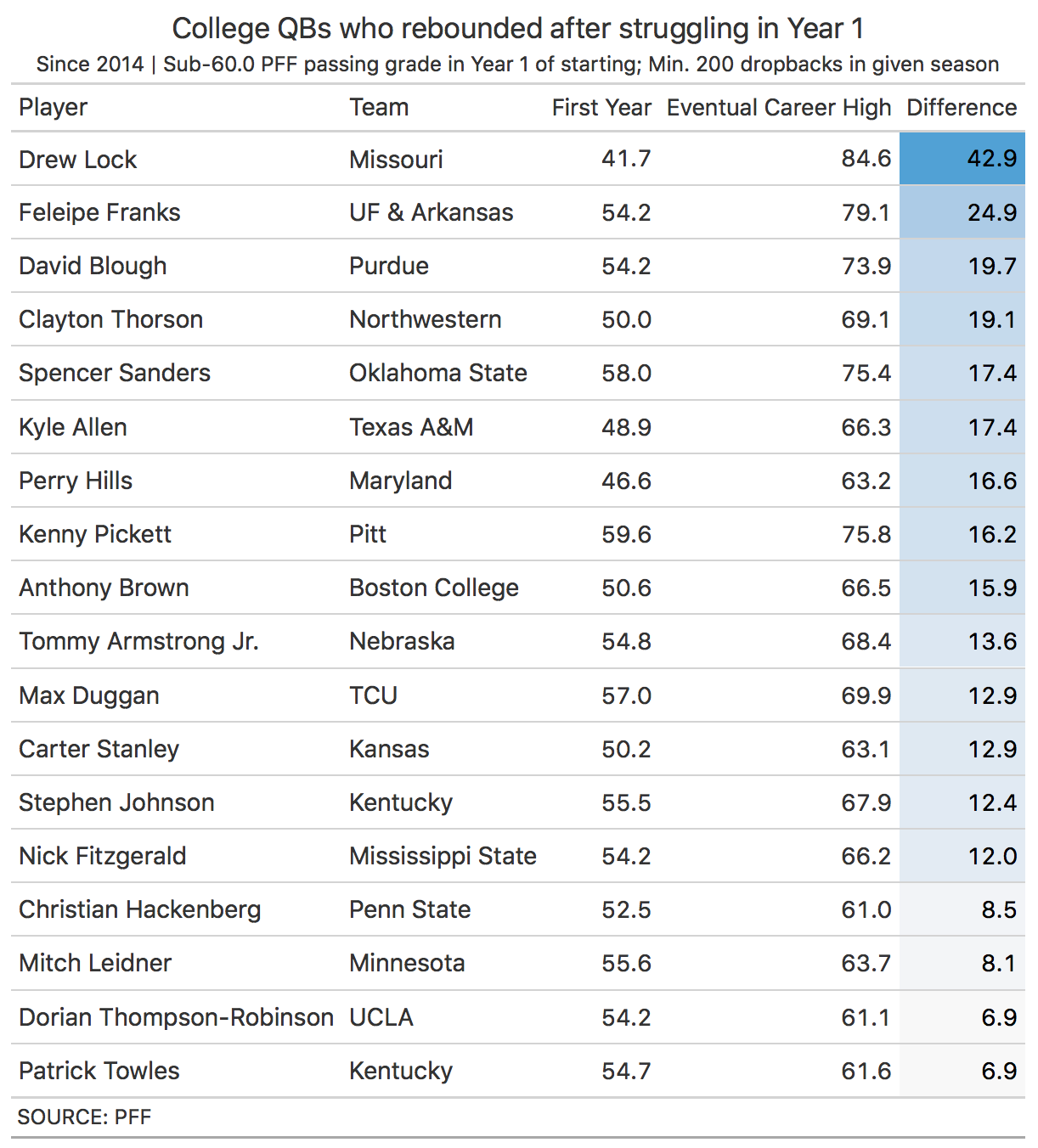 Daniels certainly has the arm to hit go–balls along the sideline and takes his downfield shots, but temper any hype of him leading Georgia to a national championship. His four turnover-worthy plays and sub-50.0 grade in the Peach Bowl against Cincinnati — the only "great" defense he faced in four games last season — back that up.
The question mark: The Secondary
Oklahoma fielded a strong secondary in 2020, paving the way for the Sooners to rank 17th of the 65 Power Five programs in unit coverage grade. But three of their five highest-graded defensive backs from that group have departed — safety Tre Norwood, cornerback Tre Brown and slot corner Brendan Radley-Hiles — and the secondary is now riding on unproven talent. There is certainly potential, especially in cornerback D.J. Graham, who earned a 72.8 coverage grade as a true freshman in 2020, but the group has a wide range of outcomes.
Level of concern:
Given Oklahoma's roster construction outside of the secondary, this should be viewed with low levels of concern relative to the other four teams discussed here. The Sooners' offense is the best in college football entering the 2021 season thanks to the return of quarterback Spencer Rattler, a slew of pass-catching weapons, including wide receiver Marvin Mims and tight end Austin Stogner, and an offensive savant in head coach Lincoln Riley.
Oklahoma also boasts a pass rush that is on par with Ohio State's for the best in college football. A strong pass rush in the Power Five means more than in other levels of football, so if the secondary is nothing but average in 2021, this team can still easily take home its first College Football Playoff title.