As colleague Mike Renner described in his game recap of Alabama's victory over USC, the Tide's defense was "simply too big, too fast and too strong." Led by some of the biggest defensive names on the college football field this season, it only took Alabama one game to prove something we all expected — the Crimson Tide's defense will be one of the most dominant forces in the game this year.
Let's take a closer look:
Pass rush from the front four
If you have the personnel, you don't have to blitz to create pressure. Alabama is not a blitz-heavy team – they sent the extra rusher only 19.5 percent of the time last year, well below the NCAA average of 28.5 percent – and it's because they're loaded with the best group of pass-rushers in the Nick Saban era. Early in Saban's tenure, he preferred his edge defenders to be heavier, run-first players – think Courtney Upshaw, Adrian Hubbard, Xzavier Dickson, and Denzel Devall – all who were much better at playing with power in the running game than they were getting after the quarterback. However, there's been a move toward more explosive pass-rushers in recent years, and it's paying off for the Crimson Tide.
It all starts with OLB Tim Williams off the edge, the prototype for the new Alabama edge rusher. Listed at "only" 242 players, Williams is more burst than power when it comes to getting after the quarterback, though he certainly knows how to turn that burst into a strong bullrush or inside move. We've touted Williams' ability to rush the passer for a few years now and he continued on Saturday night with two QB hits, and three hurries on only 17 rushes (29.4 percent of rushes), keeping right in line with his career average of pressuring the quarterback on an absurd 30.5 percent of pass rushes (NCAA average is closer to 10.0 percent).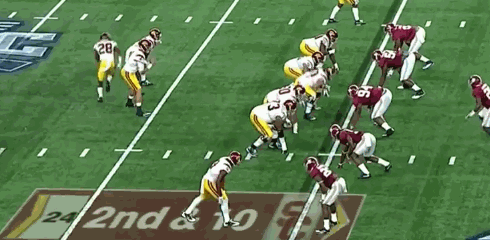 On the other side, it's time that OLB Ryan Anderson gets his proper due. While he's only played 35 percent of Alabama's snaps the last three years, Anderson's snap-for-snap production is as good as it gets in the nation. He's more of a hybrid between the old and the new – a stout, 258-pounder with strong hands who can also win off the edge in Williams-like fashion. Just watch No. 22 the next time Alabama plays, beating up blockers at the point of attack in the running game and notching pressure 19.9 percent of the time the last two years. He finished with a sack, two QB hits, and two hurries on only 25 rushes against USC.
Finally, perhaps the best player on the loaded Alabama defense is Jonathan Allen. Starting the season at No. 11 on the 2017 PFF Draft Board, Allen did not disappoint Saturday night as he posted the games top grade at 88.8. He did it all with two sacks, three hurries, and a batted pass on 30 rushes, while also posting the top grade against the run among Alabama defenders. Allen was unlockable all night, and he stayed productive while moving all over the defensive line.

Stopping the run
This scene was not uncommon for USC's rushing offense:
Not the best run blocking I've ever seen pic.twitter.com/skIriOTpgk

— Steve Palazzolo (@PFF_Steve) September 5, 2016
The Alabama defense once again put on a clinic when it comes to playing gap-sound run defense and block-shedding. USC running back Ronald Jones II did break free for one 46-yarder, but aside from that, he and RB Justin Davis were held to just two yards on 14 carries. Linebackers Reuben Foster and Shaun Dion Hamilton led the way with a combined 10 run stops as they took advantage of the disruption created up front by Allen, Anderson and DT Dalvin Tomlinson. The defense missed only three tackles on 25 carries in the running game.
Playing the pass
With such a dominant front seven it's easy to overlook the Alabama secondary, and while their job is certainly made easier by consistent pressure and favorable down and distance situations, there's talent sprinkled all across the back end. CB Marlon Humphrey was only targeted once as he forced fellow first-round hopeful JuJu Smith-Schuster out of bounds on an overthrow. He also took advantage of a tip off a dropped pass to pick it off and return it for a touchdown. Aside from a pass interference penalty, CB Minkah Fitzpatrick showed why he's a preseason All-American candidate as he closed quickly to break up two passes while allowing only three catches on seven targets for 18 yards.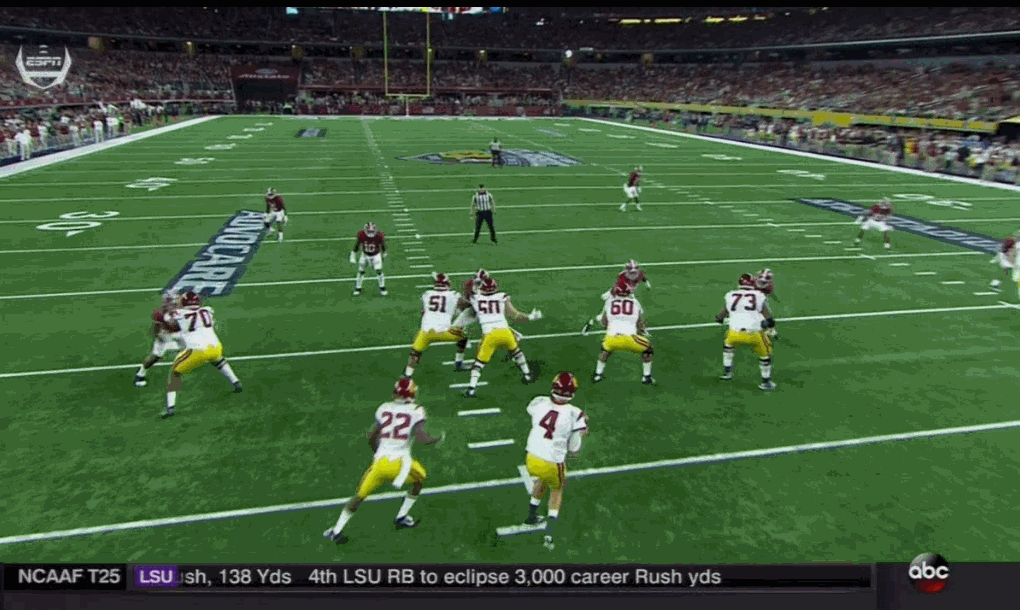 Free safety Eddie Jackson has a spot of his own on the preseason All-American team and he knocked away the only his only target as he dropped down into the slot against Smith-Schuster. If there's a potential weakness in the secondary, Jackson's ability to use his old cornerback skills to match up with receivers adds yet another versatile dimension to the nation's best defense.
Putting it all together
With no discernable weakness on the Alabama defense, we may be in for a record-setting season. Yes, it's only a one-game sample, but it's built on a multi-year sample of strong play at all levels of the defense. They can stop the run, rush the passer, and cover on the back end — and that all-around dominance was on full display in their dismantling of the USC offense Saturday night.