With Ohio State's shocking loss to Penn State this past weekend, there are now just nine undefeated teams, seven of them from Power-5 conferences. The Big Ten still boasts two, despite the fall of the Buckeyes, Michigan and Nebraska.
Much of the focus in the West division of the Big Ten has been on Wisconsin's play, as they started off the season with a win over (now) No. 19 LSU, and lost by just seven points to each of the Big Ten East powers (Michigan and Ohio State). Nebraska is up to No. 7 in the Associated Press poll, but its biggest wins are a home victory over a struggling Oregon and a road contest against a Northwestern team that at the time looked anything but impressive. Now the Cornhuskers finally enter the meat of their schedule, as they have back-to-back road matchups against the Badgers and Buckeyes.
Both games are set for primetime, meaning much of the country will be getting its first look at Nebraska. With the Cornhuskers being a bit of an unknown on the national stage despite their ranking and record, here are seven key stats about their season to date, which should give some insight as to what to expect from them come Saturday night.
QB Tommy Armstrong Jr.'s 56.1 passing grade ranks last among current Big Ten starters
One of the reasons Nebraska's start to the season is not a relative surprise is because the veteran offense, led by third-year starting signal caller Tommy Armstrong Jr. was supposed to carry the team. The reality is the offense has struggled for long stretches in just about every game, mostly due to poor play by Armstrong.
There are several reasons why he has not been able to elevate his game thus far, but two issues stand out above the rest. First, his accuracy is still extremely inconsistent, and this has severely hurt his production on throws outside the numbers. It's not a surprise that his efficiency on deep balls (throws that travel at least 20 yards through the air) has been spotty (he has completed 11 of 31 deep shots for 46 yards, four touchdowns and two interceptions), but his inaccuracy on outside throws shorter than 20 yards downfield is startling. Between the numbers (and short of 20 yards downfield) he has completed 68.2 percent of his throws (71 of 104) for six scores and no picks. However, on the outside his production is almost non-existent by comparison, as his completion percentage plummets to 50 percent (22 of 44) and he has tallied just one score to go with three interceptions.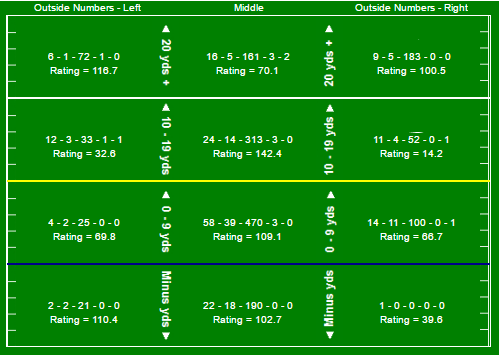 The other glaring error is his play under pressure. With a clean pocket he's completed 74 of 123 throws for 994 yards, six scores and just one interception. However, when the rush affects him, his completion percentage is just 45.5 percent (30 of 66) and he has four interceptions to go with five touchdown tosses.
Both Wisconsin and Ohio State have benefited from a strong pass rush and excellent linebacker and safety play this year, meaning Armstrong could be in for two long days if his struggles against pressure continue and both schools are able to neutralize the middle of the field better than past opponents.
Nebraska's three-pronged rushing attack has averaged 5.2 yards per carry
What Armstrong lacks in terms of passing skills, he makes up for with his running ability. On 56 designed runs he has gained 351 yards (6.3 yard average) and forced 15 missed tackles. Terrell Newby is the primary back in Nebraska's read-option system, and is averaging 5.0 yards per carry while forcing 12 missed tackles and gaining 269 of his 510 rushing yards after initial contact. Devine Ozigbo is the third piece of the puzzle, and he has 319 yards on 77 carries (4.1 average), with 203 of his yards coming after first contact (10 missed tackles forced). Ozigbo's status is uncertain this week, as he is currently battling an ankle injury and has just one carry in Nebraska's last two games.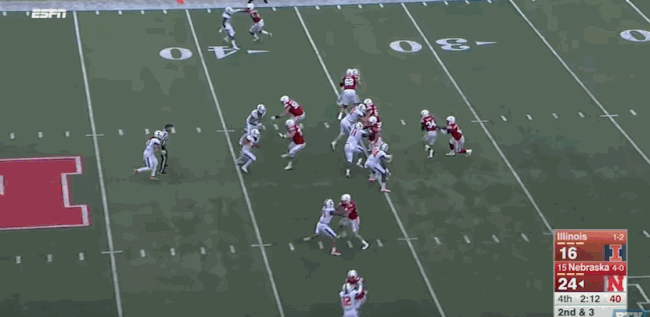 No receiver has eclipsed 100 receiving yards or four catches, with WR Jordan Westerkamp and TE Cethan Carter out the past two games
Coming into the season, the Cornhuskers boasted the two highest-graded returning receivers in the Big Ten in Jordan Westerkamp and Brandon Reilly, and Alonzo Moore graded out sixth last season. None of the trio is close to duplicating last year's grade, and the unit's struggles were exacerbated the past two weeks with Westerkamp and underrated TE target Cethan Carter out of action.
Against Indiana two weeks ago, the most productive receiver was Stanley Morgan Jr. who posted three catches on five targets for 93 yards. 72 of those yards came on a long touchdown reception that occurred because three defenders converged and collided as he caught the ball, allowing him an easy path to the end zone. This past week it was Brandon Reilly who led the Cornhuskers, as he had four receptions on nine targets for 73 yards.
No one in the unit has really been able to step up for a huge output this year, as the only game in which the corps had a receiver tally more than 100 yards was week two against Wyoming. Westerkamp is expected to return to action this week, but Carter is still out while with his elbow injury. If Nebraska is to win either big matchup, they will need at least one of the receivers to emerge as a reliable go-to option for Armstrong.
Two offensive line starters have overall grades of well below 50.0
RG Tanner Farmer is having a strong season for the Cornhuskers, as his 79.5 overall grade ranks him fifth among Big Ten guards. While LT Nick Gates is not putting up the All-Big Ten production numbers we expected coming into this season (he has given up 12 total pressures in pass protection), his 72.9 overall grade is still solid, and ranks him ninth among conference tackles. Center Dylan Utter has been a stud in pass protection (he has allowed one hurry with no sacks or hits), which has helped him in an overall grade of 74.7.
The other two starters, however, have had significant struggles on both run and pass blocks. RT David Knevel has given up 11 total pressures, and has an overall grade of just 46.7. LG Sam Hahn is one of the lowest-graded Big Ten starters regardless of position, as he has an overall grade of just 40.2. While pass protection has been a struggle at times for him (11 pressures yielded), it's his 31.4 run blocking grade that's been the bigger issue. Collectively, the unit is finding ways to work; although the quintet has yielded a total of 37 pressures, they've been charged with just two sacks and as mentioned earlier, all three primary ball carriers are averaging over 4.0 yards per rush.
Their strongest opponent to date in terms of rushing the passer was Northwestern, a team that's posted 137 total pressures this season, and the Cornhuskers offense line yielded just three hurries against the Wildcats. The Badgers and Buckeyes are a whole not above in terms of their abilities to get to the passer, and will certainly test the limits of Nebraska's offensive line.
Trio of defensive linemen have racked up 79 combined pressures
The strength of Nebraska this year has without question been the defense, and that starts with the defensive line. DE Ross Dzuris leads the unit in total defensive stops (17) and his five sacks are a team best. His 26 total pressures are second on the team to DT Kevin Maurice, who is having a monster season in his own right. He has 28 total pressures, and his 81.1 overall grade ranks ninth in a loaded Big Ten defensive interior position group. Not to be outdone, DE Freedom Akinmoladun's 81.0 pass rush grade (25 total pressures, nine combined sacks and hits) ranks sixth among Big Ten edge players.
All three have been on a roll as of late, as they combined for two sacks, four hits and eight hurries against Purdue last week. While the pass rush numbers are flashy, they are also productive run stopper. This unit's matchup against two contrasting offensive philosophies the next two weeks will make it one of the most intriguing position groups to watch.
LB Dedrick Young has 12 total stops, 16 solo tackles and six pressures in the last three games
After a poor showing in coverage against Northwestern in Week 4 (he gave up five receptions on seven targets to the Cornhuskers), ILB Dedrick Young is on fire. In terms of coverage, he has given up just six catches on 11 targets, with the longest going for just 12 yards. In just 17 pass-rush reps he has pressured opposing QBs six times in that same span, peaking against Indiana with a sack, a hit and two hurries in five rushes. He now has 24 total stops on the season (414 snaps) after posting a season-high seven last week, and leads the Cornhuskers in the category. This total is made even more significant by the fact he posted a total of 30 stops last year in 813 snaps, which led the team. His effort last week earned him Big Ten Team of the Week honors, and considering how good the line in front of him has been, he's likely to make the team at least a couple more times if he continues this level of production.
Nathan Gerry's coverage grade of 93.9 and overall grade of 91.0 are the best in the country
There's no other way to put it — Nathan Gerry is one of the nation's elite safeties this year. His play in coverage has been excellent both of the last two seasons, but this year he's clearly taken his game to the next level. He's been the opposing QB's primary coverage target on 22 attempts this year, and he has given up just 12 receptions for 79 yards, a 6.6 yards per catch average. He has notched two interceptions and scored his fourth pass breakup of the season against Purdue this past Saturday, and QBs have a rating of just 24.6 when throwing at him.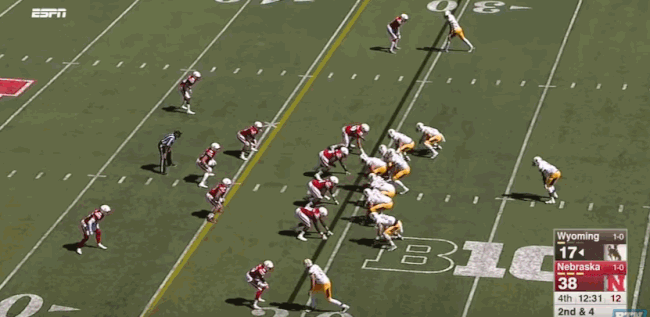 He is tied with Young for the team lead in total tackles (44), and is second to Young with 21 stops. He has accomplished this in 396 snaps, while last year he had 25 total stops in 871 reps. Even more impressive has been his improved consistency as a tackler, as he has just three misses this year compared to 13 in 12 games last year and 12 in 2014. Considering the shaky recent passing of Wisconsin's Alex Hornibrook and Ohio State's J.T. Barrett, Gerry is likely to make a huge impact in both games.