After a tumultuous 2020 calendar year, one in which we soaked in as much college football as was available, here we are, less than 100 days until the start of what should be a full 2021 college football season.
We've already given our opinion on offseason power rankings, along with each team's likelihood of winning the College Football Playoff, and now we'll go through each of the conferences with our simulation numbers and analysis.
Percentages are derived from 10,000 simulations of each team's regular-season schedule, along with a model for how the conference title game and College Football Playoff will play out.
The Pac-12 is the only Power Five conference without a clear-cut favorite, with each team +200 or better on the betting markets to win the conference in 2021. We like USC to take the crown with Kedon Slovis coming off an encouraging season in 2020, as there is uncertainty at the quarterback position throughout the rest of the conference. Enjoy!
Note: This is in order by conference championship win probability.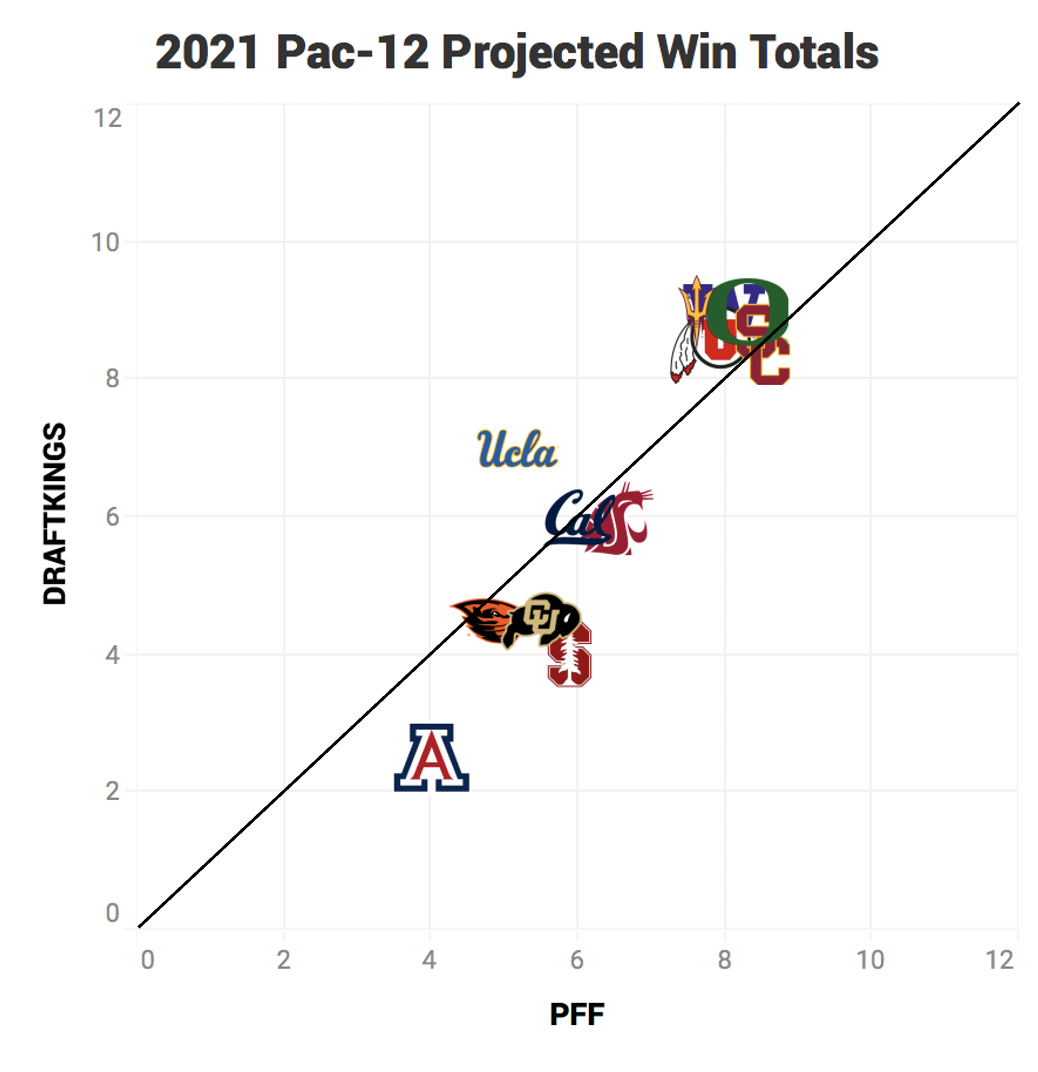 Conference Championship Appearance Probability: 46%
Conference Championship Win Probability: 26%
Projected Win Total: 8.5
The USC Trojans will be vying for a spot in the College Football Playoff if they can maximize their full potential — they have the best chance of finishing as one of the final four teams of any Pac-12 outfit and are tied for seventh overall in college football with a 12% chance of making it.
Starting quarterback Kedon Slovis and his wide receiver room is only scratching the surface of what they can become. Slovis shattered expectations as a true freshman in 2019, earning an 80.8 passing grade and displaying precise, Joe Burrow-like accuracy, ultimately finishing second to the now-Cincinnati Bengal in accurate-pass rate on the year. At the same time, his play was far from devoid of the usual mistakes that plague a freshman's game, such as forcing one or two head-scratching throws per outing, and he also struggled to hold onto the ball when the pocket collapsed.
Instead of growth, we saw the same player in 2020, a year he finished with an 80.1 passing grade.
Drake London will lead this receiving unit as the Pac-12's second-most-valuable returning wide receiver since 2019, though he'll have some help from impact transfers K.D. Nixon and Tahj Washington. Redshirt sophomores Bru McCoy and Kyle Ford and true sophomore Gary Bryant Jr. back up the unit as talented but unproven pass-catchers — all were top-50 recruits overall in their respective classes, but they have just 29 combined career catches.
There's a lot of untapped potential on this Trojans team heading into the fall; they have every chance of floating around the top of the rankings.
Conference Championship Appearance Probability: 46%
Conference Championship Win Probability: 23%
Projected Win Total: 8.3
The talent is there for Oregon to field an elite defense this fall. Edge defender Kayvon Thibodeaux returns as the headliner, the highest-graded player at the position in the Pac-12 since his 2019 true freshman campaign. Behind him, the Ducks appear to have a star on the rise with off-ball linebacker Noah Sewell, who finished as the conference's second-most-valuable player at the position as a true freshman in 2020. At the back end, the talented secondary is anchored by Mykael Wright, one of the three most valuable corners in the Pac-12 since 2019 as an underclassman. The question is: Can the offense do its part?
Last year's remade offensive line held up just fine, as did the rushing attack, but the week-to-week performance at quarterback was cause for concern. However, former starter Tyler Shough transferred this offseason, leaving former Boston College quarterback Anthony Brown as the likely leader of the offense.
Brown earned a 57.5 passing grade as the Eagles' starter in 2019 before suffering a season-ending injury in Week 6. In order to take down USC, the favorites for the Pac-12 crown, Brown has to improve that level of play. If not, the Ducks will need a breakout year from 2021 No. 39 overall recruit, quarterback Ty Thompson.
Conference Championship Appearance Probability: 28%
Conference Championship Win Probability: 15%
Projected Win Total: 8
It once wasn't so far-fetched to believe that Washington was in the running for having one of the nation's top defenses, but the chances of that happening took a major hit in the offseason when edge defender Zion Tupuola-Fetui tore his Achilles.
Don't write this unit off just yet, though. Cornerbacks Trent McDuffie and Kyler Gordon rank first and third, respectively, among all returning Pac-12 corners in PFF WAA generated over the last couple of years, and Gordon did that with just a handful of starts in that span. Meanwhile, linebacker Edefuan Ulofoshio claims the top spot at his respective position over that same period, while edge defender Ryan Bowman is second at his to only Kayvon Thibodeaux despite playing only in two games in 2020. The Huskies also replace Elijah Molden with Brendan Radley-Hiles, a transfer from Oklahoma and one of the best slot corners in college football.
The defensive system remains in place at Washington despite the departure of defensive coordinator Pete Kwiatkowski, and the talent is there to execute it at a high level.
Outside of USC and Kedon Slovis, Washington may have the Pac-12's most encouraging quarterback situation for 2021. We only got to see four games from 2018 four-star quarterback Dylan Morris, but his first reps on the collegiate field were better than expected; the Huskies had the fourth-most efficient passing offense in the Pac-12 and Morris was the second-highest-graded passer in the conference in that four-game span. If he sustains that, then this team will make the Pac-12 that much more competitive for 2021.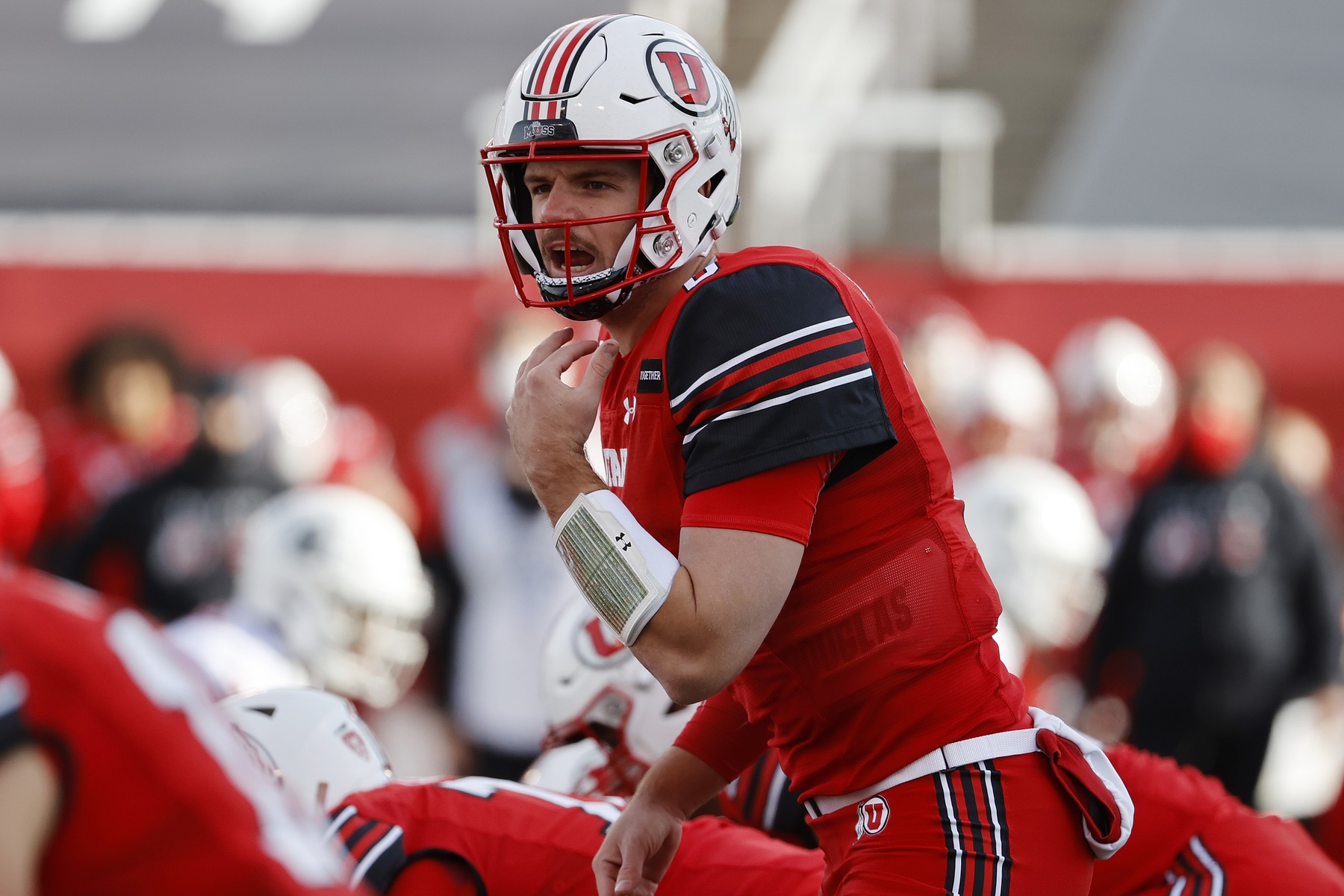 Conference Championship Appearance Probability: 23%
Conference Championship Win Probability: 11%
Projected Win Total: 7.8
Utah's passing offense was nothing short of a disaster last year. With former South Carolina transfer Jake Bentley leading the way, the Utes fielded the second-least-efficient passing offense in the Pac-12, and they saw the Power Five's second-largest drop in EPA per pass play generated from 2019 to 2020.
To fix that, Utah once again swooped into the transfer portal and grabbed former Baylor Bear Charlie Brewer to lead the offense for 2021.
Brewer is a bit of an enigma. After earning a 90.0 passing grade in 2018, he dropped to 75.7 in 2019 and 57.2 in 2020. The backbone of his early success was aided by a healthy dosage of play action and RPOs, but that went away in 2020. The good news is that he's headed to an ecosystem that should better play to his strengths, and he now has a far better set of receivers in his arsenal.
Tight end Brant Kuithe and wide receivers Britain Covey and Jaylen Dixon are all dynamic weapons, each with at least one 75.0-plus graded season at the college level.
We may have seen this group go from one of the best to one of the worst from a passing perspective last season, but things should swing back positively in 2021. Pair that with a defense that led the Pac-12 in EPA per play allowed last year and saw no major contributors depart, and you have yourself another team capable of contending for the Pac-12 title this fall.
Conference Championship Appearance Probability: 21%
Conference Championship Win Probability: 9%
Projected Win Total: 7.6
Outside cornerbacks Chase Lucas and Jack Jones are primed to lead this defense to success in 2021 alongside interior defensive linemen Jermayne Lole, who we tabbed as a top-three player at the position in the FBS in our preseason position rankings.
Lucas looked like a different player in 2020 compared to other seasons of his collegiate career, finishing as the highest-graded outside corner in the conference. Jones was able to play in only one game in 2020 but performed respectably in his first year with the team in 2019 after transferring from USC, as he ranked 13th among 32 qualifying Pac-12 outside corners in coverage grade.
No matter how well they perform, quarterback Jayden Daniels will be the deciding factor for Arizona State in 2021. Daniels hasn't yet shown that he can lead the Sun Devils' passing offenses to success — he has led the team to the third-worst passing grade and successful pass play rate in the conference as an underclassman over the last two years.
Conference Championship Appearance Probability: 11%
Conference Championship Win Probability: 5%
Projected Win Total: 5.9
The Cardinal will welcome many young but unproven players in the wake of all the key departures, giving this offense a high ceiling but a low floor heading into 2021.
Leading the way at quarterback is likely to be 2018 top-50 recruit Tanner McKee, a signal-caller with just seven career pass attempts to his name. The receiving unit said goodbye to its two top targets, Simi Fehoko and Connor Wedington, leaving contested-catch specialist Michael Wilson as their WR1 for 2021. Alongside him is the 6-foot-3, 235-pound monster Elijah Higgins, who looks like a prime breakout candidate after emerging toward the end of 2020.
The three will play a significant role for the Cardinal in 2021 because there is far less optimism on the defensive side of the ball. Stanford has ranked dead last in the conference in EPA per pass play allowed since 2019, with their outside corners being the biggest culprit. That outside CB group ranks last in the Pac-12 in passer rating allowed in that span (114.8), and they aren't looking anything better for 2021.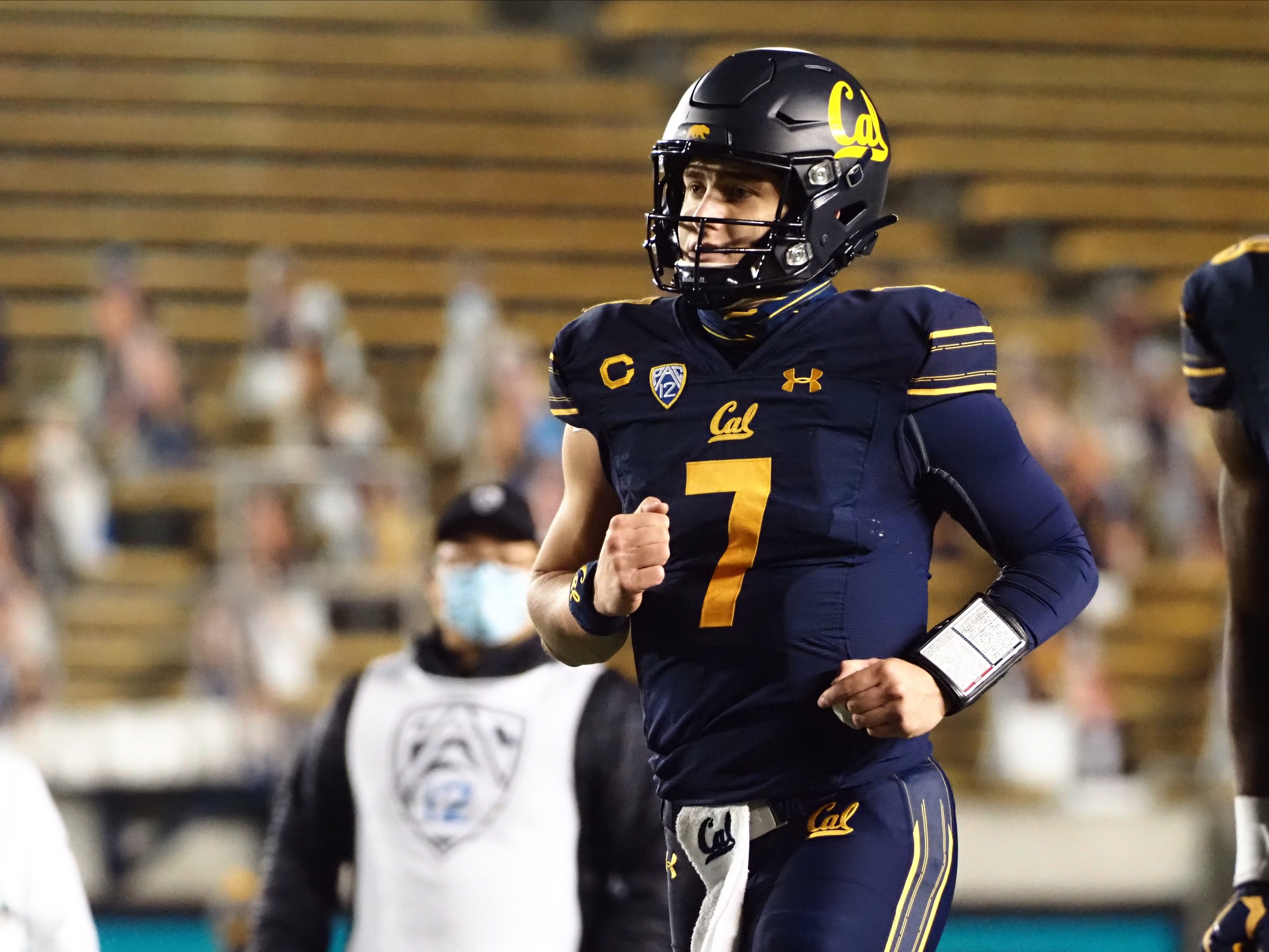 Conference Championship Appearance Probability: 8%
Conference Championship Win Probability: 3%
Projected Win Total: 6
Last year's mini-season was ugly for many aspects of Cal football, but make no mistake, this group returns a far better secondary than the unit that ranked last in the conference in successful pass play rate allowed last season.
Cal's returning defensive backs collectively rank third in the Pac-12 since 2019, behind only Washington and Oregon. Slot corner Josh Drayden, outside corner Chigozie Anusiem and safeties Daniel Scott and Elijah Hicks have the ability to propel this coverage unit to the top of the conference.
The other side of the ball has less certainty, though. Quarterback Chase Garbers struggled in his first year playing under offensive coordinator Bill Musgrave, as he saw his PFF grade dip over 15 grading points down to 62.0 and Cal's per-play efficiency rank drop to fourth-to-last in the conference. The receiving room tied for the lowest grade of any group in the Pac-12, and their highest-graded player from that unit, Makai Polk, opted to transfer following the year.
Conference Championship Appearance Probability: 6%
Conference Championship Win Probability: 3%
Projected Win Total: 6.5
Like many others, Washington State's fate in 2021 depends on what happens at quarterback. And at this point, we still don't know who the starter will be. It's down to either 2020 starter Jayden de Laura, Tennessee transfer Jarrett Guarantano and 2018 four-star Cammon Cooper. If not for de Laura's spring suspension, this probably wouldn't be much of a competition, as he performed quite well for a three-star true freshman in his first three starts, coming away with a 78.4 passing grade in those four outings and earning the second-best deep passing grade in the conference.
The defense wasn't nearly as successful, as they were the lowest-graded group in the Pac-12, and that's likely to remain the case in 2021. But if de Laura retains the job and has a fully healthy trio of running Max Borghi and slot receivers Travell Harris and Renard Bell to throw to, then the Cougs' first bowl game under Nick Rolovich is in the cards.
Conference Championship Appearance Probability: 6%
Conference Championship Win Probability: 2%
Projected Win Total: 5.5
We may have seen only six games out of the Buffs in 2020, but they were a decidedly different team than most expected — on both sides of the ball.
Colorado fielded the worst defense in the conference, and it wasn't particularly close, as they ranked dead last in total defense grade and EPA per play allowed. In 2020, many players rose to the occasion, improving the Buffs' ranks to sixth in both of those metrics while tying for the lowest successful pass play rate allowed at 38.8%. With players like cornerback Mekhi Blackmon, safety Isaiah Lewis, linebacker Nate Landman and the strong edge duo of Carson Wells and Terrance Lang, Colorado should have an above-average defense once again this fall.
Colorado's 2021 campaign lies in the hands of quarterback Sam Noyer and the offense overall. After throwing just 41 passes in four years, Noyer finally got his chance to lead the offense in 2020, and the results were all over the place. He kicked off his year with two games with passing grades north of 88.0 but then recorded a 55.8 passing grade through his next four starts. Colorado ended the season with the second-worst successful pass play rate in the Pac-12.
If Noyer can consistently deliver in 2021 as he did in those first two starts against UCLA and Stanford, then Colorado should be heading toward .500.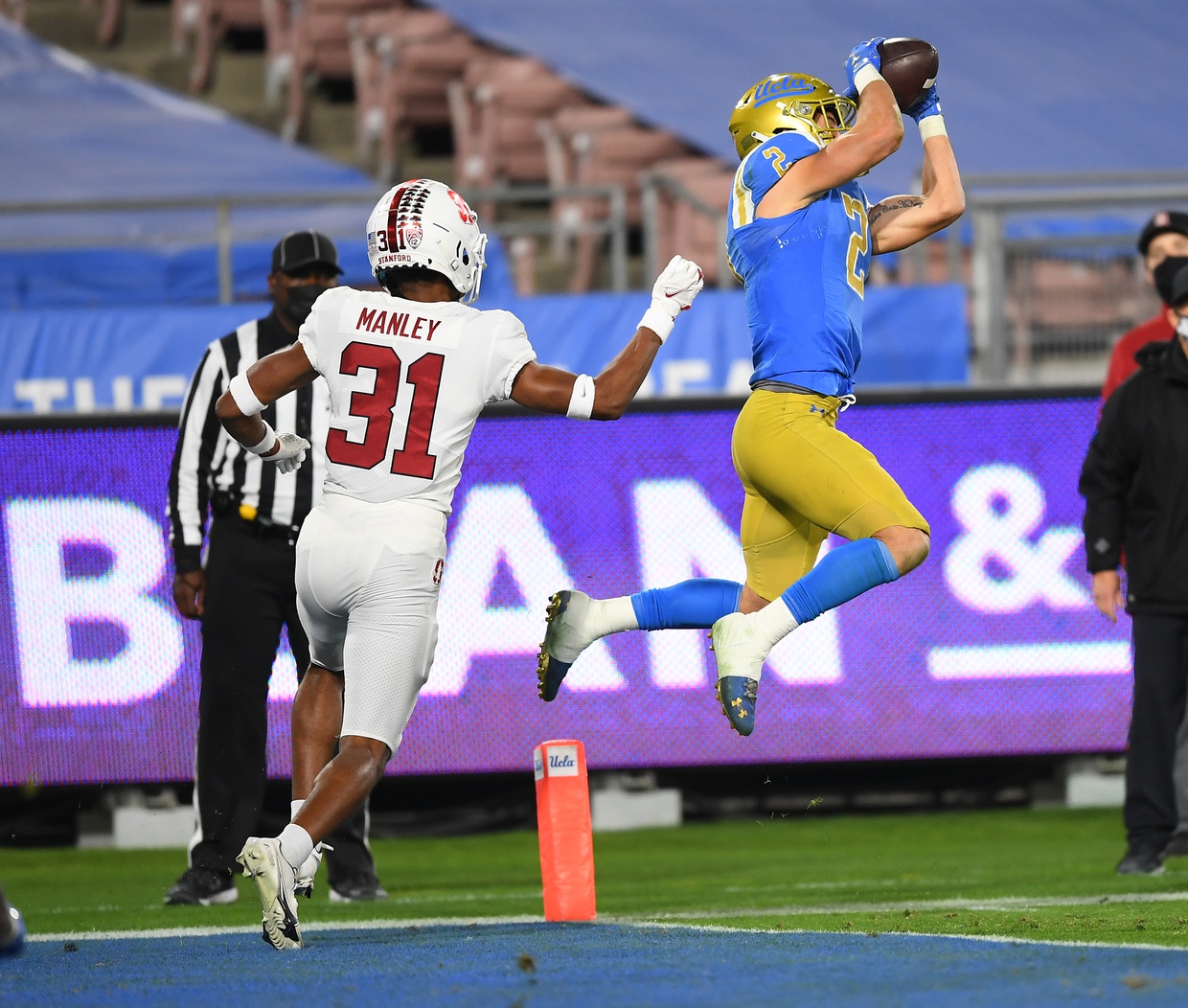 Conference Championship Appearance Probability: 4%
Conference Championship Win Probability: 2%
Projected Win Total: 5.2
Outside of quarterback, the Bruins have legit talent on the offensive side of the ball. They have the Pac-12's most valuable returning wide receiver since 2019 with Kyle Philips, arguably the best tight end duo in the country with Greg Dulcich and physical freak Mike Martinez and a top-tier tackle duo with Sean Rhyan and Alec Anderson, who both rank inside the 25 highest-graded returning tackles in the Power Five.
The big question mark is quarterback Dorian Thompson-Robinson's ability to effectively lead UCLA to an efficient passing offense.
Thompson-Robinson has been the leader of this offense ever since his 2018 true freshman campaign when he entered as the No. 36 ranked recruit but has never been able to piece it together. His PFF passing grades over the last three years have come in at 54.2, 61.1 and 54.6, and he's coming off a year in which he earned a sub-57.0 passing grade in four of his five starts. Overall, Thompson-Robinson has led the second-least-efficient passing offense in the Pac-12 when he's been healthy enough to lead his team onto the field. There might be some holes to talk about on defense, but this team is going anywhere unless Thompson-Robinson takes a significant step forward.
Conference Championship Appearance Probability: 2%
Conference Championship Win Probability: 1%
Projected Win Total: 4.8
There's some reason for hope looking solely at the Beavers' potential rushing attack for 2021. They have a top-20-graded run-blocking unit among all returning Power Five offensive lines and a promising running back room led by South Carolina transfer Deshaun Fenwick. That's their only true hope of being above the Pac-12 mean in any facet for 2021.
Quarterback Tristan Gebbia was an up-and-down performer in his short time on the field last year, earning passing grades of 84.6, 56.0, 60.3 and 80.2 in his four starts. In those four games, this Oregon State passing offense ranked second-to-last in the Pac-12 in passing efficiency. And after a hamstring injury that required offseason surgery, questions still surround Gebbia and this passing attack.
On defense, Oregon State does have one of the best off-ball linebackers in the conference with Avery Roberts and one of the most underrated transfers of the 2021 offseason with cornerback Elijah Jones, formerly of Kansas. The group after those two isn't so encouraging; they don't return a single starter outside of them on defense that has produced positive PFF WAA over the last couple of years. The Beavers were second-to-last in EPA per pass allowed in 2020, and it's looking likely that they will remain close to the bottom in 2021.
Conference Championship Appearance Probability: 1%
Conference Championship Win Probability: 0%
Projected Win Total: 4
Last year's Arizona team was one of the most disappointing units of the COVID-shortened season, as they ranked in the bottom three in the Pac-12 in passing, offensive line, receiving, pass-rush and coverage grade as a group. The team has since seen some major changes with the new regime via the transfer portal, one of which involves the most important position on the field.
It looked as though they had a big breakout waiting to happen at quarterback with Grant Gunnell after he posted an 85.4 passing grade as a true freshman, but injuries got in the way of his second year and he struggled to a 51.1 passing grade during his time on the field. The Wildcats fielded the least-efficient passing offense in the Pac-12, and Gunnell opted to transfer to Memphis after the season. Now, they have a murky quarterback room containing Will Plummer (48.6 passing grade on 96 dropbacks in 2020), Washington State transfer Gunner Cruz (nine career dropbacks) and USF transfer Jordan McCloud (sub-60.0 passing grade in his two years on the field).
The first year of the Jedd Fisch era in Arizona is going to be rocky.