After a tumultuous 2020 calendar year, one in which we soaked in as much college football as was available, here we are, less than 100 days until the start of what should be a full 2021 college football season.
We at PFF have already given our opinion on college football offseason power rankings, along with each team's likelihood of winning the College Football Playoff. Now we'll go through our simulation numbers and analysis for each conference. Percentages are derived from 10,000 simulations of each team's regular-season schedule, along with a model for how the conference title game and College Football Playoff will play out.
Subscribe to
Clemson is the overwhelming favorite to win the ACC yet again, but not as drastically as the betting markets suggest, leaving some value on a team like North Carolina in Sam Howell's third season. Miami also gets D'Eriq King back in what is sure to be an electrifying season at the U, while Boston College is steadily improving under Jeff Haffley. Enjoy!
Note: This is in order by conference championship win probability.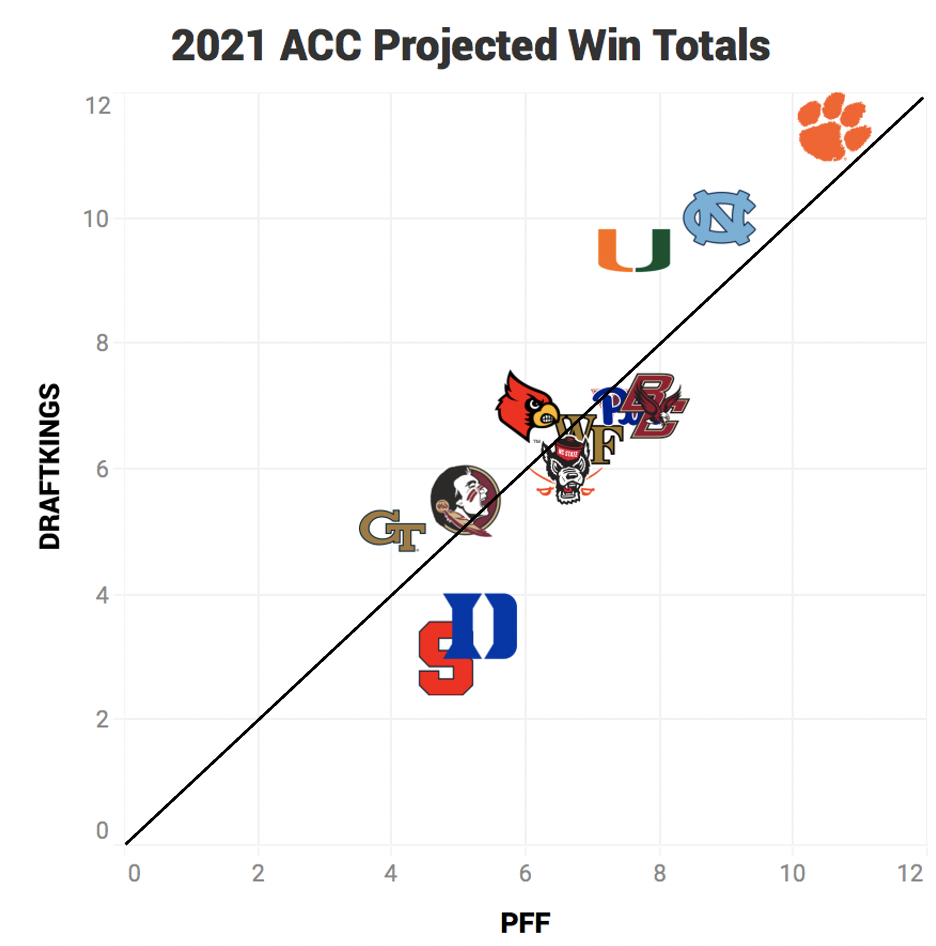 Conference Championship Appearance Probability: 80%
Conference Championship Win Probability: 58%
Projected Win Total: 10.6
No Trevor Lawrence? No problem. Clemson is still the leader in the clubhouse for the ACC crown, and they are poised to make another run at the College Football Playoff. We got a glimpse of new starting quarterback D.J. Uiagalelei last fall when Lawrence was out due to COVID-19, and the early returns were very promising. The true freshman showed off his strong arm and led the Tigers to victory against Boston College and Notre Dame, both of which ended up being among the team's three most efficient passing offenses of the entire 2020 season.
Within the receiving unit, Uiagalelei gets back Justyn Ross, who missed all of 2020 due to a spinal issue that fortunately isn't career-ending. As an underclassman in 2018 and 2019, Ross was the ninth-most valuable wideout in college football. There's also some untapped potential with wide receiver Joe Ngata, who battled injuries throughout 2020.
The defense is loaded with rising stars, including 2020 No. 1 overall recruit Bryan Bresee and 2020 No. 7 overall recruit Myles Murphy, who were each standout performers along the defensive line as true freshmen. The secondary is headlined by safety Nolan Turner, who is the most valuable player at the position returning in the ACC, and cornerback Andrew Booth Jr., who shut down almost every receiver he faced in a mostly reserve role in 2020. Clemson led the entire Power Five in EPA per play allowed last season, and it wouldn't be a surprise if they did so again in 2021.
They've got another juggernaut on their hands.
Conference Championship Appearance Probability: 50%
Conference Championship Win Probability: 18%
Projected Win Total: 8.9
North Carolina's offense was among the most explosive in the country last season, ranking second to only Alabama in per-play offensive efficiency. The leader of that group, quarterback Sam Howell, returns for his true junior year after producing an astounding 92.3 PFF grade last year that ranked sixth in the FBS.
Still, he is the lone key contributor returning from that elite offense, as their top two receivers and two-headed monster at running back were drafted this past offseason. The good news is that head coach Mack Brown came back swinging and landed a top-15 recruiting class nationally in both 2020 and 2021 and has some promising young talent at wide receiver and several positions on the defensive side of the ball. In fact, it's fair to say that they have the best cornerback tandem in the conference with Storm Duck and Tony Grimes.
Duck was out a good portion of last season due to injury but showed enough as an underclassman to know he is a top-10 cornerback nationally. Opposite him is Grimes, who was a 2020 five-star and top three among ACC outside corners in coverage grade over his last five games as a true freshman (when he started to see the field consistently). 
If this group reaches its full potential and sees multiple underclassmen step up, there is a path for it to crack a spot in the CFP. After all, the Tar Heels are tied for the seventh-best odds of making the four-team playoff.
Conference Championship Appearance Probability: 21%
Conference Championship Win Probability: 7%
Projected Win Total: 7.6
Quarterback D'Eriq King is reportedly having a smooth recovery from a torn ACL suffered at the end of the 2020 season, which is obviously fantastic news for the Hurricanes. When fully healthy, he's an elite dual-threat and one of the best quarterbacks overall in college football, having earned 88.2 passing and 75.5 rushing grades last season. He and first-year Miami offensive coordinator Rhett Lashlee were the main reasons why The U owned the second-most efficient passing offense in the ACC last season. They now add Oklahoma transfer WR Charleston Rambo, who was a top-seven player at his position in the Big 12 in 2019.
The other side of the ball isn't nearly as exciting as that offense, especially with the departure of the dynamic edge duo Jaelan Phillips and Quincy Roche. Miami ranked fourth-to-last in the ACC in team coverage grade last season and was 10th in EPA per pass play allowed when the pass rush didn't get pressure on the quarterback. The group isn't going to be a liability in 2021, and there is some hope that players like safety Bubba Bolden and transfer corner Tyrique Stevenson take steps forward in coverage, but it looks highly unlikely that this defense will do anything to help their chances.
Conference Championship Appearance Probability: 10%
Conference Championship Win Probability: 4%
Projected Win Total: 7.9
Boston College has had one of the best offensive lines in the ACC in each of the last three seasons, and that's not going to change in 2021. The offensive line tied for third in the Power Five in pass-block grade last season, and the Eagles return every single starter from that group. They'll be blocking once again for quarterback Phil Jurkovec, who was one of the more exciting quarterbacks to watch in the ACC last year with his playmaking ability under duress. He'll have his top target, Zay Flowers, back — those two teamed up for the third-most 15-plus yard pass plays among ACC QB-WR connections last year with 25.
One of the big issues with last year's team was its coverage unit. The Eagles ranked third-to-last in the ACC in EPA per pass play allowed. Cornerback Josh DeBerry was the only quality performer from the secondary last season and is back to lead the group in 2021. Alongside him is Brandon Sebastian, who has steadily declined since taking over a starting job in 2018. He looked like the next great player to come from Boston College that year with a 75.2 coverage grade, but this past season was well below that level of play with a 58.4 coverage grade. Getting back to that old form and helping the Eagles get closer to the mean from a defensive perspective would be huge for this team in 2021.
Conference Championship Appearance Probability: 10%
Conference Championship Win Probability: 3%
Projected Win Total: 7.5
Pitt put the clamps on its competition in 2020, ranking 14th among all Power Five defenses in EPA per pass allowed. The team's menacing pass-rush certainly helped, but the secondary did its part when the unit didn't get pressure on the quarterback. In fact, they jumped to sixth in EPA per pass allowed when the quarterback was kept clean. Despite losing their two pressure leaders from that unit (Rashad Weaver and Patrick Jones II), along with three key defensive backs (Jason Pinnock, Damar Hamlin and Paris Ford), expect this defense to still be a good one in 2021. In terms of PFF WAA generated, they return top-three players in the conference at interior defender (Calijah Kancey), linebacker (Cam Bright) and corner (Marquis Williams). And they also have cornerback Damarri Mathis and interior defensive linemen Keyshon Camp back and healthy after their careers were disrupted by injury.
Per usual, the ball is in the offense's court. Quarterback Kenny Pickett is back for his fifth year and his fourth as the starter, and he has been uninspiring throughout that stretch. In his three years of starting action, not once did Pitt rank in the top 10 in passing efficiency. If Pickett is unable to show any signs of growth, which at this point is the most likely outcome, then another year of just over .500 is the likely path for Pitt. 
Conference Championship Appearance Probability: 11%
Conference Championship Win Probability: 3%
Projected Win Total: 7.5
The Hokies return one of the strongest receiving units in the ACC. They have two of the eight highest-graded returning wide receivers in the conference in Tre Turner and Tayvion Robinson. They also have one of the 10 best tight ends in the entire FBS, James Mitchell, who ranked top five in receiving grade among all Power Five tight ends last year. The offensive line should also still be a strength despite losing star tackle Christian Darrisaw and guard Doug Nester to the transfer portal. Returning tackle Luke Tenuta and guard Lecitus Smith were both top five in the conference at their respective positions in PFF grade last year. They also welcome in a prime breakout candidate from the portal, interior offensive linemen Johnny Jordan from Maryland. 
All of those pieces should make life much easier for Braxton Burmeister as he takes on the starting job full-time after injuries disrupted his 2020 season. They will be the key reason why this team has a winning record in 2021.
Conference Championship Appearance Probability: 6%
Conference Championship Win Probability: 2%
Projected Win Total: 6.6
Virginia starting quarterback Brennan Armstrong was a major surprise in 2020 and is not quite getting the respect he deserves. The dual-threat quarterback made plays through the air and on the ground and ended his first year of starting with an elite PFF grade. Unfortunately for 2021, he'll be without top target Lavel Davis Jr., a 6-foot-7 monster who made ample plays as a true freshman but suffered a torn ACL this offseason. Armstrong will still have Billy Kemp IV, who is the sixth-highest-graded receiver returning in the ACC.
The Cavaliers' biggest problem last season was their coverage unit. The team ranked fourth-to-last in team coverage grade and 49th in EPA per pass allowed among all Power Five defenses last season. Louisville transfer corner Anthony Johnson is bound to help, but multiple other defensive backs will need to step up alongside him in order to make this a rapid turnaround. 
Conference Championship Appearance Probability: 5%
Conference Championship Win Probability: 2%
Projected Win Total: 6.9
Wake Forest has one of the strongest QB-WR connections in the ACC in Sam Hartman and Jaquarii Roberson. Hartman took back the starting job in 2020 after an injury knocked him out of it in 2019, and he started the season on an absolute tear. Through his first seven games, Hartman had an 87.4 passing grade. His play took a hit in their final two games after a monthlong hiatus, but he still proved what kind of passer he can be. Roberson, meanwhile, posted the second-best receiving grade in the entire country behind only Heisman Trophy winner DeVonta Smith.
The Demon Deacons defense is led by a high-quality secondary containing a plethora of undervalued talent, from walk-on safety Nick Andersen to 2020 three-star corner Caelen Carson. Wake had a top-three team coverage grade in the ACC in 2020 and returns three marquee starters in Carson, corner Ja'Sir Taylor and Andersen. They also return safety Nasir Greer, who missed almost all of 2020 but was a top-10-graded safety in the ACC in 2018 and 2019 combined.
Being above average at the three most important facets in the game offers reason to be optimistic about Wake in 2021. 
Conference Championship Appearance Probability: 2%
Conference Championship Win Probability: 1%
Projected Win Total: 6.6
NC State might be a little underrated from an offensive perspective heading into 2021. Starting in the trenches, they have one of the most well-rounded centers in college football in Grant Gibson and one of the best run-blockers overall in Ikem Ekwonu. They'll be opening up lanes for running back Zonovan Knight, who is the most valuable returning running back in the ACC based on 2020 PFF WAA generated.
The receiving unit is oozing with potential. Wide receiver Emeka Emezie is coming off a late-career breakout year, and former walk-on Thayer Thomas reclaimed the play he flashed back in 2018. Those two are both among the five most valuable wide receivers returning to the ACC based on 2020 WAA. Not to mention, they also have 2020 four-star true freshman Porter Rooks coming off a productive season as a reserve. Starting quarterback Devin Leary looked like a new man in the four games we got to see from him in 2020, too; he had at least four big-time throws in all three games he started.
The defense isn't anything to brag about, but if this offense can reach its full potential, the over-6 wins looks likely to cash.
Conference Championship Appearance Probability: 2%
Conference Championship Win Probability: 1%
Projected Win Total: 6
Louisville was one of the more disappointing teams of the 2020 season, specifically on offense. Their 2019 group ranked second in the ACC in per-play efficiency and looked poised for a step forward after ending the season 8-5, but that clearly did not occur. After leading the conference in EPA per pass play in 2019 (0.28), they fell to seventh in 2020 (0.72) despite returning most of the key pieces.
This past offseason, the Cardinals waved goodbye to their three most valuable non-quarterbacks on offense (Tutu Atwell, Javian Hawkins and Dez Fitzpatrick). We know quarterback Malik Cunningham can wreak havoc on the ground, but he's going to have a lot on his plate as a passer and will have to take better care of the ball than he did in 2020, as he had multiple turnover-worthy throws in seven of his 11 starts (five of which had three).
Conference Championship Appearance Probability: 2%
Conference Championship Win Probability: 0%
Projected Win Total: 5.3
Duke was starting to rise back up and fielding competitive teams early in the PFF College era, but now it looks like they may be back on the decline after a 2-9 finish in 2020 considering how their roster is constructed heading into 2021. The four most valuable players from last year's team are no longer on the roster, and those four generated more value than the rest of the team combined. It's also worth mentioning that the Blue Devils have also had the second-to-last recruiting class in the ACC in back-to-back years. Their new starting quarterback, Gunnar Holmberg, has just 28 career dropbacks to his name in three years on campus and has taken extremely poor care of the ball throughout his small time on the field, whether as a passer or runner.
The good news is that the defense does return corner Josh Blackwell, who missed most of 2020 due to injury and was a fringe top-10 corner in the ACC during his first two years on the field in 2018 and 2019. In order to prevent this defense from taking a further step back from a 2020 version that was fourth-to-last in EPA per play allowed, Blackwell — and others — are going to have to produce at far higher levels.
Conference Championship Appearance Probability: 1%
Conference Championship Win Probability: 0%
Projected Win Total: 5.1
After three straight losing seasons — which have been their first sub-.500 years since the first year of the legendary Bobby Bowden era in 1976 — there is some hope Florida State can get back to .500 in 2020. Whether this happens really depends on the health and performance of new starting quarterback McKenzie Milton. Prior to the gruesome leg injury that almost resulted in an amputation in 2018, Milton was destroying the AAC with UCF. He owned the third-best passing grade in the FBS from 2017 until the injury.
If Milton can be somewhat close to the same kind of passer, then Florida State will have its best passing offense since the days of Jameis Winston. That is a big if, however, and the team is lacking talent as a whole outside of him. There are some high-upside players like veteran interior defender Robert Cooper and transfers like wide receiver Andrew Parchement (Kansas), cornerback Brandon Moore (UCF) and safety Jammie Robinson (South Carolina). 
It's possible for the Seminoles to exceed expectations in 2021 and break their losing record streak, but a lot is going to have to go right for them.
Conference Championship Appearance Probability: 0%
Conference Championship Win Probability: 0%
Projected Win Total: 4
There are two positions of major strength for Georgia Tech this year: running backs Jahmyr Gibbs and Jordan Mason and edge defenders Jordan Domineck, Jared Ivey and Old Dominion transfer Keion White. As good as it is to have talented players at those two positions, they aren't nearly as important as quarterback, wide receiver and cornerback, and those are all big areas of weakness for the Yellow Jackets.
Jeff Sims had a bumpy debut as the starting quarterback with a bottom-five passing grade and turnover-worthy play total for the season among Power Five quarterbacks. That subsequently led to the sixth-worst passing offense among Power Five programs in terms of EPA per pass play generated. The true freshman did make plenty of plays on the ground with his legs, but questions remain about his ability to be an effective passer. 
The defense performed worse than expected in 2020, ranking second-to-last in the ACC in both coverage grade and EPA per pass allowed. Safeties Tariq Carpenter and Juanyeh Thomas took steps back in coverage after comprising one of the conference's best safety tandems in 2019; they were both top five in coverage grade at their respective positions among that group but didn't sniff that type of success in 2020. There is more upside on this side of the ball for Georgia Tech if those two can reclaim their play and someone like Texas transfer and 2019 four-star cornerback Kenyatta Watson II steps up.
Conference Championship Appearance Probability: 1%
Conference Championship Win Probability: 0%
Projected Win Total: 4.8
Last year was the worst year of Syracuse football since their days in the Big East, and it's looking modestly better for 2021. They finished in the bottom three of the ACC in every single offensive facet in terms of team grade and produced -0.33 EPA per play and a 32% successful play rate on the year. The latter mark was the worst we have ever seen from the conference in the PFF College era. They won't be historically bad again, but they'll still be near the bottom of the conference. 
Quarterback Tommy DeVito will likely end up as the Week 1 starter, and he did show some positive signs in 2020 before getting hurt after producing a poor passing grade in 2019, but he still had his clear deficiencies — specifically his downfield accuracy. One positive from last year was the emergence of wide receiver Taj Harris, who was the go-to target in the offense, a monster after the catch and actually really productive with DeVito (2.40 yards per route run).
The defense was middle of the pack in the conference over the course of the entire 2020 season, but odds are that's not going to hold up for this season. The coverage unit slowly declined throughout last season once Andre Cisco got hurt and Trill Williams left the team. From Week 8 on, Syracuse ranked second-to-last in successful pass play rate allowed in the ACC. And that was with star corner Ifeatu Melifonwu, who is now in the NFL.
There are just too many holes on either side of the ball and not enough rising talent to fill them for the Orange to be successful in 2021.