The Red River Showdown lived up to its billing on Saturday afternoon as the Texas Longhorns outlasted their bitter conference-rival Oklahoma Sooners, 48-45. The Texas defense allowed three quick scoring drives and 21 straight points in the fourth quarter, squandering away a three-possession lead. In the end, however, it was a Texas QB Sam Ehlinger engineered drive that was enough to give the Longhorns a season-defining win.
This recap is brought to you by Eckrich, the Official Smoked Sausage of the College Football Playoff.
Texas has now delivered in five consecutive weeks with wins over Tulsa, USC, TCU, Kansas State and now their bitter rival Oklahoma. All of which have made their season-opening loss to Maryland just a blip on the radar.
Ehlinger dealt brilliantly in his second straight impressive performance. He has now graded at or above 70.9 in each game this season and currently holds an 87.6 overall grade in 2018.
Against Oklahoma, Ehlinger used his arm as well as his legs, rushing on 14 designed carries for 76 yards and adding two scrambles for an additional eight yards. He scored three touchdowns on the ground and also had another four first downs on carries, extending drives seemingly at will for the Longhorns.
He completed 22-of-30 passes from a clean pocket as his offensive line kept him clean from pressure on 32 of his 40 total dropbacks. He threw for 312 of his 314 yards when not under duress and had a 128.8 passer rating with two touchdowns, averaging 10.4 yards per attempt.
Ehlinger carved up the middle of the field against Oklahoma all afternoon, throwing just two incompletions on 20 attempts in between the numbers.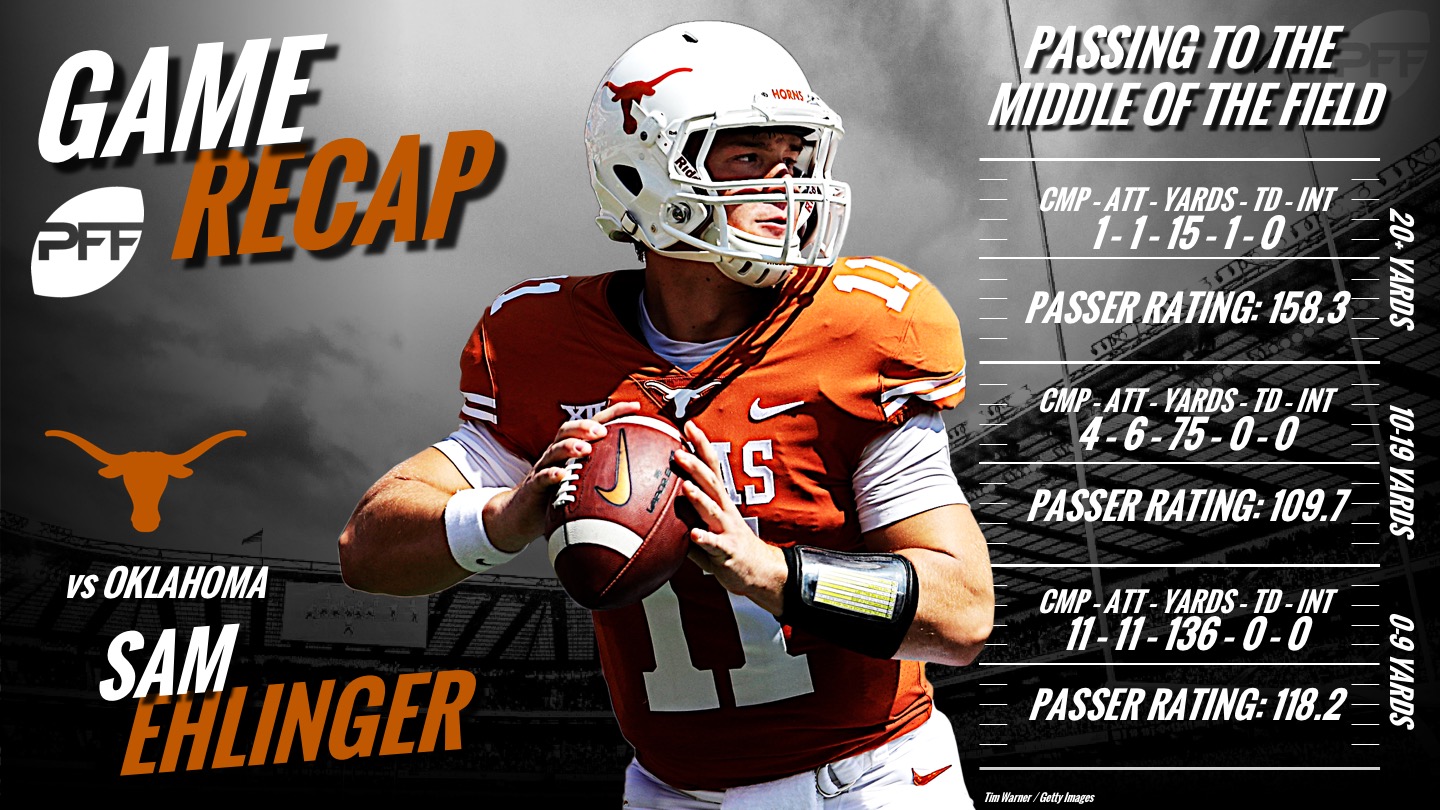 He was particularly impressive running the two-minute drill on the game-winning drive that set up the Cameron Dicker game-winner with just 0:14 seconds on the clock.
Despite the result, Oklahoma did their best to give the Texas faithful a scare, scoring those aforementioned 21 straight points in the game's final frame. Kyler Murray also had great success albeit combining with a couple of costly mistakes early in the game that allowed the 45-24 fourth-quarter lead for Texas. Murray, however, showcased his legs as well, after tossing a 19-yard touchdown pass to Lee Morris, Murray took off on a scramble up through the middle of the Texas defense on their next possession, outrunning several Longhorn defenders for a 67-yard touchdown run.
Kyler Murray flashing elite home-stealing speed. #OaklandAthletics pic.twitter.com/EPMFpmn5rb

— Cam Mellor (@PFF_Cam) October 6, 2018
Murray led another, quick, impressive scoring drive on the next possession, tying the game at 45 points apiece before Ehlinger drove his team down the field.
In the end, Ehlinger's heroics were enough to outduel his counterpart in Murray, grabbing a win that only incites the expression 'Texas is back' even more.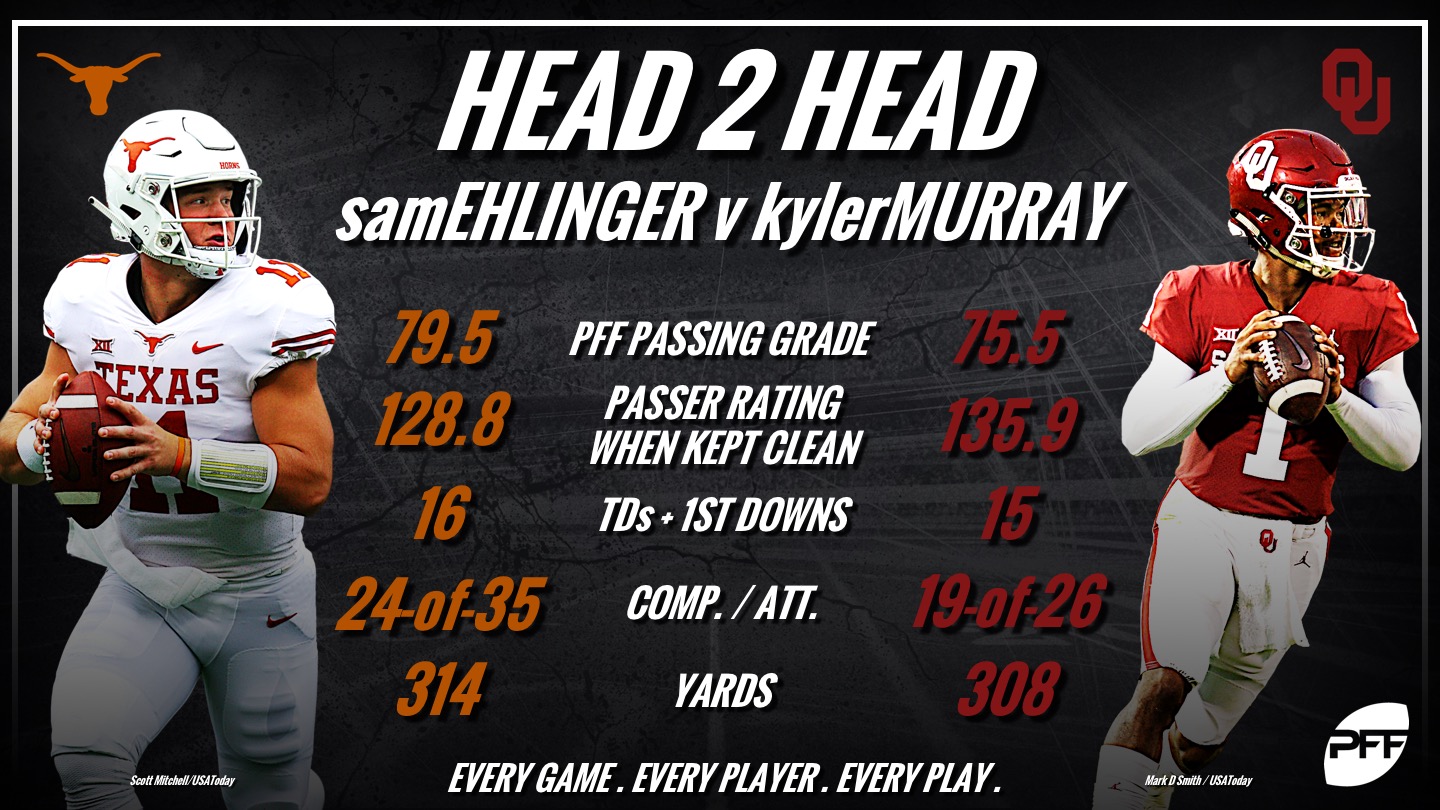 The Longhorns' season still has a ways to go, but with this victory in hand, the path toward a potential berth in the Big 12 Championship has been paved.
One thing is for sure, their victory surely shakes up the College Football Playoff, knocking Oklahoma out of the playoff picture, for now.