Offensive line play often takes a backseat to the explosive plays from quarterbacks, wideouts and running backs in college football. But now is the time to appreciate the dirty work that enables such plays. Here are the best pass-blocking and run-blocking groups through the first four weeks of the college football season.

Pass-blocking:
UAB
The Blazers sport a 3-0 record through four weeks of action, due in large part to a stout pass-blocking unit. UAB's offensive line has played a combined 415 pass-blocking snaps, surrendering just five pressures in that time. As a result, five of the team's seven offensive linemen with playing time have earned pass-blocking grades of 85.0 or higher — including an 88.4 mark from center Lee Dufour, tied for first in the nation at the position.
Texas Tech
After two blowout wins in as many games, Texas Tech was humbled by Arizona in Week 3 — but not for lack of poor offensive line play. While each of the starting linemen allowed a quarterback pressure, all went down as hurries as opposed to hits or sacks. That effort — combined with strong performances in Weeks 1 and 2 of three and six pressures, respectively, allowed by the offensive line — should have Texas Tech feeling confident (for now) about its upcoming bout with Oklahoma.
Washington
A team that improves as its competition grows increasingly better is one to be afraid of. Washington's offensive line has done precisely that through four weeks, increasing its pass-blocking grade in each of its matchups. The Huskies dispatched a BYU squad coming off a win over then-ranked USC in Week 3, riding clean pass-blocking to a 45-19 rout. The unit surrendered just two pressures all game — both hurries — and has forced quarterback Jacob Eason to drop back just 21 times under pressure this season. When he's been in a clean pocket, Eason has generated an elite 90.6 overall grade thanks to the five stalwarts in front of him.
Texas
Texas — and its offensive line — is back. The phrase deserves a bit of reworking after what the Longhorns' offensive line has accomplished through four weeks. In Week 4 alone, the unit earned the second-highest overall grade, with a 92.1 mark. Against an Oklahoma State pass-rush group that generated 15-plus pressures and at least two sacks in all of its first three games, Texas set up a brick wall. They did allow nine pressures, but all of them were hurries, which allowed quarterback Sam Ehlinger to fire away at will more often than not.
Run-blocking: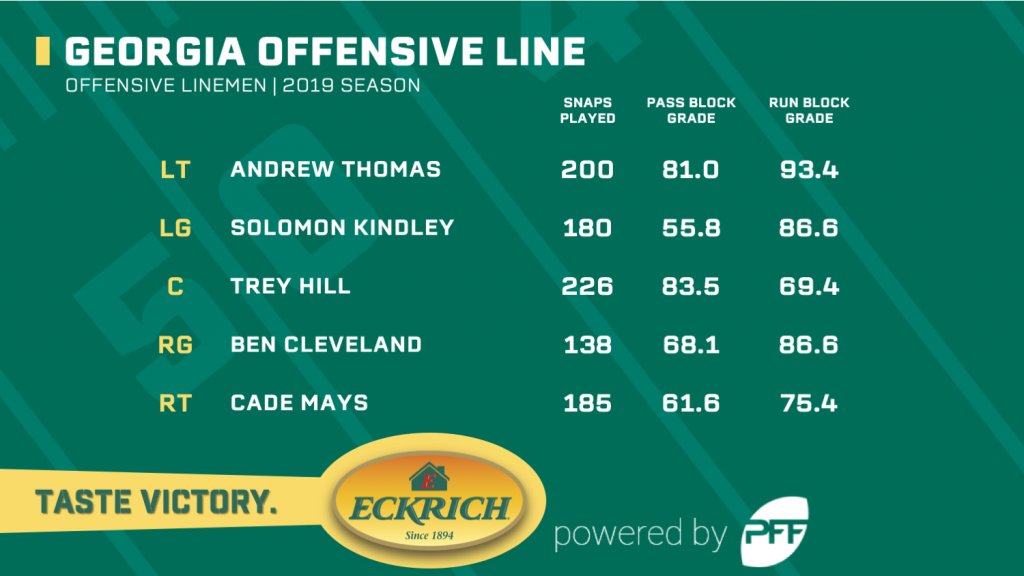 Georgia
Look no further than D'Andre Swift to see just how good Georgia's run-blocking has been. The junior running back has 16 runs of 10-plus yards on a remarkable 49 carries. That ranks third in the country, behind two players who each have 90-plus attempts. The Bulldogs' collective 89.2 run-blocking grade through Week 4 leads the NCAA, and four different offensive linemen boast 85.0-plus individual run-blocking grades.
Louisiana
Start paying attention to the underrated Ragin' Cajuns, because they're making things happen on a weekly basis. Through Week 4, Louisiana owns PFF's highest rushing grade, with a 90.4. And the team subsequently has the third-best run-blocking grade (84.3), springing its bevy of running backs into the open field more often than not. Two Louisiana running backs are top-five in the NCAA in yards per carry (Trey Ragas: 10.7, 1st; Raymond Calais: 9.7, T-4th), and a third — Elijah Mitchell — ranks tied for seventh in first-down conversions. It's rare two have two backs performing at such a high level, let alone three, so Louisiana's run-blocking unit deserves plenty of credit thus far.
Kansas State
While much of Kansas State's success has come on the back quarterback Skylar Thompson, the run-blocking unit simply can't be ignored. The Wildcats have been particularly successful in springing running back James Gilbert on the outside — 61% of his yards and half of his first-down carries on the season have come when rushing outside of the tackles. In total, the Wildcats' run-blockers have earned a collective 82.0 grade, good for fifth in the NCAA.
Iowa
Headlined by potential 2020 first-round talent Tristan Wirfs, Iowa's offensive line is home to a handful of talented run-blockers. Wirfs leads the pack with an 86.3 run-blocking grade, ranking eighth among qualifying offensive tackles. And Iowa is the only team in the FBS to have two tackles with top-15 run-blocking grades, as Mark Kallenberger has impressed in his sophomore campaign. As conference play begins, onlookers will get to see if this Hawkeyes offensive line is the real deal.