With new information comes new opinions here at PFF. We're not going to hold onto a previous evaluation just so we can hold out and hope we were right (see: Mitch Trubisky). That's why we'll be revisiting our preseason draft board a handful of times throughout the season with an expansion to 100 players planned alongside an updated draft guide on October 14th. Much of our preseason top-50 is unchanged, so instead of giving you a blurb on each, let's go more in-depth on those guys who have moved. 
Risers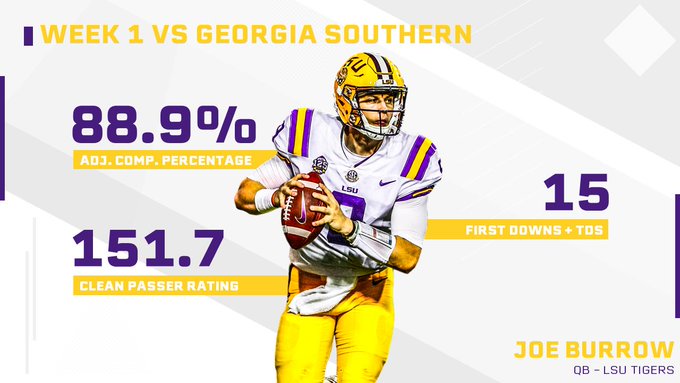 QB Joe Burrow, LSU
Burrow has lit opposing defenses — and our grading system — on fire through three games. He's earned himself a cool 92.7 overall grade, and his 87.8 adjusted completion percentage leads the nation. We saw glimpses of this guy in 2018, but the difference in his ability to get through his progressions quickly is about as big a leap as I've ever seen from a college quarterback in the span of a year. He's got a quick release and is unafraid to give his receivers a chance to make plays. A few more games like this and he'll pass Justin Herbert. A whole season, and there's a very good chance he passes Tua.
The Offensive tackles
I was a tad lower on the offensive tackles than a lot of people heading into 2019 because there is still so much development that needs to take place at a skilled position like offensive tackle. There's no harm in saying true sophomores aren't close to having it figured out yet. The good news is, we've seen big leaps forward from a good number of the top tackles. Georgia's Andrew Thomas is currently the highest-graded tackle in college football, while Iowa's Tristan Wirfs has the highest pass-blocking grade. Texas' Samuel Cosmi impressed me a ton with how adeptly he switched from right to left tackle without missing a beat.
However, no tackle made a bigger jump though than Alabama's Alex Leatherwood. A right guard in 2018, Leatherwood looks far better suited to play on the edge with his blend of length and athleticism. He still doesn't quite have the angles of pass protection down pat, but he's got the job done with some of the best mirror ability in the country. He's only allowed one pressure on 105 pass-blocking attempts so far this season.
Pass-rushing defensive tackles
It may be on a lackluster Seminoles squad, but no player in the country is dominating their position quite like FSU defensive tackle Marvin Wilson. The defensive tackle has the highest pass-rushing grade of any defensive tackle in the country and has already racked up 16 pressures in three games. This isn't a case of one monstrous game bumping up his stats either, as Wilson has earned a pass-rushing grade over 90.0 in every game so far. The junior defensive tackle has a full arsenal of pass-rushing moves and looks like he's gained some added explosiveness over the course of the offseason. He now sits atop the defensive tackle class in our rankings and looks as though he won't be giving it up anytime soon.
Oklahoma's Neville Gallimore is another player who's seen his pass-rushing performance taken to the next level this season. He trimmed down 30 pounds over the course of the offseason, and it's paying dividends already. After earning a 75.0 pass-rushing grade in 2018, he's earned higher than that in every single game so far. Gallimore looked like he was still learning the position last season and had too many dud reps where he didn't use his hands. Those are now a thing of the past, as he's collected multiple pressures in each game this season. 
Small Sample Sizes
There were two key players I chose not to rank this preseason because the sample sizes were too small to include: Alabama cornerback Trevon Diggs (464 career snaps prior to 2019) and Washington tight end Hunter Bryant (338). I could obviously tell both were talented, but it felt like a fool's errand to try and put a hard number on them with so little football played. Now, I've seen enough to know they're no fluke. Diggs had a gorgeous interception against Duke in Week 1 and has only allowed three catches on nine targets for 37 yards on the season. Bryant has been dominating since his freshman year when he's been on the field but had seen even less time than Diggs. Through three games this season, he's tops among tight ends in the country averaging 4.72 yards per route run — that's nearly two yards more than the next closest tight end. Only Oklahoma State's Tylan Wallace has averaged more among all players in college football. He'll have the 'tweener label coming out at 6-2, 240 pounds, but his receiving skills are as good as it gets at the tight end position in the country.
Emerging Edges
Pass-rushing production is one area of the grading we've found translates best to the next level. If we're going to be high on an edge defender, we need to see them produce in that regard. Through three games this season, that's exactly what Wake Forest's Carlos Basham and Alabama's Terrell Lewis have done. Basham is a freaky 6-5, 275 bull-rusher who is only scratching the surface of his potential. His get-off and closing speed are rare for a man his size. After racking up 52 pressures last season, he's on pace for over 70 this season with 18 through three games.
Lewis missed all of last season with an ACL tear, and he's been a player we've been excited to see more from ever since he earned an 89.1 overall grade on 54 snaps as a true freshman in 2016. He has exceptional bend for a 6-5, 252-pound edge rusher and has the explosiveness to still bull-rush at that size. He's earned an 88.9 overall grade on 99 snaps so far this season.
Fallers
The Quarterbacks
Another tough test led to another head-scratcher from Oregon quarterback Justin Herbert; he earned an unsightly 55.6 overall grade in a loss to Auburn. One of his biggest negatives I wrote in the draft guide was that he looks 'mentally checked out in some games' and it's difficult to watch him throw a hail mary 10 yards past the end zone against Auburn and not agree. Of course, he comes back the next week against a cupcake in Nevada and lights them up with three big-time throws, but that's no different from the guy we've seen in years past. Showing up in big games was by far the biggest unchecked box on Herbert's checklist, he falls down our list for his failure to check it.
The other quarterback who took a dive is Stanford's K.J. Costello. We were hoping to see Costello make the kind of leap that Joe Burrow did, but instead, we saw a ho-hum performance against Northwestern before leaving with a concussion. When he finally returned a couple of weeks later against UCF, he looked disastrous with two turnover-worthy plays. His 48.5 overall grade through two games is the worst start we've seen from any of the top quarterback prospects around the country.
Off Altogether
A handful of prospects started off this season so uninspiringly that they fell off altogether. We already touched on K.J. Costello, but joining him off the list is Auburn left tackle Prince Tega Wanogho, Alabama defensive tackle Raekwon Davis and Minnesota defensive end Carter Coughlin. I loved the upward trajectory of Tega Wanogho's career up to this point, but that came to a screeching halt when he allowed four pressures against Tulane earlier this year. His feet simply aren't on par with the other top tackles in the class. Davis and Coughlin were two players we needed to see more consistency from as pass-rushers, and both have gone the opposite way. Davis' pass-rushing grade is in the 60.0's for his third straight season while Coughlin has only managed seven pressures against the likes of South Dakota State, Fresno State and Georgia Southern for a 64.4 pass-rushing grade. 
Notre Dame safety Alohi Gilman and North Texas QB Mason Fine also dropped off the list, but only because they were passed up as the 49th and 50th players preseason, respectively.
IOL1 and DT1
Wisconsin center Tyler Biadasz and Auburn defensive tackle Derrick Brown went into the season as our top interior players on both sides of the football. Through three games, each has lost that crown. Both going into their fourth seasons, we expected all-around dominant performances from each, and neither has come close to that. Biadasz was far from dominant against the likes of USF and Central Michigan, even allowing a pressure against the latter. His 59.5 overall grade so far is a far cry from the elite play we've seen in the past. Brown, on the other hand, simply hasn't taken the next step we wanted to see from him as a pass-rusher. He's racked up all of four pressures on 72 pass-rushing snaps in games against Oregon, Tulane and Kent State. That's not going to get us too excited in today's NFL.
Off-field, Off-list
Finally, three guys fell off the list because they won't be playing the rest of 2019. Stanford left tackle Walker Little looked like a top-15 player in the class before a dislocated kneecap ended his season. Alabama linebacker Dylan Moses, our 40th overall prospect, tore his ACL before his season even got off the ground. West Virginia safety Kenny Robinson Jr. was a little bit of a different case in that the 19th overall player on our preseason board left West Virginia as he was rumored to be academically ineligible and has yet to catch on elsewhere. All three have eligibility remaining, and I'd expect all to return to school in 2020.
1. QB Tua Tagovailoa, Alabama
2. WR Jerry Jeudy, Alabama
3. Edge Chase Young, Ohio State
4. WR Jalen Reagor, TCU
5. Edge AJ Espenesa, Iowa
6. CB Jeffrey Okudah, Ohio State
7. S Grant Delpit, LSU
8. OL Tristan Wirfs, Iowa
9. CB Kristian Fulton, LSU
10. OL Andrew Thomas, Georgia
11. WR Ceedee Lamb, Oklahoma
12. LB Isaiah Simmons, Clemson
13. DI Marvin Wilson, Florida State
14. QB Justin Herbert, Oregon
15. OL Alex Leatherwood, Alabama
16. CB Bryce Hall, Virginia
17. Edge Julian Okwara, Notre Dame
18. TE Jared Pinkney, Vanderbilt
19. QB Joe Burrow, LSU
20. WR Henry Ruggs, Alabama
21. CB CJ Henderson, Florida
22. Edge Curtis Weaver, Boise State
23. DI Javon Kinlaw, South Carolina
24. WR Laviska Shenault, Colorado
25. DI Derrick Brown, Auburn
26. WR Tee Higgins, Clemson
27. OL Netane Muti, Fresno State
28. WR Tyler Johnson, Minnesota
29. OL Tyler Biadasz, Wisconsin
30. CB Trevon Diggs, Alabama
31. WR Tylan Wallace, Oklahoma State
32. RB Travis Etienne, Clemson
33. OL Creed Humphrey, Oklahoma
34. Edge Carlos Basham Jr., Wake Forest
35. RB D'Andre Swift, Georgia
36. OL Samuel Cosmi, Texas
37. CB AJ Terrell, Clemson
38. Edge Alton Robinson, Syracuse
39. QB Jake Fromm, Georgia
40. DB Ashtyn Davis, California
41. CB Jeff Gladney, TCU
42. DI Levi Onwuzurike, Washington
43. TE Hunter Bryant, Washington
44. Edge Terrell Lewis, Alabama
45. DI Neville Gallimore, Oklahoma
46. DB Shyheim Carter, Alabama
47. CB Paulson Adebo, Stanford
48. WR KJ Hill, Ohio State
49. RB Zack Moss, Utah
50. OL Josh Jones, Houston