The college football season is back in full force and with a full slate of games on Saturday, we at PFF and our team of over 500 analysts has dissected and graded every player on every snap of every game to bring you the most detailed and valid set of picks you can find anywhere.
The Week 3 Eckrich Team of the Week powered by PFF saw some impressive performances and, of course, the strength of opponent also factored into the overall selections as did the PFF player grades.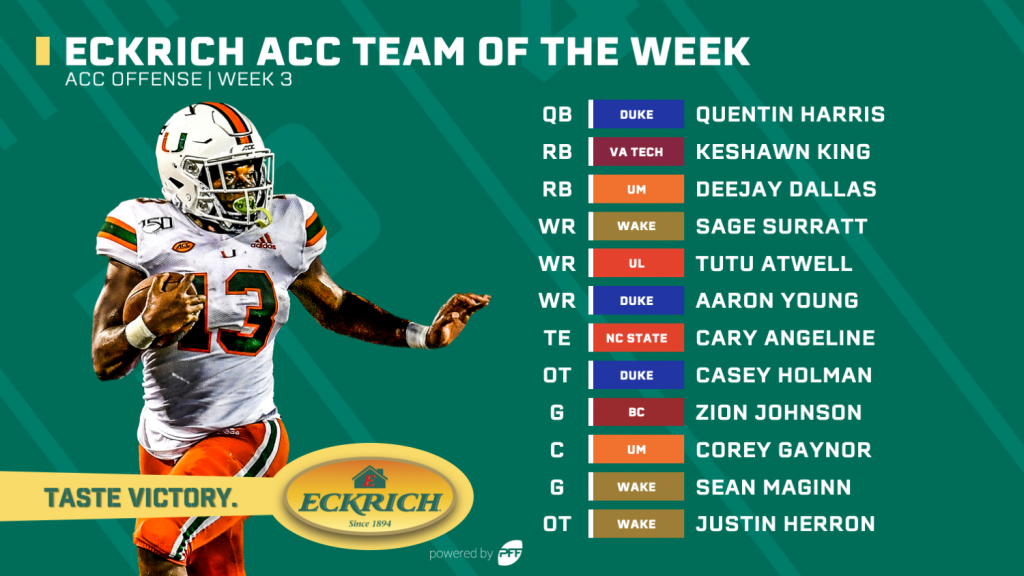 Quarterback
Quentin Harris, Duke
Completing his passes at a high rate, Harris finished the day with a ridiculous stat line that read 24-of-27 for 237 yards and four touchdowns. He littered the field with beautiful passes all day long to breathe some potential into their conference slate.
Second-Team QB: Jamie Newman, Wake Forest
Running Back
Keshawn King, Virginia Tech
King needed all of 12 carries to reach 119 yards on the ground and though he didn't score a touchdown, half of those carries moved the chains for a first down. He broke four tackles and even gained an average of 3.67 yards after contact per attempt.
Second-Team RB: AJ Dillon, Boston College
Running Back
Deejay Dallas, Miami
The entire Miami offense got things rolling but it was Dallas who nabbed the start and really took advantage of the lesser competition in Bethune Cookman. He notched three rushing scores on just 12 carries with 108 total yards and two broken tackles on the day before resting for what felt like the majority of the game.
Second-Team RB: Kenneth Walker, Wake Forest
Wide Receiver
Sage Surratt, Wake Forest
Friday night's brother vs. brother matchup between Sage and Chazz Surratt lived up to the billing with Sage ultimately coming out on top both individually and in the game. Sage caught all nine catchable passes thrown his way on 14 targets for a conference-best 169 yards through the air. He scored a touchdown and secured five first-down receptions in a dominant performance.
Second-Team WR: Emeka Emezie, NC State
Wide Receiver
Tutu Atwell, Louisville
Atwell's coming out party saw him grab three scores, more than he had all of last year, finishing the day with 145 yards through the air on five catches. He racked up 67 yards after the catch and saw a perfect 158.3 passer rating on his targeted passes.
Second-Team WR: Dyami Brown, UNC
Wide Receiver
Aaron Young, Duke
Young's circus catch in the end zone summed up the day perfectly for the Blue Devils as he finished the night with five receptions for 88 yards and two scores. Two more of his receptions moved the chains for a first down as Duke looked sharp through the air.
Second-Team WR: Tee Higgins, Clemson
Tight End
Cary Angeline, NC State
On five targeted passes, Angeline turned those into four receptions for 74 yards including 23 yards after the catch. He scored a touchdown and moved the chains two more times on his receptions as he was a bright spot in NC State's effort against West Virginia.
Second-Team TE: Larry Hodges, Miami
Offensive Tackle
Casey Holman, Duke
Holman had an elite run-blocking grade for the Blue Devils and also finished the afternoon by not allowing a single QB pressure on his 27 snaps in pass protection.
Second-Team OT: Jake Benzinger, Wake Forest
Offensive Guard
Zion Johnson, Boston College
On 27 snaps in pass protection, Johnson was a strong performer on the BC offense allowing just a single QB hurry. He was seemingly a lone bright spot on the BC offense in their loss to Kansas.
Second-Team OG: Rakavius Chambers, Duke
Center
Corey Gaynor, Miami
Gaynor was strong in the game against Bethune Cookman, not allowing a single QB pressure on 30 reps while leading the conference in run-blocking grade from centers.
Second-Team C: Olusegun Oluwatimi, Virginia
Offensive Guard
Sean Maginn, Wake Forest
Maginn was sharp early against North Carolina, allowing just one pressure on his 17 reps in pass protection while holding a positive grade in the run game, as well.
Second-Team OG: John Phillips, Boston College
Offensive Tackle
Justin Herron, Wake Forest
Herron has yet to allow a pressure over the past two games, a marked improvement over the past few seasons as he finished the UNC game with an elite pass-blocking grade of 86.1.
Second-Team OT: DJ Scaife Jr., Miami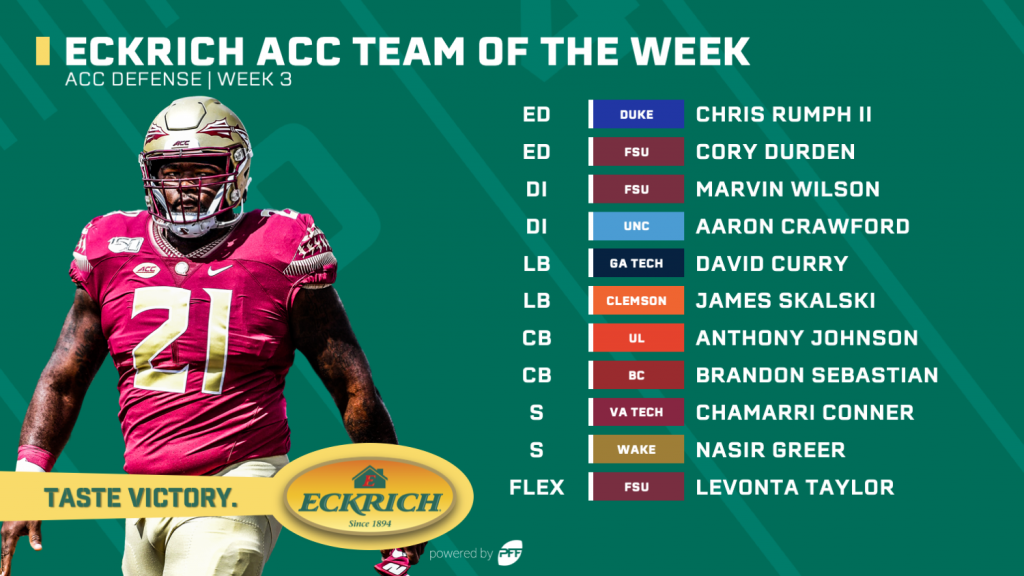 Edge Defender
Chris Rumph II, Duke
Finishing the game with eight total pressures, Rumph recorded two sacks, one QB hit and five QB hurries en route to an elite pass-rushing grade. He recorded four total defensive stops as he was also sharp in run defense.
Second-Team Edge: Victor Dimukeje, Duke
Edge Defender
Cory Durden, Florida State
Durden also makes this list based upon his pass-rushing, leading the conference with 11 total QB pressures
Second-Team Edge: Noah Taylor, Virginia
Defensive Interior
Marvin Wilson, Florida State
The game didn't go the Seminoles way but Wilson has dominated in all three games regardless of the outcome for FSU. Wilson recorded seven total pressures against Virginia and had it not been for a late penalty in the game, would have had one of the better games from an interior defender all season long.
Second-Team DI: T.K. Chimedza, Georgia Tech
Defensive Interior
Aaron Crawford, North Carolina
Crawford has exploded onto the scene this season for the Tar Heels, recording two defensive stops on five total tackles against Wake on Friday night. He didn't miss a single tackle in this contest and had plus-grades in each facet.
Second-Team DI: Rondell Bothroyd, Wake Forest
Linebacker
David Curry, Georgia Tech
The Yellow Jackets had to go up against the option offense, and despite losing to The Citadel, Curry had a dominant performance that saw him rack up 10 defensive stops on 14 total tackles without a single whiff. He was targeted once in coverage and had an interception to boot.
Second-Team LB: Dax Hollifield, Virginia Tech
Linebacker
James Skalski, Clemson
Clemson blew out Syracuse in the end and Skalski was a big reason why on defense, recording seven total defensive stops including two sacks and five more in run defense. He allowed all of 17 yards in coverage and had four total quarterback pressures on the afternoon.
Second-Team LB: Zane Zandier, Virginia
Cornerback
Anthony Johnson, Louisville
Johnson was the most-targeted cornerback in the ACC this past weekend, seeing 11 passes come his way. He did allow eight receptions, but they totaled just 70 yards without a touchdown allowed while he had two passes broken up in coverage in a strong outing.
Second-Team CB: Chandler Jones, Louisville
Cornerback
Brandon Sebastian, Boston College
The game didn't go their way against Kansas, but Sebastian was not a reason why on the backend. He made four total tackles, two coverage stops, didn't allow a targeted pass his way to be caught and had an interception on the evening.
Second-Team CB: Nick Grant, Virginia
Safety
Chamarri Conner, Virginia Tech
Conner racked up 11 total tackles without a miss while making nine defensive stops against Furman. He was targeted six times in coverage and he allowed just 22 yards including just two yards after the catch.
Second-Team S: Juanyeh Thomas, Georgia Tech
Safety
Nasir Greer, Wake Forest
Greer was dominant across the board, making nine solo tackles and four defensive stops. Of the three targeted passes his way, he allowed 32 yards and only three yards after the catch against UNC.
Second-Team S: Myles Dorn, North Carolina
Flex
Levonta Taylor, Florida State
Taylor made the first half's biggest play for the Seminoles, thwarting a potential Virginia scoring drive with a ball-hawking interception as he also chipped in with a quarterback pressure and three total tackles in coverage without a missed attempt.
Second-Team Flex: Russ Yeast, Louisville