Outside of the top-25 Auburn and Oregon clash, the warm-up games are over and we get two big-time matchups in Week 2 along with a host of other intriguing ones. While LSU will go into Austin to battle the Longhorns in primetime, the other big-time matchup with College Football Playoff implications will be played earlier in the day when PFF's No. 14 Texas A&M Aggies travel to No.1 Clemson.

What's probably most intriguing (and rare) about this matchup is that we got to see it a season ago, as well. Clemson went to College Station and had to stop a 2-point conversion with less than a minute to go to hold on for the 28-26 victory. While Texas A&M did lose two of its primary playmakers in TE Jace Sternberger (85.1 grade) and RB Trayveon Williams (82.5 grade) and Clemson technically has a different starting QB (Kelly Bryant started this game a year ago), many of the key contributors from last year are back and looking to make an early-season statement. 
Next step from Kellen Mond
A season ago, Kellen Mond proved to be the playmaker Jimbo Fisher was looking for to run his offense and team, but Mond is looking to take the next step as a passer in 2019. His biggest area of necessary improvement is in his accuracy. After two seasons of an adjusted completion percentage of 64.8% and 66.3%, respectively, Mond's adjusted completion percentage in the first game was 80.8%. While, yes, it was against Texas State, it was still definitely a step in the right direction. We'll truly get to see where Mond is a passer this weekend.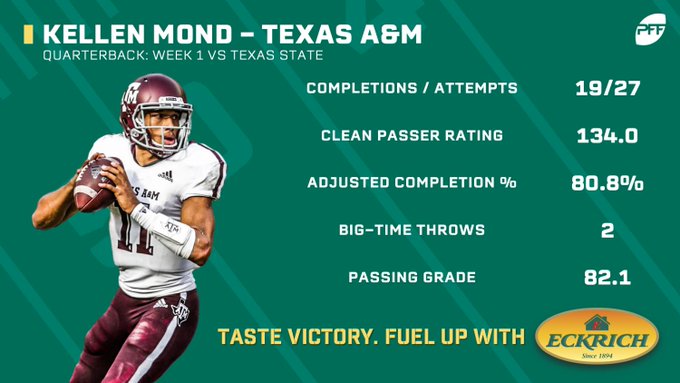 Line of scrimmage battle
Georgia Tech did force Trevor Lawrence into looking human, but they did little to stop Travis Etienne (79.1 grade) and the Tigers' running game, as the Tigers ran for over 400 yards. Etienne had 205 yards himself, averaging 17.1 per attempt, 8.83 yards after contact per attempt and forcing eight missed tackles. As a team, Clemson forced 17 missed tackles and had 13 runs of 10-plus yards. Of course, the guys up front were doing their job quite well. Led by tackles Tremayne Anchrum (93.6 grade) and Jackson Carman (80.8 grade), the offensive line paved the way for the above totals while also only allowing QB Trevor Lawrence to be pressured on three of his 24 dropbacks.
The Aggies will pose quite a different test on Saturday. Interior defenders Justin Madubuike (81.4 grade) and Jayden Peevy (82.1 grade), along with edge defender Tyree Johnson (70.9 grade), combined for 13 total pressures in Week 1. The Tigers will particularly focus on handling Madubuike, one of the nation's highest-graded (84.2 grade in 2018) and most disruptive (44 total QB pressures, 28 stops) returning forces on the interior. In last year's matchup, Madubuike had four total QB pressures, including a sack, to go along with three stops and an 86.9 game grade.
On the other side, while we didn't get to truly see what Clemson's ability to get to the QB will look like against Georgia Tech, be sure the returning Aggie lineman are glad it's a whole new set of faces. The four drafted Clemson defensive lineman (Clelin Ferrell, Dexter Lawrence, Christian Wilkins and Austin Bryant) accounted for 22 of the team's 28 total QB pressures a season ago, including eight each by Clelin Ferrell and Dexter Lawrence.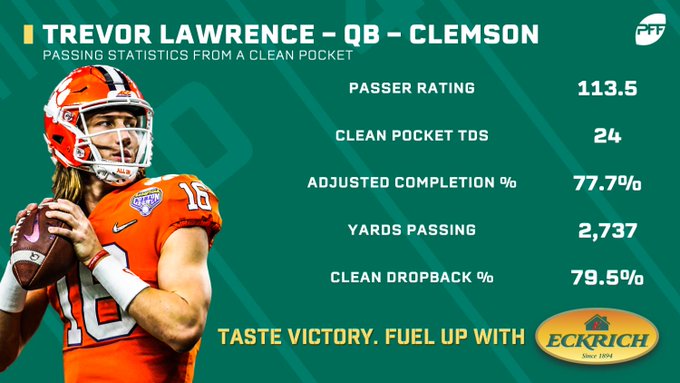 Bounce back from Trevor Lawrence
There's no other way to put it — Trevor Lawrence was just not good in Week 1 against Georgia Tech. His 39.4 overall game grade and 29.4 passing grade were by far the worst of his short career. He was not his normal accurate (56.5% adjusted completion vs. 75.2% in 2018) or good decision-making self. In fact, his four turnover-worthy plays in the Tech game almost bested the five he had in all of 2018.
Now, a bounce-back game from Lawrence should fully be expected, but if he is off in any way like he was against Georgia Tech, the Aggie secondary is capable of taking advantage of their opportunities and has the size to match Clemson's big and dynamic receivers. Myles Jones (80.4 grade in Week 1) allowed a passer rating of 12.5 into his coverage and had two interceptions against Texas State while Roney Elam (80.6 grade) only allowed a 31.5 passer rating and had a pass breakup and interception, as well. This is in addition to 6'2" Charles Oliver (63.9 grade) and 6'2" Elijah Blades (66.1 grade). 
Overall, while the PFF Greenline model expects Trevor Lawrence to get back to his normal, accurate and great decision-making self and Clemson's overall talent to handle the Aggies. But expect a very physical football game, in particular along both lines of scrimmage.