CJ Henderson will wear the vaunted No. 1 jersey for the University of Florida, an honor of the highest magnitude for the Gators' football program. He's been named to a handful of preseason All-American teams, including PFF's very own Preseason 2019 All-SEC Team. PFF's lead draft analyst Mike Renner has tagged him as a potential first-round pick if he declares for the 2020 NFL Draft.

Henderson is as good as it gets in college football and receiving praise in spades as a result. Yet, he wants none of it; he puts Florida football and its team's goals first.
"I want our team to win a National Championship," Henderson said in an August interview with PFF. "Whatever happens with me happens to me. I'm all in for my team this year."
The true junior cornerback had little interest in discussing his personal goals, where he wants to improve, his strengths, etc. As he said, he just wants to bring a National Championship to Gainesville.
Henderson's commitment to the University of Florida is reflected in his preparation for this upcoming season. He said he has spent a majority of the offseason "working a lot of technique" and "trying to get smarter on the field, learning offenses, anticipating more." All good news for a cornerback coming off an outstanding sophomore campaign in 2018.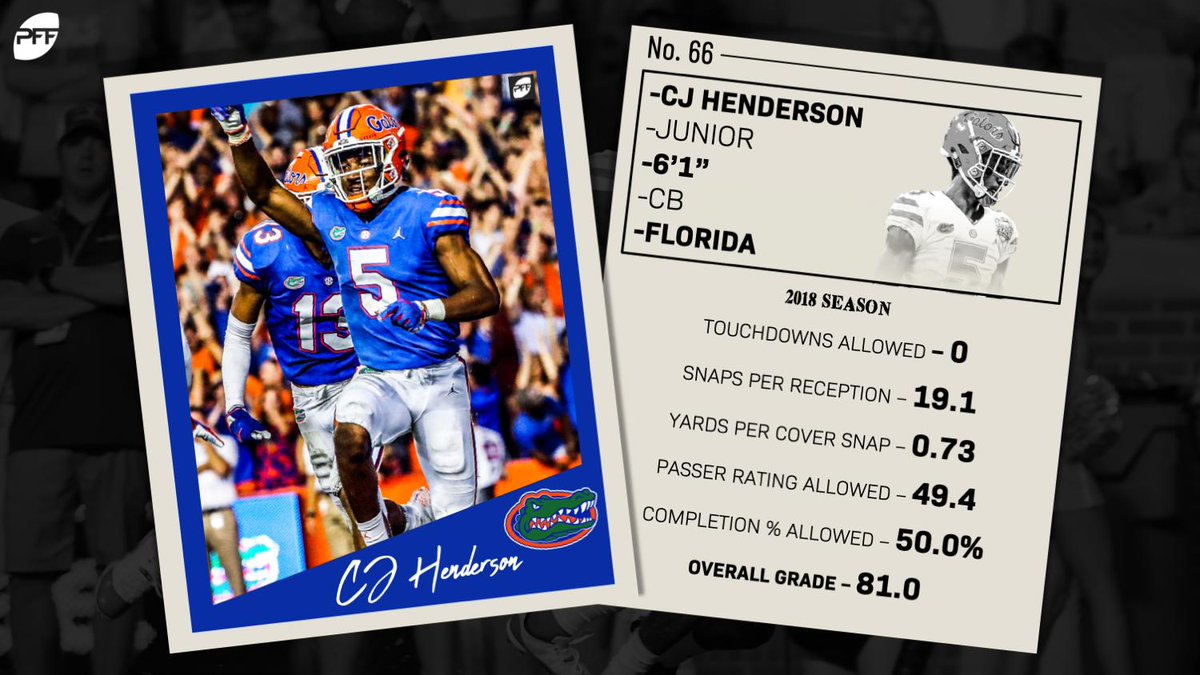 In what was a breakout year for Henderson, he allowed receptions on 18-of-36 targets for 249 yards, 14 first downs and zero touchdowns across his 342 coverage snaps in 2018. He also recorded two interceptions and ranked 11th among returning Power 5 cornerbacks with 200 coverage snaps played last year in forced incompletion percentage (25%). And his 81.7 coverage grade ranked tied for 12th among the same group of qualifiers.
Former Missouri wide receiver Emmanuel Hall, a speedster with insane straight-line speed, gave Henderson the most trouble of any one receiver in college football this past season. Hall caught two of his three targets against Henderson for 62 yards and two first downs, including a contested catch. Henderson did, however, come away from the matchup with a quality pass breakup on an intermediate target.
Per Renner in his notes in PFF's 2020 NFL Draft Guide, Henderson possesses elite feet and balance for the position in addition to great play anticipation and coverage versatility. He's also a freaky athlete that punches above his weight in the gym.
"The 6-1, 193-pounder has just 4.3 percent body fat but is one powerful dude," per Bruce Feldman of The Athletic. "He benches 380 and did 16 reps of 225 this offseason to go with a 545-pound squat, a 40.5-inch vertical and 10-4 in the broad jump."
The only reason for hesitation with Henderson is we just haven't seen enough of him. He was targeted just 36 times this past season, saw just three red-zone targets and 12 targets of 10-plus air yards. But considering his plans to improve this upcoming season and his upward trajectory after two years, the more we see of Henderson, the more we'll fall in love with the kid's play.