With the national championship game set, it's time to dig into a full season of college football data to bring you the 20 unique pieces of PFF data you need to know ahead of the rematch between Alabama and Clemson.
1. Deshaun Watson's adjusted completion percentage of 76.0 is tied for ninth in the nation
Watson has seen 30 of his incompletions come as a result of dropped passes this year, with another 24 coming by the way of throwaways, batted passes or times when he was hit as he threw. That means that of his 174 incompletions, 54 weren't really his fault, helping him to one of the best adjusted completion percentages in the nation. With an Alabama defensive that is more talented than any he has seen this year, that will be tested when the two teams meet.
2. Jalen Hurts' completion percentage drops 42.6 percent when he's put under pressure
Alabama's true freshman quarterback has looked anything but a true freshman for much of this season, but if he has had any moments where he hasn't looked as composed, it's when opposing defenses have put him under pressure. When he has been kept clean, Hurts has completed 73.8 percent of his passes and thrown 18 touchdowns to five interceptions. When pressure has got to him, that has dropped to 31.2 percent, with four touchdowns and four interceptions.

3. Jonathan Allen makes a tackle resulting in a defensive stop on 12.4 percent of his run defense snaps
Allen made a very strong claim to being the best player in all of college football a year ago, and a large part of that was how utterly dominant he was against the run. From 251 snaps against the run, Allen racked up 36 tackles, with 31 of those resulting in a defensive stop. That gave him a run-stop percentage of 12.4 percent, the fifth-best of any interior defensive linemen in the nation this year.
4. And he was also tied for fourth in pass-rushing productivity
Allen wasn't just dominant against the run though, and his work as a pass-rusher along with that makes him one of the most dangerous players in the national championship game. Rushing the passer 404 times over the course of the year, his pass rushing productivity rating of 12.6 was tied for the fourth-best mark among players on the defensive interior.
5. And he was tied with a certain Clemson freshman
Few freshmen can claim to have made the impact that Clemson defensive tackle Dexter Lawrence did this year, racking up 46 total pressures on the Tigers' defensive line. With those pressures split down into seven sacks, nine hits, 30 hurries and coming on 292 pass rushing snaps, his PRP rating was tied with Allen at 12.4.
6. Marlon Humphrey allows 16.3 yards per catch
Alabama's top outside cornerback allowed just 28 receptions through the regular season and the College Football Playoff semifinal with Washington, but did so at 16.3 yards per catch. He allowed 17.4 yards per catch in 2015 too, so while he has been one of their best players in the secondary, when he gets beat, it's often deep.
7. Passes into Cordrea Tankersley's coverage result in an NFL passer rating of 37.7
Clemson's top cornerback has been targeted 59 times in coverage this year, but has given up just 27 catches for 285 yards, with just one touchdown allowed and recording four interceptions and eight pass breakups. That results in a passer rating of 37.7, lower than if the opposing quarterback was to drop back and throw the ball away on every snap.
8. Clemson's offensive line is the 27th-most-efficient pass-blocking line in the nation
The Tigers' offensive line have allowed just 104 total pressures, including just 11 sacks, on 588 passing plays this season. They'll be looking to continue that to allow quarterback Deshaun Watson as much time as possible to make the throws that will give them a chance at beating Alabama.
9. Tim Williams' pass-rushing productivity rating of 18.0 is second-best in the nation among edge defenders
While Clemson's offensive line have done a good job in pass protection, they will have to deal with one of the best pass-rushers in the nation in Tim Williams. Seizing his opportunity in a full-time role this year, Williams racked up nine sacks, 10 hits and 34 hurries on 233 pass-rushing snaps. Fellow Alabama edge defender Ryan Anderson wasn't too far behind, with a PRP rating of 15.1 after producing 53 total pressures from 279 pass-rushing snaps.
10. Alabama's offensive line is the seventh-most-efficient pass-blocking line in the nation
Even more impressive than Clemson's offensive line has been Alabama's. One of the earlier stats to know was how much of a drop in completion percentage we see from quarterback Jalen Hurts when he is under pressure, but the Alabama offensive line has only allowed 55 total pressures, including just six sacks, on 434 passing plays this year.
11. Alabama's four best rushing options combined to force 134 missed tackles in 2016
Quarterback Jalen Hurts leads Alabama with 165 rushing attempts this year and, while some would look at the lack of a dominant runner as a bad thing, that certainly isn't the case for the defending national champions, with strength in numbers showing through. Hurts has forced 42 missed tackles, while Damien Harris has forced 31. Bo Scarborough is second on the team with 35 missed tackles forced, and the group is rounded off with freshman running back Joshua Jacobs, who has forced 26.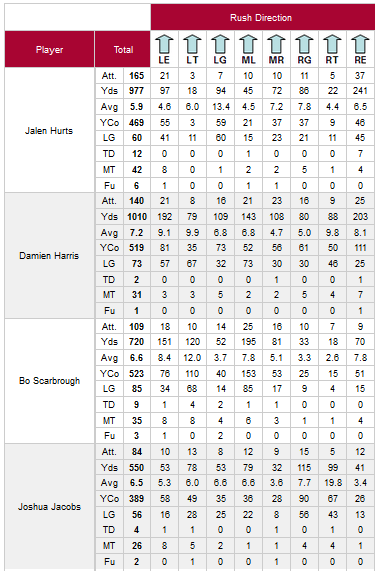 12. Mike Williams ranks 12th in the nation in yards per route run
With Watson one of the top quarterbacks in the nation, he also has one of the top targets to throw too, as Mike Williams ranks 12th in the nation with an average of 3.37 yards per route run, with 1,266 yards on 358 snaps where he has run a route.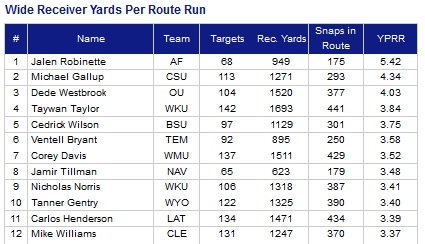 13. Minkah Fitzpatrick hasn't allowed a touchdown catch when lined up in the slot this year
Fitzpatrick has played in several spots for the Alabama defense this year, but he is most at home in the slot, where he has given up justv19 catches for 238 yards, with no touchdowns, to go along with three interceptions. That works out at an NFL passer rating of 36.1, so opposing quarterbacks have rarely found success when going after him.
14. Just 35.2 percent of JK Scott's punts have been returned
Alabama punter JK Scott has been our second-highest-graded player at the position this year, and has combined with the team's talented gunners to limit opposing special teams units to a return attempt on just 35.2 percent of his punts, with 10 resulting in touchbacks, along with another 25 that have gone either out of bounds, been downed, or resulted in a fair catch.
15. Wayne Gallman forces a missed tackle on 23.8 percent of his carries
Making Alabama defenders miss in space is incredibly tough to do, especially when you consider how well their defensive front is able to assert its authority at the line of scrimmage, but that is the task that falls to Clemson running back Wayne Gallman in the title game. So far this season, he has done a solid job, forcing 51 missed tackles on 214 carries.
16. Alabama has missed just 72 tackles all year
One of the most disciplined teams in the nation, Alabama simply hasn't missed many tackles this year. With 72 in total over the course of the year, the Crimson Tide average just 5.1 missed tackles per game, with no player on their defense missing more than 12 tackles since the beginning of the year. To put that into perspective, Clemson have missed 128 tackles this year, and average 9.1 missed tackles per game.
17. Reuben Foster leads all linebackers with a run-stop percentage of 16.1
When Alabama lost linebacker Reggie Ragland to the NFL draft last year, many wondered if Reuben Foster could step up and improve to take his place as the star in the middle of the Alabama defense. He did that, and more, registering 46 tackles resulting in a defensive stop from 285 snaps against the run, giving him the best run stop percentage of any linebacker in the nation at 16.1 percent.
18. ArDarius Stewart has forced 41 missed tackles on 116 catches over the past two seasons
Calvin Ridley came into the year expected by many to be Alabama's top receiver, but Stewart has been the bigger threat with Hurts at quarterback. Particularly impressive at making people miss on screen passes, he has now forced 41 missed tackles on his past 116 receptions dating back to the beginning of the 2015 season, working out at once every 2.8 receptions.
19. O.J. Howard has dropped just two passes this season
Showcasing one of the safest pair of hands in the nation, dropping just two of the 43 catchable passes thrown his way this year. With just one drop in 2015, and three in 2014, Howard has dropped just six of the past 102 catchable passes thrown his way.
20. Kendall Joseph and Ben Boulware have combined to register 92 tackles resulting in a defensive stop.
The top two linebackers on Clemson's roster, Joseph and Boulware have both stood out as blitzers, against the run and in coverage. They have both recorded four sacks each, with Joseph adding 44 tackles resulting in a defensive stop against the run and in coverage, and Boulware adding an additional 40.