Canadian football does things a little differently from its American counterpart. There are only three downs. There is no fair-catching. The fields are longer and wider.
There is also no Most Valuable Player award. Instead, the CFL gives out an award for the Most Outstanding Player. And in the 70 years that the award has been given out, only one player has ever won the award in three straight seasons, an honor belonging to legendary quarterback Doug Flutie, who won the award in six of the seven seasons from 1991-97.
But after this year, we could be looking at a second name on that list.
---
Click here for more CFL content:
2023 CFL Quarterback Rankings | Preseason CFL All-Star Team
---
Zach Collaros didn't expect his career to end up in Canada. Born in Ohio, he was an unbeaten 30-0 and two-time state champion over his final two years as a starter for Steubenville High School. A college career at Cincinnati saw him go 16-9 as a starter and account for 66 total touchdowns, and he capped off his career by leading the Bearcats to a 31-24 victory over Vanderbilt in the 2011 Liberty Bowl.
Collaros went undrafted in the 2012 NFL Draft. He was invited to a Tampa Bay Buccaneers minicamp but was released just a few days later. When his agent called him and told him a team both in Canada had his negotiation rights, he initially didn't think much of it.
"I really just wanted to kind of move on with my life and become a graduate assistant — go down that path coaching," said Collaros in an exclusive interview with PFF. "But a couple of people that I really trust said that'll always be there and to go give it a shot. And here we are now."
The team that held his negotiation rights was the Toronto Argonauts. When Collaros arrived in Toronto, he found a team led by legendary CFL Hall of Fame quarterback Ricky Ray, a team filled with coaches and players with a wealth of experience in Canada and in America. Collaros credits Ray with helping him learn the game at a professional level.
"It was definitely a great learning experience — he was a guy who just had a wealth of knowledge and had been in different types of systems for his time in Edmonton," Collaros said. "He was coming from more of a wide-open style system to more of the West Coast progression, where your footwork-always- has to be exactly the same way … it was new for me and new for him. So, we were able to kind of learn that together. Obviously, he kind of understood how to learn that a little bit quicker than me. He was a great role model and somebody to look up to, on the field and off it."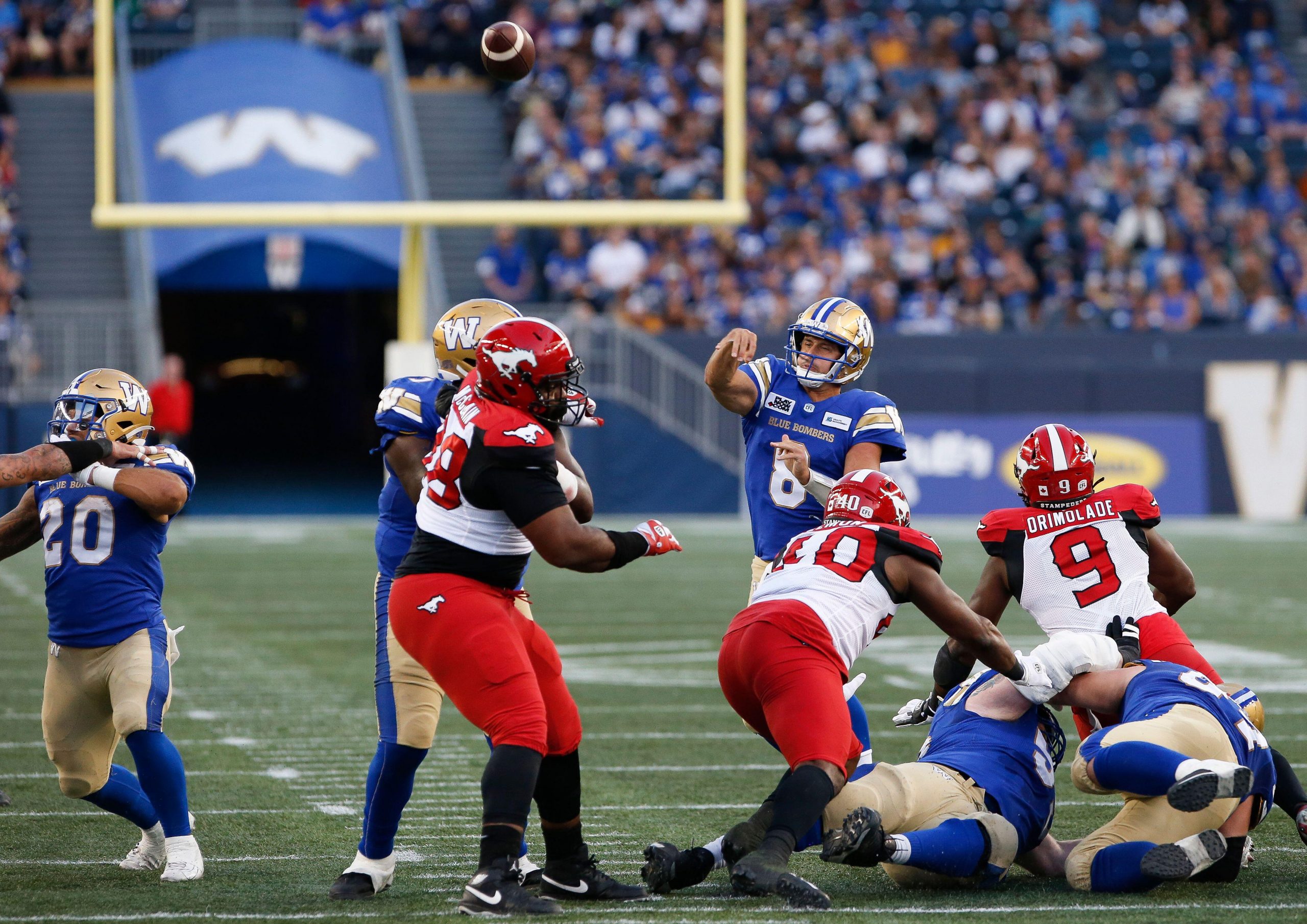 While football is football, coming from America and seeing all the different rules and field dimensions of the CFL game might overwhelm some players. But if you ask Collaros, there are really only two big things that take some getting used to. There's the extra player — CFL teams are allowed to field 12 players, as opposed to the 11 fielded by NFL teams — and there's the waggle.
"The speed of the game with the waggle," he said. "With respect to what we're used to in the States from a footwork perspective, throwing certain routes, whether it's a basic route or a corner route, usually you can anticipate when a guy is going to hit his fifth step or his seventh step and put his foot in the ground and declare that angle for you for where to throw the ball. Up here, it's very different because of the waggle."
For those unfamiliar, the waggle is the term used to describe the pre-snap motion of a receiver in the CFL. While American rules prevent backfield players from moving vertically at the snap, the CFL has no such rule. CFL backfield players may move freely in any direction so long as they are onside at the snap. So, some receivers will be at full speed at the snap rather than starting from stationary as they do in the American game. According to Collaros, every player's waggle is different, and that's the hardest thing to get used to.
"Everybody has a different waggle. Everybody has different stride lengths," the Blue Bombers quarterback said. "You know, some guys take a three and a hitch on certain routes. Sometimes, you gotta kind of hop to base, take a quick five. Everybody's a little bit different, based on who the waggler is and what the concept is. I think that was definitely a big adjustment for me."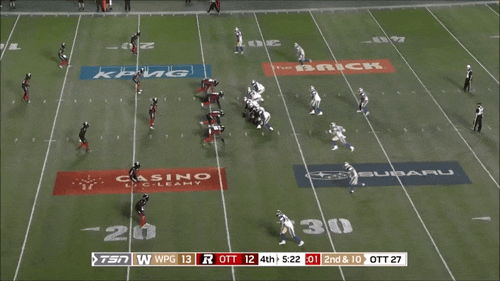 It didn't take long for Collaros to pick up the Canadian game. After two years as a backup in Toronto, he moved on to the Hamilton Tiger-Cats and became their starter. In 2015, he led the CFL in passer rating and was considered one of the top quarterbacks in the league.
But then came the injuries — a torn ACL and multiple concussions, to name but a few. He entered the 2019 season as the starter for the Saskatchewan Roughriders, suffered a concussion in his first game and didn't play again until the final game of the season. In that time, he had been traded twice, once back to Toronto and then to the Winnipeg Blue Bombers late in the season.
"Yeah, that was a tough season for sure," Collaros said when asked about that fateful 2019 campaign. "I ended the previous season with an injury, a concussion, and then had one in that first week of 2019. That was definitely a rollercoaster of emotions of what's going to happen next, trying to figure it out for my family. I ended up being traded to Toronto, was around some great people there, and then I had an opportunity because of injuries here [in Winnipeg] and jumped at that when my agent gave me the phone call."
That 2019 trade proved historic, as Collaros started the final game of the season and then went on to star in all three of the Bombers' playoff games en route to a Grey Cup victory. Collaros credits the team around him for being able to jump in there and find such success immediately.
"It's a testament to this organization, to the culture that's been built here to say, 'Hey, let's go, whatever we gotta do, let's do it.' And they made me feel comfortable and again had a great team. So, I didn't have to do too much to secure that one."
The COVID-19 pandemic wiped out the entire 2020 CFL season. But since it returned, the league has been all Collaros. He led the Bombers to another Grey Cup win in 2021, securing his first Most Outstanding Player award in the process. He won it again last year and took the Bombers to a third straight Grey Cup appearance.
But if you ask Collaros, there's still a lot he can improve on.
Zach Collaros: PFF stats and rank among CFL quarterbacks with 125 or more pass attempts in 2022 (postseason included)
| | | |
| --- | --- | --- |
| Stat | | Rank |
| PFF passing grade | 85.2 | 3rd of 15 |
| Yards per attempt | 9.5 | 2nd of 15 |
| Big-time throw rate | 7.50% | 1st of 15 |
| Average depth of target | 12.4 | 2nd of 15 |
| Passer rating from a clean pocket | 106.3 | 2nd of 15 |
| Passer rating under pressure | 117.2 | 2nd of 15 |
| Passer rating on throws of 10-plus yards | 121.8 | 2nd of 15 |
"For me specifically, it's typically playing within the system. Getting to the check-downs and getting into the drag routes or the drive routes, or whatever you want to call it. It's just taking what the defense gives you. I've always been a guy who wants to extend plays and throw the ball downfield. I still feel that I can do it at [age] 34, but it's something I always try to improve on each season, and I think I do a decent job."
A decent job is putting it mildly. Collaros is our top-ranked quarterback heading into this CFL season. Not only that, but his receiving corps might also be one of the greatest receiving rooms ever assembled. And Collaros has nothing but the highest praise for them.
"I always say this up here, and I sound like a broken record. But first and foremost, it's a very unselfish group of guys, but it's a very talented group of guys, too. And they're very smart. A lot of them are able to see coverage like a quarterback from their vantage point and understand what we're trying to do. It's a great group to play with, man. I love those guys."
There's a reason the Winnipeg Blue Bombers are the favorites to win the Grey Cup. There's a reason Zach Collaros is the favorite to win his third straight Most Outstanding Player award. The Grey Cup is the goal, but it's about the work and preparation they put in as a team to get them to that spot.
"That is obviously the ultimate goal," he said when asked about winning the Grey Cup. "But within the journey, so to speak, there's definitely different check marks and boxes that we want to hit. A lot of that just has to do with being efficient and being prepared. Staying healthy and all those things are sometimes luck, but it's also things that you could take care of and work at during the season. So, we hope for that, but we're just really excited to get going."