Similar to NFL and college football, actions are a lot harder to complete successfully when you are under pressure from the opponent in football. The act of applying pressure adds an element of excitement to the game, as one team actively strives to close in on their opponents while the opposition attempts to play their way out of the situation. The Bundesliga is known for its high-pressure play, particularly on passes. In this article, we explore this dynamic in greater detail.
To capture this crucial element of the game, PFF's pressure process is used whenever a player attempts to put their opponent under pressure by actively closing the space between them and when they do so successfully. The yardage of what is deemed a pressure can either shrink or expand based on the intensity and direction of the players involved. The process differentiates between situations where an opponent pressures the ball carrier versus situations where they pressure the passing or shooting lane, rather than the ball carrier directly.
To account for the fact that pressure can only be applied when the opponent has possession of the ball, we first have to adjust the number of pressures in a game accordingly.
As often happens when looking at the Bundesliga, FC Bayern München stand out, this time for having the highest pressing rate. However, despite this, Julian Nagelsmann was dismissed from his role as manager on March 24, 2023.
On the other end of the spectrum, FC Augsburg turns out to give the opponent more breathing room than other teams.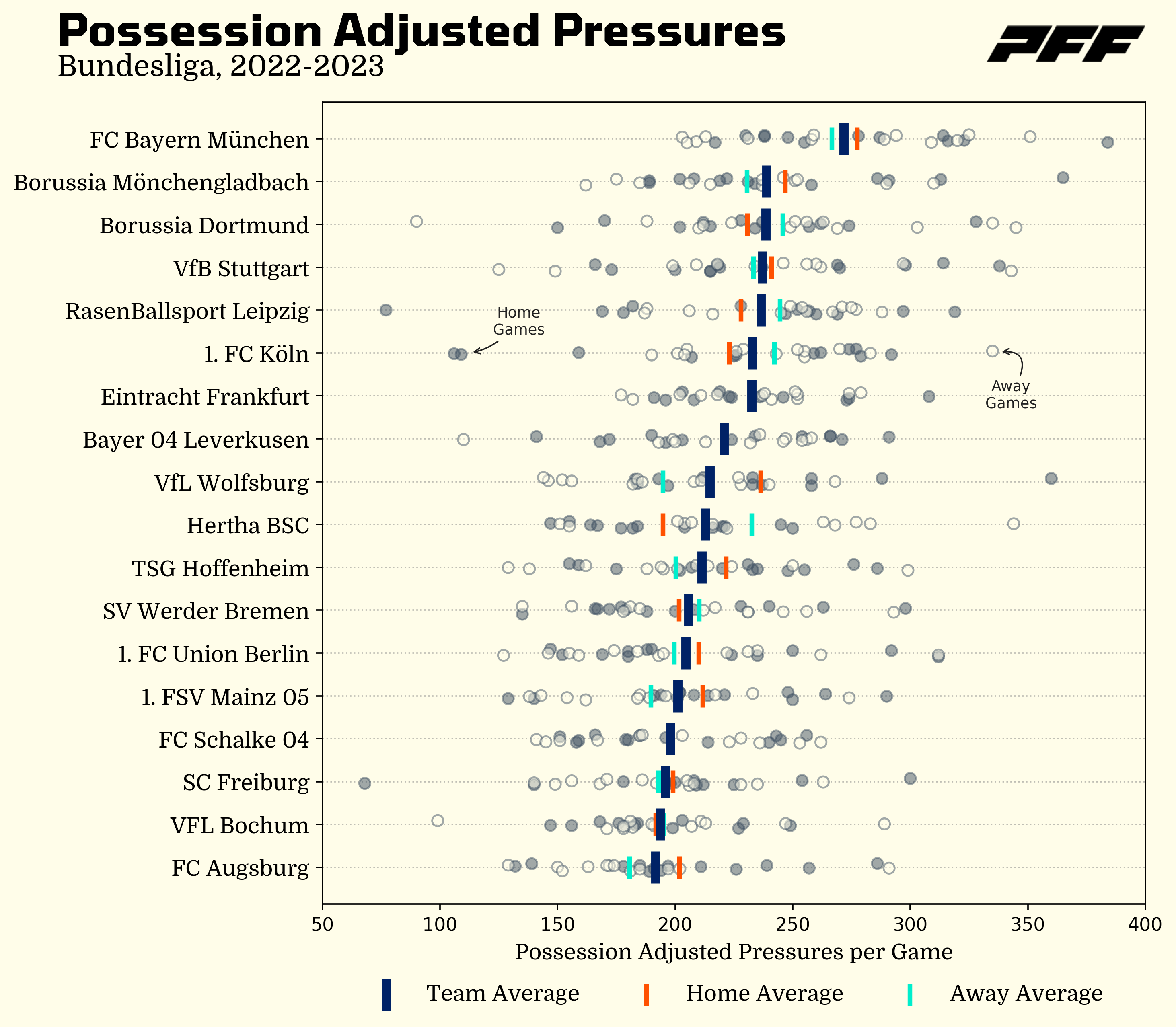 But there is more to be learned. When it comes to the difference in pressures applied between home and away games, VfL Wolfsburg and Hertha BSC show opposing trends in their pressing strategies: Wolfsburg applies significantly more pressure at home, while Hertha applies more pressure when playing away. In contrast, Bayer 04 Leverkusen and Eintracht Frankfurt apply similar levels of pressure at home and on the road.
Examining the percentage of lane pressures allows for a closer look at how teams apply pressure. Teams that have a higher percentage of lane pressure adopt a more passive approach, allowing their opponents to maintain possession while attempting to direct them towards less dangerous areas of the pitch, as observed with SV Werder Bremen. In contrast, teams that have a lower percentage of lane pressures employ a more direct and aggressive pressing style (Bayer 04 Leverkusen).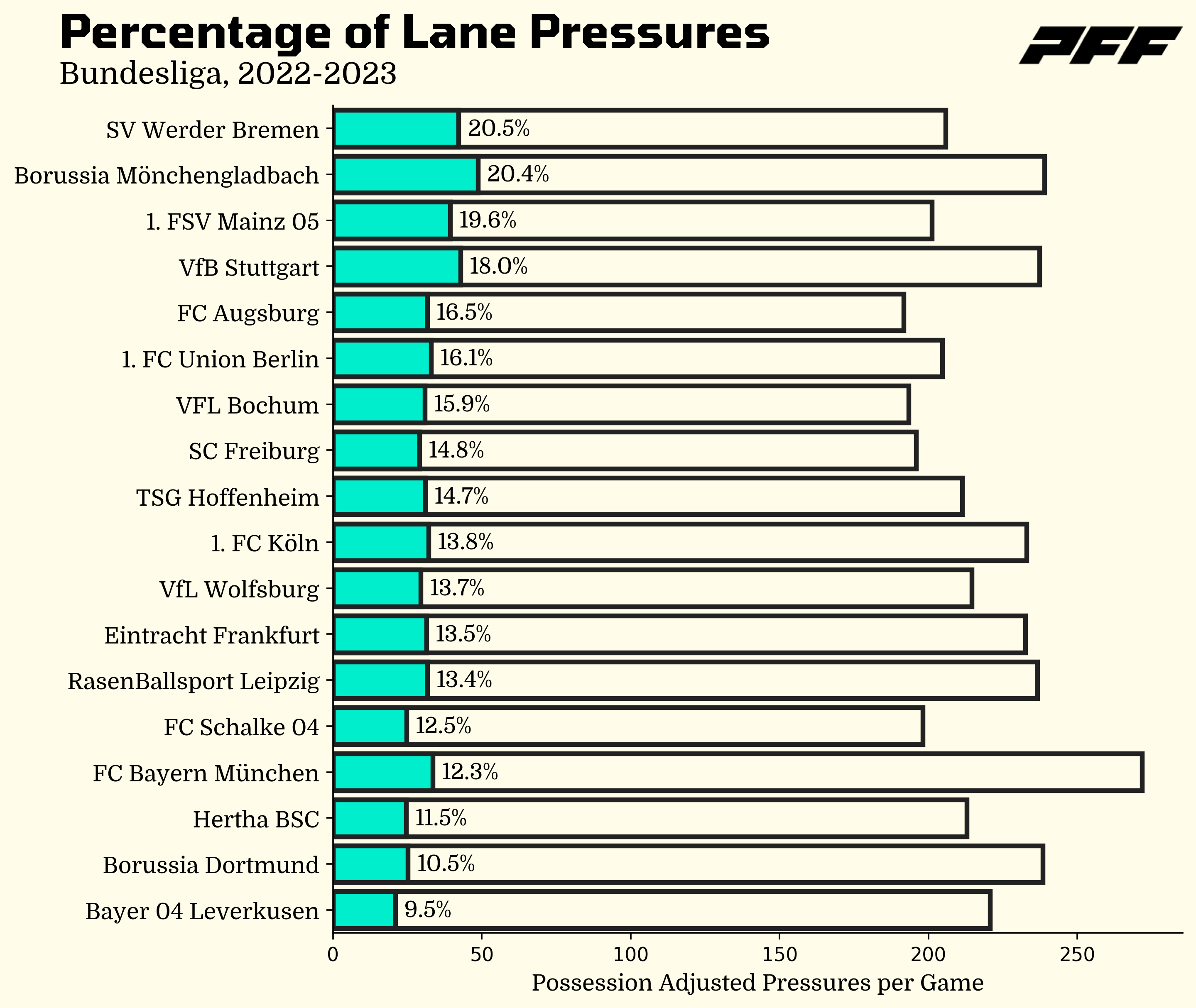 This Sunday, Bundesliga leaders, Borussia Dortmund, will face the reigning champions, FC Bayern München, in a highly anticipated match that will determine the top spot in the league. Both teams are known for their high number of pressures and low percentage of lane pressures. However, their pressing strategies differ in terms of where they apply most of it. Dortmund's midfielders account for the highest percentage (47%) of the team's pressures in the Bundesliga, while Bayern's forwards are responsible for a larger share of the team's total (34%).
On a player level, Julian Brandt (589 pressures) and Jude Bellingham (580) have recorded the most pressures for BVB, while Jamal Musiala (494) and Joshua Kimmich (477) lead the way for Bayern. Their earlier encounter in Dortmund this season resulted in one of the top-15 games with the most pressures recorded in a single game. That game ended in a draw after Dortmund scored a dramatic late equaliser by Anthony Modeste, the rematch taking place this Sunday is a must-watch game.
If you are a club professional and interested to see how you can use PFF data to benchmark your team or analyse your upcoming opponent, please reach out to [email protected].