The Associated Press announced the official All-Pro team for the 2019 NFL season, so it's time for PFF to weigh in and assess where they overlooked some players.
Our PFF All-Pro team has already broken cover, so it should be fairly obvious where we will focus our attention on, but it's important to note that our team is the only one out there that has been sourced thanks to the information available through watching and grading every player on every play of the NFL season. We may not be perfect, but we have at least accounted for every single snap of action in a way nobody else can replicate, and so we naturally believe our All-Pro team has a strong foundation.
It's no surprise to see Brooks snubbed for the All-Pro team, in what has become a career defined by being underrated. Brooks has consistently been among the better guards in the NFL, whether it was playing for Houston or Philadelphia, yet his name is rarely mentioned in the same breath as some of the other recognized greats – perhaps because he was just a third-round draft choice back in 2012, rather than a first-rounder. This season though, Brooks has elevated his game to an even higher level, earning a career-high 92.9 PFF grade, which leads all players at the position. Brooks surrendered just 19 total pressures all season, including only one sack, and was flagged on just two occasions all year while run blocking like a bulldozer along the Eagles offensive line. Brooks deserves to be the first name mentioned at guard in 2019, but gets overlooked once more.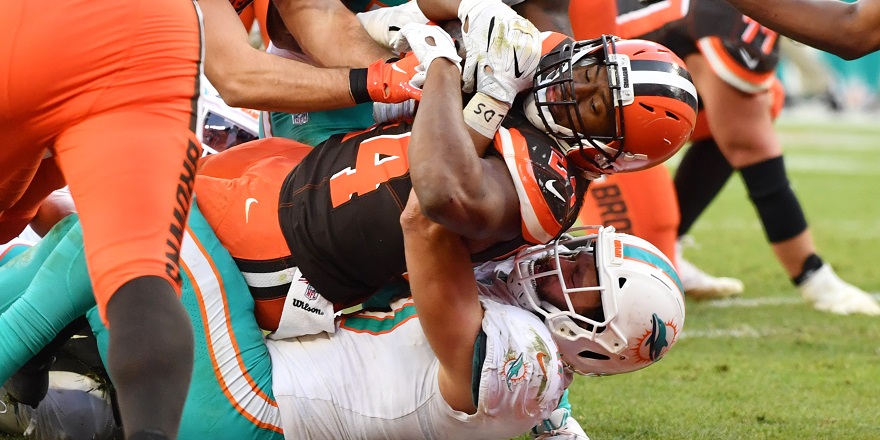 © Ken Blaze-USA TODAY Sports
We know through research that a running back's production is largely the product of their environment and many other factors beyond their control – markedly more than it is the performance of the actual back getting the opportunities. PFF's grading can dial in on what the running back himself actually did to earn the yards and scores, and separate his impact from the blocking or the defense that he faced. When you do that, Chubb has both the highest overall and rushing PFF grade in the NFL this season. Chubb rushed for 1,494 yards (second in the league), and gained 1,122 of them (75.1%) after contact. He broke 66 tackles on 298 carries and was seemingly the only thing functioning consistently on a Cleveland offense that could not get out of its own way this season. Yes, some backs gained more yards either on the ground or total from scrimmage this season, but none did more on an individual level to maximize his production than Chubb.
Ending the season as PFF's No. 1 ranked safety, Simmons has been phenomenal for Denver in 2019. He ended the year with a combined 15 interceptions and pass breakups, the most of any safety but was far more than just a coverage free safety. Simmons saw significant snaps deep as a free safety, but also in the box and even covering the slot for the Broncos. Despite having one of the best coverage grades in the league, he also finished the season ranked 11th at the position for defensive stops and made a significant impact around the line of scrimmage as well. Simmons has developed into one of the best safeties in the game this season, and should have been an easy All-Pro choice.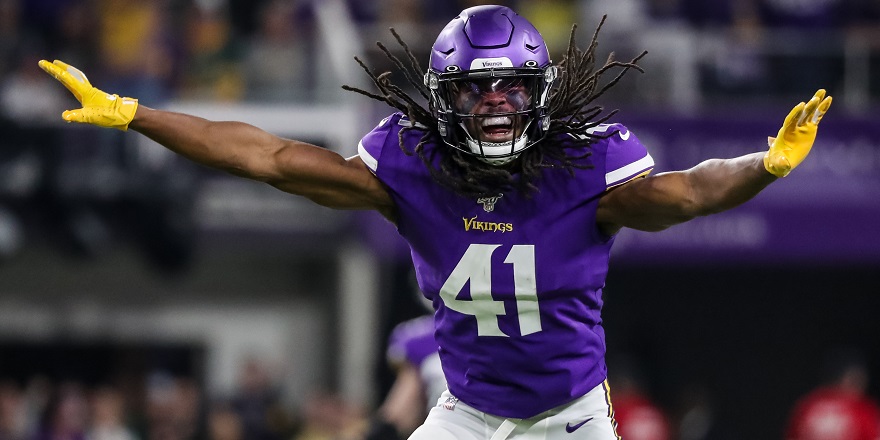 © Brace Hammelgarn-USA TODAY Sports
Interceptions are a terrible way of measuring a defensive back's performance in coverage. The league leaders this season sit at six picks, and most of those players have been in coverage on more than 500 snaps, so debating the merits of the league's best is weighing up the impact of around 0.4% of their snaps in coverage in a given year. Sometimes however, the interceptions align nicely with a guy's performance, and that's the case with Minnesota's Harris. Harris has five pass breakups to go along with his six picks, and missed just two tackles all season long. Harris has graded extremely well in the past in limited snaps, earning himself a chance to start and prove he can do it as a full-time starter, and he responded by maintaining his outstanding level of play, and even exceeding it a little.
It's hard to argue with any of what Lamar Jackson has done this season for the Baltimore Ravens, and his development has been spectacular to witness, but comparing environments for a second puts Wilson's play in a whole new light. Wilson has the higher overall PFF grade of the two (albeit by a mere fraction, 91.2 to 91.1), but has done it behind the No. 30 pass-blocking unit in the NFL instead of the No. 1. While the Ravens have a coaching staff doing everything they can to maximize offensive production in terms of fourth-down decisions, 2-point tries etc, the Seahawks are run far more on gut feel, and consequently Wilson is just not being put in the same positions to succeed as Jackson. Both players are very deserving of recognition (and each made either first- or second-team in PFF's All-Pro), but we think flipping the order represents a fairer reflection of this season.