• Bet Cowboys RB Tony Pollard o79.5 rush yards vs Bears: The NFL's most explosive back with at least 200 carries since the start of 2021 (10+ yards on 7.4% of carries), Pollard should be the Cowboys' featured back with Zeke hurt.
• Bears are 9.5-point underdogs in Dallas, with a 46.8 PFF run defense grade that ranks 29th in the NFL.
• Bet Bengals RB Joe Mixon u67.5 rush yards vs Browns: Mixon's -0.9 rushing yards over expected is 28th out of 33 qualifying rushers; Cincinnati has gone from a +0.2% pass rate over expected to a +24.2% on early downs. 

What Rushing Yards Over Expected Tells Us About Rushing Props in Week 8
In the past five weeks, our rushing yardage prop bets based on rushing yards over expected (RYOE) are 11-4 (+5.9 units). This is because 10 of the 15 bets have been unders. As PFF's Ben Brown shows, rushing yard unders cash more regularly than rushing yard overs. In this article, 2 unders and 1 over will be given out to maximize profits but the over should be placed with more caution than the unders.
Bet Gameplan: Playable to 63.5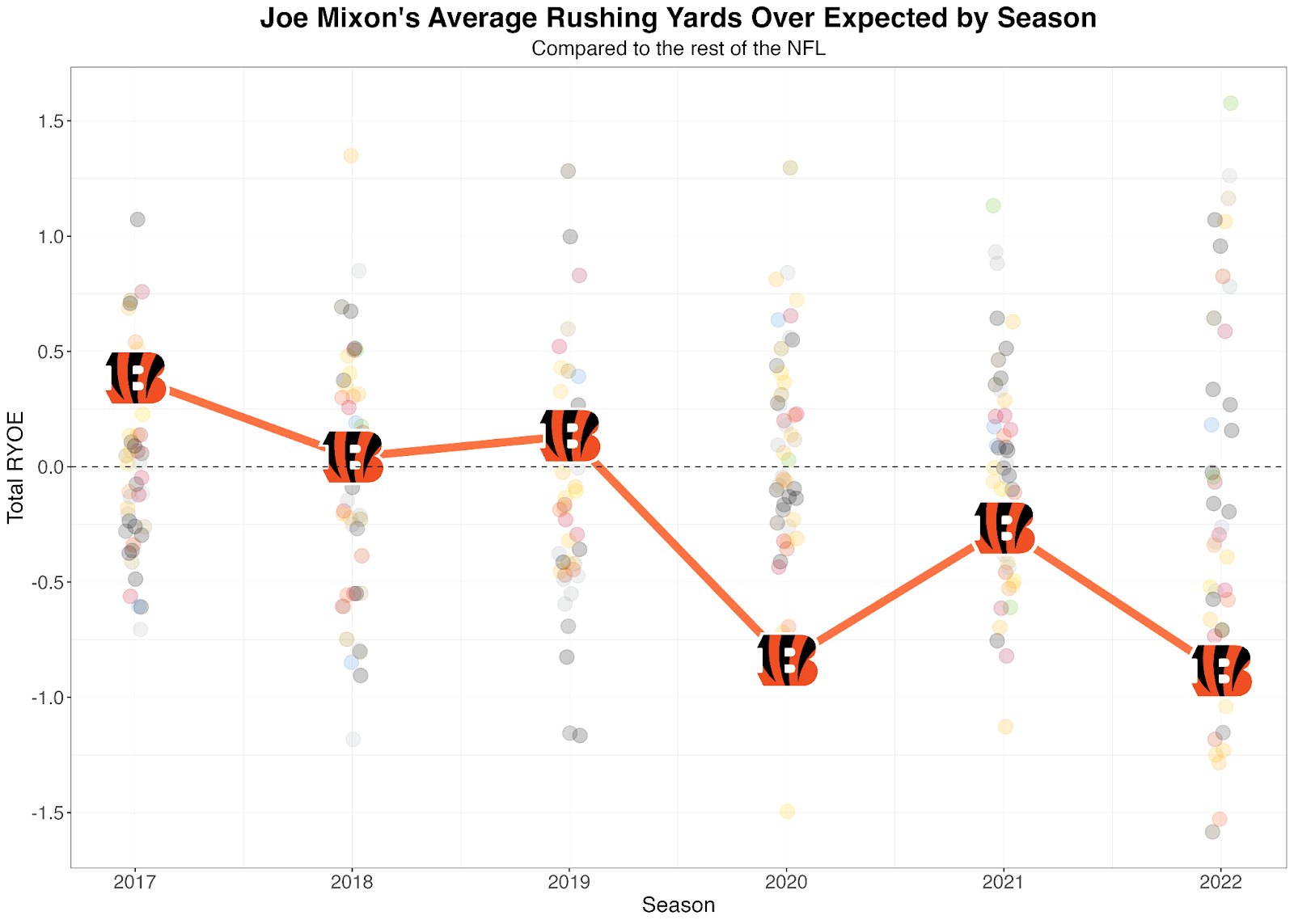 • Joe Mixon's Rushing Has Declined: After being an above-average rusher his first three seasons in the NFL, Mixon has become a below-average rusher. This season, he is averaging 3.3 yards per carry and a -0.9 rushing yards over expected, which is 28th out of 33 qualifying rushers.
• The Bengals are Passing More Often Now: After passing on 60% of early downs in game neutral situations the first five weeks of the season, Cincinnati is passing on 79% of such plays the past two weeks. The Bengals have gone from a +0.2% pass rate over expected to a +24.2% on early downs. This means Mixon's rushing hasn't been that effective — and he also probably won't get much opportunity. 
Bet Gameplan: Playable to 81.5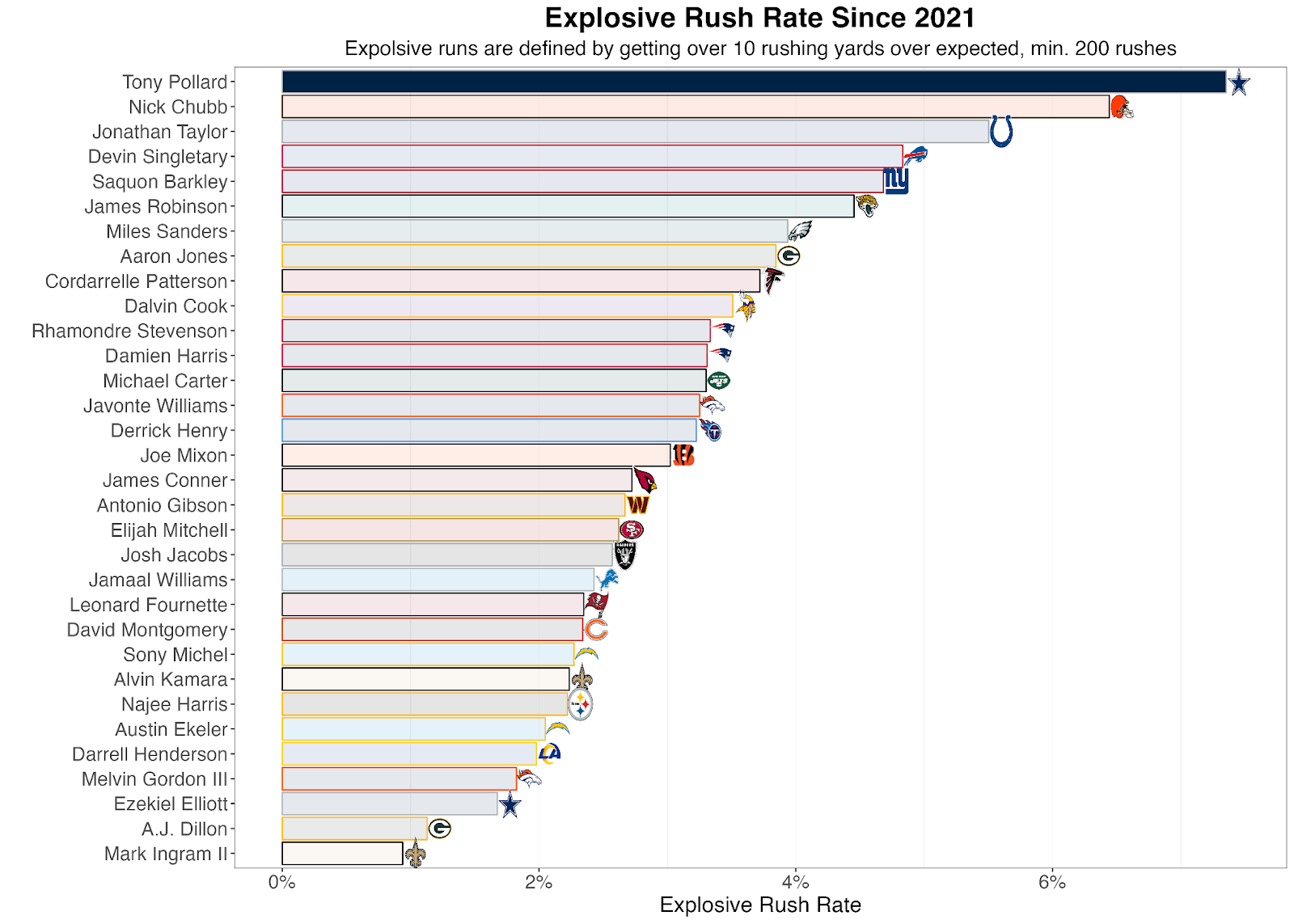 • Tony Pollard is Very Explosive: Among running backs with at least 200 carries since 2021, Pollard has had the highest explosive run rate (rushes that get over 10 rushing yards over expected) at 7.4% of the time. An explosive rush is the easiest way for a rushing prop to hit the over as all it takes is one run over 50-60 yards and the over will hit the majority of the time.
• Ezekiel Elliott is Banged Up: Pollard's carries are often taken away by his counterpart Ezekiel Elliott, who'll reportedly be sidelined this week, so we can expect Pollard to get a higher workload. He gets an advantageous situation going up against a Bears defense that allows 4.8 yards per carry.
Bet Gameplan: playable to 37.5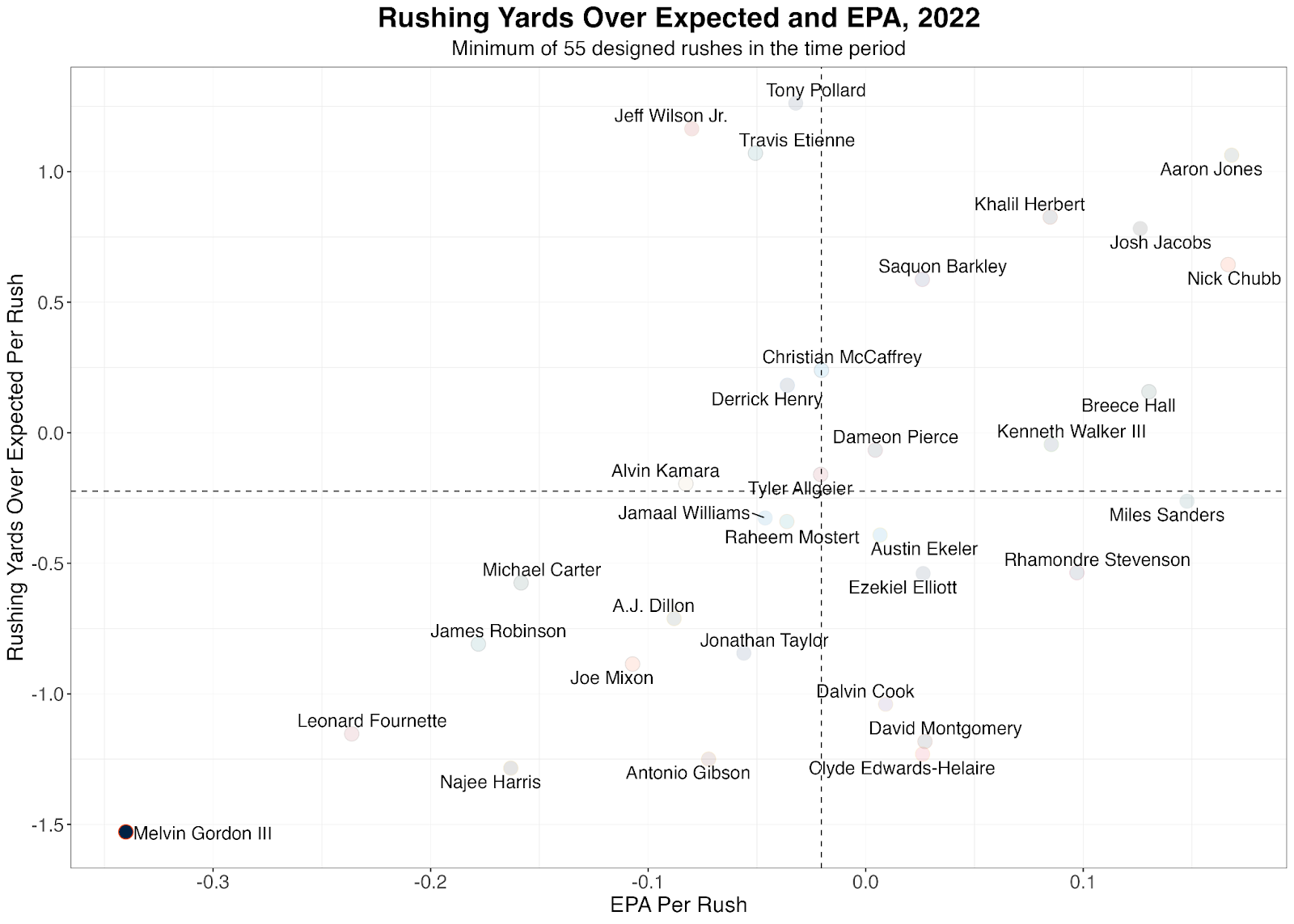 • Gordon Might be The Worst Rusher This Season: When looking at expected points added (EPA) per rush and rushing yards over expected per rush, Melvin Gordon ranks dead-last in both metrics used to evaluate running backs. The past four weeks, Gordon has handled 3, 13, 4 and 11 carries, respectively, which shows the Broncos are phasing him out of the run game.
• Jacksonville Has a Good Rush Defense: The Jaguars have only allowed 4.1 yards per carry, which ranks 5th in the NFL. This Sunday's game could be a bad matchup for a struggling Broncos offense against a Jaguars defense that has played well for stretches.
---
Rushing yards over expected was created using an extreme gradient boosting model (XGBoost). The most important factor in determining expected rushing yards is the number of graded and negatively graded blocks on a play. The importance is followed by yards from the end zone, number of box defenders, defensive strength, seconds left in the half and score differential.
This model can predict 22% of the variance in actual rushing yards and has a year-to-year correlation of 0.21. A shiny app to explore RYOE for each player can be found here.