• Bet Rams +1.5 / ml vs 49ers: Sean McVay — who has had two weeks to watch the 49ers get picked apart on defense — has proven before he can correct previous mistakes against DeMeco Ryans' unit.
• Bet Commanders +3 / ml at Colts: The angle here is simple — leverage uncertainty.
• Bet Jets +2 / ml at Patriots: Jets defense has the special Sauce to keep this close, and their passing game can't get any worse.

Last updated: Oct. 27, 10:40 a.m.
Estimated reading time: 6 mins
---
Each week in this space, I pick my favorite underdogs who might perform better than the market expects. Last week, I went 2-3 against the spread and 1-4 on moneylines, putting the overall record at 8-7 against the spread and 3-12 on money lines. However, since our lone correct moneyline in Week 7 was the Panthers as a huge underdog, we landed even on our moneyline bets despite hitting only once.
In Week 8, we will work with the following moneylines and spreads as of Thursday morning. The column "win percentage" is the implied (vig-removed) win percentage deduced from the moneylines.

These lines lead to the following expected distribution of the number of underdog wins this week: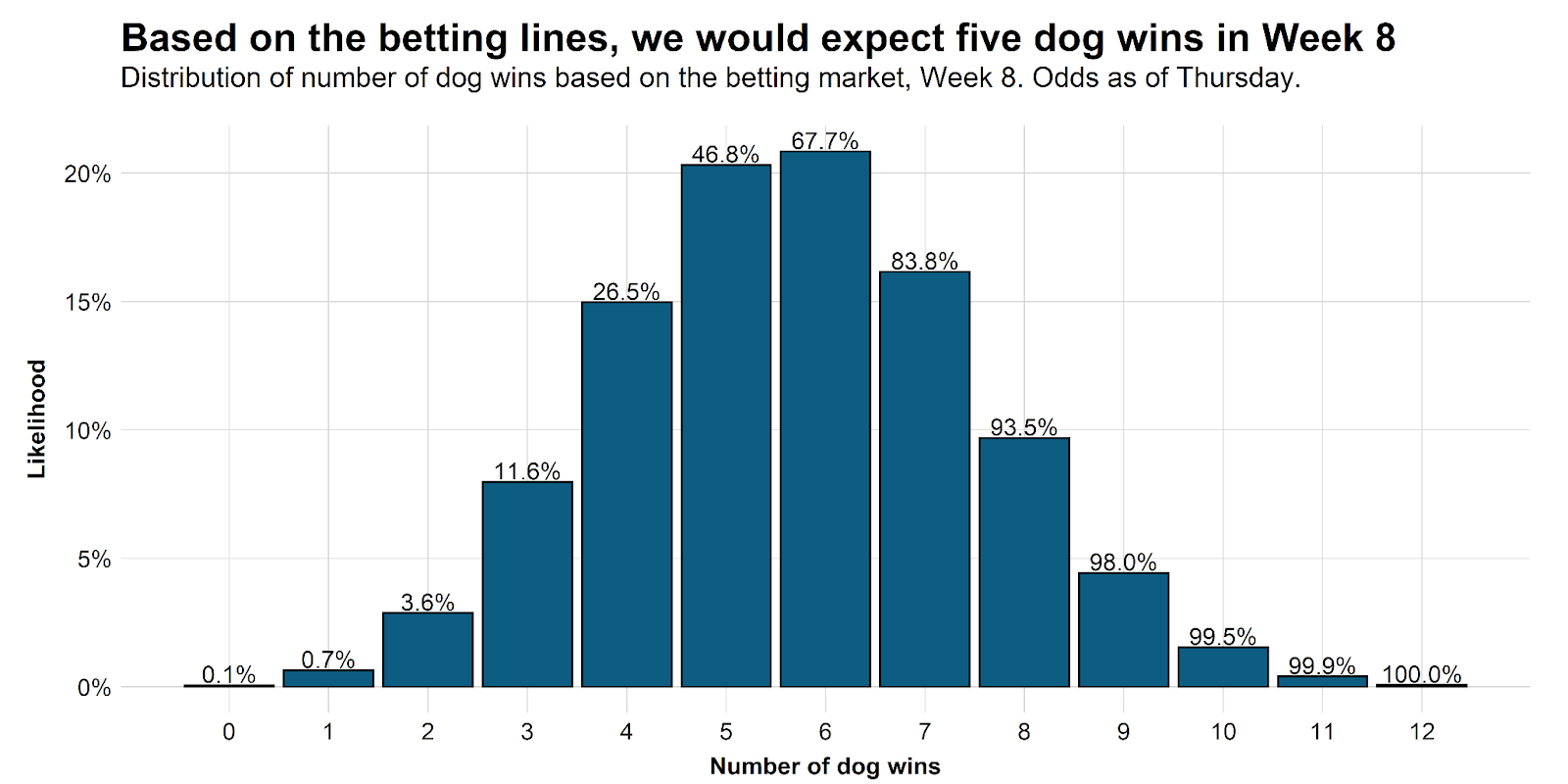 The labels above the bars is the cumulative probability, i.e. there is a 67.7% chance that we will see six or fewer underdog wins. The median number of underdogs wins this week is six (the first number with a cumulative probability over 50%), however the mean is just as close to five, so here are my five favorite underdogs this week:
• The Ravens were favored before line flipped midweek toward Buccaneers: The Ravens are on the road on a Thursday night, which is usually bad because they have even less time to prepare for the game than the home team. However, the Buccaneers were a broken team over the past two weeks and should have the larger disadvantage from a short week, as they have to fix their own offense and also prepare for unique opposing offensive scheme in little time.
• Ravens simply have been the better team over the whole season — and especially in recent weeks: They have the better and more balanced offense, as they can move the ball through the air and on the ground. The Buccaneers have had the better defense so far, but given their most recent results, one could argue that's more of a function of opposing offenses. The Ravens have already played five top-10 offenses: The Bills, Dolphins (with Tua Tagovailoa), Bengals, Giants and Browns. The Buccaneers have played more below-average offenses than good offenses. Furthermore, the Ravens have an advantage in the trenches on both sides of the ball.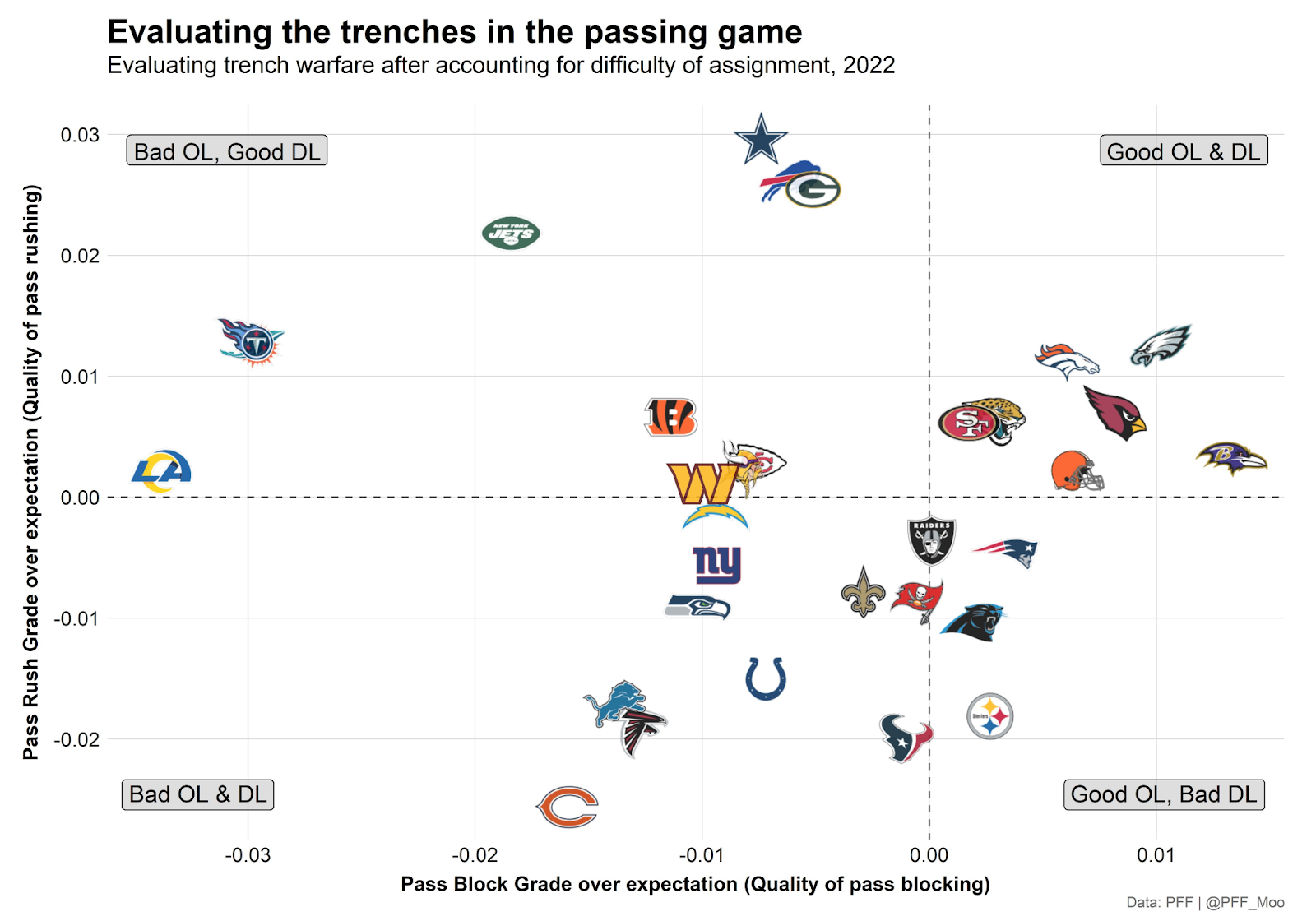 • If left tackle Ronnie Stanley plays, the Bucs will need to rush five to generate pressure: That would put their secondary on more islands. With Antoine Winfield Jr, Carlton Davis and Sean Murphy-Bunting all missing, I expect the Ravens to be able to move the ball through the air. I like the Ravens to win this game straight up as a slight underdog.
• Bet Gameplan: Ravens +1.5 (or better), Ravens moneyline +100 (or better).
• The Vikings are 5-1, but they are much closer to an average team than their record would suggest: After a convincing win and a crushing loss to start the season, the Vikings have won four one-score games in a row against mediocre or bad teams. With the Cardinals getting more than a field goal against the spread, we wouldn't even need the close game luck to revert here as long as the Cardinals can keep it close.
• The Cardinals' early struggles on offense could turn out to be a blessing in disguise: Kliff Kingsbury had never used DeAndre Hopkins as flexible as he did last Thursday against the Saints. Hopkins lined up 29 times in the slot —where he had never aligned for more than 12 snaps in a game since becoming a Cardinal. The Vikings' cornerbacks have a 43.8 coverage grade when lining up in the slot, which ranks dead-last in the league. This gives the Cardinals the slight edge over a line which looks at teams' season-long results. As long as the Cardinals get more than a field goal, I like them as an underdog.
• Bet Gameplan: Cardinals +3.5 (or better), Cardinals moneyline +150 (or better).
• Jets have won as underdogs in four straight games: They closed as a favorite against the Broncos, but were dogs through the week. The angle on this game is twofold: First of all, I trust the Jets' defense to make this a low-scoring game, as they can put Sauce Gardner on an island against any Patriots receiver and scheme against the remaining receivers. The second point is simply that the Jets' passing game has been so terrible in recent weeks that it can only get better from here. The Patriots had their fair share of issues with scrambling QBs this season, failing to stop Lamar Jackson and Justin Fields, so Zach Wilson might eventually turn one of his frequent scramble drills outside the pocket into a big play.
• Bet Gameplan: Jets +2.5 (or better), Jets money line +115 (or better).
• Leveraging uncertainty: It makes the angle in this game pretty simple. Sam Ehlinger could be a quarterback who is able to hold his own in an NFL game, but maybe he is not. Our default prior for a sixth-round pick is that he should be overwhelmed in his first start.
• Commanders defense improving after rough start to season: And Washington should be able to put Ehlinger under pressure. As long as the Commanders get at least a field goal, I like this bet because it's hard to envision the Colts running away with this one.
Bet Gameplan: Commanders +3 (or better), Commanders money line +125 (or better).

• Based strictly on how these teams have fared so far this season: Picking the Rams to win this game might not be a good idea. The Rams have the worst pass protection in the league, and Nick Bosa should live in the Rams' backfield the whole game.
• Sean McVay has had two weeks to prepare: When he's watched two other teams with questionable pass protection pick apart the 49ers defense, as Marcus Mariota and Patrick Mahomes both had incredibly efficient games. Add in that McVay gets back Van Jefferson, and the 49ers might have to put Deebo Samuel on a pitch count, and this might yield the decisive edge for Los Angeles in this game.
• Rams offense also was notably  better against the 49ers defense in the rematches last year: McVay has already shown he can learn from his mistakes against DeMeco Ryans. I like the Rams in what might be their last opportunity to show they are a contender this season.
Bet Gameplan: Rams +1.5 (or better), Rams moneyline +100 (or better).
A $20 bet on a five-leg parlay with BAL +2, ARI +3.5, NYJ +2.5, WAS +3 and LAR +1.5 would net
$496.68 at BetMGM
New users who sign up and bet $10 or more will get their money back in free bets if their wager doesn't go their way, plus you'll get a free PFF subscription!
---
Timo's underdog bets are 7-8 overall on the season (-1.26 units).