• Bet Commanders RB Brian Robinson Jr. — Under 52.5 rush yards (-115) vs. Packers: B-Rob is the Commanders' worst rusher in Rushing Yards Over Expected (RYOE), Washington likely to be playing from behind Sunday.
• Bet Jaguars RB Travis Etienne — Over 51.5 rush yards (-110) vs. Giants: Etienne +2.03 RYOE paces all starting NFL backs in Week 7.
• Etienne takes aim at a Big Blue run defense permitting league-high 5.6 yards per carry, including 10-119 rushing to Kenyan Drake, 13-63 to Aaron Jones in past two weeks, respectively.

Last updated: Friday Oct. 21, 8:40 a.m.
Estimated reading time: 4 mins
---
In the past four weeks, using Rushing Yards Over Expected (RYOE) to identify the best rushing yard prop bets has gone 9-3 with +5.0 units. This is because 8-of-12 bets have been unders. As PFF's Ben Brown shows, rushing yard unders cash more regularly than rushing yard overs. In this article, 2 unders and 1 over will be given out to maximize profits, but the over should be placed with more caution than the unders.
NFL player prop categories broken out by units won through the first four weeks of the season. pic.twitter.com/LMu024LIXE

— Benjamin Brown (@PFF_BenBrown) October 6, 2022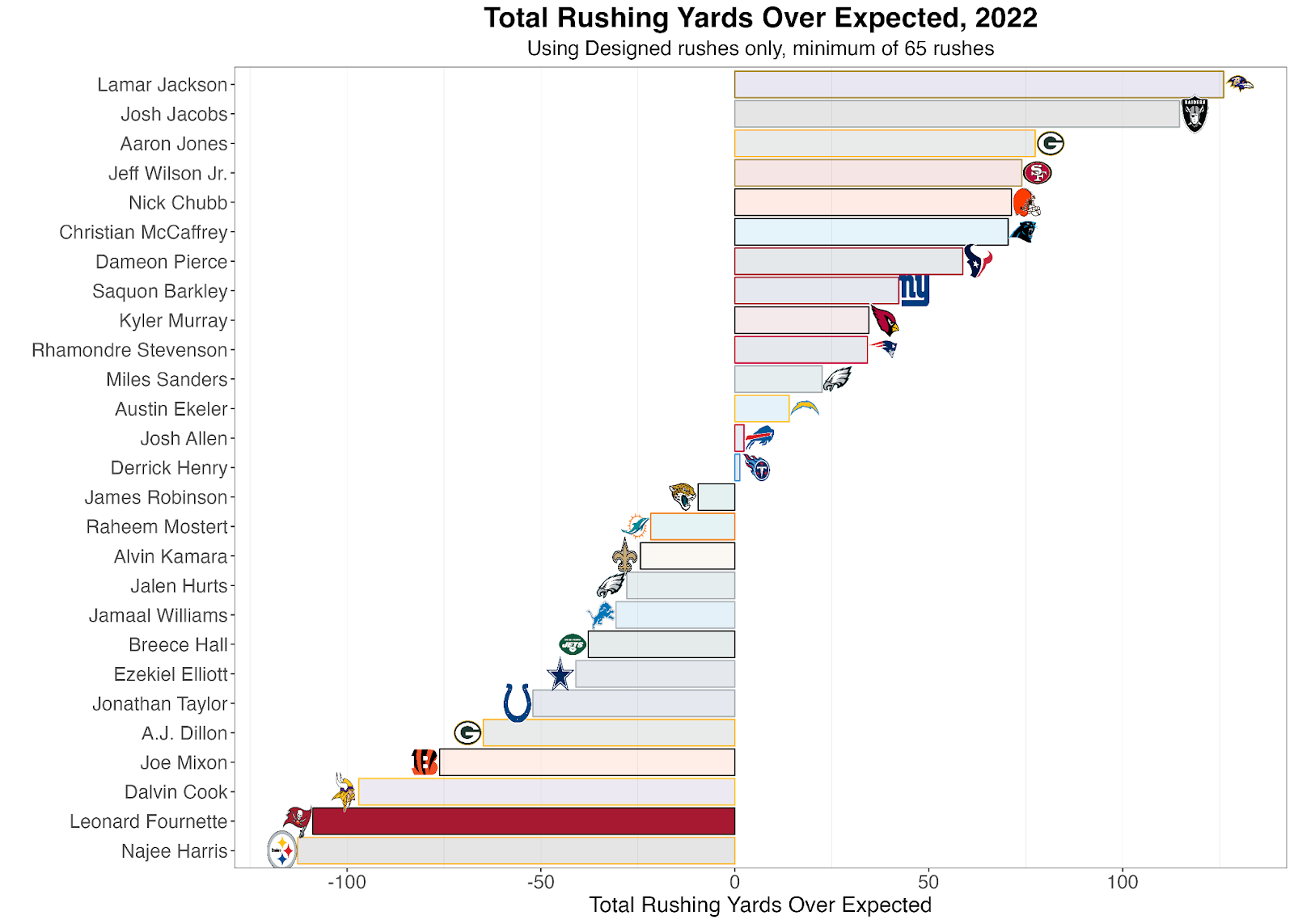 • Fournette Has Been the Least Impactful Rusher: With -109 total RYOE this season, Leonard Fournette has been the 2nd-worst volume rusher in the league. He is averaging 3.6 rushing yards per carry when expected to get 4.7 and could be phased out by Rachaad White and more passes if Fournette's struggles persist.
• The Panthers are Only Good at Defending the Run: Although the Carolina Panthers have struggled in almost every aspect of football this season, they actually rank 9th in Expected Points Added (EPA) per rush against and 12th in yards per carry allowed. The Buccaneers could struggle to run the ball — and if so, they could lean on the pass game heavily Sunday.

• PFF's Player Props Tool sees this bet as a +2.1% edge.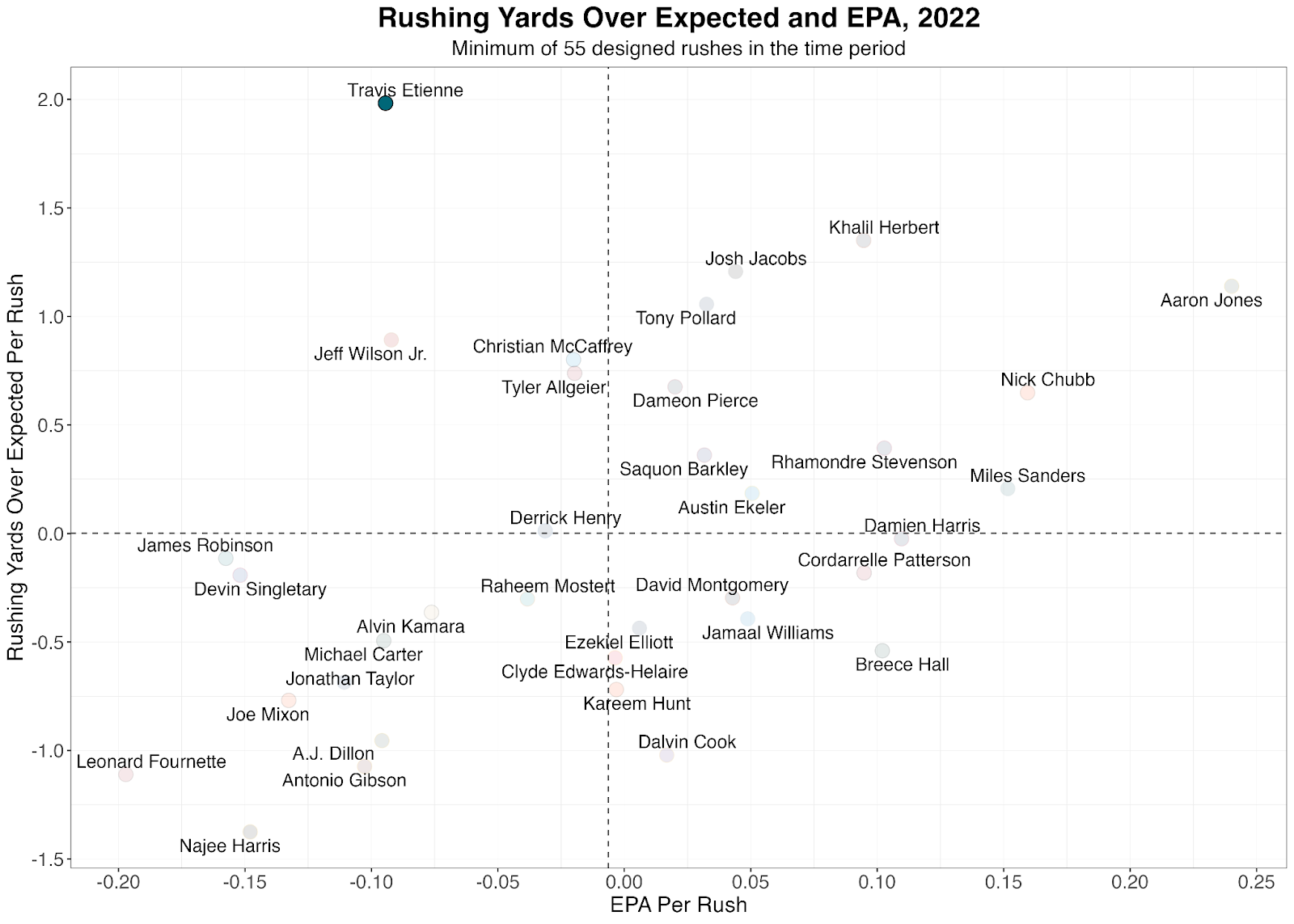 • Etienne one of NFL's Most Effective Rusher: On a per-rush basis, no running back that is starting this week has had a rushing yards over expected than Travis Etienne this season. On 55 rushes, Etienne has +2.03 rushing yards over expected per rush, just ahead of Khalil Herbert, Josh Jacobs and Aaron Jones.
• The Giants' Run Defense is Struggling: The Giants have allowed an NFL-worst 5.6 yards per carry this season, including 6.0 yards per carry in their past three combined games. Last week, the Baltimore Ravens' leading rusher, Kenyan Drake rushed for 119 yards on 10 carries. The week before, Aaron Jones rushed for 63 yards on only 13 carries. Etienne will be in advantageous situations. 

Robinson Jr. is Washington's Worst Rusher: Looking strictly from a yards per carry perspective, Brian Robinson Jr. is averaging 3.4 yards per carry, while Antonio Gibson is at 3.7 and J.D. McKissic is at 4.5. When factoring in RYOE, he also has been the Commanders' worst rusher this season.
The Game Script Isn't as Positive: In last week's matchup against the Chicago Bears, the Commanders had a positive win probability for 32 minutes of the game, meaning they could afford to give Robinson 17 carries to get him to 60 yards. As 5.5-point underdogs Sunday, Washington is expected to be down and should have to pass its way back into the game rather than running.
---
Tej's RB props went 2-1 in Week 6, bringing his overall season record to 20-18 (-0.06 units)
Rushing yards over expected was created using an extreme gradient boosting model (XGBoost). The most important factor in determining expected rushing yards is the number of graded and negatively graded blocks on a play. The importance is followed by yards from the end zone, number of box defenders, defensive strength, seconds left in the half and score differential.
This model can predict 22% of the variance in actual rushing yards and has a year-to-year correlation of 0.21. A shiny app to explore RYOE for each player can be found here.