• Bet Steelers RB Najee Harris u47.5 vs Bengals: Harris this season has the second-fewest rushing yards over expected (RYOE) among NFL qualifiers (85+ carries); he's averaging -0.90 RYOE/attempt.
• In Week 10, his best game this season, Harris needed 20 carries to get 99 yards, including only 4 RYOE.
• Bet Saints RB Alvin Kamara u65.5 vs Rams: Kamara rushes for 5+ yards above expectation on only 4.5% of his carries, trailing only Washington's Brian Robinson among qualifying NFL backs.
Last updated: Nov. 18, 10:15 a.m.
Estimated reading time: 3 mins
---
In the past seven weeks, our rushing-yardage prop bets based on rushing yards over expected are 18-6 (+10.1 units), including 16 unders in 24 total bets. As PFF's Ben Brown details in his midseason player-prop performance review, rushing yard unders cash more regularly than rushing yard overs. In this article, 2 unders and 1 over will be given out to maximize profits, but the over should be placed with more caution than the unders.
Bet Gameplan: Playable to -130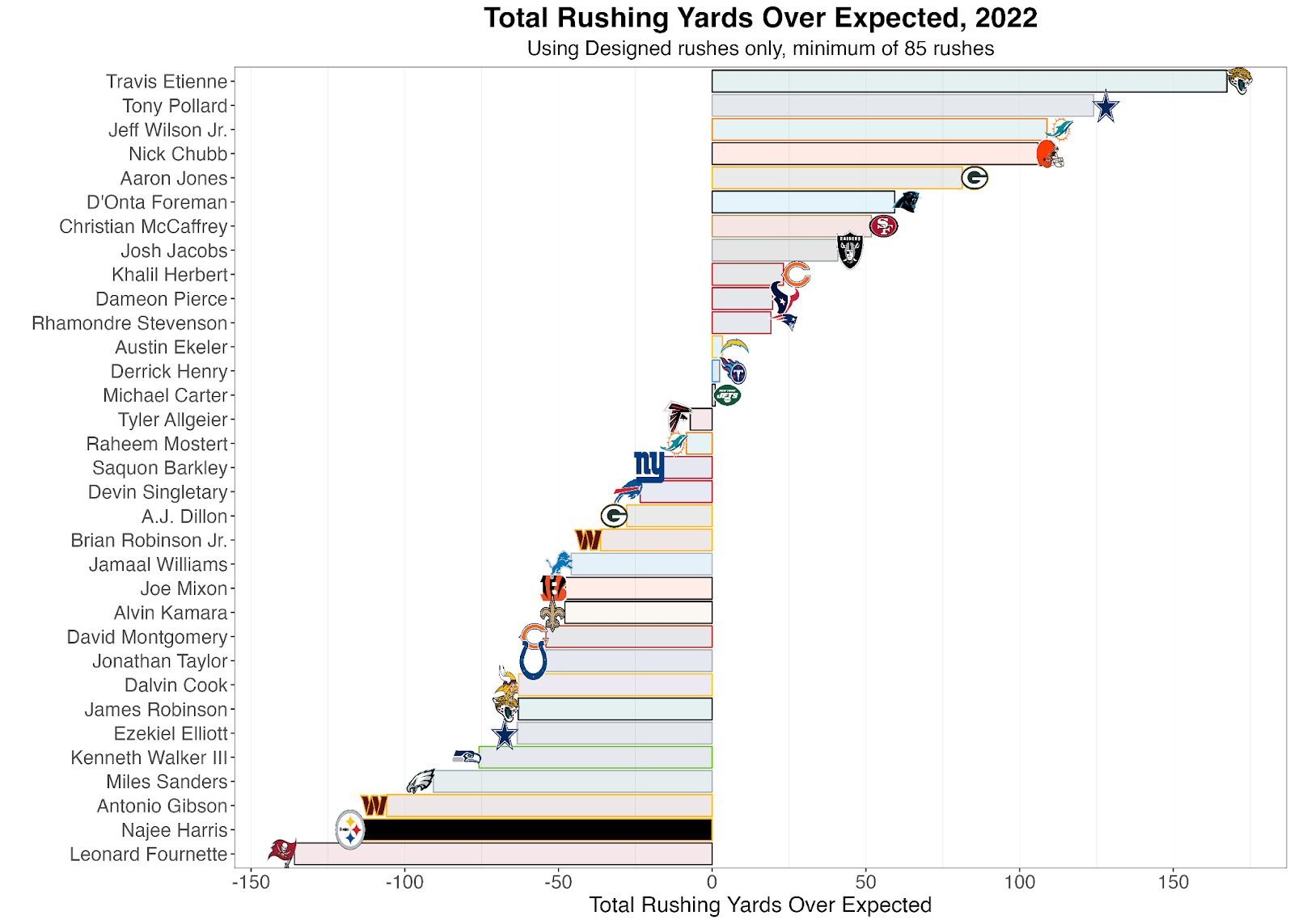 • Harris Has Been Struggling This Season: Among running backs with 85+ carries, the Steelers' Najee Harris has the 2nd-fewest rushing yards over expected (RYOE) this season and is averaging a -0.90 RYOE per rush. In his best game of the season Sunday, Harris only added 4 RYOE to his total on the year.
• The Game Script Probably Isn't Advantageous: The Steelers are 4.5-point underdogs, so they're expected to trail in a decent amount of the game and will probably be passing. This means Harris won't be able to get the 20 rushes he handled last week.
Bet Gameplan: Playable to 63.5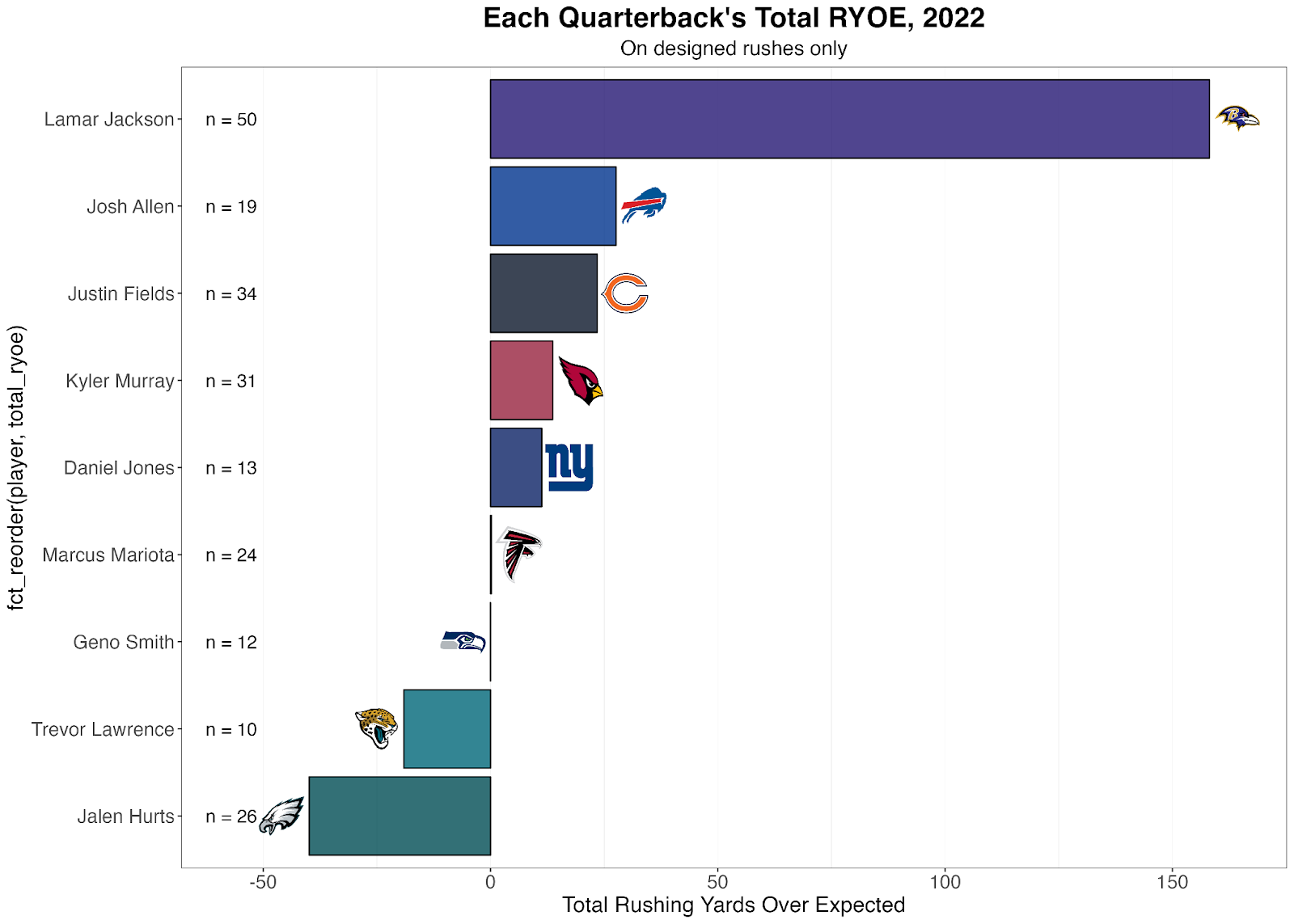 • Lamar is the Best Rushing Quarterback: This season and every season since becoming the Ravens' full-time starter, Lamar Jackson leads all quarterbacks in rushing yards over expected on designed rushes. He is again showing how dangerous he is as a rusher and scrambler this year.
• Panthers Run Defense is Susceptible to Quarterbacks: Last week against the Atlanta Falcons, the Panthers gave up 43 yards on only 3 attempts to Marcus Mariota. Jackson should rush more often than Mariota and will be able to take over the game as the Ravens probably jump out to a lead and will want to control the ball. 
Bet Gameplan: Playable to 63.5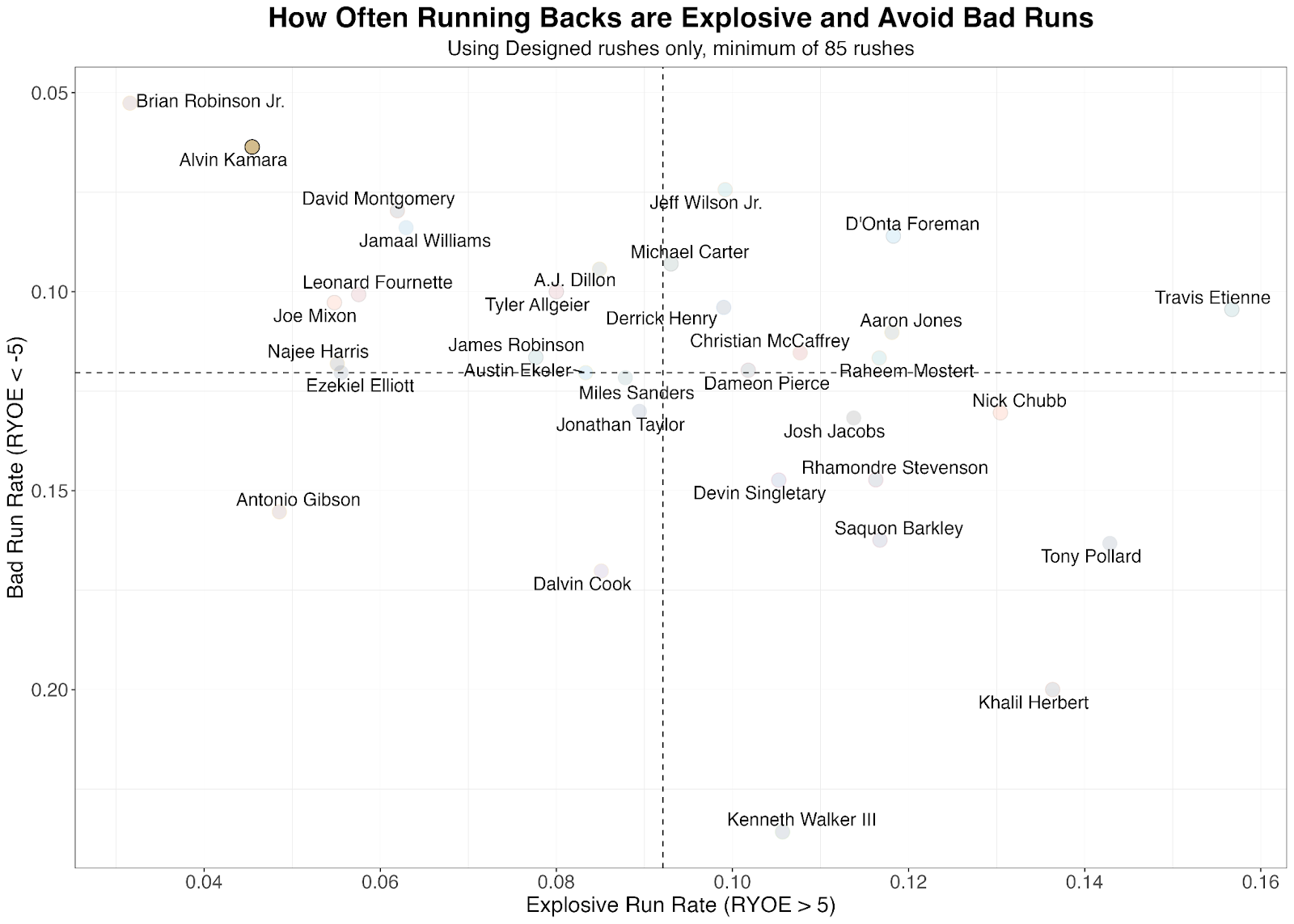 • Kamara Hasn't Been Explosive: The NFL's second-least explosive rusher this season, only ahead of Washington Commanders running back Brian Robinson Jr., Kamara rushes for 5+ yards above expectation on 4.5% of his attempts.
The Rams Run Defense is Stout: Los Angeles currently allows 3.9 rushing yards per carry, good for 4th in the league. The Rams are even better at making sure the opponent's expected rushing yards are low, with a 3.5 expected rush yards per carry against this season. This will prove to be a tough matchup for the Saints' Kamara-led rushing attack.
---
Rushing yards over expected was created using an extreme gradient boosting model (XGBoost). The most important factor in determining expected rushing yards is the number of graded and negatively graded blocks on a play. The importance is followed by yards from the end zone, number of box defenders, defensive strength, seconds left in the half and score differential.
This model can predict 22% of the variance in actual rushing yards and has a year-to-year correlation of 0.21. A shiny app to explore RYOE for each player can be found here.