• Bet Giants RB Saquon Barkley o92.5 rush yards vs Texans: Barkley's balance of volume and efficiency is rare, with the second-most carries in the NFL while ranking in the top 10 in rushing yards over expected (RYOE).
• Houston's run defense is horrendous, graded No. 32 by PFF at 29.7 — more than 15 points below No. 31 Chicago.
• Bet Colts RB Jonathan Taylor u73.5 rush yards at Raiders: NFL's reigning RYOE leader has provided -59 rushing yards over expected this season; Vegas defense is 5th in rushing expected against.

Last updated: 
Estimated reading time: 4 mins
---
In the past six weeks, our RB prop bets based on rushing yards over expected are 16-5 (+9.2 units). This is because 14-of-21 bets were rushing unders. As PFF's Ben Brown details in his midseason player-prop performance review, rushing yard unders cash more regularly than rushing yard overs. In this article, 2 unders and 1 over will be given out to maximize profits, but the over should be placed with more caution than the unders.
Bet Gameplan: Playable to 94.5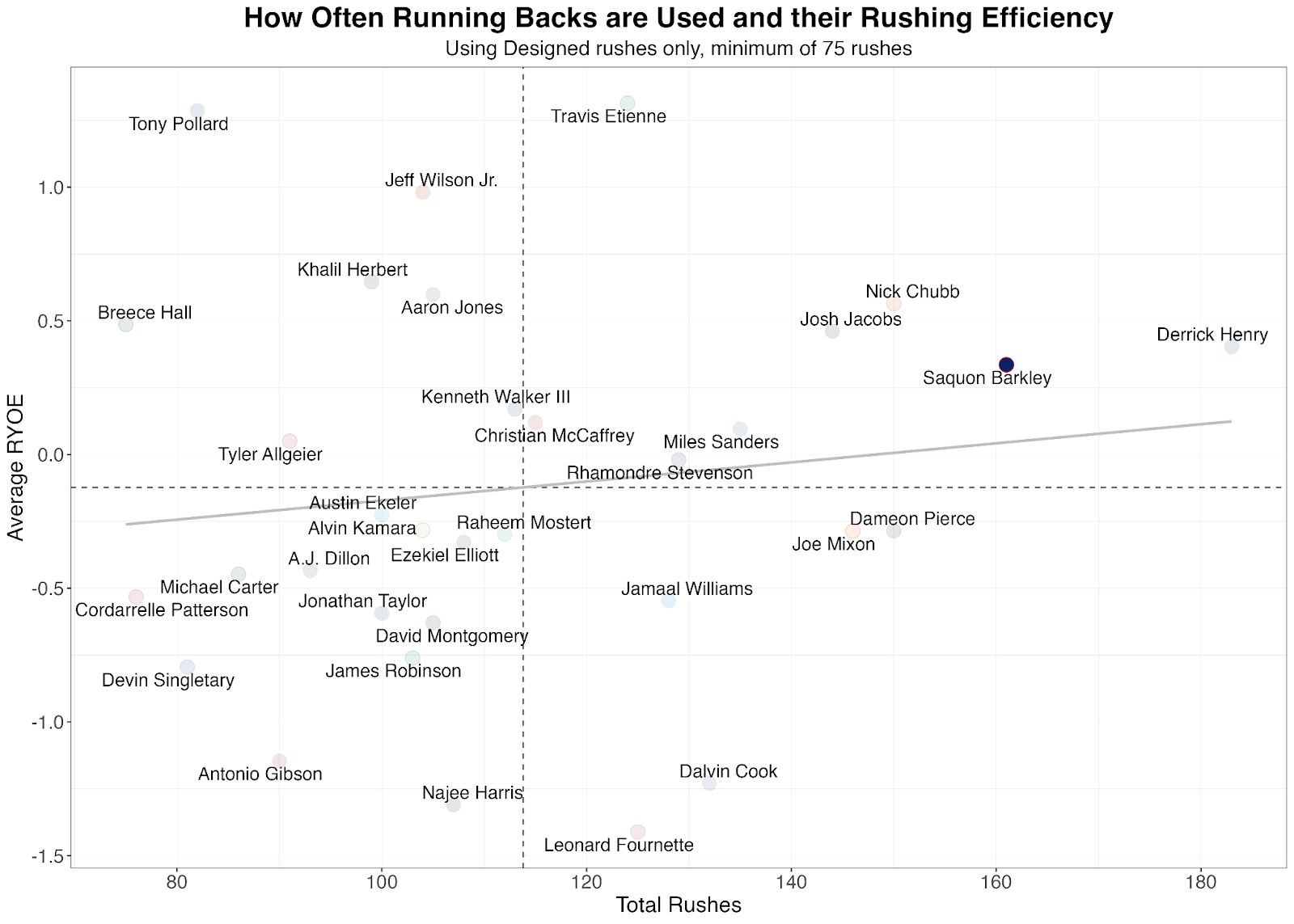 • Volume and Efficiency: As volume goes up, it is usually hard for efficiency to also stay at a high level. New York Giants star Saquon Barkley has the 2nd-most rushes in the league this year and is still in the top 10 in rushing yards over expected. This means there's a lot of areas for him to rack up rushing yards.
• The Texans Can be Run On: The Houston Texans currently allow the 2nd-worst rushing yards per carry in the NFL. They also have PFF's worst-graded run defense with a 29.6 grade and are going up against a Giants offensive line that is 12th in run blocking, providing a big mismatch.
Bet Gameplan: Playable to 70.5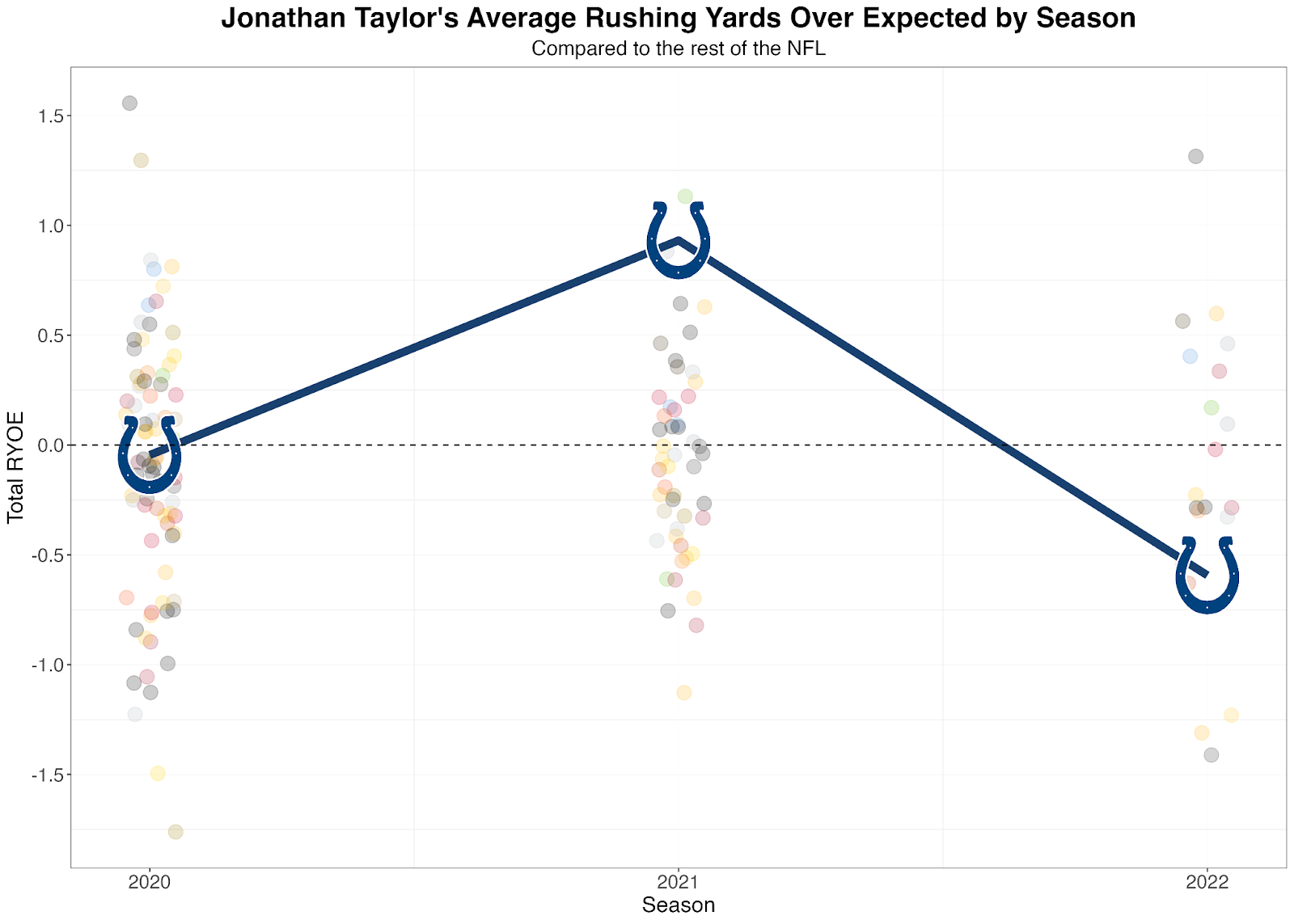 • Taylor Has Regressed: After being the best rusher in total rushing yards over expected last season, Jonathan Taylor has provided -59 total in RYOE to the Colts this season. On top of that, they have PFF's 28th-highest-graded run- blocking attack.
• Raiders Defense Can Stop the Run: The Las Vegas Raiders defense has only given up 4.3 yards per carry this season and rank 5th in rushing expected points added against. On top of that, the Colts are 6.5-point underdogs and playing a Raiders team that has done well in the first half so they will probably have to pass a lot in the second half.
Bet: Los Angeles Chargers RB Austin Ekeler — Under 42.5 Rushing Yards (-115) @ San Francisco 49ers
Bet Gameplan: Playable to 40.5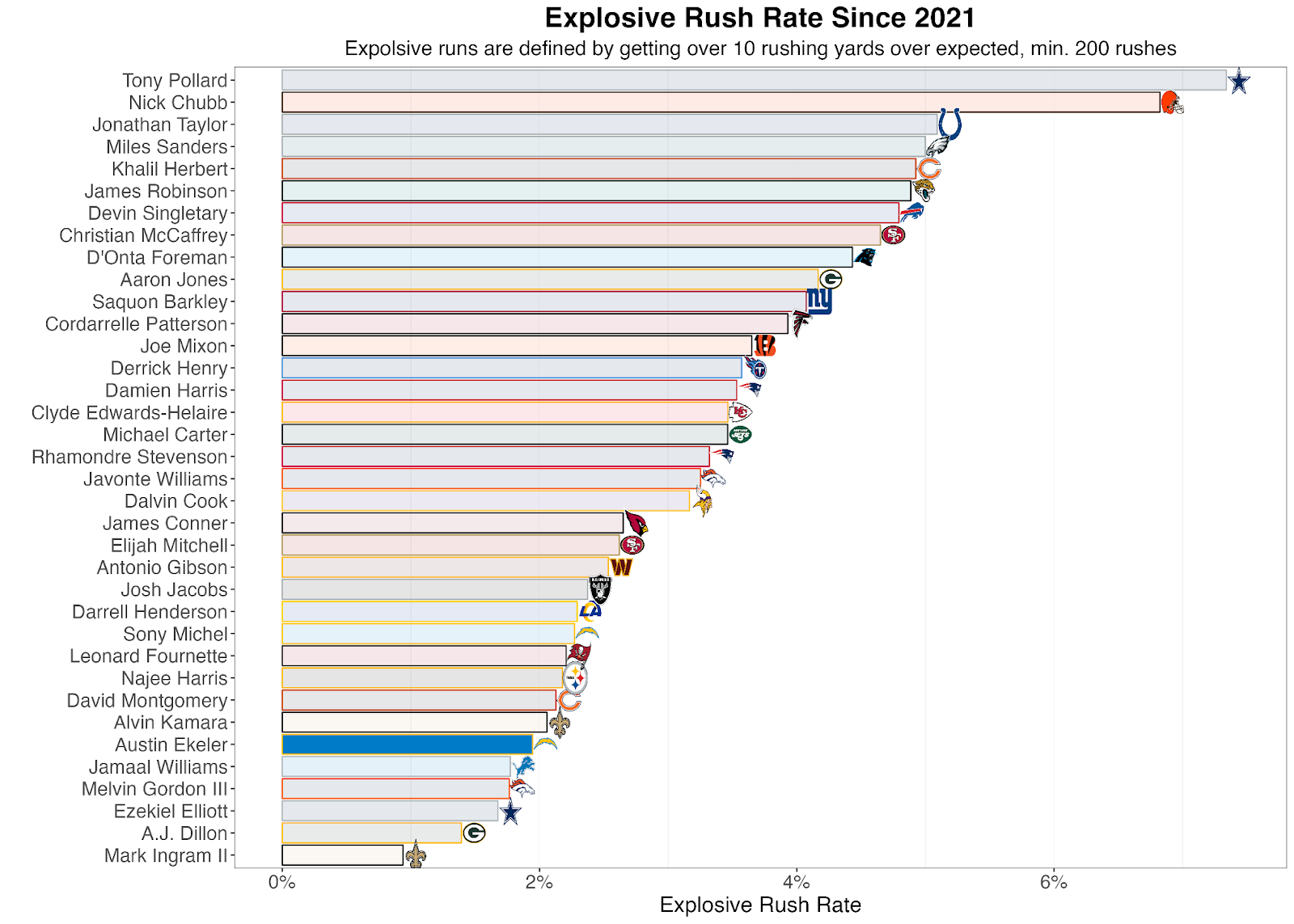 • Ekeler Has Struggled With Explosiveness: In the past two seasons, Austin Ekeler has averaged a -0.08 rushing yards over expected, slightly below average. Where he has really struggled has been with his explosive run rate, rarely producing a rush over 10 RYOE. Explosive runs are the quickest way for a rushing-yard prop to go over yet there is a small chance he breaks off one in this game.
•  49ers Run Defense is Stout: PFF's 7th-graded run defense goes up against a Los Angeles Chargers run-blocking unit that grades out at No. 31. The 49ers have allowed a league-low 3.4 yards per carry this year and are significant favorites, so the Chargers could be in a negative game script for a lot of the game.
---
Rushing yards over expected was created using an extreme gradient boosting model (XGBoost). The most important factor in determining expected rushing yards is the number of graded and negatively graded blocks on a play. The importance is followed by yards from the end zone, number of box defenders, defensive strength, seconds left in the half and score differential.
This model can predict 22% of the variance in actual rushing yards and has a year-to-year correlation of 0.21. A shiny app to explore RYOE for each player can be found here.