• Bet Vikings +3.5 / ml at Bills: With Josh Allen hurt, Minnesota has not only QB advantage but the edge rushers to torment backup Case Keenum.
• Bet Jaguars +9.5 / ml at Chiefs: Are they the better team? No. But with an offense ranked 4th in success rate and 11th in EPA/play, Jags probably not 10 points worse than Chiefs, who have only one win this season by double digits.
• Bet Steelers +1.5 / ml vs Saints: New Orleans' O-line ranks 29th in pass protection over its past 5 games; reenter reigning Defensive Player of the Year T.J. Watt.

Last updated: Nov. 11, 12:40 p.m.
Estimated reading time: 5 mins
Each week, I pick my favorite underdogs who might perform better than the market expects.
In Week 10, we will work with the following money lines and spreads as of Friday morning. The column "win percentage" is the implied (vig-removed) win percentage deduced from the moneylines.

These lines lead to the following expected distribution of the number of underdog wins this week: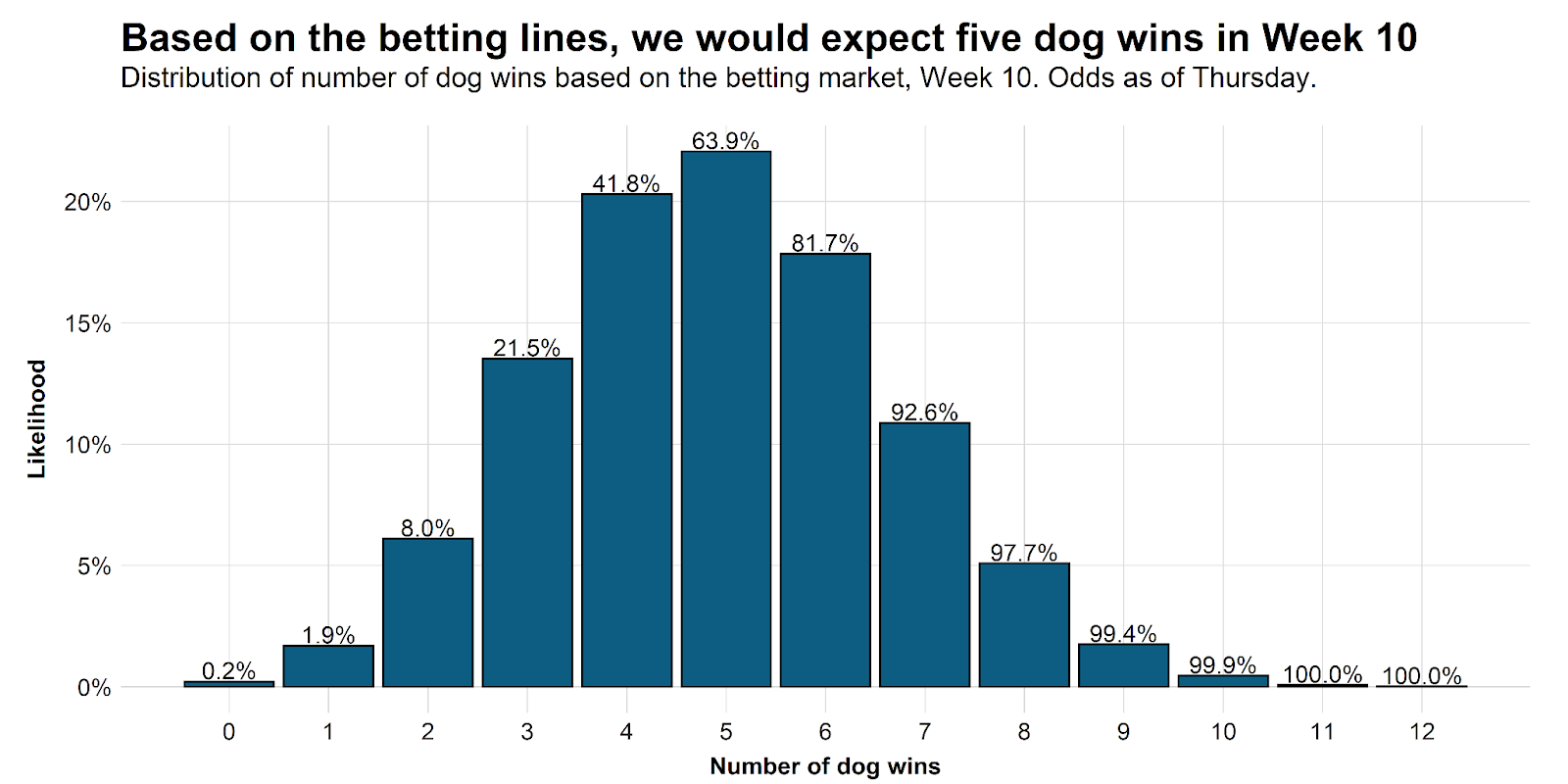 The labels above the bars is the cumulative probability, i.e there is a 63.9% chance that we will see five or fewer underdog wins. The median number of underdogs wins this week is five (the first number with a cumulative probability over 50%), so here are my five favorite underdogs this week:
Bet Gameplan: Spread playable to +2.5. Money line playable to +120.
• Seattle a tougher test for Tampa than Rams: The Buccaneers escaped with a narrow win against the Rams, but it's notable that the Seahawks are a better opponent than the Rams at this point. We probably wouldn't get that many points for the Seahawks if the Bucs didn't come back with a final drive against the Rams — and that's an opportunity we are jumping on.
• Bucs can't generate pressure without blitzing; Seattle is 10th in success rate vs the blitz: The Seahawks have been the better team this year and Geno Smith should rarely be under pressure when the Bucs send only four, as their defensive line has the worst PFF pass-rush grade without blitzing. That's why the Bucs are one of the blitz-heaviest teams in the league, but if they send five and more, it's notable that the Seahawks offense ranks 10th in success rate against the blitz. If the Seahawks can avoid costly turnovers, they should be able to outmuscle the Buccaneers in Germany.

Bet Gameplan: Spread playable to +1.5. Moneyline playable to +100.
• New Orleans can't protect: The Steelers are one of the worst offenses in the league and it's always bold to bet on these, but in this game I'm betting on the saying that "football is won in the trenches." The Steelers get T.J. Watt back and play a Saints offensive line which was overwhelmed by the Baltimore Ravens' pass rush last week. Needless to say, Andy Dalton didn't help his line either. The Saints' offensive line started well in September, but over the past five games, their pass block grade ranks 29th in the league.
• Watt's return: The Steelers pass rush has been disappointing this season, but everyone of us still remembers what they did to Joe Burrow in Week one when T.J. Watt was on the field. I like the Steelers chances to win this game at home.
Bet Gameplan: Spread playable to +1.5. Money line playable to +100.
• Battle of disappointing teams: Matthew Stafford didn't practice the first two days this week while in the concussion protocol. I would probably like the Cardinals in this game even without this additional issue for the Rams. In a game of disappointing teams, the Cardinals are probably just a bit less disappointing, as Kyler Murray can at least create a little bit of offense on his own, while Matthew Stafford is helpless behind a terrible offensive line.
Bet Gameplan: Spread playable to +9.5. Money line playable to +340.
The Chiefs are obviously the better team and are favored to win, but given the Jaguars' play this season, they are probably not 10 points worse. Since Week 2, the Chiefs won by 10 points or more only once.
• Jacksonville is 4th in success rate, 11th in EPA/play: The Jaguars should be able to score points. It's also notable they move the ball very well, as their offense ranks third in first down rate and fourth in EPA per play outside the red zone. Red zone turnovers have been deadly for them, as the Jaguars rank only 25th in EPA per play inside the red zone. These numbers usually regress toward the mean a bit.
• The offense is well-equipped, but what about the defense?: That's the big question. Can Jacksonville get enough stops to avoid letting this game slip away early?

Bet Gameplan: Spread playable to +3.5. Moneyline playable to +145.
• If Josh Allen can't play because of an elbow injury: And missing all three practices this week makes him doubtful at best, the Vikings have the QB advantage in this matchup. They should be favored because they also have edge rushers good enough to put pressure on Case Keenum, and backup quarterbacks who aren't used to live reps tend to handle pressure in a bad way.
• The line has already moved toward the Vikings by a few points: A sign that Allen's injury is probably serious enough to severely hinder him even if he plays. Add that Allen has been careless with the football in recent games, and I like the Vikings' chances to keep this close regardless of who starts at quarterback for Buffalo.
---
Timo's underdog bets are 11-14 on the season (-3.05 units).