• Bet on Buccaneers' (-2.5) cold streak vs. Saints to end: The Buccaneers are the clear top team in the NFC South and should end their losing ways against New Orleans in Week 2.
• Bet on Seahawks (+9.5) to surprise again: After taking down the Denver Broncos on Monday Night Football, Seattle looks poised to cover against the 49ers in Week 2.
• New users who bet $10 or more at BetMGM will receive a free year's subscription to PFF+ — a $79.99 value.
Estimated Reading Time: 5 mins
---
One of the features of PFF's new mobile app is the Smart Bets feature, which uses PFF data and insights to highlight betting edges throughout the NFL season. Week 1's Monday Night Football contest saw the app highlight strong value in the Seattle Seahawks to cover the spread, only for us to watch them win outright against their old quarterback.
Here are some bets for the upcoming week that I like best.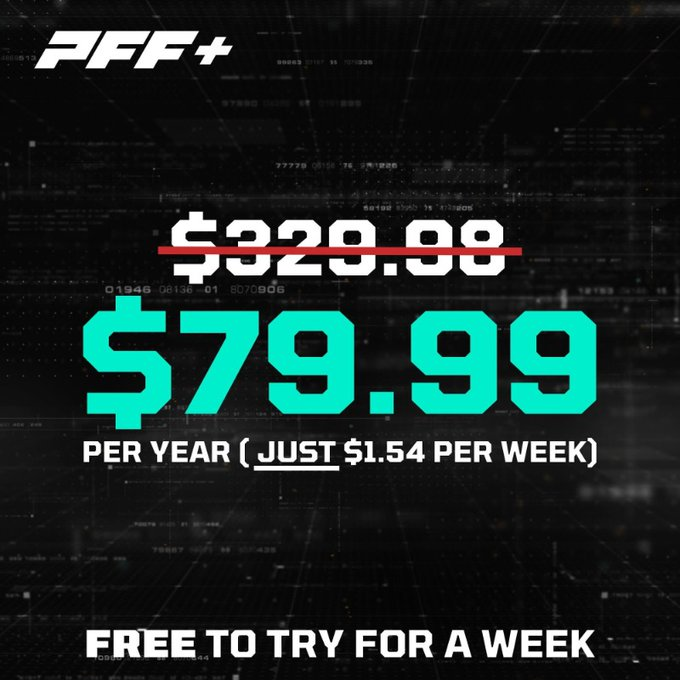 ---
The Steelers have a recent track record of starting very well in early games. They have won their season opener for three straight years, and it may have a lot to do with how physical they keep their training camp while the rest of the league leans into reduced contact and player welfare. 
The last time the Steelers didn't win their opening-day matchup was in 2019, a 33-3 loss to the Patriots.
As much as Pittsburgh was able to impress in its Week 1 win, it required five Bengals turnovers to happen and still should have been a loss if Cincinnati had challenged a go-ahead score late in the game. The Steelers still have major issues on the offensive line, and Bill Belichick will force quarterback Mitchell Trubisky to hold the ball longer than the 1.99 seconds per play the Bengals managed. 
New England's offense was stodgy against the Miami Dolphins, but the Steelers will be without T.J. Watt and are unlikely to see Minkah Fitzpatrick replicate his Week 1 performance — one of the four best of his NFL career.
---
The Falcons may not be a great team this season, but their offense is a difficult matchup for any defense. The 6-foot-6, 250-pound Kyle Pitts can line up as a tight end or an X-receiver — or anywhere in between. Rookie Drake London is 6-foot-4 and 215 pounds, and Cordarrelle Patterson is a running back with enough receiving skills to create a mismatch any time he's not covered by a cornerback. 
Marcus Mariota enables the team to threaten with multiple option looks on any given play, stressing defenses with scheme as well as personnel. Atlanta ran nine RPOs in Week 1 and had several more plays with option mechanics at the handoff. 
All of this is to say the Falcons should be able to score points on anybody, and as much as the Los Angeles Rams' offense struggled against the Buffalo Bills in Week 1, the unit should be a lot closer to where it belongs this season against a much worse defensive opponent.
---
I'm going back to the well with the Seahawks as underdogs covering a big spread. Geno Smith is starting to add to the bulk of evidence that suggests he's actually a pretty good quarterback, and the Seahawks likely have the better starting signal-caller in this matchup, making almost 10 points an immediately questionable number.
Rookie tackles Charles Cross and Abraham Lucas will have their hands full with Nick Bosa, but Smith has receiving weapons and a line that looks better than it has in the past to back him up.
Seattle's biggest weakness is in the secondary, but Trey Lance hasn't shown much ability to make them pay for that.
---
The sky is falling in Arizona after the team was taken to task by the Kansas City Chiefs in Week 1, but the Cardinals are a better team than that in a vacuum. A large part of their failure against Kansas City was a counterproductive game plan that elected to blitz Patrick Mahomes almost 60% of the time despite evidence that Mahomes obliterates the blitz. In his NFL career, he boasts a 120.0-plus passer rating when blitzed, has passed for 8.7 yards per attempt and has thrown 55 touchdowns to only seven interceptions. The Cardinals simply won't be able to craft a game plan this week that will go as badly for them as that one did.
On the other side of the ball, the Raiders' defense can't cause as many problems as the Chiefs did, so I think on both sides of the ball the Cardinals are primed for a bounce-back. This is a fundamentally better team than many give it credit for.
---
Never bet into a historical trend. The Saints have owned the Bucs in recent seasons, but there are some significant changes to the team that affect that trend. Sean Payton is no longer the head coach, and as good as their receivers looked against Atlanta, their entire offense has a vastly different proposition this week when they try and attack Tampa Bay's defense. The Bucs' defensive line will cause problems for the Saints' interior — a real weakness in 2022 — and they can run deeper against the Saints receivers than the Falcons could with coverage players.
Tom Brady has to contend with injuries to his offensive line, but the Saints don't have anybody who can wreak the havoc that Micah Parsons did in Week 1. Parsons tallied five total pressures and an 88.4 PFF pass-rushing grade. This is a game where the Bucs snap their ugly streak against New Orleans and show they're the better team within the division.