• From 2016-2021, it was exactly Week 8 when QB play stabilized on the season: Yet the market still hasn't seemed to correct fully to players like Geno Smith excelling (88.4 PFF grade), Tom Brady ( 75) below his career average. 
• Bet Seahawks o8.5 wins: After Week 7, quarterback EPA/Play has a correlation coefficient of 0.83 with end-of-season EPA/Play. Smith's Seahawks are primed to keep steamrolling top NFL defenses.
• Bet Dolphins to win AFC: Tua Tagovailoa is No. 2 in EPA/play — with the NFL's top WR duo, Tyreek Hill (90.9) and Jaylen Waddle (80.9), ranked first and fifth, respectively, in PFF positional grading.

The 2022 NFL season has featured more uncertainty than any season in recent history, largely because of unexpected QB play — both positive and negative. Tua Tagovailoa currently is 2nd in the NFL in expected points added (EPA) per play, only behind Patrick Mahomes. Geno Smith trails only MVP favorite Josh Allen in PFF grade — with Jalen Hurts (5th) closely behind.
Conversely, Tom Brady, Justin Herbert, Aaron Rodgers and Russell Wilson all were top 6 in preseason MVP odds, but each has fallen completely out of the top 20. As illustrated below, there has been a lot more deviation in QB play this year than what we have usually seen from these quarterbacks.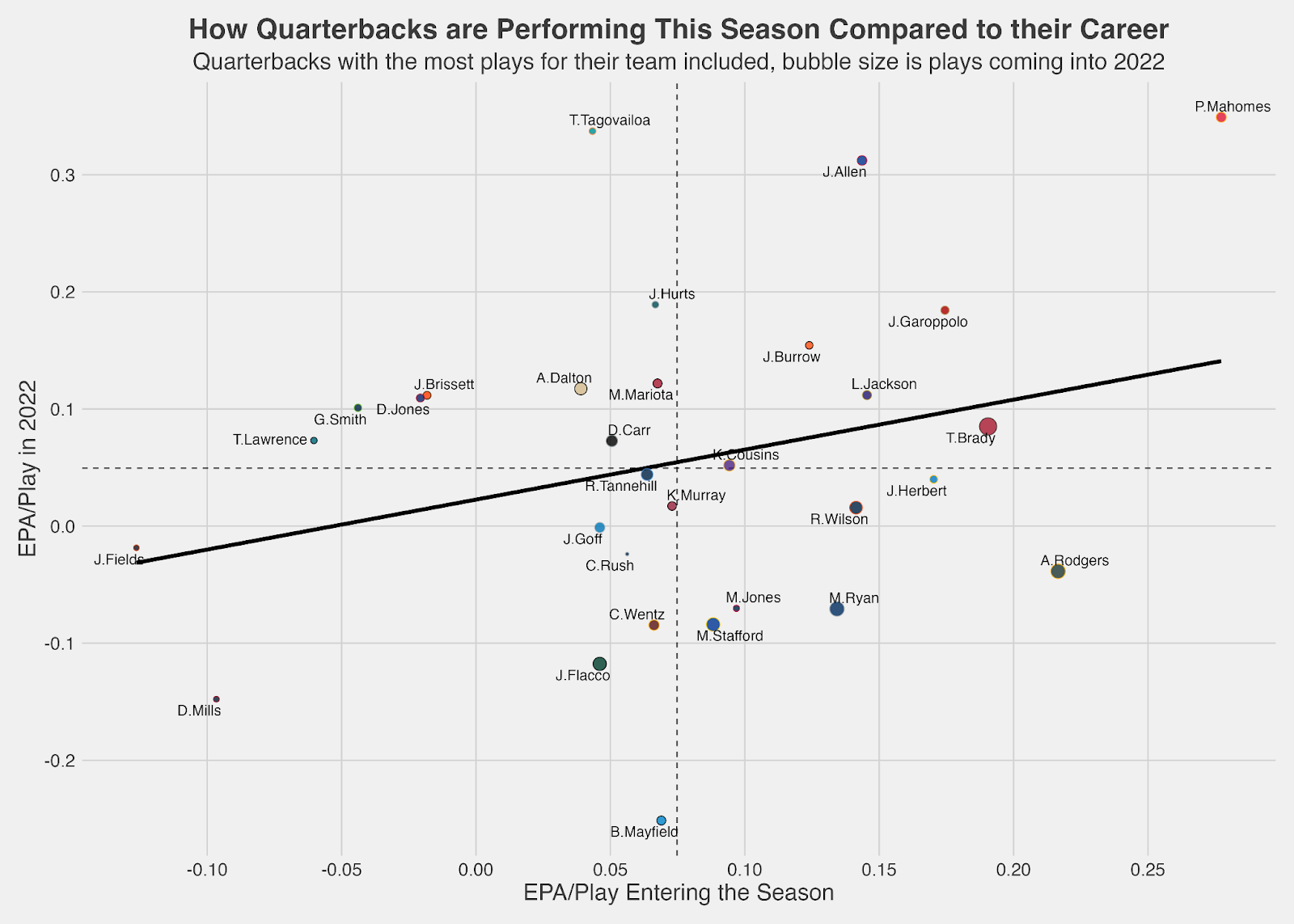 When projecting the rest of the season, emerging questions include:
How much should we trust performance that isn't what we've seen before?
How long during the season should we wait until these unexpected performances become trustworthy?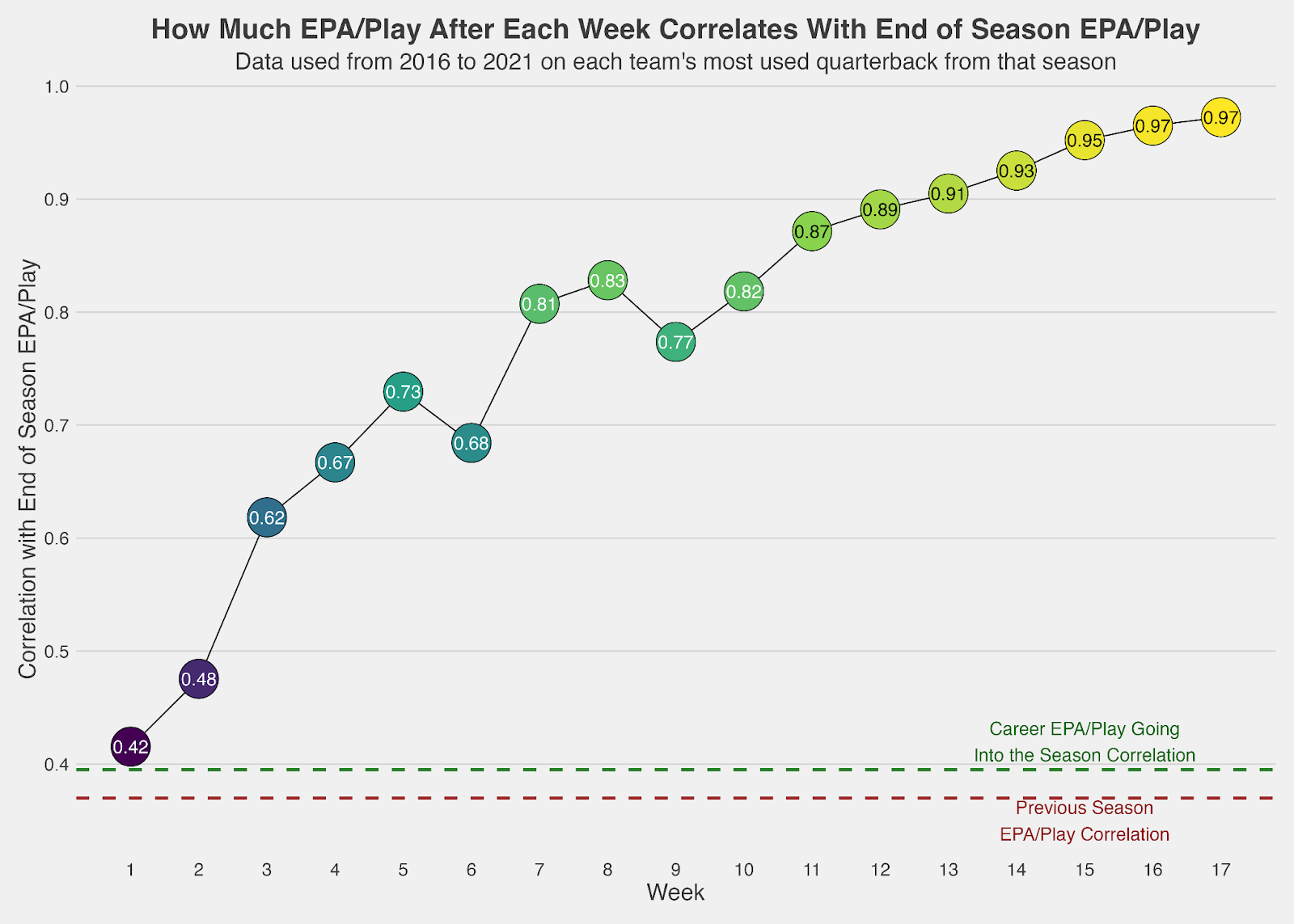 From 2016-2021, it was exactly Week 8 when QB play stabilized on the season. Previous season EPA/play and career EPA/play entering the season correlate pretty well with a quarterback's end-of-season EPA/play, but we can see by the midway point in the season is really when we get a good feel for how quarterbacks are performing. 
Even in a season when it has been unpredictable, QB play, predictably, still has the strongest influence over wins.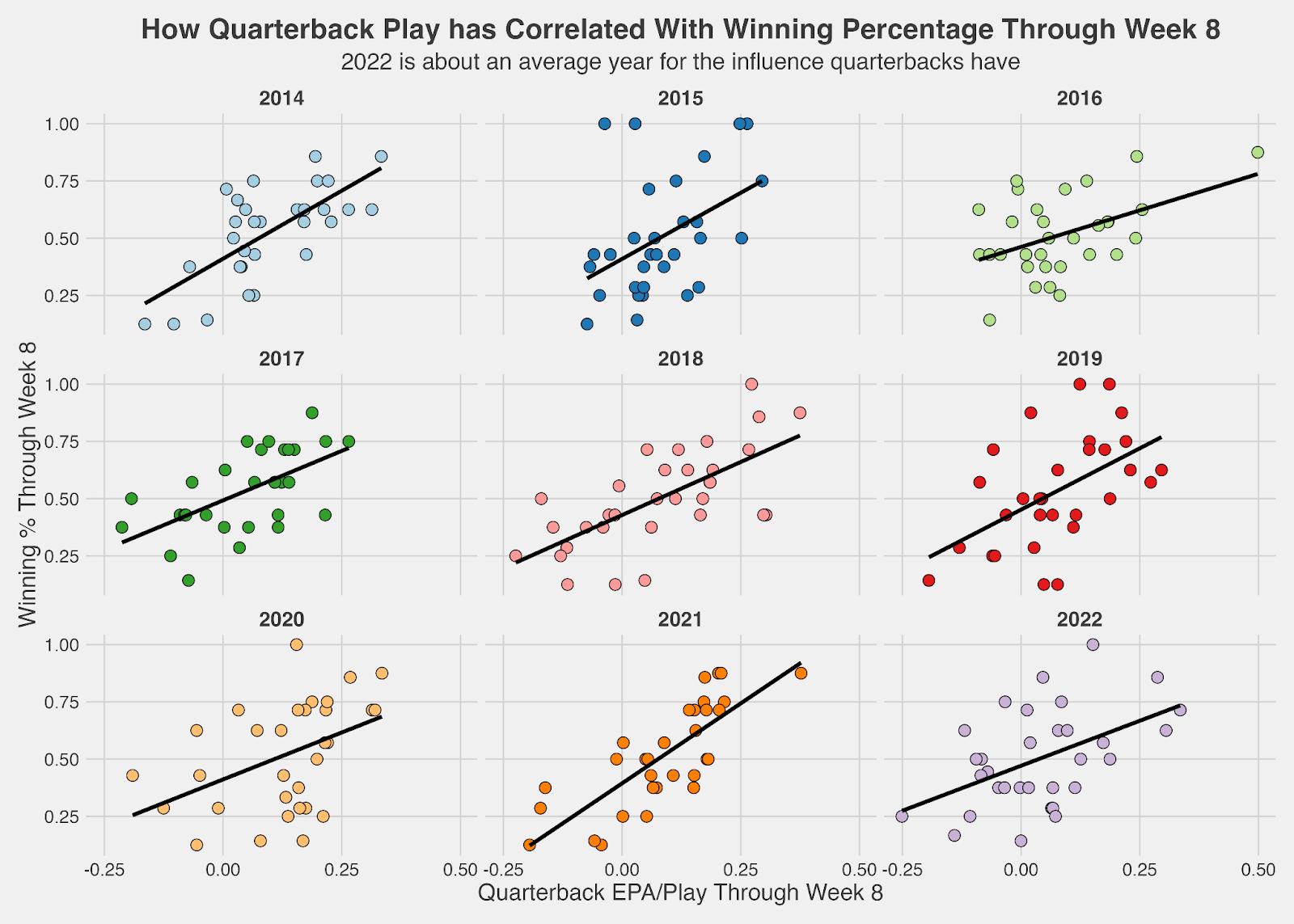 When looking at the correlation coefficient with how a quarterback's EPA/play in the first eight weeks of the season correlates with their winning percentage in that same timeframe, we can see that this 2022 is in the middle of the pack.
| | |
| --- | --- |
| Season | Quarterback EPA/Play Correlation with Win % |
| 2021 | 0.78 |
| 2014 | 0.71 |
| 2018 | 0.70 |
| 2017 | 0.60 |
| 2019 | 0.54 |
| 2022 | 0.49 |
| 2015 | 0.47 |
| 2016 | 0.46 |
| 2020 | 0.44 |
This means we can put more weight on this year's quarterback overachievers and underachievers, as the market hasn't seemed to correct fully to players like Geno Smith playing very well or Tom Brady playing below his career average. 
Bet: Seattle Seahawks — Over 8.5 Wins (-125)
Bet Gameplan: Playable to -135
One of the more surprising facets of the 2022 NFL season thus far are the Seahawks. Media across the country expected them to exceed no more than three wins before reaching the midseason point. Given, one would not think that Geno Smith would be leading an offense to a winning record, but he has defied all of our expectations. After Sunday's win over the New York Giants, it seems as if Seattle's winning streak won't be derailed any time soon.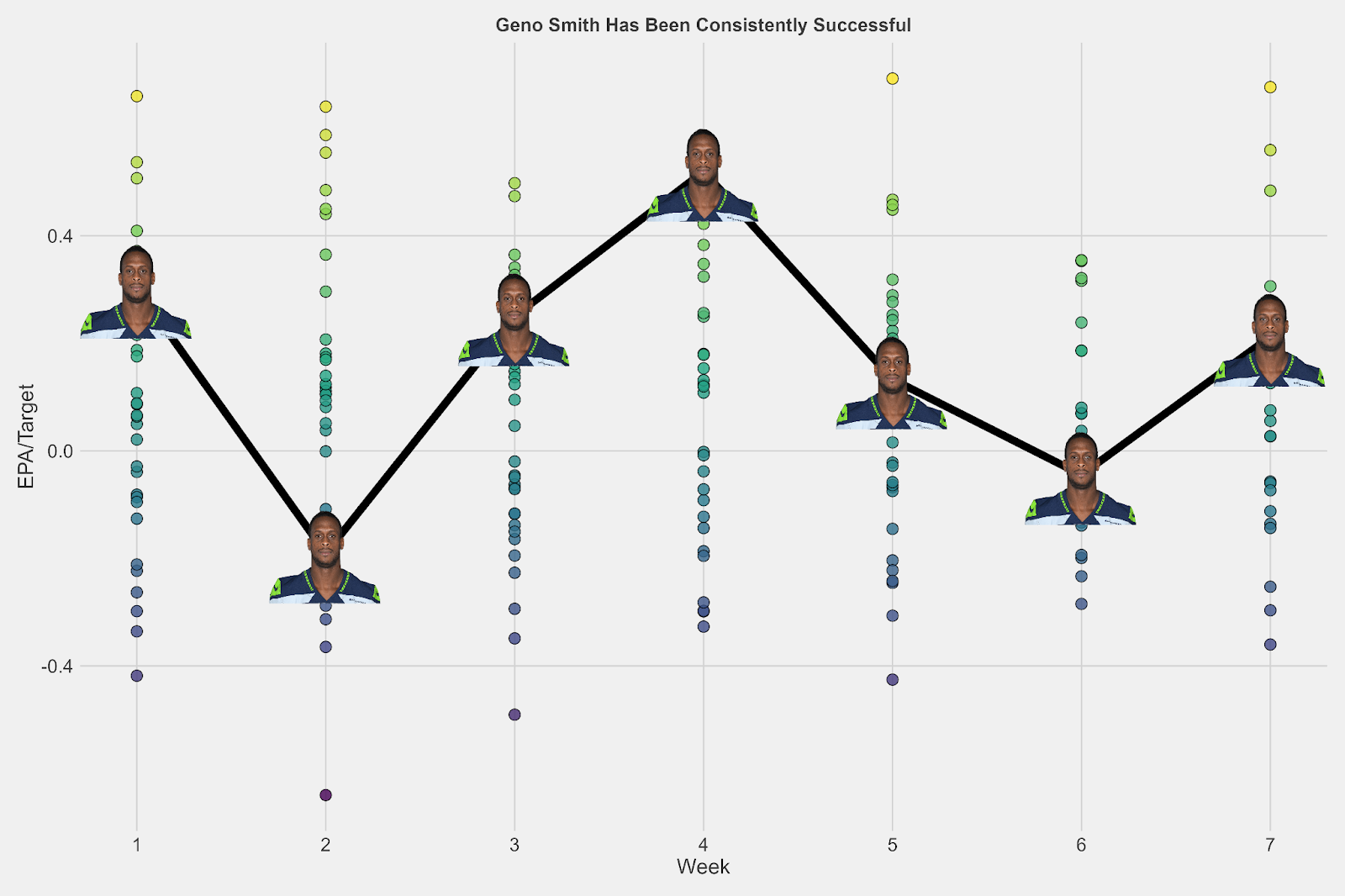 Geno Smith has been averaging positive EPA across the season, ultimately earning him a PFF grade of 88.4. These results have been primarily driven by his strong decision making and execution, resulting in an EPA/Target of 0.234 on throws off his first read (6th) and an accurate throw rate of 66% (6th), both ranked sixth among all qualifiers.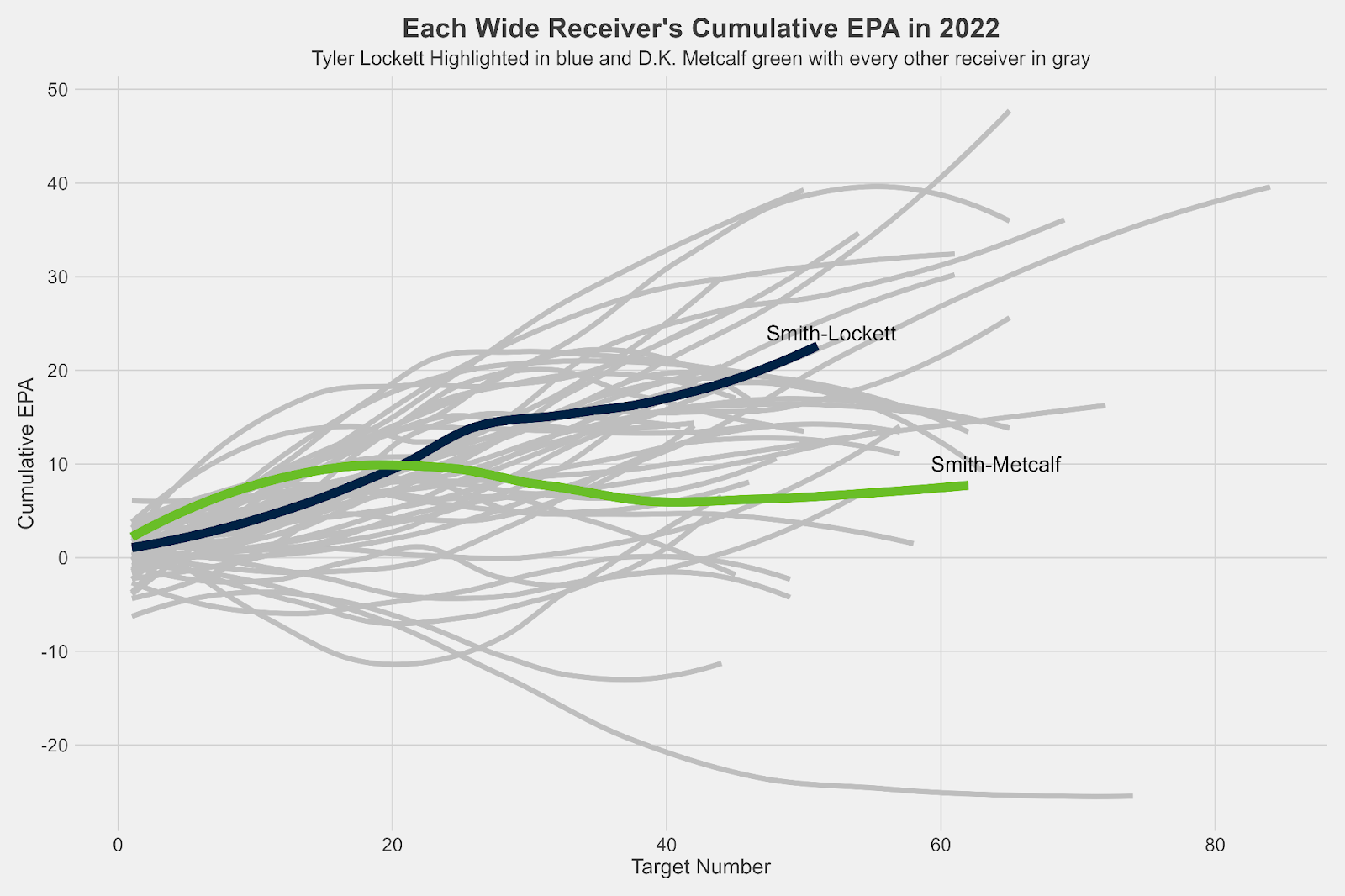 When you consider the weapons in the Seahawks' arsenal, over 8.5 wins seems especially appealing. The connection between Smith and Tyler Lockett has been a large contributor to their offensive success. Last season, I developed a metric to value the success of a QB-WR connection by creating a connection composite score. Currently, the Smith-Lockett connection is ranked 13th in the NFL. The two have profited from Lockett's position in the 87th percentile for openness rate, and the 76th percentile in EPA. One specificity of the Seahawks' offense to closely monitor for the rest of the season is their their success — or lack thereof — with vertical and drive pass concepts, as well as outside-zone run concepts. Smith and Kenneth Walker excel when executing these plays. 
After Week 7, a quarterback's EPA/Play has a correlation coefficient of 0.83 with his end-of-season EPA/Play. This means that Geno Smith and the Seahawks are primed to keep steamrolling top NFL defenses, putting them over 8.5 wins. 
Bet Gameplan: Playable to +130
After ranking in the top 10 in EPA/play in his first two seasons in the NFL, Justin Herbert currently ranks 16th, behind Jacoby Brissett and Daniel Jones, to name a few. While a lot of the blame falls on a myriad of injuries leaving Herbert with the 24th-best pass-blocking and receiving units, his PFF grade has gone from 80 in his rookie season to 90 last year to a career-low 70 this season. Because he hasn't played as well as we are accustomed to seeing, and the supporting cast around him isn't as good as expected this season, the Chargers might be worth fading.
Entering 2022, the Chargers had the 3rd-highest odds to win the AFC, baking in that Herbert was going to lead a top-5 offense. While his play has still been average, elite production was expected, and the combination of supporting-cast injuries, Herbert's own  injury and play calling all contributed to unmatched expectations. On top of that, the Chargers are going to see the 9th hardest strength of schedule for opposing quarterbacks for the rest of the season, making it even more difficult to make the playoffs. 

Bet Miami Dolphins to Win Conference Championship (+1800)
Bet Gameplan: Playable to +1650
Last season, the Cincinnati Bengals beat the Kansas City Chiefs en route to the Super Bowl led by a breakout quarterback whom the market had lower priors on based on previous performance and a pair of all-star wide receivers that created explosive plays at the right time. Again, Tua Tagovailoa currently ranks 2nd in the league in EPA per play and is having a breakout season.
yards per route run leaders this season:

1. tyreek hill, 3.56
2. stefon diggs, 2.88
3. aj brown, 2.83
4. jaylen waddle, 2.58
5. justin jefferson, 2.51

the gap between tyreek hill and diggs in 2nd place is the same as the gap between 2nd and metcalf in 11th place

— Tej Seth (@tejfbanalytics) October 31, 2022
The most impressive aspect of the Dolphins is their elite WR duo Tyreek Hill and Jaylen Waddle. Both rank in the top 5 in yards per route run. Hill ranks 1st among receivers in PFF grade, and Jaylen Waddle ranks 6th. With Tagovailoa throwing to those receivers in games that he's started and finished, the offense has averaged 26 points per game, which would be good for 5th in the NFL.  
The market still isn't giving the Dolphins' passing game enough respect, making Miami a good bet at long-shot odds to win the AFC Championship.